Residential Exercise Room Flooring Tile Options And Ideas
By Greatmats Staff Created: June, 2017 - Modified: July, 2021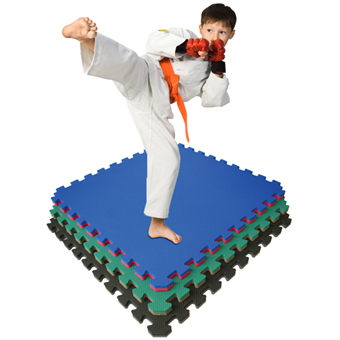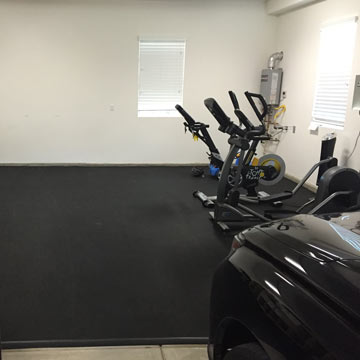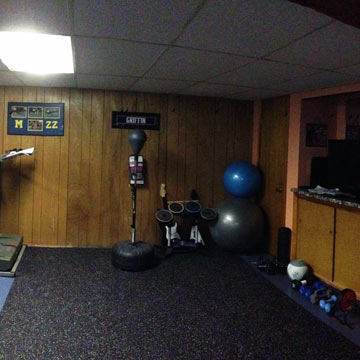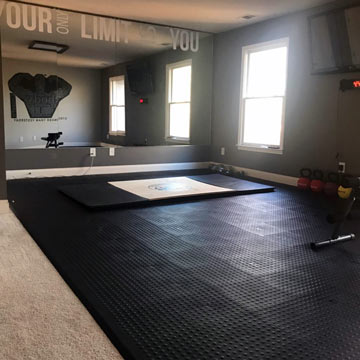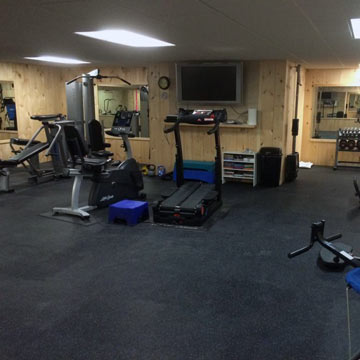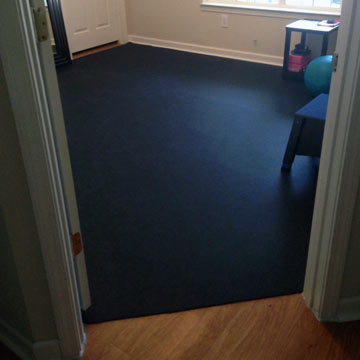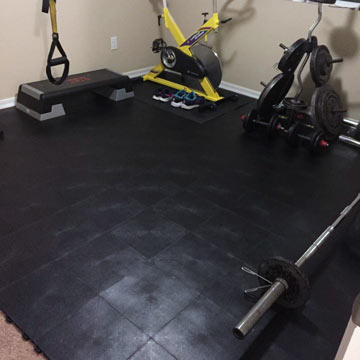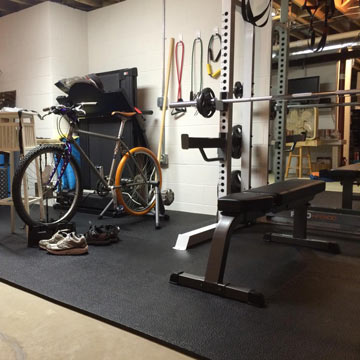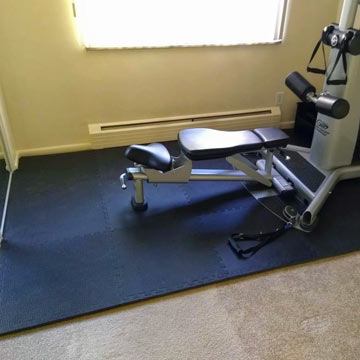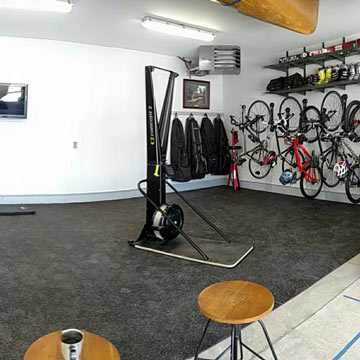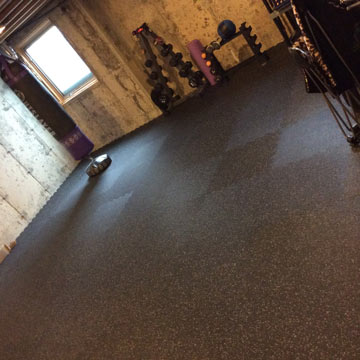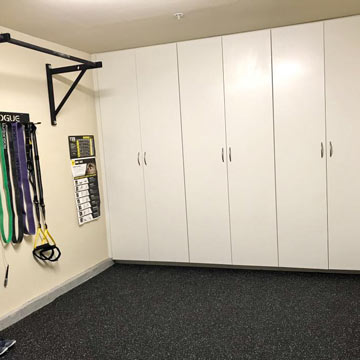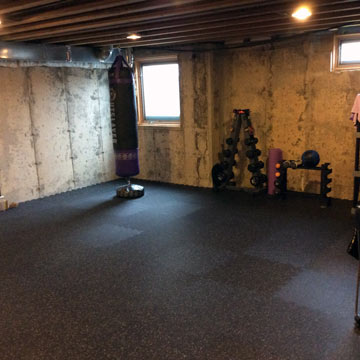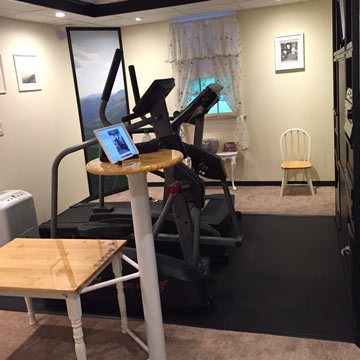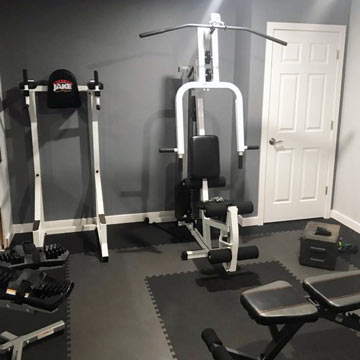 Home gym flooring
is available in tiles, mats, and rubber flooring rolls. The material you choose for your residential gym floor will go a long way toward making your home gym the best location for workouts.
Floor tiles are available as interlocking, straight edge and modular tiles. Mats are available as 4x6 ft and 4x10 ft sizes or similar for single equipment areas or to us together to make larger areas. Rolls are available in 4 ft widths in precut lengths of 10 and 25 linear feet and custom cut lengths to match your home gym floor size.
Exercise Floor Tiles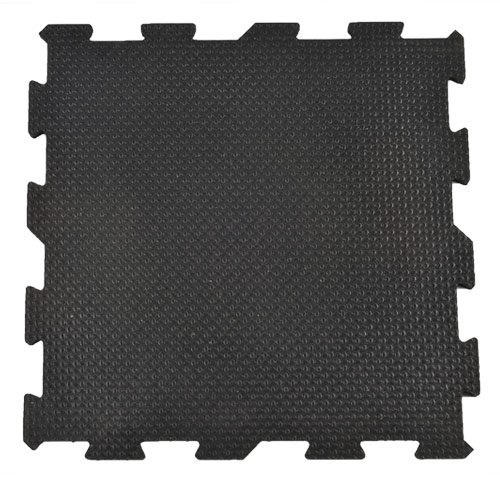 Flooring tiles for home gym workout rooms are available in plastic, rubber and foam material. Interlocking workout tiles are great for easy installation flooring, the tiles are easy to handle and install and require no adhesive. Straight edge tiles will typically require some glue or tape down installation in areas larger than 500 SF and with tiles under 1/2 inch thickness. Some one inch thick rubber gym flooring tiles that are 2x2 ft in size that weigh over 13 lbs. per tile, can be used in residential and smaller gym flooring installations with no glue, simply dry laying the rubber tiles and cutting the tiles to fit for wall to wall installations.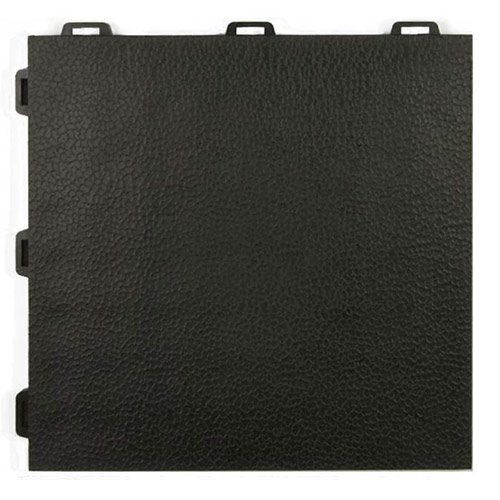 Modular tiles are 1x1 ft or similar and feature active locking or click together connector systems. Made of plastic material, modular tiles can be installed over carpeting and feature a hardness that is in between foam and rubber material.
Rubber tiles are typically 8 mm or 3/8 inch thickness and are durable and hard like a car tire. Rubber tiles are designed to stand up to exercise equipment and weights depending on your rubber thickness. For free weights more than 50 lbs., we recommend rubber floors that are 1/2 inch thick and thicker. For home heavy weight lifting we feature 3/4 inch and one inch rubber tiles.
Rubber flooring is available in all black, black with color fleck and all color tiles. The black portion of most of our rubber flooring options consist of recycled rubber material from various sources, some of which include reground truck tires, from retreading processes. Color fleck of 10, 20 or higher color percentages consist of EPDM rubber colorant. 100 percent color tiles are either EPDM or synthetic rubber colored material in most cases. Our most durable and high-end rubber tiles are 100% colored tiles. While the most economical rubber is generally all black or even a reground rubber material, re-manufactured by the rubber flooring factories from rubber scrap material produced during the first run material.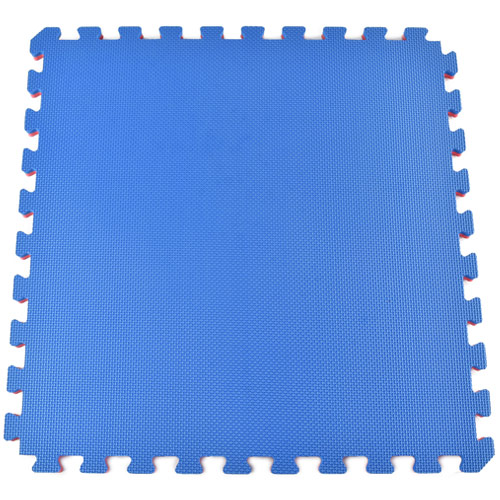 Foam flooring tiles are generally interlocking tiles, dye cut at the factory during the manufacturing process. Foam tiles are made from a combination of PE or polyethylene and EVA plastic pellet material. Foam flooring tile are available in soft, standard, and high hardness options. Soft foam floors are commonly found in big box stores, and sometimes also feature muted or faded colors, both of which are associated with cost savings during manufacturing. However some of our personal exercise foam mats are specifically designed with a softer foam hardness for floor exercises. Standard hardness foam tiles offer a safe and soft flooring option for multi-use areas for kids playrooms, basement floors and residential exercise rooms. High hardness foam tiles are designed for karate and aerobic floors, specifically designed for standing and kicking drills and light ground work. Aerobic floors feature our most hard foam flooring option.
Sometimes with foam tiles hardness is associated with density. Hardness is a measure of just that, how hard the foam feels to the humane. Density is a measure of weight of material per cubic foot. The two are related and not the same. Higher density foam tiles have more material and less air per cubic foot and are typically high quality and will last longer and perform better over time. The way to produce a less expensive foam floor tile is to reduce the material per cubic foot and produce a lighter weight tile, using less material.
Modular aerobic flooring tiles that lock together and feature an active locking system called StayLock tiles are great for installing directly over carpeting in any room of the residence and will provide an upscale look to your gym floor. These anti-fatigue athletic flooring tiles are available in designer colors and offered in two texture options, either orange peel or bump top. These durable and long lasting PVC plastic flooring tiles will provide a great amount of cushion and fatigue relief for aerobic X type flooring exercise activities in home gyms.
These athletic and home gym flooring pages are designed to information needed to make an educated decision for your home gym flooring. If you have additional questions or would like clarification for your particular workout flooring area, please don't hesitate to call. Our customer service staff is ready to help find the best flooring product for your home gym application.