Are Flexible Floor Tiles Right For My Garage?
By Lisa Hobbie Created: February, 2021 - Modified: June, 2023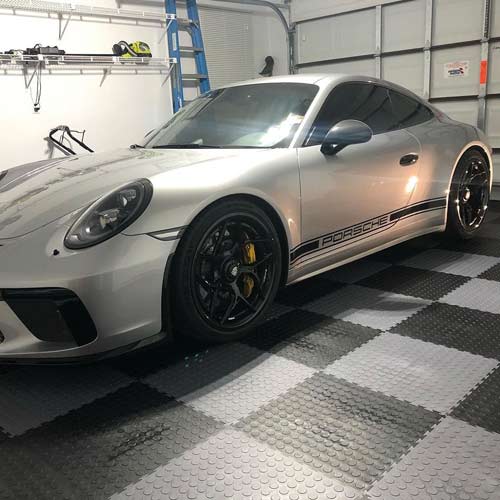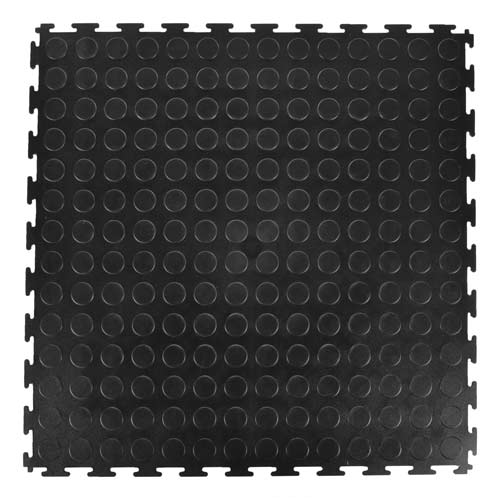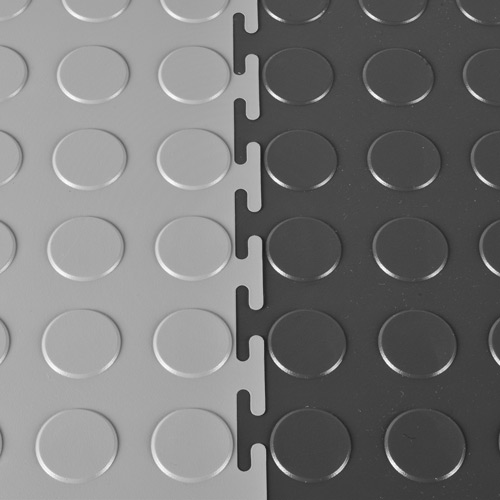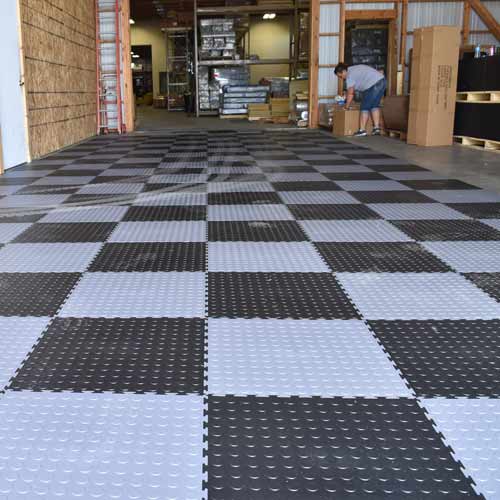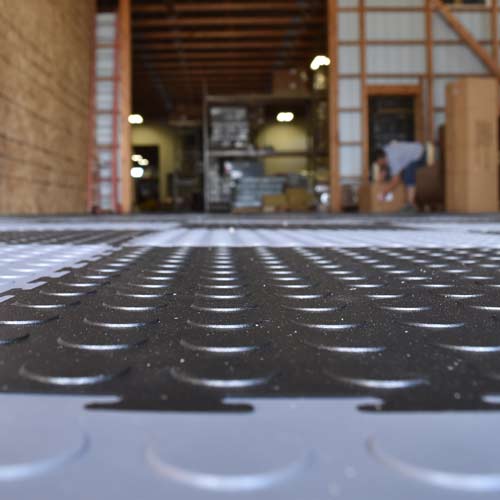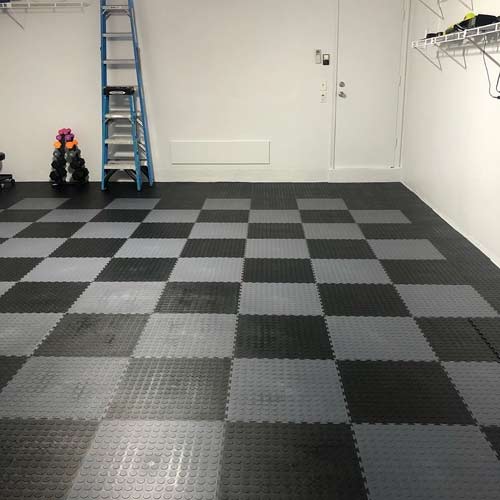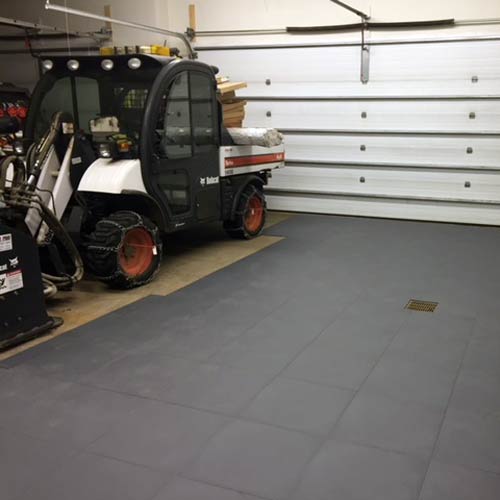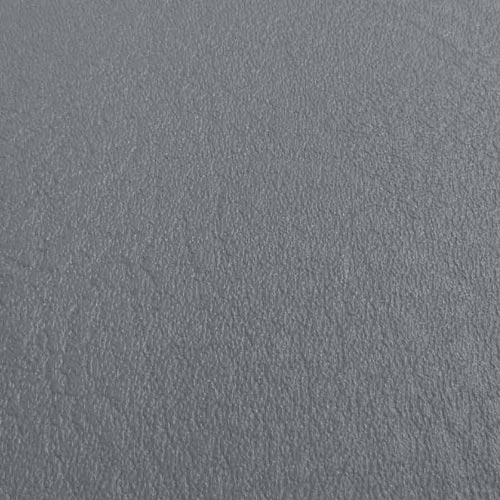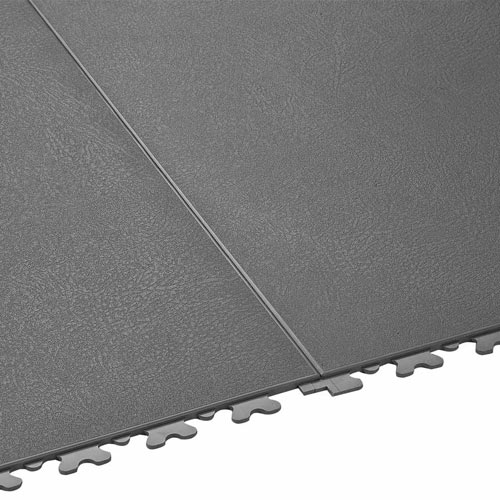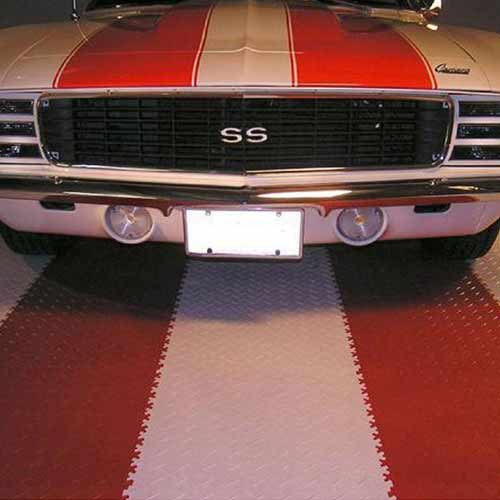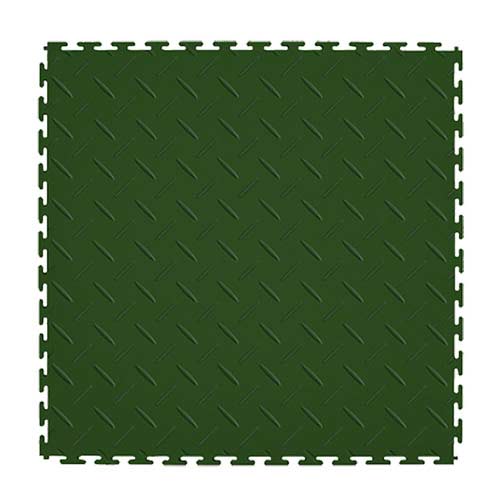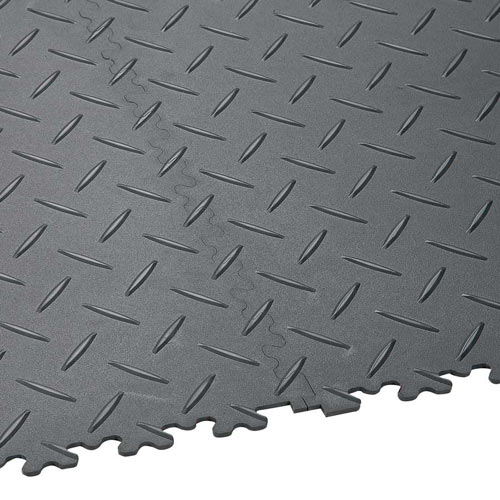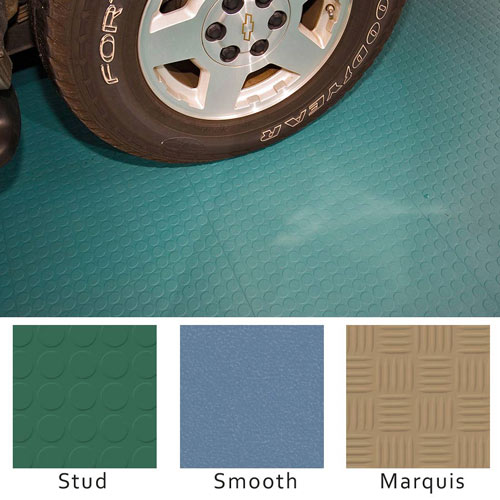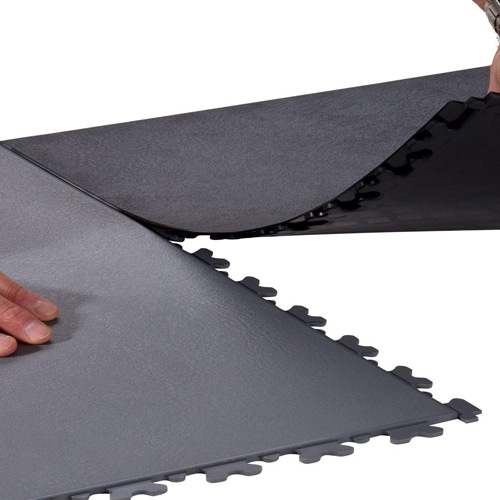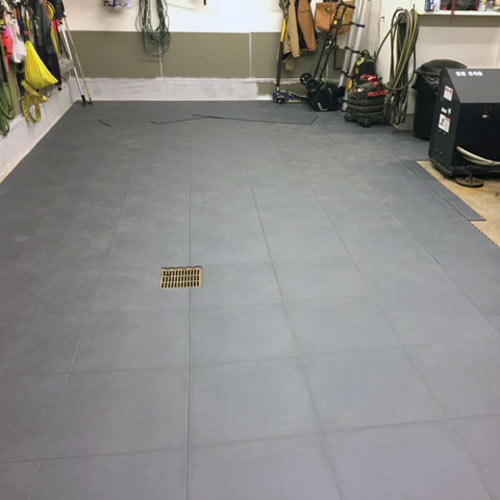 Flexible floor tiles
are a great option for a garage setting. They are often resistant to chemicals, solvents, and other liquids, provide comfort for standing and working on vehicles, offer traction on which your vehicles can drive, and offer insulative and sound absorption qualities. Garage flexible floor tiles look and perform well in automotive and workshop areas - especially compared to some other common garage surfaces. They are also eco-friendly and economical, and come in numerous colors, sizes, thicknesses, and designs with options to suit just about any design preference or budget. 
What Are The Advantages Of Flexible Garage Floor Tiles?


PVC versus Rubber. PVC, although soft and lightweight, is actually very robust and durable. Unlike rubber, PVC will not break down from chemicals and solvents, so the integrity of the pvc tiles for garage flooring is something you can count on. PVC is also available in numerous color options - many of which are UV stable. A lot of PVC tiles feature modular design. A raised tile allows air and water to flow beneath - reducing the risk of mold, mildew, and odors. Finally, there are often many shapes and sizes of pvc tiles for garage flooring - allowing installation in small, tight spaces. 

A rubber mat or mats can be used in certain garage applications - like gyms and workshops - but not for under vehicles and motorized equipment. A great rubber flexible garage floor tile is the Utility Rubber Tile These tiles are water-resistant, meaning they won't soak up sweat or retain body or garage odors. These will also protect the sub-floor from wear and damage from weights, exercise equipment or dropped tools.

If you wanted to use a PVC garage tile for a gym area, the StayLock Tile Bump Top would be a great product. It is perfectly suited for garage gyms, as it is waterproof. And with a raised base and lightweight tile design, water will not get trapped beneath the flooring. In terms of comfort, these tiles provide superior cushion and support for any level and intensity, including aerobic workouts, and more! Just don't park your car on it. This product is designed to provide a strong surface that reduces fatigue.


Flexible over hard. This may seem like a no brainer, but it's important to point out. Garage flexible floor tiles are much softer and more comfortable than traditional garage surfaces like dirt, concrete, and cement. They offer give and traction, and they are also much easier to install and disassemble. If you're looking for a harder garage flooring surface with similar design possibilities as the flexible plastic or rubber varieties, look into the snap together polypropylene floor tiles.



Tiles versus Rolls. Flexible garage floor tiles are often much easier to install. They offer easier customization for designs - creating marked parking stalls, marking his/her zones, etc. Color coded flexible garage floor tiles could also be used in areas of the garage indicating temperamental or potentially dangerous items - to show kiddos they need to stay away.



Garage Workshops Versus Automotive Spaces. When spending a lot of time putzing in a garage workshop, you likely want a comfortable, anti-fatigue surface on which to stand. This is where flexible garage floor tiles come in. They are much more forgiving than solid surfaces, and they often feature grip and traction - helping to keep you safe while you work. 

The Safety Matta Perforated Tile is a perfect example of this type of product - perfect for a garage workshop space, but not to park a vehicle on. It has an interlocking lug system that is easy to install, and the raised tiles provide excellent drainage. They feature a non-slip diamond shield tread design, and they provide excellent ergonomic and anti-fatigue qualities - allowing for hours of garage workshop time.

Because flexible garage tiles often prevent liquids from standing or building up, they provide a great surface on which a wet or snowy vehicle can be parked. They are also designed to withstand the weight of vehicles and the harshness of chemicals much better than some cheap flooring products can. 

The Coin Top Home Floor Tile Black or Dark Gray, for example, is a product that is non absorbent and features a raised coin top surface for added traction. It's oil, gas, and chemical resistant, and simple to clean and maintain. It's not affected by heat, cold, or humidity, so it's truly perfect for a garage. 


Cost and Ease of Installation. Generally, PVC garage flooring is lower in price than harder, snap together tiles, and boast a low lifetime cost. They are often easy to install with some sort of connection process - typically without the use of professional installers, adhesives, or expensive tools.

The Coin Top Home Floor Tile Colors is an example of a product that can be installed with very little cost or effort. It's a DIY project that can be completed in no time - especially compared to pouring cement or adding rubbery layers of liquid coating. You just snap the tiles together at the edges, using the interlocking design. Once installed, you'll enjoy a surface that is resistant to oils, gas, and chemicals and not impacted by heat, cold, or humidity. 
What Are The Best PVC Tiles For Garage Flooring?
Deciding to use PVC tiles for garage flooring is one of the best choices you can make. PVC tiles are easy to install, robust, attractive, and cost effective. Of the numerous options available at Greatmats, some are more popular. A few were mentioned earlier -
Coin Top Home Floor Tile Colors
,
Coin Top Home Floor Tile Black or Dark Gray
,
Safety Matta Perforated Tile
, and
StayLock Tile Bump Top
, but the following 5 products are also worth highlighting:


Greatmats - for garage flexible floor tiles and pvc tiles for garage flooring!
Flexible floor tiles are definitely right for your garage, and the options highlighted in this post are among the best. They are resistant to the effects of heat, cold, or humidity, and they are very easy to clean. Offering amazing features like being non-absorbent and resistant to oils, chemicals, mold, and mildew, and boasting ease of installation, the laundry list of pros for this type of flooring is super long. 
If you are shopping for garage flexible floor tiles, you've come to the right place. Where many people stick to a standard concrete floor, this is just a small sampling of the many other options available. Depending on what you will be using the garage space for, garage tiles provide surfaces not only suitable for the standard vehicle storage that garages are known for, but also for other purposes like a workshop, showroom, service area, gym or workout space. 
Greatmats offers numerous pvc tiles for garage flooring, as well as other flexible floor tiles - with options for everyone. Exploring your flooring ideas may feel overwhelming. If so, allow Greatmats to go to work for you! With the many safe, comfortable, and affordable options to choose from with options to suit any design preference or budget, the team at Greatmats will help you find the option that is perfect for your garage!