Rubber Garage Flooring Dos and Don'ts
By Julia Nass Created: July, 2017 - Modified: May, 2023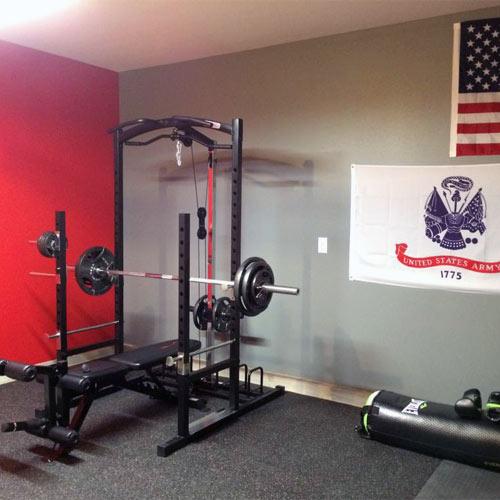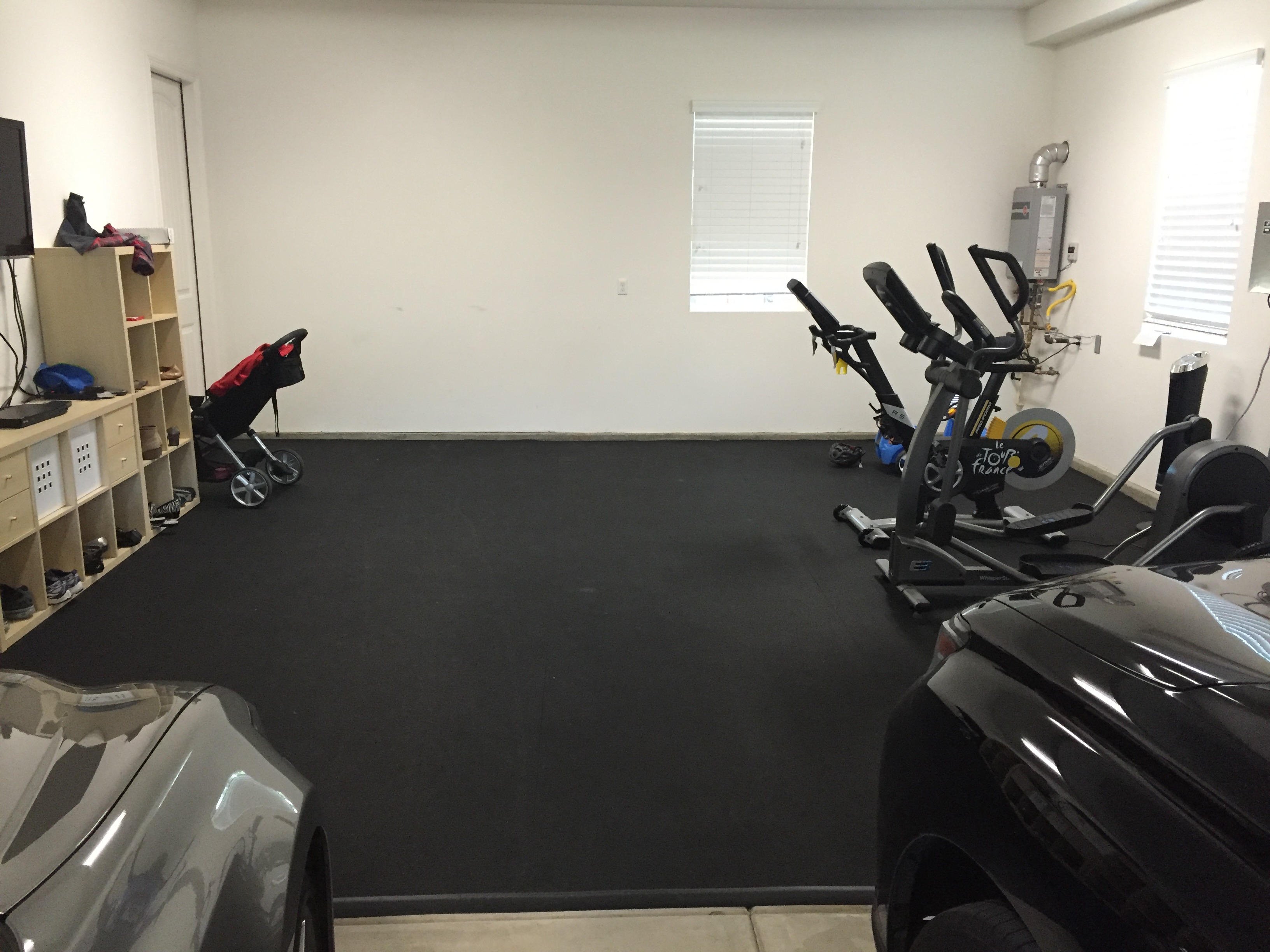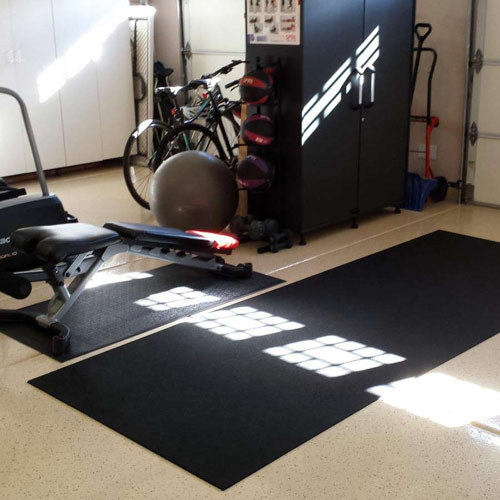 Rubber is an extremely versatile material that can be used for all types of flooring, from athletic pads to playground mats. If you're thinking about putting it in your garage, however, there are some factors to consider. It's important to know in what cases rubber flooring will work and scenarios it won't.
Don't Park Your Car On Rubber
Although rubber is an extremely durable material, it doesn't do well underneath cars. Unfortunately, rubber is particularly susceptible to damage and even destruction from cars. Rubber car tires can create an extra strong grip with rubber flooring, which can cause the flooring to buckle, rip up, and break. Further, vehicles can drip automobile lubricants that can cause rubber flooring to break down. Overall, it's best to keep cars off of rubber flooring.
You may be saying to yourself, ''I know I've seen people park their cars on diamond plate rubber floor tiles!''
Odds are, what appeared to be rubber is probably PVC. PVC garage floor covering is flexible like rubber, but it will withstand automotive fluids, making it a much betters solution for covering your concrete floor when you plan to use your garage for parking and working on vehicles.
So What is Rubber Good For?
You might be asking yourself, why put rubber in a garage if it doesn't work under a car? It's because garages aren't just for cars anymore!
Garages are very popular spaces for everything from chill pads to home gyms and create a multifunctional workspace. Here are a few instances in which rubber makes an awesome garage floor option.
The fact that rubber comes in so many forms, it's easy to find anti-slip garage flooring options for virtually any sq ft size garage space. Garage flooring rolls are generally used to cover large areas while mats and tiles are great for smaller spaces.
An added benefit is that even though many rubber floors are designed for easy installation, most also carry a solid warranty.
Home Gyms
Garages make excellent spaces for home gyms, and rubber floors make creating a home gym in the garage easy and affordable. It's also much more comfortable and resilient than epoxy garage flooring.
With rubber garage flooring, you don't need much else to create a space you and your family can get fit in right at home. Rubber rolls, mats and interlocking garage floor tiles are all popular choices for DIY home gyms.
Rubber flooring offers some anti-fatigue benefits and comes in a variety of thicknesses and sizes, so you can choose one to support your activities. This can be quite handy of you plan to workout for long periods. Some even have a diamond pattern surface texture for extra traction.
Some are dense and sturdy, which works well underneath heavy gym equipment. Others have more cushion and shock-absorption, which is nice for dance and floor exercises. All offer a high level of durability and are protective, tough and sleek. Many are even available in a variety of colors or color fleck options.
Thick rubber garage flooring mats provide superior floor protection for dropped weights making it the ultimate high quality garage gym flooring.
Chill Out Space
A garage is also a popular room to turn into a space to chill out with entertainment, comfy furniture and friends. Because it's outside of the house, garage lounge spaces feel like an escape. Garage rules tend to be more relaxed than house rules, so it's an easy place to let loose and get comfy. Anyone, not just the kids or teenagers, will be happy to retreat to a nice garage lounge space.
Thick rubber garage floor mats provide comfort and mild cushion for feet and for sitting. It also provides a layer of insulation from cold concrete often found in garages. Rubber flooring is durable enough for heavy furniture, like a plush overstuffed couch to watch movies from.
Game Room
Game rooms are another fun option for the garage space. Designating the garage as a play/game area is a good way to keep messes, roughhousing and loud noises out of the living room. It's also the perfect spot to fit larger items such as pool tables that may take over other rooms in the house.
Rubber garage flooring tiles make a great floor for garage game rooms as well. The interlocking tiles are durable enough to hold those game structures like pool and foosball tables. Rubber rolls, tiles and mats also provide insulation and padding, which softens impact and prevents noise from traveling as far. The sound dampening quality of rubber makes it so you won't have to hear all the bumps and thuds that come from play.
Another perk: rubber is easy to clean. For most rubber flooring products, all you need is a damp mop and a pH neutral cleaner, as other cleaners can erode the material. It's best to keep certain types of rubber flooring from getting super wet, as recycled rubber is somewhat porous and can allow a certain degree of permeation.
Rubber Floor Installation
No matter the size, style or use, Greatmats' rubber floors are easy to install in any garage. Certain rubber tiles have an easy interlocking system that yields tight-fitting seams that disappear over time. Other matting, tiles and rolls are a simple dry lay.
You can also use double sided floor tape or adhesives for longer-lasting installations. If you are looking for a temporary option, rubber flooring rolls are easily rolled back up and put away.
Tiles and mats are easily uninstalled as well.
One thing to consider when deciding what multi-purpose material should cover your garage floor is how much moisture will be present. While rubber mats do not absorb water, they can trap water beneath the flooring if it has a flat bottom. That can lead to the growth of mold or mildew. If your garage is prone to floor condensation or water seepage, it will serve you well to explore a raised modular garage floor tile option that allows airflow beneath the surface.
It can be difficult to think of your garage as anything more than a space for your car or a place to items you don't know where else to put. However, garages have the potential to be so much more - especially with a slip resistant surface.
With Greatmats' rubber flooring, you'll find that creating a home gym, lounge space or game room in your garage is a no brainer - especially with the Greatmats' team on your side. If you've determined rubber is the right choice for your garage, Greatmats also offer a large selection of commercial grade vinyl flooring and pvc plastic tiles that can be custom cut to fit your space perfectly. Many of these also are available with a coin pattern surface texture and a wide variety of color options including slate grey.