Yoga Mat & Flooring Customer Stories
Yoga Mat & Flooring Guide
Yoga Mat, Tile and Roll Blogs, Videos and Testimonials
Many of our yoga mat flooring options would make a good choice for a home or professional studio, but it's important to choose the flooring that's the best buy for your needs and budget.
Considerations When Choosing Yoga Studio Flooring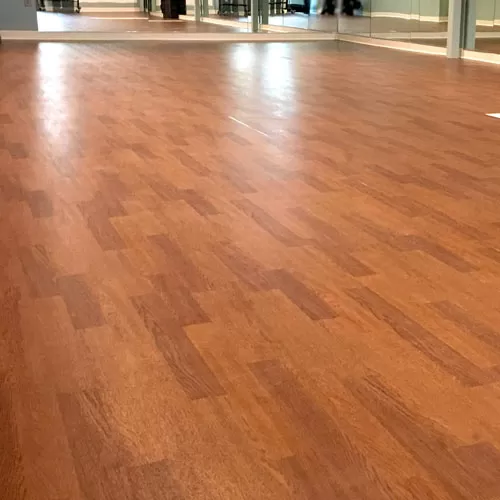 Will you be performing the installation yourself?
Would it be beneficial to use a product that you can remove in the future?
How much cushion do you want your flooring to provide?
What is your budget?
What kind of material do you want to use?


| Vinyl Rolls | EVA Foam Tiles | Vinyl Raised Tiles | Plyometric Rubber |
| --- | --- | --- | --- |
| Commercial | Commercial or Home | Commercial or Home | Home |
| Glue Down Install | Interlocking | Interlocking | Loose Lay |
| Firm Surface | Softer & More Cushion | Firm Surface | Softer than Vinyl |
| Permanent Solution | Easy DIY Install | Install Over Carpet | Multipurpose - Exercise Rooms |
Yoga Mat, Tile and Roll Blogs, Videos and Testimonials
Whether you're outfitting your commercial yoga studio or want to create a space in your home where you can practice yoga on your own, a quality yoga mat is essential. Your yoga mat flooring not only keeps you comfortable, but it can help give you the traction you need to feel secure and strong in your poses.
But yoga mats aren't one-size-fits all. Your needs for traction, cushion, size, and durability will partially depend on your preferences and how you'll be using the mat. You'll find a large selection of yoga mats and flooring available for sale at Greatmats. We've carefully curated our products to be suitable for both commercial and home use, and we're proud to stock some of the best yoga mat options available on the market today.
Yoga Mat Flooring Options
If you're looking for yoga flooring, you'll have plenty of options to review.
Max Tiles Raised Floor System
While traditional yoga pairs well with plenty of flooring options, hot yoga demands a more specific type of flooring. This moisture-heavy yoga means you'll need a flooring that's easy to clean, and that's also moisture-resistant for hygiene purposes.
The
Max Tiles Raised Flooring
delivers on all of those counts. This flooring system consists of raised tiles that let air and moisture flow beneath them for prompt drying. Their 3 mm laminate vinyl surface is on top of a polypropylene base, making the tiles strong and durable.
The surface layer helps to keep them looking great for years to come, ideal for commercial studios where they'll see plenty of use. Cleaning them is easy – just use a damp mop.
The tiles connect with a tab and loop system that's highly durable and that establishes a strong connection, so the tiles won't pull apart. You can uninstall and reinstall the tiles again and again.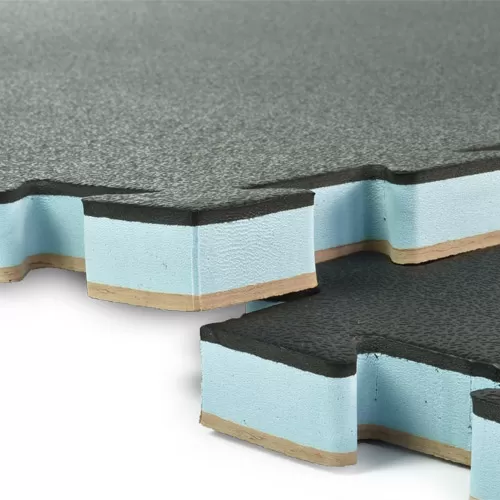 Offering both cushion and support, the Martial Arts Karate Mats aren't only good for martial arts, but also for yoga. The interlocking mats can be used both with and without a yoga mat. They're made of quality foam and measure one inch thick, making them durable and strong enough for commercial studios while also being affordable enough for use at your home.
You can dry lay these tiles right over a hard, flat surface, and you can remove them if needed. They're also double-sided, so you can flip them over and get even more use out of every tile.
Athletic Vinyl Padded Roll
Ideal for commercial studios, the
Athletic Vinyl Padded Roll
delivers excellent shock absorption and looks like real wood. This flooring is highly durable and easy to clean, and it's fade-resistant for long-lasting aesthetics. You can vacuum, broom, or damp mop it to keep it looking great, and the ergonomic design maximizes comfort.
This flooring features a rubber backing that's topped with a 2 mm vinyl top layer fusion bonded to the rubber. It comes in a roll with a standard 30 linear foot length, making it an affordable option for your commercial yoga studio.
Plyometric Rubber Rolls
Plyometric Rubber Rolls
are highly versatile flooring that you can use in place of a yoga mat. Available in ½-inch and 3/8-inch thicknesses, these black rubber rolls are comfortable to stand and sit on, while also being durable enough to withstand more intense workouts. Their traction helps to prevent a slip or slide, while the rolls are versatile enough for other fitness needs, too.
These rolls are also very easy to install. You can dry lay them on top of existing flooring, or opt for a glue-down installation for a more permanent option.
Yoga Mat Flooring Buyers Guide
At Greatmats, you'll find a wide selection of yoga mat flooring options. Whether you're outfitting your professional studio or converting a room in your home to an exercise room, we have options that will fit your needs and budget. Our buying guide provides the essential product information that you'll need to get started, including some product recommendations and ideas. If you need additional help, please give our Greatmats customer service team a call. Our knowledgeable service team can provide you with shipping price quotes, additional product information, and more.