LonWood Performa Full Bolt 5.5 mm x 6x60 Ft.
Cushioned backing for athletic floors
Commercial quality vinyl flooring
Wood grain design
Handling Time Estimate: 1-3 Working Days

Buckwheat

Mocha Latte

Sable

Silver Lake
How Much Flooring Do I Need?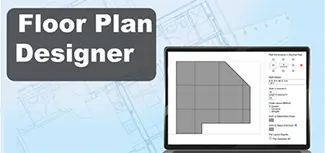 Cushioned backing for athletic floors
Commercial quality vinyl flooring
Wood grain design
Glue down for hot yoga flooring installation
Great for padded aerobic floors
Low maintenance durable flooring
Sheet vinyl with closed-cell foam backing
Aerobic Floors, Dance Studio Flooring, Hot Yoga Studios, Yoga Studio Flooring, Athletic Gym Floors
NOTE: This item is a custom order and is not returnable.
60-foot Vinyl Yoga Flooring Roll, Woodgrain Vinyl Yoga Flooring Roll
Whether you're looking to create a relaxing atmosphere in a yoga studio or in a multipurpose room that may be used for dance, aerobic exercise, hot yoga, and traditional yoga, our LonWood Performa Full Bolt 5.5 mm x 6x60 Ft. floor is a durable option for yoga studio flooring and more that has a beautiful wood grain look.
Color and Size Options

Our vinyl flooring is available in wood grain finishes, including buckwheat, mocha latte, sable and silver lake, allowing you to find just the color and look of wood that you need. Understand that the wood grain on our hot yoga studio flooring is only visible on the top layer of the floor. It does not extend all the way through the flooring, meaning that these sections of flooring are not reversible.

We also do not use border strips to finish the edges of the flooring. You'll use clear caulking to seal the edges of the floor against the wall.
This vinyl hot yoga flooring ships in a roll that's 6 feet in width and 60 feet in length, covering 360 square feet. The Wood Performa yoga flooring measures 5.5 mm in thickness, and each roll weighs 460 pounds. You'll want a forklift or some other type of special equipment to take delivery of these rolls and to move them around.
The yoga studio flooring has a flat, smooth surface, which allows it to work for many different types of athletic classes. You don't have to worry about customers suffering a floor burn from a rough or abrasive surface on the flooring. And with the full glue down installation technique for this flooring, there's no concern about having loose seams that could cause someone to trip and fall while using the flooring.
Use Options
Our Wood Performa yoga studio flooring is a great option in a studio classroom because it prevents injuries with the soft backing on the vinyl top layer. It also provides sound dampening features.
The flooring has anti-fatigue capabilities, thanks to a closed-cell foam backing that's specifically designed to work in areas of high impact and high foot traffic. It contains 10% recycled content with a microbial resistance formulation.
Because our flooring is non-absorbent, it works great in a hot yoga studio area. Hot yoga is a type of yoga that is performed in a room with high temperatures, which encourages heavy sweating and detoxification. With athletes in the hot yoga class doing a lot of sweating, you don't want your flooring to absorb the sweat, causing odors and unsanitary conditions.
However, because of the high temperatures used in hot yoga workouts, you will need to make sure the yoga studio flooring seams are heat welded after the installation process. The heat welding will ensure that moisture cannot penetrate the seams of the flooring sections, preventing odors. Additionally, the heat in a hot yoga studio room could penetrate the seams and cause the adhesive to fail. A welded seam will keep this from occurring.
This vinyl bonded foam roll has many options beyond hot yoga and traditional yoga studio flooring ideas, including aerobic flooring, dance studio flooring and athletic gym flooring. The vinyl flooring stands up to many kinds of use cases because of its sturdiness. However, it is not suitable for use with tap shoes. Dancers wearing softer shoes or without shoes have success with our hot yoga flooring.
This is an excellent choice for gymnasiums and fitness centers. It meets NCAA basketball rebound requirements (49 to 54 inches).
Preparing for Installation
When preparing to install the yoga studio flooring, you'll want to make sure the substrate consists of a hard and smooth surface. Concrete and wood are the most common types of sub-surface flooring for hot yoga studio flooring. Our vinyl flooring has a padded backing that works well over hard sub-flooring.
We do not recommend placing this flooring over any existing floor covering. Remove the other floor covering before installation.
Clean the sub-flooring as thoroughly as possible before installing the hot yoga studio flooring. Remove any dust, grease, and other foreign objects from the floor. Additionally, allow the sub-flooring to dry completely before you roll out the hot yoga flooring. If any moisture is left on the floor, the vinyl roll may not adhere properly.
Finally, store the vinyl roll in the area where it will be installed, allowing it to acclimate to the temperature and humidity levels in the room for at least 24 hours before installation.
Installation Process
For current installation documents from Lonseal, please visit the
Lonseal website, click here
.
For General Lonseal Installation Information
click here
.
Maintaining the Vinyl Floor
Once you have our hot yoga studio flooring installed and the seams heat welded, you'll love how easy it is to maintain the flooring.
First, remove any solids from the floor, such as gum or residue, using a scraper or putty knife. You don't want to scrape with too much force, as this could damage the flooring. Use a vacuum to remove larger loose debris from the vinyl flooring. Then run a microfiber dust mop over the flooring to take care of any dust.
You can make use of a low speed rotary floor machine or an auto-scrubber to thoroughly clean the floor periodically. Use a neutral pH cleaner on the surface of the floor. If you have some stubborn soils, you can use clean water and a microfiber mop pad to scrub the residue. Allow the flooring to fully dry before using it.
Vinyl Roll Flooring Features
Here are the specifications of features for the hot yoga studio flooring:
Wear Layer Thickness: 0.5mm
Connection: Welding Thread
Sheet Vinyl Flooring and Backing, ASTM F1303: Type 1, Grade 1, Class C
Flexibility, ASTM F137: Pass
Hardness, ASTM D2240: 90
James Machine, SCOF, ASTM D2047: Neolite: 0.93, Neolite w/Finish: 0.98
Abrasion Resistance, ASTM D3884: 0.23 percent 1000 cycles
Static Load (max 0.005 inch), ASTM F970: 450 psi
Short-term Indentation, ASTM F1914: 0.002 inch residual indentation at 75 lbs.
Castor Chair Test, ISO TR4918: 25,000 cycles - Wear: 4.3, Color: 4.0, Change: 4.4
Dimensional Stability, ASTM F2199: 0.07 percent loss
Heat Stability, ASTM F1514: Pass
Light Stability, ASTM F1515: Pass
Critical Radiant Flux, ASTM E648: Class 1 greater or equal to 0.45 watts/cm squared
Chemical Resistance, ASTM F925: No Change
The environmental features included with the yoga studio flooring include:
GreenMedic: Formulated for microbial resistance
GreenAir: Formulated for low VOC's
Up to 10 percent post-industrial recycled content
Contributes towards LEED MR 4.1
Floor Score: Indoor Air Quality Certified
Conforms to California Specification 01350 LEED Low Emitting Materials
Adhesives and Sealants: IEQ Credit 4.1
Flooring Systems: IEQ Credit 4.3
This tough Wood Performa yoga flooring system includes a 15-year limited manufacturer's warranty.
When you're ready to order our Wood Performa hot yoga studio flooring, contact our friendly customer service team to have any questions answered. You also can request custom cut lengths of this flooring or you can receive a free sample. If desired, our customer service personnel will help you figure out just how much flooring you need in a particular room.
Maintenance
See support documents
Shipping
Ships freight delivery shrink wrapped on pallets
This Product Ships Freight Only.
Please review our shipping disclaimer.
| | |
| --- | --- |
| SKU# | LS-Wbolt |
| In Stock | Yes |
| Product Type | Roll |
| Material Type | Vinyl bonded Foam |
| Product Edging | Straight |
| Thickness | 5.5 mm |
| Width | 6.00 feet |
| Length | 60.00 feet |
| SF per Item | 360.00 |
| Weight | 460.00 lbs |
| Packaging | Shrink Wrapped on Pallets |
| Number of Pieces per Package Type | 9 |
| Non Absorbent | Yes |
| Special Adhesives | Yes |
| Interlock Loss | 0.00 feet |
| Interlocking Connections | No |
| Made In | Japan |
| Surface Finish | Smooth flat |
| Surface Design | Wood grain |
| Installation Method | Full glue down and heat welded seams |
| UV Treated | No |
| Reversible | No |
| Border Strips Included | No |
| LEED Points | Yes |
| Floor Score | Yes |
| Manufacturer Warranty | 15 year limited |
Product Questions:
Q: Can this flooring be used on top of concrete? or would I need additional subflooring?
A: This flooring has a padded backing and can be installed directly over concrete.
Q: Can this be installed directly over a wood sub floor (second story) without additional padding? How is this flooring with all types of dance from tap, hip hop, ballet and jazz and acro?
A: This floor is designed for commercial use, and is not suitable for tap shoes, other softer dance shoes or bare foot use is fine. No underlayment is needed as this vinyl sheet material has a padded foam backing. A professional glue down installation is required. Installation over wood sub floor is compatible.
Q: Hello. I am looking for a surface to cover my basement tiles with. I will be installing a pole (for pole fitness practice) on this flooring. Is the wood performa full bolt flooring able to withstand the pressure from the pole installation?
A: Great question, we are not sure about the pressure from the pole, I would think you would install the pole to the basement flooring directly and then install your flooring around it.
RELATED PRODUCTS