When you're working on a flooring project that will be temporary, it's essential to choose the right flooring product for your needs. While temporary flooring might only be used for a few days or a few months, it still needs to put in the same quality performance that you would expect of permanent flooring. That's why Greatmats carries a wide assortment of products designed specifically for the demands of temporary use. Offering everything from an easy installation to the durability needed for repeated installations, these temporary flooring options are suitable for many different applications. With so many products to choose from, this buyers guide can help you to narrow down your choices. We've gathered temporary flooring ideas and highlights of flooring features to help you determine which product is best for your needs. We've also included customer highlights and plenty of how-to's to guide you along the way.
Uses for Temporary Flooring
One of the great benefits of temporary flooring is its versatility. A single product can serve countless uses, and the vast selection at Greatmats is suitable for indoor use, outdoor use, and more. Consider the following projects that you can complete with temporary flooring: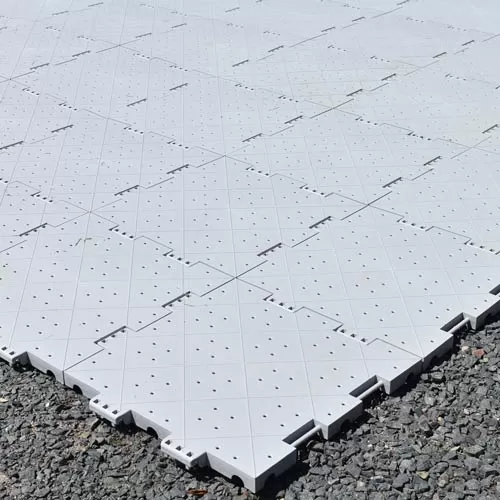 Basement flooring
Commercial and residential kitchen flooring
Kids' rooms and playroom floors
Martial arts studio floors and competition floors
Event runways
Gym flooring
Bathroom and locker room flooring
Dance studios and performances
Vehicle showrooms
Trade show displays
Patio and deck surfaces
Temporary walkways
Temporary roadways for ground protection
Rental equipment
Tent and event flooring
Types of Temporary Flooring
All of our temporary flooring products are designed for easy and fast installation. Most of these products are tiles or mats that have integrated interlocking systems to create a cohesive floor, but we also offer some vinyl flooring rolls and covers that can be easily unrolled over surfaces like gym floors. Our tile options are available in many different styles, and the types of materials used make them suitable for different applications. Many of these tiles are made of foam, carpet, and PVC. Foam tiles add cushion and comfort to an area. They're a top choice for kids' rooms, schools, and even home gyms and workout areas. These tiles offer valuable shock absorption properties, and some specialty tiles, like our martial arts tiles, offer fall height ratings and can help to minimize or prevent injuries to athletes. Carpet tiles are a popular choice for use in gyms, basements, and other spaces where you want a comfortable, welcoming surface. They can give you the same look and feel of carpeting but without the permanency of carpet rolls. PVC tiles and mats are also highly popular and versatile. Designed to create secure connections, these tiles can be easily installed. Depending on the tile, you may enjoy waterproof benefits, a perforated design that lets moisture run through, a slip-resistant surface, and other perks. Many of these tiles are suitable for indoor and outdoor use, and some are resistant to UV rays, oils, and chemicals. They are very popular in areas such as decks, patios, and garages. Some PVC tiles are even great for home gyms. Many temporary flooring products are available with different finishes, so you can often get the exact aesthetic that you're looking for. Wood, marble, and other stone finishes are common, closely resembling these materials at a fraction of the cost that you would pay for them.
Installing Temporary Flooring
Depending on the product that you're considering, your temporary flooring installation method can vary. Tiles intended for indoor use can usually be laid down over a firm, flat base, like a concrete floor. This dry-laid installation saves time and increases the tiles' versatility, allowing them to work for many different solutions in your home or business. This keeps installation costs cheap, and most tiles can be installed by a single person. Large outdoor tiles and panels can be laid on a variety of surfaces, and some are designed for use over grass. These tiles are designed for easy cleanup after use, and can often be hosed down for a quick cleaning before being dried and stored away. When you no longer need your flooring, or if you need to remove it and reinstall it, doing so is easy. Some tiles can be disconnected in larger sections, making for a faster installation process next time. You might also choose to separate the tiles individually for more compact storage and stacking.
Choosing the Best Temporary Flooring
Whether you're buying temporary flooring for the home or commercial use, it's important to choose the product that's right for your needs. That isn't a problem at Greatmats, where our wide selection includes options for tent flooring, dance floors, patios, and so much more. When choosing your flooring, think about the properties that are most important to your needs. You might find some inspiration in the projects completed by other customers, and in the great results that they saw. Our Greatmats flooring experts are always happy to help you. We're here to answer questions, provide pricing and shipping quotes, and help you to determine which option is best for your needs. While this buyer's guide offers a great place to start, don't hesitate to contact us with any questions you may have.