Modular Garage Flooring for Motorcycles, Cars, Trucks and More
By Greatmats Staff Created: June, 2017 - Modified: July, 2021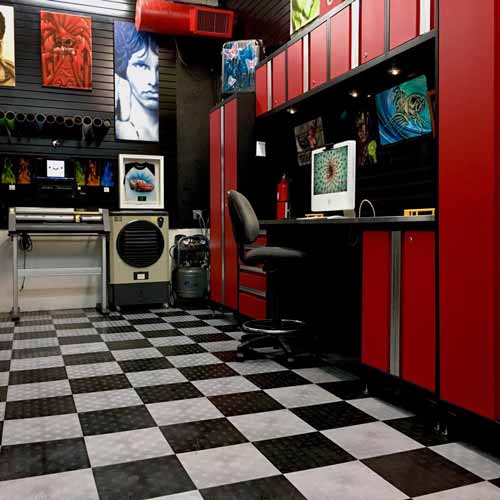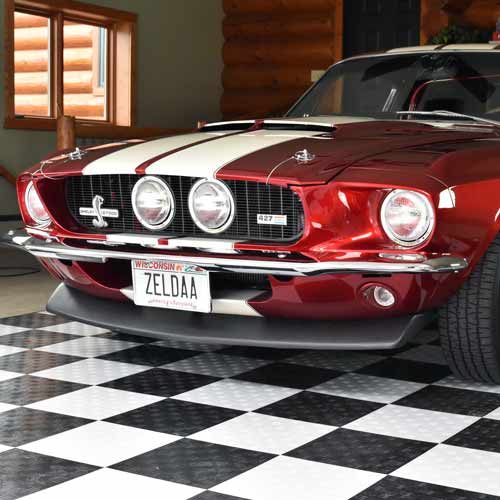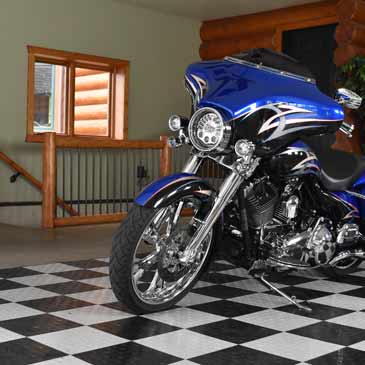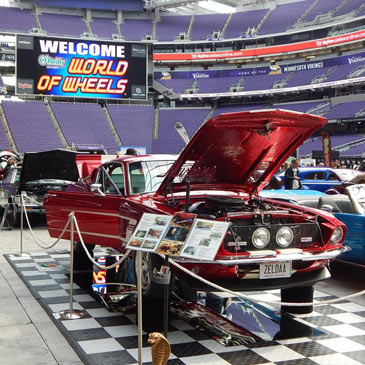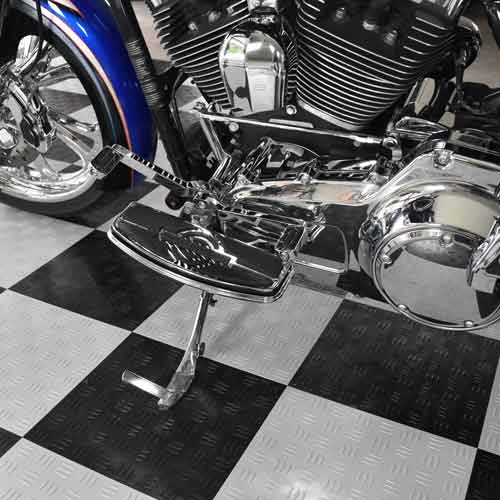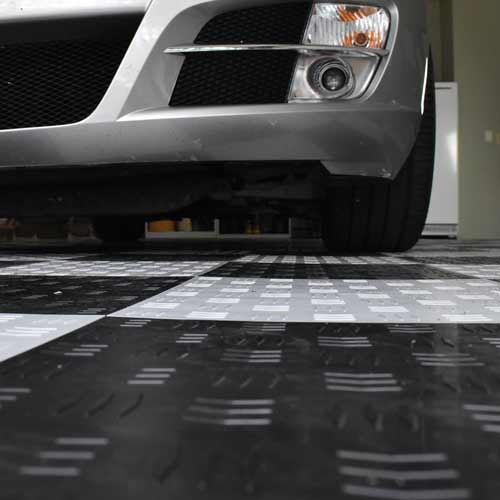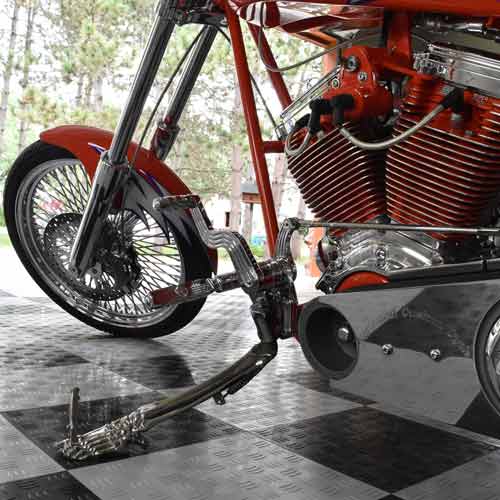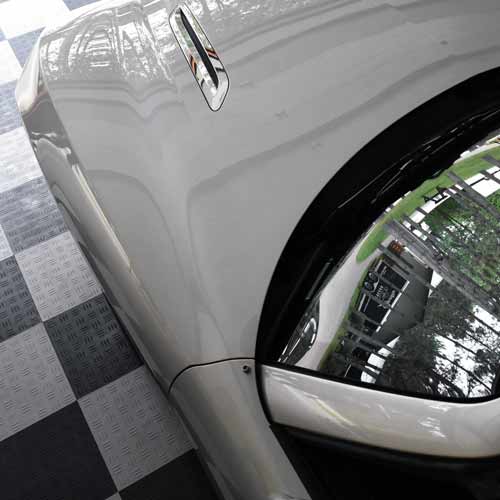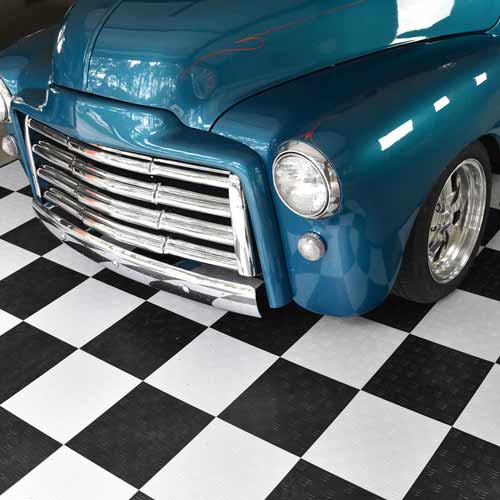 Your garage floor is looking tired and unsightly, but you're not ready to commit to a permanent flooring installation. Or, maybe you want to dress up your auto showroom for a special event, but don't want to leave the flooring in place.
Greatmats Garage Floor Tile Diamond is just right for the job. Made of a durable no sink virgin polypropylene, these tiles are modular, yet strong enough to support the weight of vehicles including cars, trucks, boats and motorcycles. Each tile can handle more than 10,000 pounds of static weight, but they weigh less than 1 pound and are easily portable. In short, if you're looking for portable garage floor ideas, these tiles will make your search much easier.
The textured tiles feature a diamond plate pattern for both style and grip. They're equipped with a peg and loop connector system, so installing and removing them is easy and fast. Suitable for indoor installations, the tiles are available in an array of color options. Buy tiles in multiple colors to create eye-catching patterns or to complement your business colors.
These tiles are also designed to withstand the challenges of garages. They're resistant to chemicals and easy to clean. They're also made of a no-break material, ensuring the durability you need.
There are many ways to put these tiles to use:
Dress up your auto show room for a special event, or revitalize that old garage to make a better impression on customers.
Floor your storage shed when storing a riding mower or auto collection.
Transform a space for your upcoming car or motorcycle show, then pull up the flooring again when you leave.
Make your business booth stand out at a trade show.
Change up your room's color scheme for an upcoming business, school, or athletic club special event.
In all of these situations, these tiles offer the benefit of creating an impressive look when you need it, and then being removable. You can leave behind the original space just as it was, a huge perk when you're renting a space or want to increase a space's versatility.
Installing and Removing Modular Plastic Tiles
Each tile measures 12-1/8 by 12-1/8 inches, so they're conveniently sized and easy to carry. This size also works well for garages, allowing you to easily get into smaller areas while still creating an attractive overall appearance.
To install these tiles, you'll want to start in a corner and work your way out. The tiles feature female loops on two sides and male pegs on the other two sides. Line each tile up so that the loops point in the direction where the next tile will go. Set the peg of one tile over the loop of the other, then tap or step on them to connect them. Connecting the tiles requires almost no force, and the sections will continue to create a tight fit no matter how many times you connect and disconnect them.
If needed, you can cut these tiles to fit your walls and other objects in your path. Use a power saw to cut through the tiles, or use a utility knife and a straight edge to score the tile before snapping it apart.
In addition to performing a wall-to-wall installation, you can also create an island installation. The tiles come with edge pieces, so you can create a clean, finished edge all around your island installation. Since the tiles are raised a bit, the border piece are ramped for a safer transition on and off the garage floor tile system.
Removing the tiles is as easy as disconnecting the edges. If you know that you'll be reinstalling the tiles soon, consider leaving larger sections of tiles connected to save time when you reinstall them.
What should I use on my garage floor?
If your garage floor is tired, stained, or damaged, modular plastic tiles are an excellent solution. Modular tiles are one of the most versatile garage flooring options because you can pull them up for cleaning, remodeling, and any other need you might have. These tiles are affordably priced, are a product you can install on your own, and can instantly revitalize, refinish, and enhance your garage floor.
What is modular flooring?
Modular flooring consists of many parts that can be connected together, such as interlocking tiles, and is often designed to be temporary and removable. This is opposed to roll out flooring. It's an ideal solution if you're looking for temporary garage floor covering options that don't require a glue-down installation. Modular garage flooring tiles can make your garage look beautiful and can cover up worn, aged flooring. You might use these tiles as a temporary garage flooring solution until you can repair or replace your subfloor, or you could also leave them in place for years.
Are garage floor tiles cheap?
Garage floor tiles are very affordable. Our Garage Floor Tile Diamond tiles cost just $3.98 each, so flooring your entire garage is practical. Remember, too, that these tiles don't require a professional installation, so you'll save on the installation costs you would face with other types of flooring. These diamond flooring tiles are also highly durable, so you'll get plenty of use out of them.