What are gym floor covers made of?
By Kyle Schurman Created: January, 2020 - Modified: January, 2020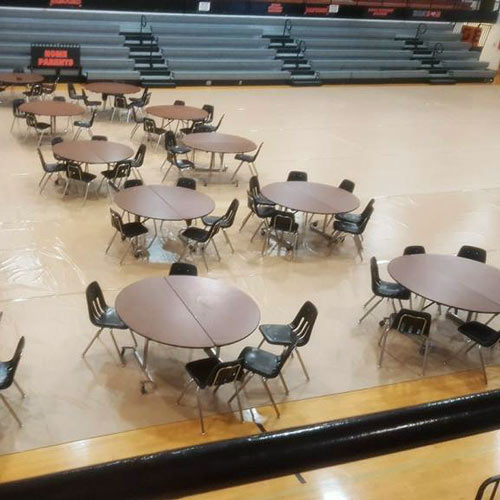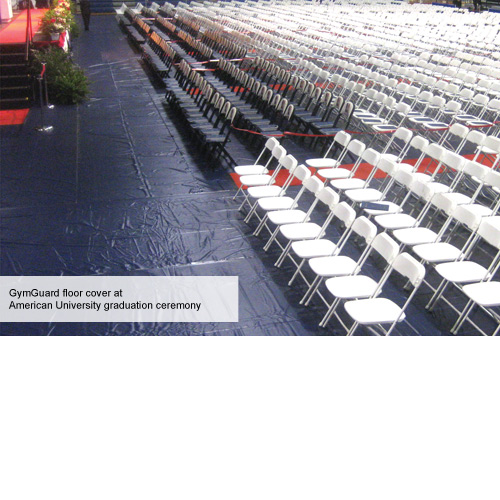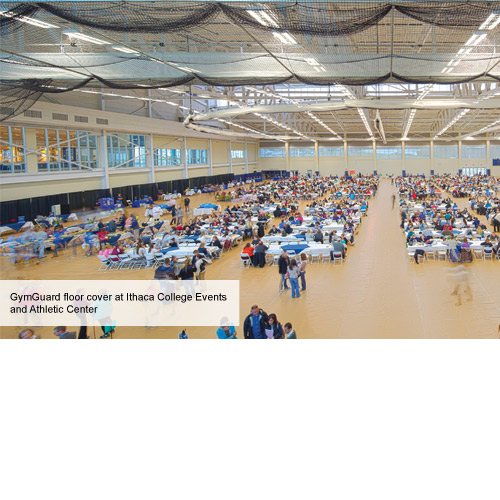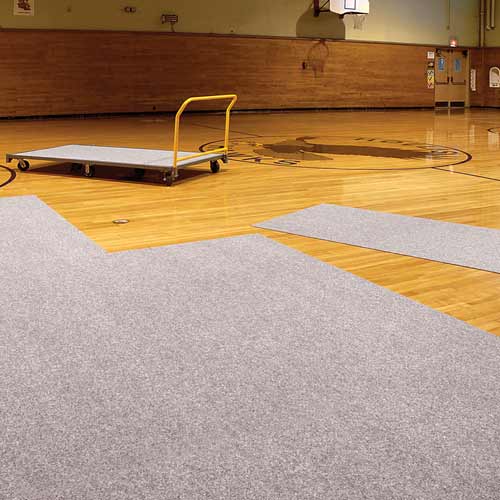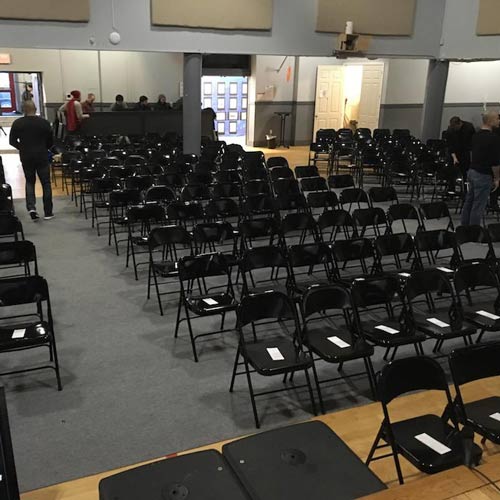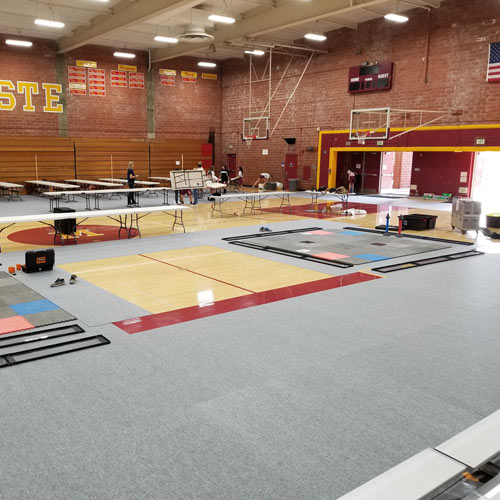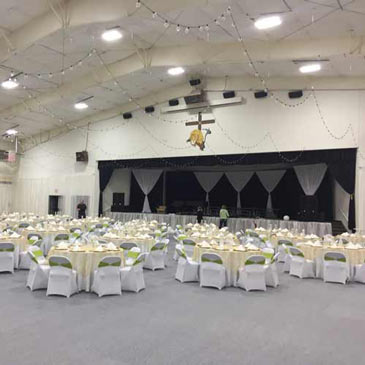 Protective gym floor covers are primarily made of either plastic or vinyl sheets or durable carpet tiles,
which all do an excellent job of guarding that beautiful hardwood floor.
All types of floor covering should be able to stand up to having chairs and tables placed on them without sliding around or tearing. This allows you to host things like graduation ceremonies or banquets safely on top of the gymnasium floor.
For a school dance, you will want a covering that stands up to high heels and hard soled dress shoes. You will receive different levels of durability with these coverings, depending on the thickness and materials in use.
Vinyl Gym Floor Covering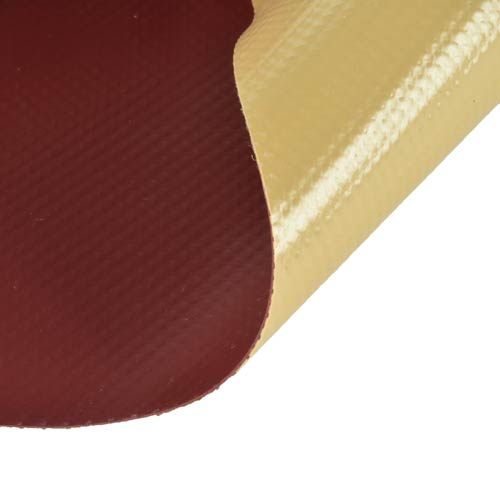 A vinyl gym floor covering will be thin and lightweight, making it
easy to move into place over larger areas
, but also comes in larger rolls. It gives schools a massive amount of coverage space for a reasonable price per square foot versus other materials used to protect the gymnasium flooring.
One advantage of vinyl is that it's available in a variety of color options. You may be able to find a color that matches your school or athletic facility team colors, which will be an appreciated wrinkle in your coverage product. Some rolls even have a reversible color design, meaning you have separate colors on each side, giving you a versatile gym floor covering product.
Vinyl cover thicknesses and durability are measured in ounces of fabric weight. Higher numbers yield tougher and more durable materials. Common options include:
18 oz., recommended for six uses per year or less
22 oz., recommended for six to 12 uses per year
27 oz., recommended for 12 to 24 uses per year
32 oz., recommended for 24 or more uses per year
Polypropylene Plastic Gym Floor Covers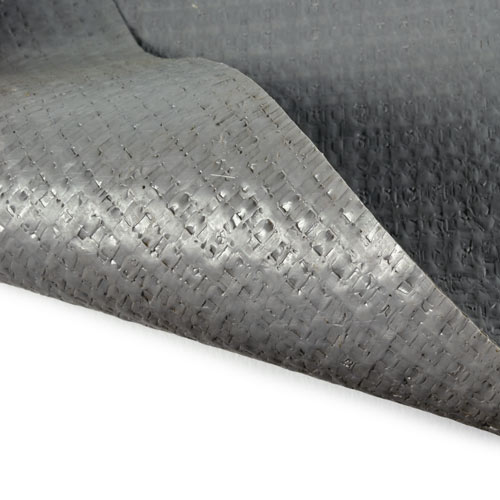 If you want a gym floor covering that's a more economical alternative to vinyl, polypropylene plastic is another option.
These rolls of poly have similar designs to the vinyl covering rolls, but they are thinner and have less durability with a fabric weight of around 10 ounces. They sometimes use a woven construction, which provides just a bit of traction for those walking on it.
Carpet Tile Covering for Gymnasium Floors
Carpet tiles deliver warmth in a gym floor covering, creating a natural looking surface that makes the gymnasium perfect for hosting formal events or meetings.
Unlike interlocking or adhesive carpet squares you may use in a home basement, these tiles do not connect to each other. Instead, they have straight edges, allowing them to slide tightly against each other. Because they have a large size, usually more than 21 square feet apiece, and weight, usually around 14 pounds apiece, they will remain in place as people walk across them, reducing the possibility of slipping.
In some gyms, you may want to use these carpet tiles in common walkways for fans attending volleyball or basketball games. This will keep wet feet away from the floor. (Some people use vinyl runners or in these areas too.)
Carpet tiles also deliver a nice level of acoustic performance and aesthetics, creating a warmer feeling in the large gymnasium space, while also reducing the echo often found in such a big room. See how
Principal Eric Johnson
from Upper Columbia Academy in Spangle, WA used protective gym carpet tiles for a fundraising gala.
Finding the Right Gym Floor Covering
Because these materials often ship in large rolls or sections that have quite a bit of weight, you may want to purchase a
rolling storage cart
to carry the materials wherever they're needed. Some material may work better when stored on a
rack with multiple rolls and wheels
, where you can roll out and roll up the sheets quickly.
No matter which type of material you pick for your gym floor covering, this is a product an athletic facility or school might not think about owning until something happens to a gymnasium floor that causes costly damage.
Instead of waiting for something to happen to your valuable gymnasium flooring that results in costly repairs and a loss of use of the facility for an extended period of time, look into purchasing protective material that allows the athletic gym to continue to look like new, no matter how many non-sports related events it hosts.