Outdoor Playground Flooring Over Grass or Dirt
By Paige Cerulli Created: June, 2018 - Modified: March, 2023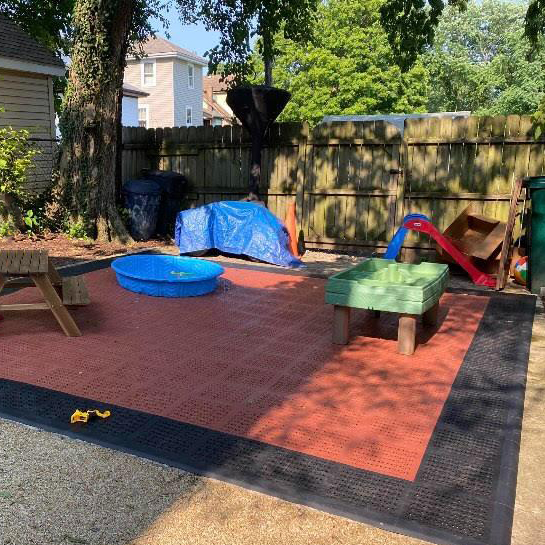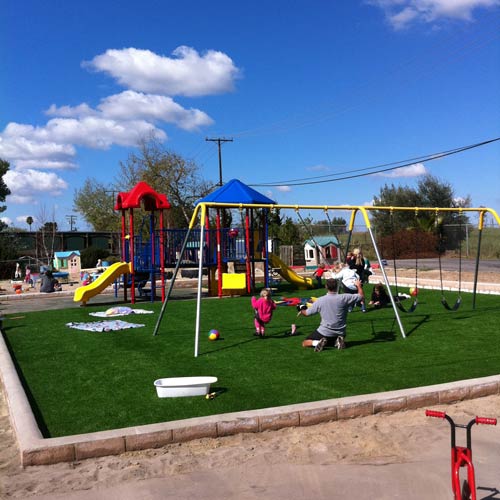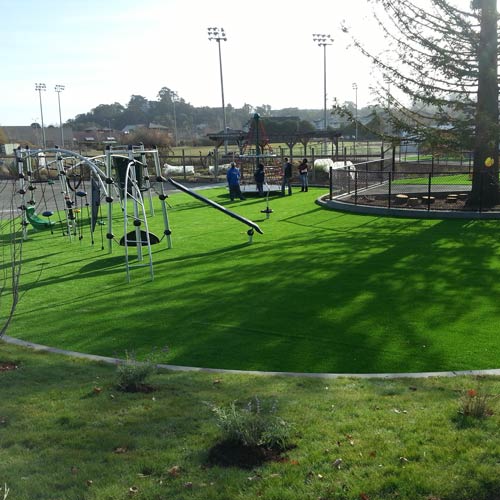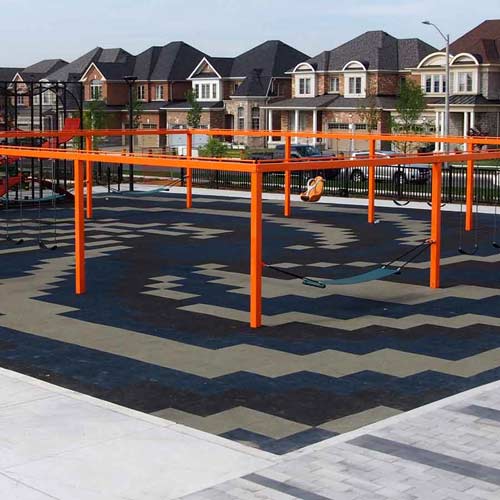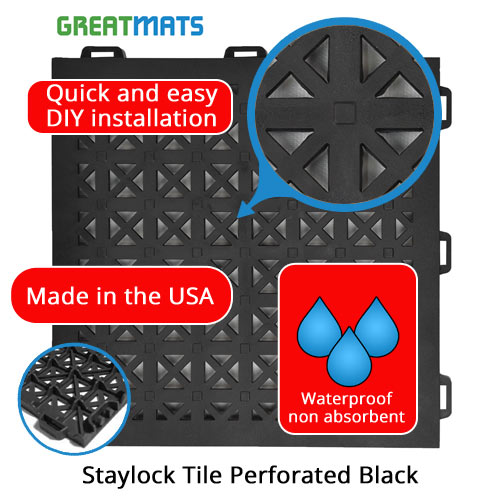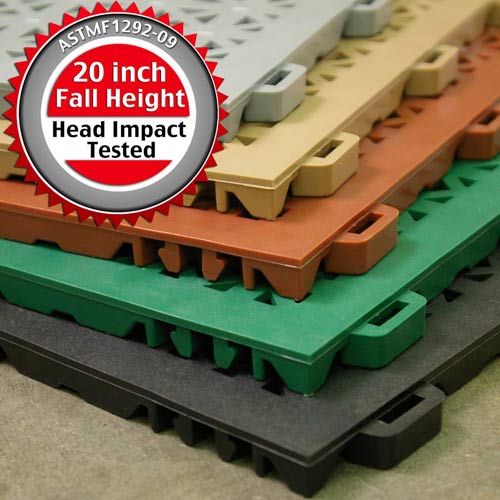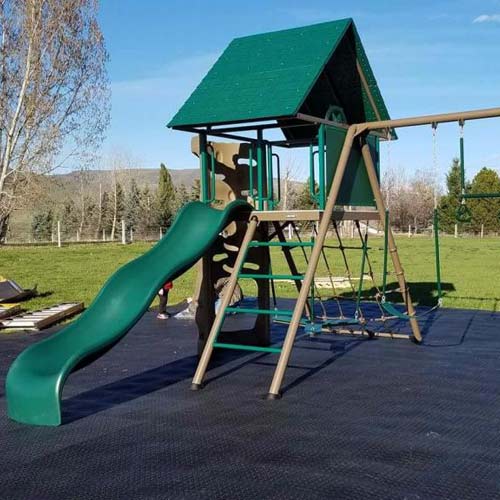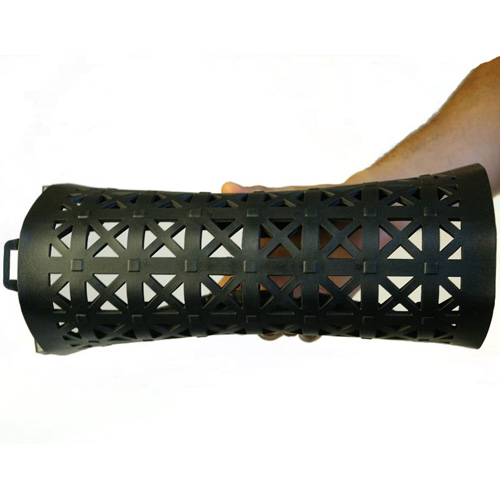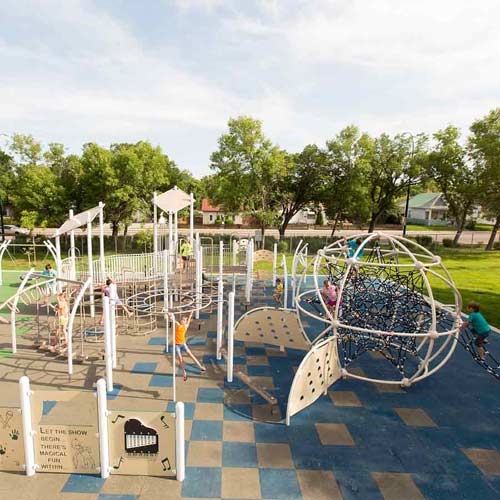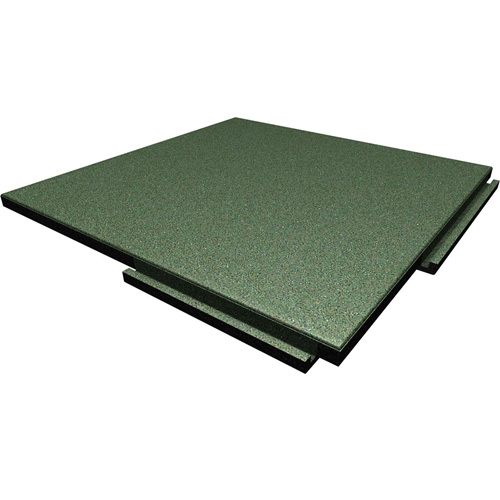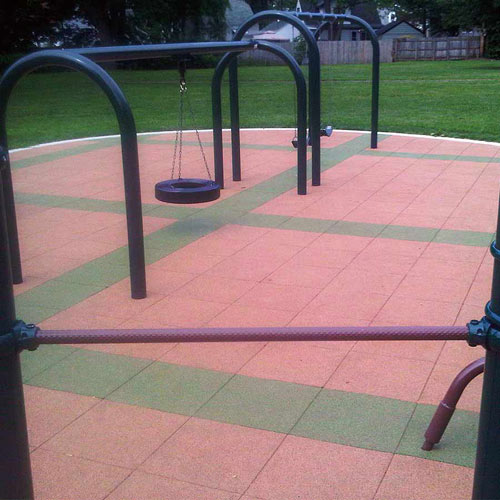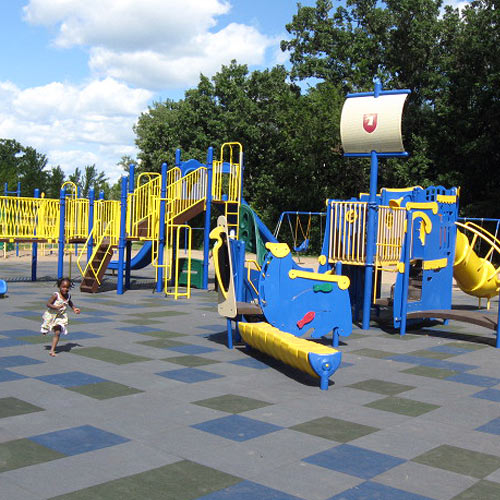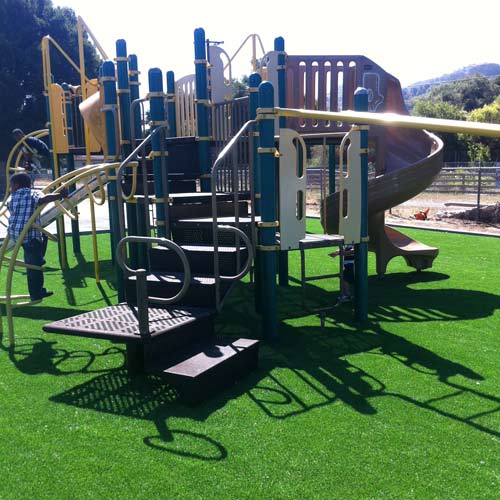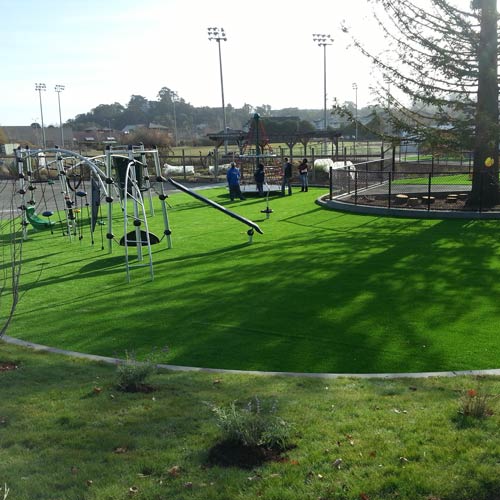 If you're planning to build a playground or renovate your current playground floor, then you're in luck - you'll have plenty of products to choose from. At Greatmats, you'll find playground flooring products in different colors, designs, and even price points.
Cost-Effective Outdoor Playground Flooring Over Grass Or Dirt
At Greatmats, we pride ourselves on being able to offer playground mats and tiles to suit a variety of budgets, from the economical options suitable for home to the higher-end products you'll want for commercial facilities. If you're looking to find playground tiles cheap without sacrificing quality, then you've come to the right place.
Budgeting For Your Playground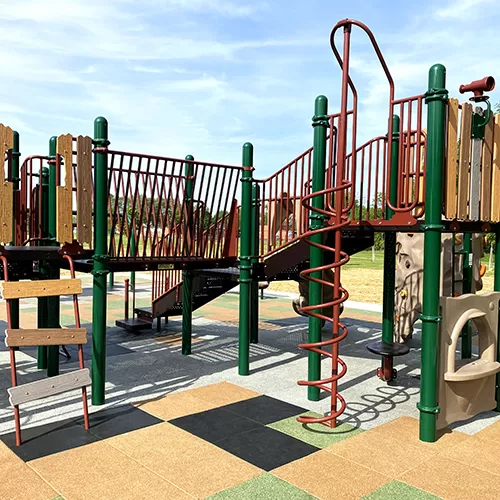 Larger playground tiles tend to cost more, simply because of the amount of material used to create them. However, these tiles also cover larger areas more quickly, so they may actually be a more economical option for large playgrounds. Rubber tiles for playgrounds and some of our PVC tile options are usually the more expensive products. Keep in mind, though, that these tiles are usually also more durable than the lower-costing foam options.
The installation that you perform will also affect the overall cost of your project. Products like Staylock tiles allow for a DIY-friendly installation, saving you money. Rubber tiles and playground turf products usually need a contractor to build the base, so you'll want to get quotes for that site preparation when determining if a product fits into your budget.
Whether you're installing your tiles over grass or over dirt, we've included some economical product ideas to help you get started. Consider these handy
tips for purchasing playground flooring
as you shop.
DIY Outdoor Playground Floor
StayLock Tile Perforated - $$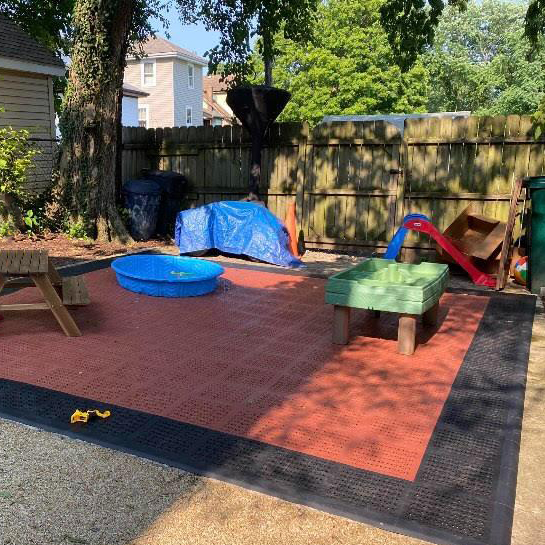 Looking to buy playground tiles cheap that can go virtually anywhere? The
StayLock Tile Perforated
is a great option that offers plenty of versatility. The tiles are packed with features that make them ideal for use as an indoor and outdoor playground base, and they're a favorite for home playgrounds.
These tiles offer a 20-inch ASTM fall height rating to help keep kids safe in the event of a short fall. They're perforated to allow water to drain right through the tile, which helps to prevent standing water from collecting on the playground surface. The tiles are fully waterproof, so you can use this low priced outdoor playground flooring without concern. Additionally, they feature a non-slip surface to help prevent falls, especially when the tiles are wet.
These StayLock tiles are designed to offer anti-fatigue properties, which helps to reduce the stress on your body. Parents will appreciate this feature when spending time on the playground with their kids. The tiles' modular design makes for an easy installation, and there's no need to hire a professional installer, so you'll save additional money. The flexible snap together tiles will even install over uneven surfaces, such as grass, dirt, or damaged concrete. Designer colors are available so you can add a beautiful touch to your playground.
You can learn more about Installing StayLock tiles
on our blog here
.
Low-Cost Playground Turf
Play Time Artificial Grass Turf Roll - $$
When it comes to affordable outdoor playground floor options, our
Play Time Artificial Grass Turf Roll
should be at the top of your list. This quality, yet cheap outdoor playground turf creates an eye-catching, refreshing look for your playground, and it maintains its brilliant green hue year-round. Suitable for both indoor and outdoor use, this turf is virtually maintenance-free, which will help you to save money on an ongoing basis.
This turf roll reacts naturally underfoot and makes for a comfortable surface. The 1.25-inch-tall yarn pile gives the turf a good bit of cushion that makes for a soft landing if kids fall while playing.
If you install this turf outdoors, it's recommended that you use a silica sand infill. For indoor installations, you don't need any infill, which helps to keep the cost down. Should you want additional fall protection it is also offered with 1 or 2 inch padding - for additional cost - but you can get ASTM certified fall protection for up to 9 feet.
This turf is backed by a 5-year limited manufacturer's warranty. It's a great option if you're looking for indoor or budget outdoor playground surface ideas.
Rubber Playground Mats
Playground Swing Set Mat - $$$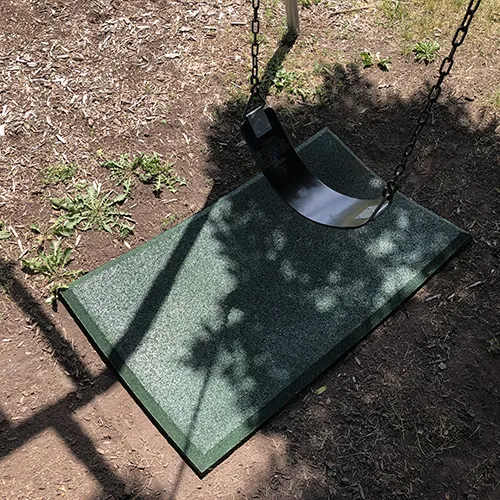 Designed for use under playground swings and slides, the
Playground Swing Set Mats
add extra protection to these high-traffic areas. While loose fill can be easily kicked out, the mats are heavy enough to be dry laid and to stay in place.
Made of recycled rubber, the rubber mats feature a four-foot fall height rating to help keep children safe if they fall from the equipment. They are rated for outdoor use and are highly durable, so they're suitable for use in public playgrounds and schools.
Made in the USA, the mats add extra cushion and are an excellent investment in playground safety. They won't attract harmful insects.
Rubber Playground Tiles
Sterling Playground Tiles - $$$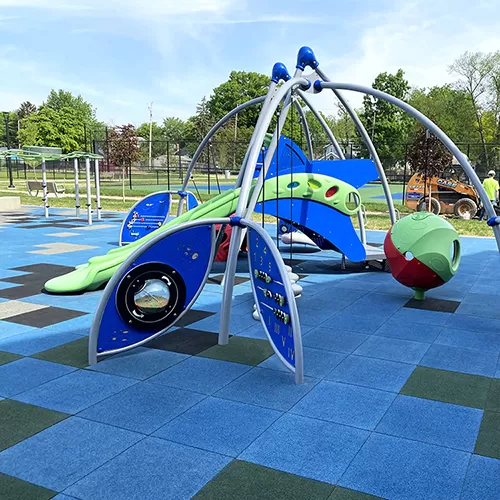 For excellent durability at an affordable price, consider our
Sterling Playground Tiles
. These inexpensive outdoor playground rubber tiles are designed to be durable enough for commercial facilities. They are perfect for use at parks, schools, churches and homes.
Though the outdoor playground base is made of highly durable rubber, it is forgiving and offers ASTM fall height ratings for improved child safety. The interlocking tile design makes for an easy installation, and you can choose from a variety of colors to get the exact appearance that you're looking for.
Minimal maintenance is required, and consists of simple activities like removing leaves, sand, and spots from the tiles as they occur. These tiles have a limited lifetime warranty, so you can buy with confidence.
Perforated Outdoor Tiles
Ergo Matta Perforated Outdoor Tiles - $$$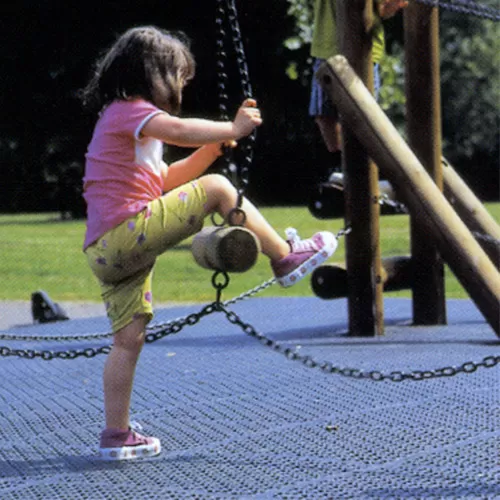 The
Ergo Matta Perforated Outdoor Tiles
are a popular choice for preschool and daycare playground flooring. They are made from recycled materials and feature bright colors, allowing you to customize the look of the playground.
These tiles feature a 20-inch fall height rating, so they're ideal for playgrounds with low equipment. Their perforated design maximizes drainage to help prevent standing water, and they feature a five-year limited warranty.
One of the great benefits of these tiles is the fact that you can often install them yourself. You'll need a flat outdoor surface, like compacted dirt, grass, pavement, or concrete. The tiles feature hidden pegs and loops, so you can easily connect them together. You can also disconnect and remove the tiles if needed, such as if you need to replace a damaged tile.
Choosing the Right Playground Flooring Base
When you're looking to buy playground tiles cheap, it's important that you make sure that you're still purchasing a quality product. The indoor/outdoor playground safety surface options offered at Greatmats have been carefully selected for both their quality and value, and we're proud to stand behind these products.
If you have questions about which flooring option is right for your playground, please contact our customer support representatives. We would be happy to help you explore indoor outdoor playground flooring ideas. We'll help you decide on the product that's right for your playground, but that's also within your budget.