Playground Slide and Swing Set Mats Black 32x54 x 2 Inch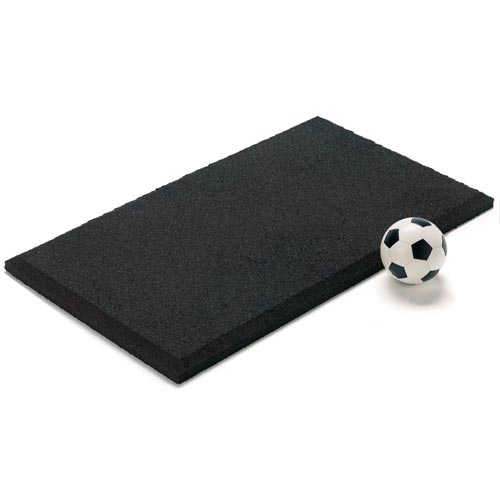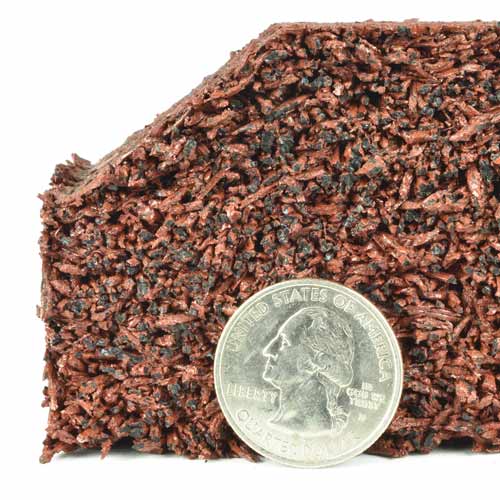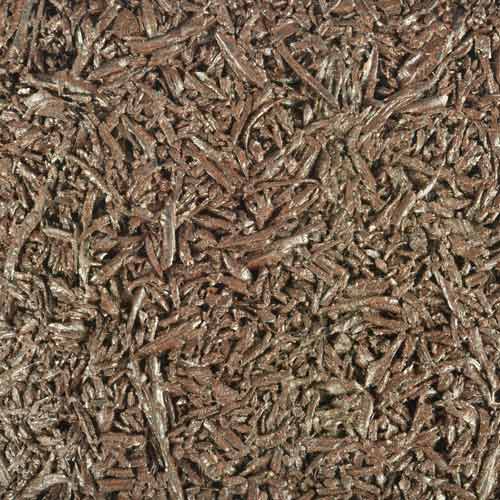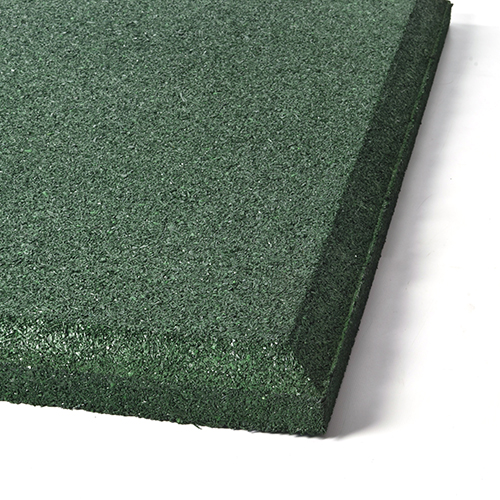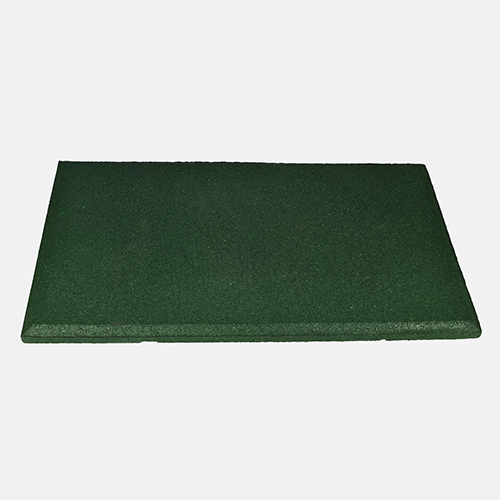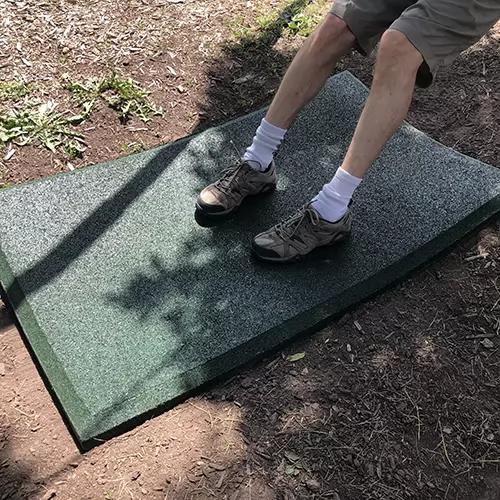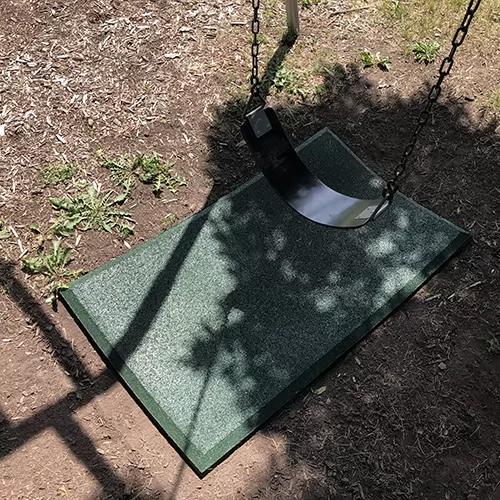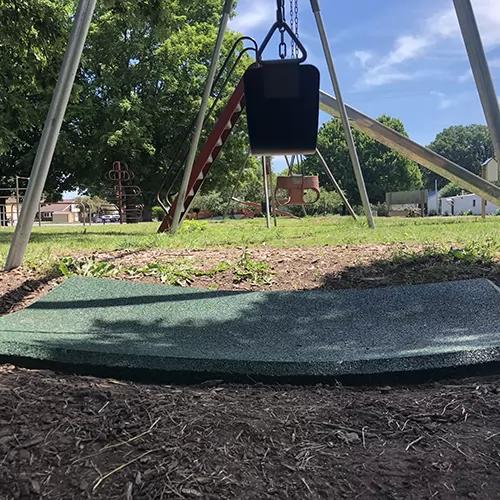 5 Mat Minimum Suggested
Ships Freight Truck Only
Perfect size for playground swings, super durable rubber mats
$102.12
/mat
(You Save 20%)
(1 Reviews )
Ships Out: Estimate 7-10 Working Days
VIDEOS
TOP FEATURES
5 Mat Minimum Suggested
Ships Freight Truck Only
Perfect size for playground swings, super durable rubber mats
Inhibits growth of molds and fungi
Made in the USA from 100% recycled rubber
4 ft fall height rating
Does not attract harmful insects
Versatile mats designed for heavy school use
Use Types
Swing Mats, Slide Mats, Walkway Mats
NOTE: This item is a custom order and is not returnable.
Rubber swing set mats, Playground safety slide and swing mats
Use our Playground Swing Set Mats, which are 2 inches thick, at playground swings and under slides. These are areas of the playground where loose-fill mulch is typically kicked out by playful children. Rubber mats stay in place, thereby increasing safety on the playground.
Our Playground Swing Set Mats are made of durable rubber in order to help improve safety on the playground for years to come. The longevity of our rubber mats for playgrounds is second only to their versatility and functionality. These swing mats feature a 4-foot fall height rating, making them perfect for use under slides and swing sets. These mats for swing sets help protect kids from falling off of slides and swing sets, and won't be displaced over time like loose mulch is, therefore providing comfort and fall protection for years. These durable residential playground mats protect children from falling off of slides and off playground equipment.
Durable Rubber Swing Set Mats
Made from 100% recycled rubber, these durable black 32 x 54 inch playground mats for under swings are 2 inches thick and feature a beveled edge to offer a clean and finished look.
Choose the best rubber playground swing mats
to make a major improvement to any park or playground. Our playsets play protector rubber mat makes any playground look revitalized, and provide major benefits to the community that use the playground. Our swing set mats make any playground a more fun environment for children to play on, and a safer environment that puts parents' minds at ease.
Recycled Rubber Black Playground Mats
These playground swing set safety mats are made in the USA with 100% recycled rubber, allowing them to stand up to years of use. Rubber is durable and doesn't rot like wood chips, making rubber playground mats a longer term and economical decision. Our playground mats for under swings stay in place, keep children safe, and greatly reduce ongoing maintenance. These mats are rated for outdoor use and will inhibit the growth of molds and fungi. These mats will also not attract harmful bugs, thereby helping improve the cleanliness of any playground. Rubber playground mats include a higher upfront cost than wood chips or rubber mulch, but will last longer and provide a safer and more durable playground flooring solution, thereby often making them the cheaper solution in the long run.
Other Uses for Playground Mats
Multiple playground mats can also be used to create a backyard walkway or patio. These rubber mats for under swing sets are also an ideal indoor surface for a home gym or any application where a durable, non-slip surface is needed. Playground swing set mats can be used for many related uses that require a durable rubber flooring solution, such as a tire swing mat. Our playground rubber mats can provide safety to any situation and will last for years while doing so. Our mats for under swings are made from environmentally-friendly materials approved by the EPA. These rubber playground safety mats are made in the USA with 100% recycled rubber. These black playset mats are available in Earth, Green, and Redwood colors to complement any outdoor space.
FAQ Playground Slide & Swing Set Mats Q&A
What do you put under a slide?
The area directly underneath a slide sees heavy traffic, so the flooring needs to be highly durable. A heavy duty rubber mat for playground slide use can provide this extra durability.
Can you use the same type of mat under a slide and a swing set?
Playground swing mats and a slide crash mat
both offer increased protection and durability. These heavy-duty mats are designed to stay in place without any glue-down installation. While you can absolutely use a swing mat at the base of a slide, using a slide mat under a swing might not cover a large enough area to be completely effective.
How long do playground swing set mats last?
While warranties on individual products vary, most swing and slide landing mats will last up to 20 years.
These rubber tiles are manufactured using recycled rubber buffings or crumb rubber from reground automotive tires. Black or color from the rubber material will rub off to some extent under normal use. This is common contact wear with this type of rubber tile in this product family type. All pigmented colored rubber tiles for outdoor and indoor use will experience some color ambering under UV exposure and some circumstances of color coming off.
Shipping
Ships via freight delivery, shrink wrapped on pallets
This Product Ships Freight Only.
Please review our shipping disclaimer.
ANSWERS
Product Questions:
Q: Can I get the size customized
A: These rubber outdoor playground swing set mats are not customizable and are available in various set sizes.
Q: I'm looking for the safety data sheet for this product. My specs are that it must have a Class II critical radiant flux (>.22 watts/cm2
A: For documentation not found on the web site, please contact us.
Q: Can I buy less than 20 mats? I only really need 5 for a small playground.
A: The order minimum for the swing and slide mats is 5.
SPECIFICATIONS
| | |
| --- | --- |
| SKU# | MAT32X54BK |
| In Stock | Yes |
| Product Type | Mat |
| Material Type | Rubber |
| Product Edging | Straight |
| Thickness | 2 inch |
| Width | 2.66 feet |
| Length | 4.50 feet |
| SF per Item | 12.00 |
| Weight | 80.00 lbs |
| Packaging | Shrink Wrapped on Pallets |
| Number of Pieces per Package Type | 20 |
| Non Absorbent | Yes |
| Special Adhesives | No |
| Interlock Loss | 0.00 feet |
| Interlocking Connections | No |
| Made In | USA |
| Surface Finish | Smooth flat |
| Surface Design | Solid color |
| Installation Method | Loose lay |
| UV Treated | No |
| Reversible | No |
| Border Strips Included | No |
HOW TO'S
RELATED PRODUCTS
RELATED BLOGS