Sterling Playground Tiles All Sizes
Commercial quality design
Made from recycled rubber material
Interlocking design
Handling Time Estimate: 3-4 Weeks on Average

Black

Blue

Brown

Gray

Green

Terra Cotta
How Much Flooring Do I Need?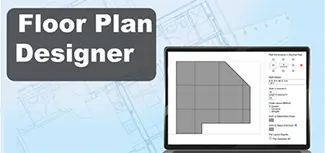 Commercial quality design
Made from recycled rubber material
Interlocking design
Superior installation method
Available in a selection of several colors
Durable outdoor rubber tiles
Playground Outdoor Areas, Safety Surfacing, Rubber Playground Tiles
NOTE: This item is a custom order and is not returnable.
Interlocking Playground Surface, Modular Playground Flooring
Playground areas are great for children, as it gives them a chance to have some fun, gain some exercise, and improve socialization skills. And when they have a safe type of ground cover installed, such as the Sterling Playground Tiles All Sizes product, they become an even better place for youngsters to hang out and play.
You can use this interlocking playground surface for commercial safety level protection in playground flooring installations. Our playground flooring offers ASTM fall height tested results and an interlocking design that is convenient to install. You'll be able to select from a variety of standard colors, as well as some premium colors, all made with high quality rubber material.

These modular playground flooring tiles are perfect for installations at parks, churches, homes, and schools. You will love the durability and longevity of the Sterling playground tiles, which are available in a variety of thickness measurements too.

Tough Materials
When selecting rubber playground floor tiles, you will want to find the most durable and trustworthy type of material you can. Having a material you can trust gives you the peace of mind you desire for playground flooring. After all, you only want to have the highest quality materials in a tile that you're counting on to help keep your children safe when playing.
Our tiles are made in Canada, which means you can count on the materials that we've used in the rubber playground floor tiles to perform well over time. This product carries a limited lifetime manufacturer warranty.
This rubber material is great for an outdoor installation at a playground because it is non-absorbent.
Color Options
You'll appreciate the different tile color options you'll receive with this rubber flooring. Many of our customers choose to use more than one color in the installation, allowing them to create patterns or designs that make the playground look great.
Creating a pattern does require performing some calculations ahead of time, just to ensure that you have the right number of tiles on hand for each color, so you may want to contact our customer service team for some help with the math. The available colors for the Sterling playground tiles include the following.
Black
Blue
Brown
Gray
Green
Terra Cotta
Thickness Options
We offer four different thickness measurements for these rubber playground floor tiles. You will want to select the proper thickness level to deliver the ASTM fall rating that you need for your playground.
The ASTM rating determines the critical fall height for many different types of surfaces, including these Sterling playground tiles. Don't be confused by the different definitions from the ASTM though, as you'll see fall height, critical height, and critical fall height mentioned.
Fall Height:
ASTM defines fall height as the distance between a play area and the material used in the ground covering that someone could fall without suffering a life-threatening head injury. So if you have a tall piece of playground equipment, your fall height measurement could be several feet, especially if the child would be able to stand on the piece, leaving their heads a few feet above the tallest area.
Critical Height:
Critical height measures the shock absorbency of the surface material, determining the maximum height from which someone could fall without suffering a life-threatening head injury.
Critical Fall Height:
Critical fall height consists of two different measurements, fall height and critical height. The ASTM performs testing on various types of ground cover material to take its measurements for fall height and critical height. It then uses those measurements to determine the critical fall height for a particular surface.
With those definitions in mind, here are the different options you have for ordering the Sterling Playground Tiles All Sizes product.
2.25-inch tile thickness for a 4-foot fall height
3.25-inch tile thickness for a 6-foot fall height
4.25-inch tile thickness for a 8-foot fall height
5-inch tile thickness for a 10-foot fall height
Understand that different thicknesses of these tiles will result in different weights per tile. With these tiles consisting of rubber, they will be heavy pieces. The 2.25-inch thick tile weighs 25 pounds, and the tile weights climb from there. So it may be difficult for one person to carry these large and heavy tiles. You will want to have multiple people available to work on the installation and to move the tiles from location to location.
If you're still unsure about which thickness measurement would be appropriate for your playground flooring order, just contact customer service to receive some advice.
Installation Preparation
Before you lay down the rubber playground floor tiles, it's important that you prepare the sub-surface. Without a proper surface material over which to install these tiles, you will not receive the kind of performance that you're seeking. The proper sub-surface options for installation include the following.
- Concrete
- Asphalt
- Aggregate Material (4 to 8 inches in depth)
Think about the installation area for this playground flooring. Dark colored rubber products will absorb sunlight when they are placed in an area that has a direct exposure to the west or south sun. This means these Sterling playground tiles could become hot to the touch, so if your tiles have this type of sun exposure, you may want to avoid allowing children to play in bare feet on these tiles.
The heating problem for these tiles will be reduced if they have partial shade or if they are in an area that receives more of a north or east sun exposure.
Finally, consider the drainage available for the area where you will be installing these rubber playground floor tiles. You don't want water to collect on the subsurface underneath the tiles for long periods of time. Additionally, having a proper draining area in the sub-surface should allow water to drain off the surface of the tiles as well.
Installation Process
Each tile measures 2 by 2 feet, allowing multiple tiles to cover a large area in a short amount of time during the installation process.
These tiles contain an interlocking channel that allows them to fit together tightly, eliminating the possibility of significant gaps between the rubber playground floor tiles. This ensures that you won't have gaps where kids could trip as they're running across the playground. Additionally, by removing significant gaps from the tiles, you won't have to worry about rocks or other materials squeezing into the gaps.
The interlocking channels will not stay together tightly enough just using the channels, though. You will need to apply adhesive to the channels, ensuring the tiles will remain in place, even when placed under the stress of many people standing and running on them.
Cutting Tiles
With this type of playground flooring, you may need to make cuts during the installation process. For example, you may have a retaining wall or fence around the playground, which forces you to cut some tiles to fit inside the barrier. Or if you have playground equipment already in place, you may need to cut around posts.
Straight Cuts:
To make a straight cut, you can use a sharp utility knife. Deeply score the tile on the top side and then lay the cut across the face of a 2x4 piece of lumber, which should cause the cut to open up wider. This will allow you to cut the material more easily with the utility knife. Some people will choose to make use of a circular saw to cut these thick tiles. We still recommend that you score the cut line with a utility knife before using the circular saw.
Irregular Cuts:
For curved and other irregular cuts on these Sterling playground tiles, you may want to use a jigsaw. Score the tile with the knife before using the jigsaw.
Routine Maintenance
You can ensure a longer lifespan for these rubber playground floor tiles by performing just a little bit of regular maintenance on them.
- Removing Leaves: We recommend a leaf blower or a push broom to remove larger pieces of organic material like leaves or gravel.
- Removing Sand: If these tiles will be used in an area where sand is nearby, you will want to remove the sand from the surface of the tiles periodically. Although the leaf blower may be able to remove the sand successfully, you may have to vacuum the seams on occasion.
- Removing Spots: Should you need to clean up a spot, these tiles can handle most common household cleaners or disinfectants.
Ordering Tips
If you have any questions regarding the Sterling Playground Tiles All Sizes product, please contact our customer service personnel. They can help you figure out which thicknesses will give you the protection you need for your particular installation. The more information you can provide about the types of playground equipment you'll have on hand, the better advice our customer service team can deliver.
Additionally, if you know the coverage area you have, we will help you determine how many rubber playground floor tiles you need to order.
For orders of more than 250 tiles or to cover more than 1,000 square feet, this product requires some level of site supervision during installation from the product manufacturer. Again, please contact our customer service team for more information.
View all Sterling outdoor rubber tiles
.
These outdoor rubber tile are manufactured using recycled rubber buffings or crumb rubber from reground automotive tires. Black or color from the rubber material will rub off to some extent under normal use. This is common contact wear with this type of rubber tile in this product family type. All pigmented colored rubber tiles for outdoor and indoor use will experience some color ambering under UV exposure and some circumstances of color coming off.
Shipping
Ships via freight delivery, shrink wrapped on pallets.
This Product Ships Freight Only.
Please review our shipping disclaimer.
| | |
| --- | --- |
| SKU# | SPTAll |
| In Stock | Yes |
| Product Type | Tile |
| Material Type | Rubber |
| Product Edging | Interlocking |
| Thickness | 2-1/4 inch |
| Width | 2.00 feet |
| Length | 2.00 feet |
| SF per Item | 4.00 |
| Weight | 25.00 lbs |
| Packaging | Shrink Wrapped on Pallets |
| Number of Pieces per Package Type | 54 |
| Non Absorbent | Yes |
| Special Adhesives | Yes |
| Universal Interlock | Yes |
| Interlock Loss | 0.00 feet |
| Kid Safe | Yes |
| Interlocking Connections | Yes |
| Made In | Canada |
| Surface Finish | Shredded rubber buffings |
| Surface Design | Solid color |
| Installation Method | Interlocking, glue together |
| UV Treated | No |
| Reversible | No |
| Border Strips Included | No |
| Floor Score | Yes |
| Manufacturer Warranty | Limited lifetime warranty |
Product Questions:
Q: What is the warranty.
A: Sterling rubber tiles have a 10 year limited warranty.
Q: Is it required to use adhesive?
A: In most cases, yes some adhesive is required, this all depends on the size and type of installation however.
Q: Has anyone used these as a bike path?
A: Yes. These tiles may be used as a bike path. However, the base needs to be a contained granular, asphalt or concrete.
RELATED PRODUCTS