Tips for Purchasing Playground Flooring
By Paige Cerulli Created: August, 2018 - Modified: August, 2023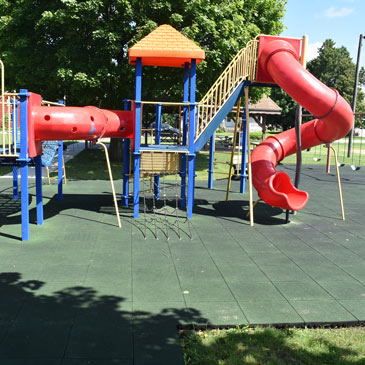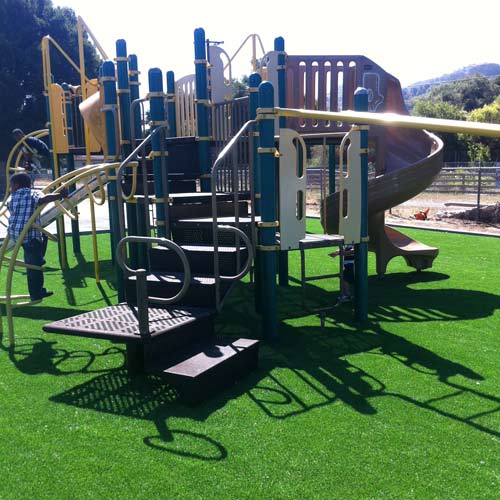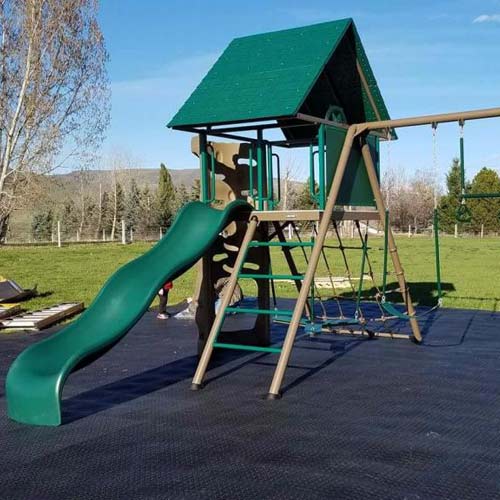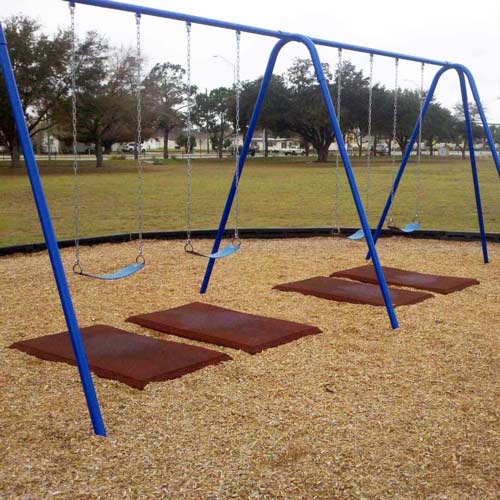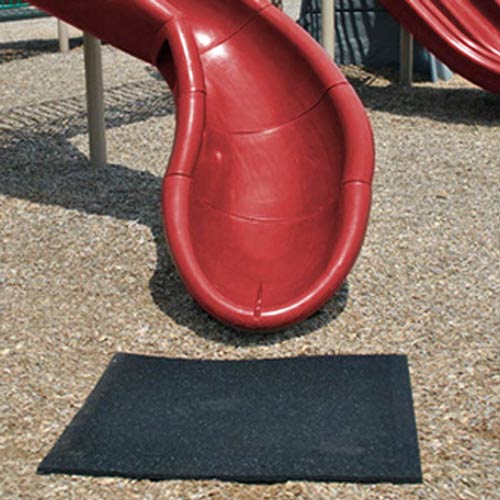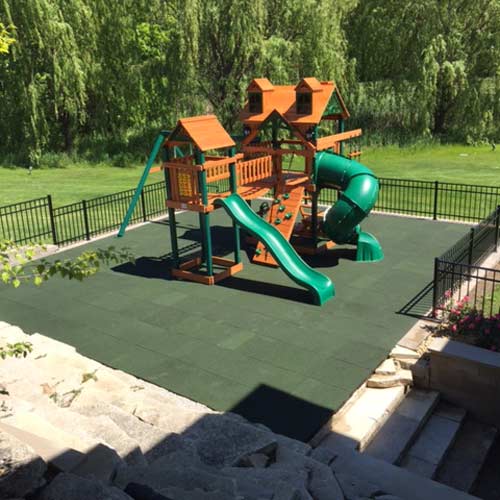 Building a quality playground requires a significant dedication to safety. Ultimately, the safety of your playground starts in the flooring that you choose. Not sure where to start when it comes to playground floor shopping? Don't worry - we can help you.
Before You Buy Playground Flooring
You'll need to do a bit of planning before you're ready to shop for playground flooring. There are many different types of playground flooring for sale, and a little planning will help you to narrow down the choices when it's time to shop. Consider these factors:
Fall height rating - Many playground flooring products feature ASTM fall height ratings, making them a valuable way to increase the safety of your flooring. The product's fall height rating should be equal to or greater than the highest piece of equipment on your playground. Be sure to have this calculation with you when selecting flooring.


Indoors or outdoors? - The location of your playground - indoors or outdoors - may mean that some flooring products are not suitable for your use. For instance, some products are intended only for indoor use, while others are built to withstand the outdoor elements. When building an outdoor playground, look for a product that is UV stable, has excellent drainage, and can withstand extreme temperatures.


Traction - Look for a product that offers plenty of traction. If you are working on an outdoor playground, then be sure that the flooring offers traction even when it's wet.


Installation method - You'll find a variety of installation methods for playground flooring. Some flooring tiles interlock, while others require an adhesive installation. Think about whether you're looking for a temporary or permanent installation, as well as whether you want to perform the installation yourself or are willing to hire a professional to help.


Maintenance - Your playground surface should be low-maintenance in order to save you both maintenance time and expenses. Many people prefer solid playground tiles and mats over loose fill for this reason.


Color - Many flooring options come in brilliant, eye-catching colors. With tiles, you can purchase different colors to create fun patterns. Artificial playground turf also creates a unique, pleasing aesthetic. If you have a particular look in mind for your playground, chances are there's a product that can help you to achieve it.


Accessibility - Creating a playground that's accessible by wheelchair or other wheeled device is an important goal. We offer a number of mat and tile options that come with ramped border pieces to help keep your playground accessible.
These factors can help you to evaluate different playground flooring for sale in order to choose the product that's just right for your needs.
How to Purchase Playground Flooring
When it comes time to make your playground surface purchase, follow these tips to make sure the purchase goes smoothly.
Calculate Coverage
Before you start looking at playground flooring for sale, take some time to determine just how much coverage you'll need. You may want to use different flooring types for different areas of the playground, such as investing in swing mats for the areas beneath swings or slides.
Prepare dimensions for the different flooring products and areas that you'll need coverage for. Don't forget to account for some extra material when working with tiles or
playground mats
, since you may need to cut some tiles to fit your desired dimensions. It's always a good idea to buy more flooring than you need; you can always use the spare product to make repairs in the future.
Finalize Your Budget
When you're ready to purchase playground flooring, you'll need to know the exact budget that you're working with. Don't forget to factor in the costs of installation when determining your budget.
Your budget may help you to narrow down your playground flooring choices, since some products may come in at over your budget.
Need to determine how much product you'll need, and what your costs will be? At Greatmats, we make that easy to figure out. Our Pro Floor Designer is a free online tool that can help you to determine how much of each product you'll need to cover the dimensions of your playground. It's easy to use and can save you valuable planning time.
Request Samples
There are countless different types of product flooring for sale, and it's always best to have a product in your hands to truly get a sense of what you're buying. Always request product samples before you make a purchase. If you'd like samples from Greatmats, please contact our customer service representatives - we're always happy to send samples out.
Buy from a Trusted Source
When you purchase playground flooring, it's best to do so from a source you can trust. The retailer that you purchase the flooring from can impact the success of your project through great customer service, prompt shipping, and by supplying quality products.
If you're considering buying from a supplier that you haven't previously purchased flooring from, then be sure to look up some customer reviews.
At Greatmats, we have an A+ Better Business Bureau rating, thanks to our dedication to customer satisfaction. We work hard to ensure that every shopping experience you have with us is a positive one, and it shows in our reviews.
Factor in Shipping
Remember the budget that you created earlier? As you narrow down your product choices and evaluate what fits within your budget, you'll also want to start factoring in the cost of shipping.
Depending on the weight of the product and the distance it will need to travel, shipping can be a significant part of the overall cost when you buy playground flooring. We're happy to provide shipping quotes for any product that you're considering.
Buying playground flooring isn't something that you should rush through, so start the process early on so that you have plenty of time. By shopping early, issues like a shipping delay or finding that a product is out of stock won't be huge problems. You'll have time to research and choose the right flooring for your project, and can lay the ideal foundation for your playground.