Warehouse Flooring Options - How to Cover a Concrete Industrial Floor
By Kim Butler Created: February, 2017 - Modified: May, 2023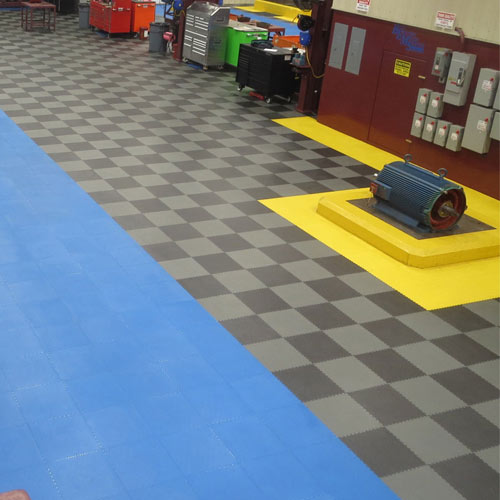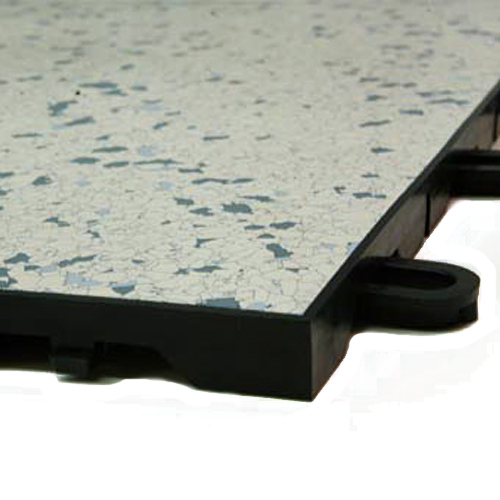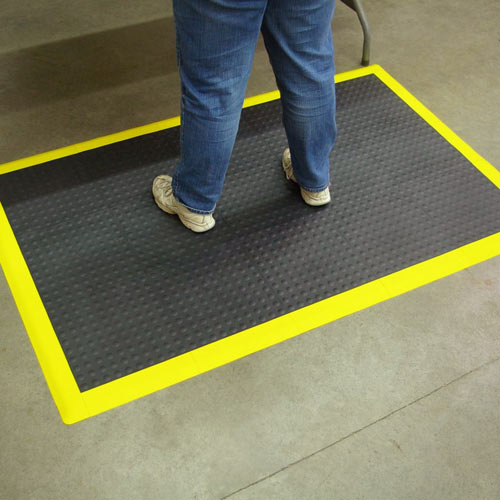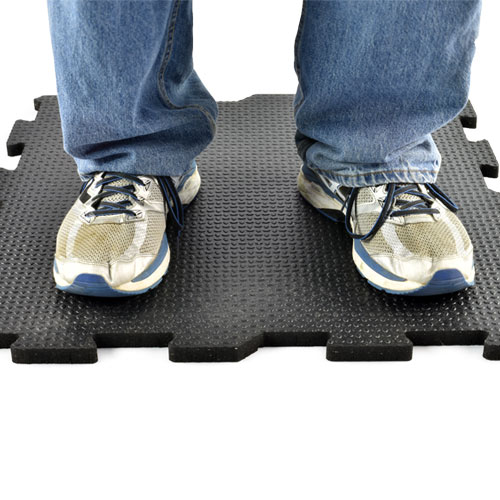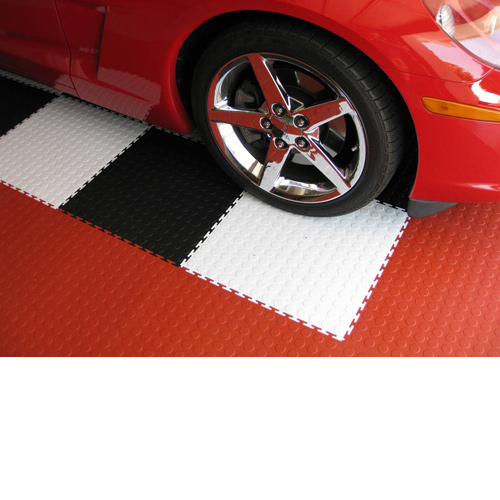 In some European countries, bare concrete floors are not allowed in warehouses and industrial buildings. European countries do tend to have more safety regulations than the United States, but this seemed unusual. After all, concrete is one of the most sturdy and affordable flooring options for large scale industrial and warehouse construction. Properly installed and maintained, it can last for years. But the drawback to concrete comes when you factor in the comfort and safety of your employees.
Concrete can be slippery and hard on the joints of the body. Fortunately there are several flooring options for warehouse areas that can stand up to forklift and heavy machinery traffic and also improve the comfort of your employees. In addition, covering that concrete with a
PVC
or rubber tile or mat can actually protect the concrete from wear and tear, as well as from acids and other chemicals.
Plastic Industrial Flooring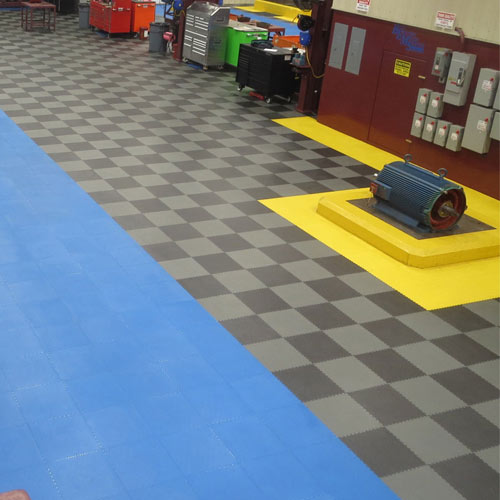 For garage areas and settings where heavy machinery operates, there are soft, plastic industrial floor mats that are rugged enough to withstand the abuse of vehicles including heavy forklift traffic. Often products intended for garage flooring work well in industrial areas.
Some specialty flooring companies carry large selections of industrial floor mats made of durable PVC or Polypropylene materials. PVC and polypropylene industrial flooring tiles typically come in 1x1- to 2x2-foot squares that snap or interlock together. The modular tile design is a great aid for do-it-yourselfers in both the
installation
and designing process. Industrial floor mats add traction, safety and cushion for standing employees to limit
fatigue
.
Greatmats.com offers an online pro floor planner which can help you determine the number of tiles necessary for your job and also allows you to visualize different floor pattern designs. Pick tiles of different colors and arrange them to make checkerboard or, if you space is large enough, other patterns that will fit your decor. PVC industrial floor mats are available in multiple surface
textures
, including orange peel, bump top, perforated, coin top and diamond top. They are also available in numerous colors, depending on which style you choose.
Some plastic industrial floor mats feature a flat bottom. Others are
raised tiles
that will allow air to flow beneath the tiles. Perforated PVC industrial tiles are designed for use in wet areas as they allow fluids to flow through the surface and keep you on a dry surface at all times. They also allow airflow to the underside preventing fluids from becoming trapping beneath the flooring surface.
The most popular
perforated
PVC tile choice is the StayLock Perforated Tile. Made in America, these industrial-strength tiles are a soft plastic product built to last both indoors and out. These tiles will last for years in wet areas where surfaces like wood or laminate are not suitable.
Some PVC tiles are electrostatic dissipative, providing extra safety in electrical work areas and computer rooms.
StayLock Bump Top or Orange Peel tiles are plastic industrial floor tiles built specifically to provide ergonomic benefit to people standing for long periods of time. The easy-to-use interlocking design allows you to install the flooring quickly without adhesives. All StayLock PVC tiles can be disassembled and relocated as needed without damaging the tiles.
Greatmats offers several floor mats intended for electrostatic dissipation (ESD) as well as high voltage protection. Grounding cords are available to route static electricity to the proper ground. Tacky mats work well for clean rooms and industrial areas where keeping dirt and sand out is necessary. Greatmats also carries tacky mats for wet areas.
For a firmer plastic flooring option, you may want to consider those made of polypropylene, such as Greatmats' Garage Floor Tile Diamond. These industrial floor tiles can easily hold 20,000 pound loads without breaking.
Rubber Industrial Flooring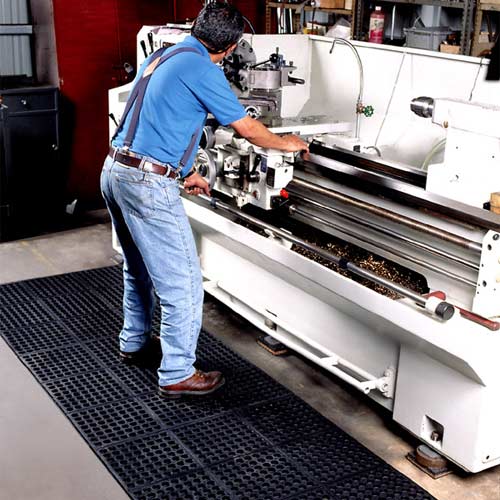 Rubber anti fatigue mats are available with safety edging in a wide range of price points, thicknesses and colors. Some rubber industrial floor mats feature a waffle style underside, designed for anti-fatigue protection. Rubber mats are constructed from recycled materials and are durable enough to last for decades. There are numerous industrial mats designed for factories, production floors, welding and stamping stations, machine shops, tool and die areas and warehouses with both straight edged and interlocking designs.
Specialty flooring retailers like Greatmats.com carry warehouse floor mats for places where solvents or other
chemicals
are present, that provide ergonomic benefits for standing work stations, heavy traffic areas or areas where forklifts are present.
Industrial rubber floor mats and runners offer excellent anti-fatigue properties and a comfortable surface to stand on in both dry and wet areas. These mats are rugged and built to last.
Diamond Runners are great anti-fatigue mats for standing areas in industrial settings. Available in 2-, to 4-foot widths, they are 75 feet in length and available in solid black or black with a yellow safety edge. Diamond runners feature the standard
diamond textured
top safety surface for extra traction and cushion as well as protecting flooring - which reduces maintenance costs.
Tuff Foot runners promote a safe and comfortable working environment that is oil and grease resistant. These industrial runners are available as a corrugated or ribbed runner. Both corrugated and ribbed types are available in sizes of 2- to 4-foot x 105 feet sizes as well as a larger 6 x 115 foot runner.
ShokLok Tiles are designed for industrial facilities. These interlocking tiles are water jet cut, providing a very tight-fitting installation. Available in 2x2 and
4x6
sizes, they are available in straight and beveled edges. Both are made with 3/4 inch thick commercial-grade recycled rubber.
TruTread mats are designed for wet industrial areas. Large drainage holes allow water to drain through the surface. Available in a number of different sizes, they can be joined together to cover large areas. Safety TruTreads feature brightly colored, beveled edging to make them more
visible
for forklift drivers and pedestrians. They also feature a high-traction surface to prevent slippage in wet areas.
You can also choose from a number of different rubber mats and rubber runners that are resistant to grease and, therefore, excellent for restaurants and other large
kitchen areas
. They keep you up off the wet ground while drainage holes allow the water to pass through the rubber surface.
Covering that concrete flooring in your warehouse or industrial and manufacturing facility will improve employee comfort and safety, as well as extend the life of your concrete floor, giving your business a firm foundation on which to grow.