How Important Is Floor Texture?
By Lisa Hobbie Created: February, 2021 - Modified: March, 2023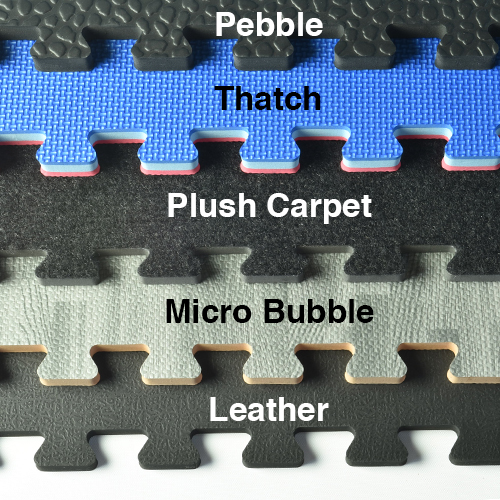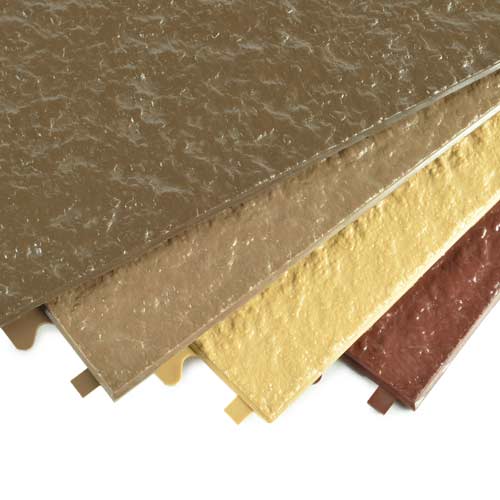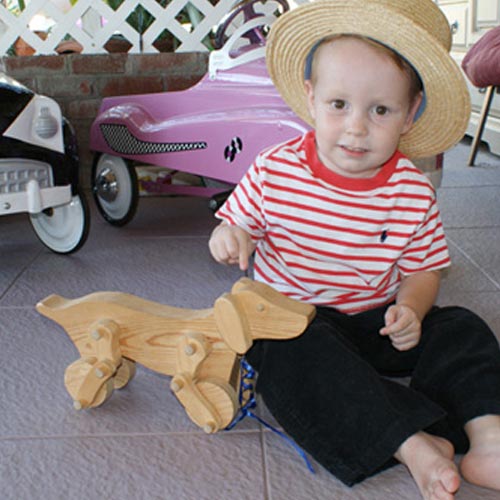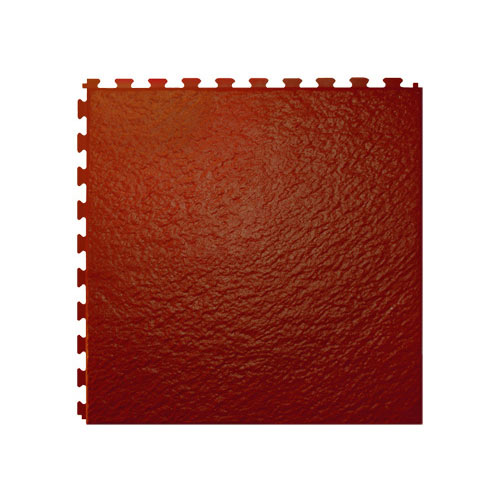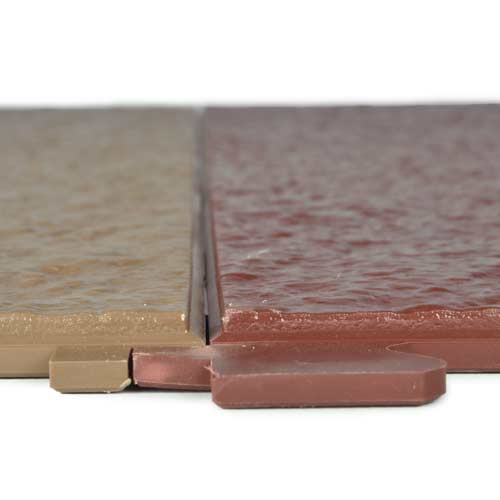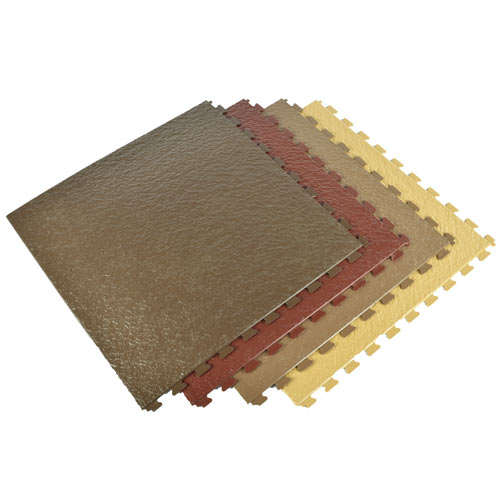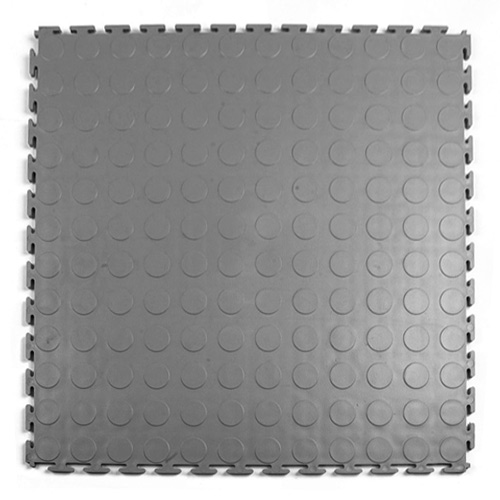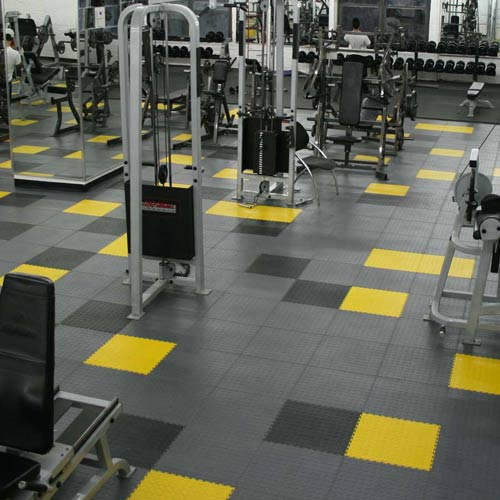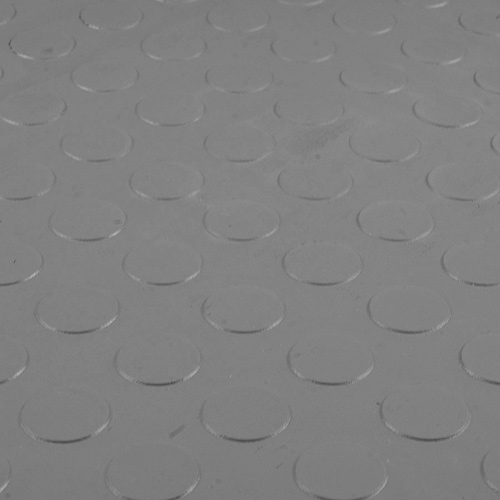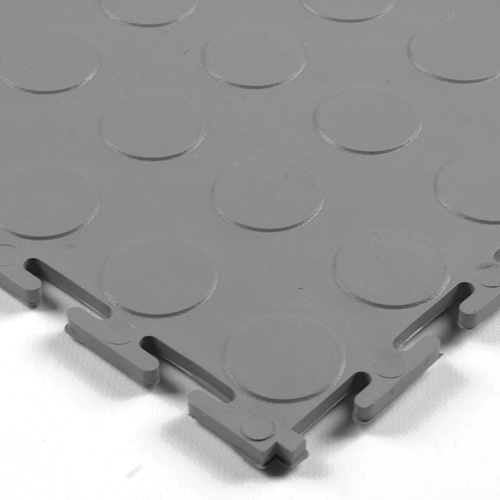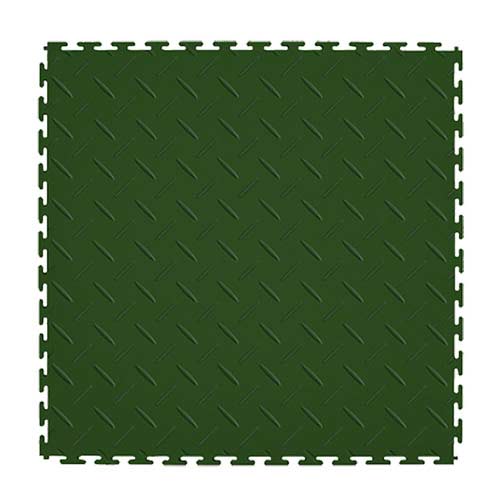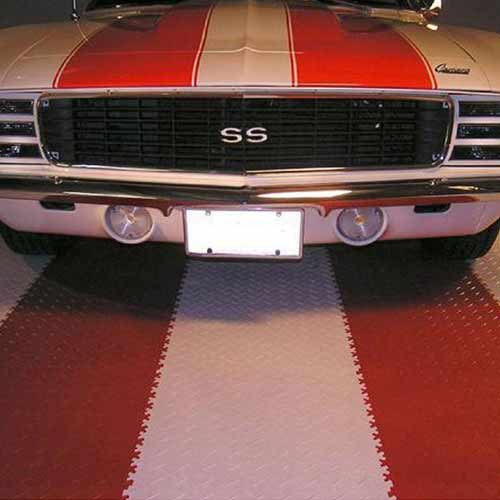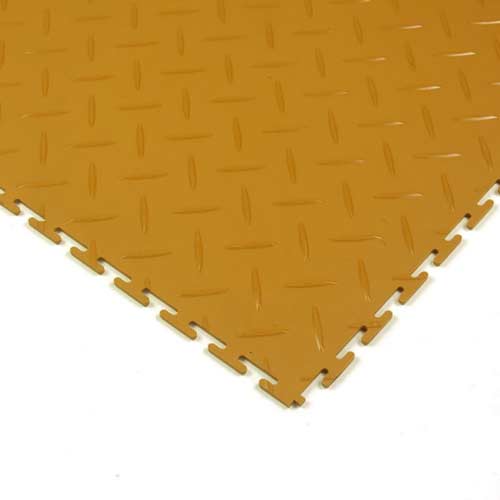 Floor texture
is a very important consideration that is often overlooked. If you have a martial arts sports training facility, for example, knowing if you want a
tatami
or smooth texture is very important. If you are trying to find the best garage flooring, selecting one with a texture that will provide traction and grip may be a consideration. Perhaps you like the look of
slate
, but want a surface texture that will provide some slip resistance. These are just a few examples of notable ways floor texture is important.
Greatmats offers a wide variety of flooring solutions, with various floor texture options. Among the most popular are slate, coin,
diamond plate
, leather, tatami, hand scraped, and smooth. Here, we will highlight one of the best flooring solutions for each of these texture categories.
Slate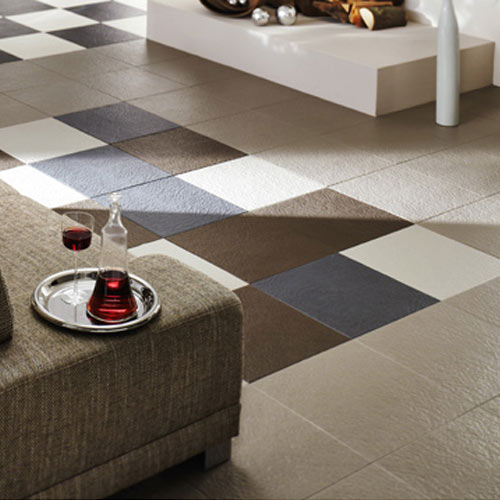 Faux Slate Floor Tiles are among the most popular faux slate products available at Greatmats. They are made of a non-slip, PVC plastic. They present the look of a designer slate surface with a slip resistant floor texture. This makes it a suitable solution for basements, playrooms, craft rooms, and entryways.
This flooring is a breeze to install without adhesive over any hard, flat subfloor. It is hygienic with antibacterial properties. It is also very stain resistant, and it is able to withstand even the heaviest of furniture and other loads. It is also very easy to clean and maintain.
Overall, this product presents an upscale, slate feel and appearance for a low installed cost of just over $4 per square foot.
Coin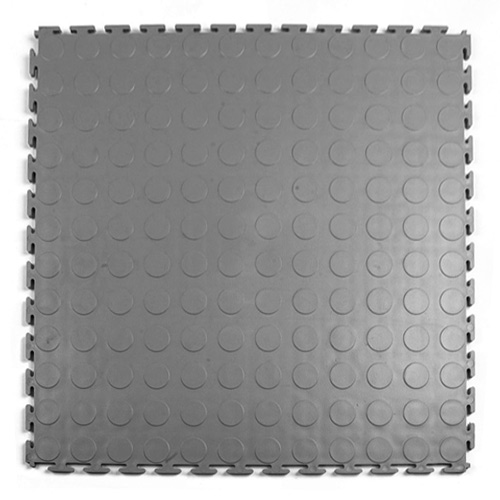 Warehouse Coin PVC Tiles are made of 100 percent recycled PVC content. The coin top surface floor texture of this tile provides a slightly raised surface that will lessen scuffing caused from vehicles and foot traffic. The tiles are resistant to oil, gasoline, solvents, and caustics, making them a great flooring solution for garages, industrial settings, warehouses, entrance ways, and more.
These PVC tiles are designed for heavy-duty vehicles like forklifts, trucks and other automobiles. They can be used to cover old stone or concrete floors or damaged surfaces. Their color and tensile strength are not impacted by heat, cold, or humidity, and they are designed to resist the growth of mold, mildew, and bacteria. They are easy to install without adhesive.
Diamond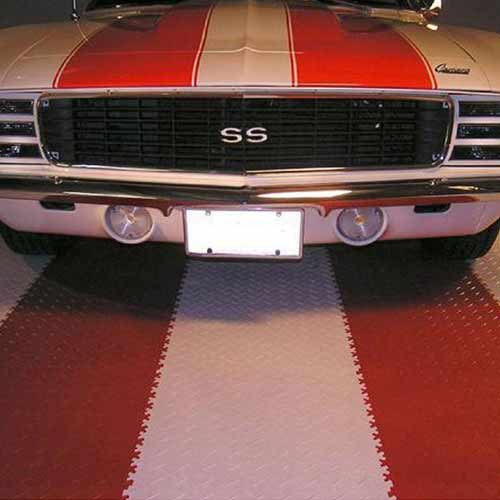 Diamond Plate Floor Tile is a PVC product that features a floor texture that is soft and durable while providing traction. It's a suitable solution for worn garage floors, warehouse floors, and home or commercial gyms. It's a modular tile that can be installed quickly and easily without glue, and the resulting floor offers superior sound absorption and fatigue relief.
This flooring is professional grade and made in the USA.
Leather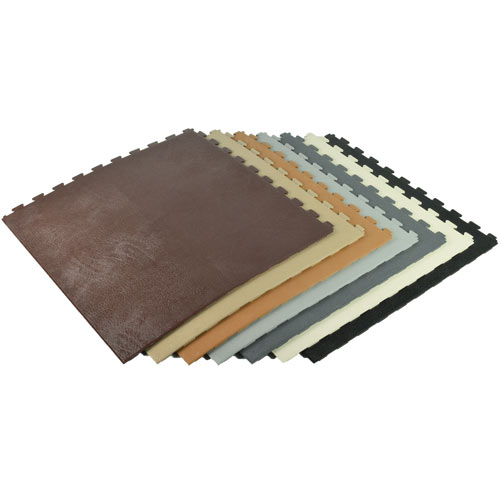 Leather PVC Floor Tiles offer a flooring solution with a hidden interlocking connection system that can be installed over any solid surface without adhesives. These tiles are durable with a
leather top floor texture
that provides slip resistance. They are perfect for basements, playrooms, craft rooms, and entryways.
This PVC product is stain resistant and robust enough to endure foot traffic and heavy weight loads. It is also hygienic and offers antibacterial properties.
Available in many neutral colors, these tiles can be easily cleaned with a damp mop and common household cleaners.
Tatami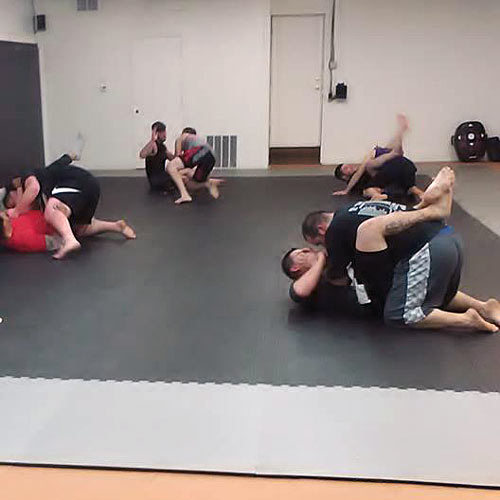 Interlocking Judo Jiu Jitsu Mats feature a burn-free tatami surface floor texture that allows athletes to train longer and harder without suffering mat burn injuries. Although traditional tatami surfaces are known for leaving skin burns, the mats at Greatmats will not.
These 1.25 inch thick puzzle mats offer a professional quality surface for Judo, MMA, Jiu Jitsu and other ground work and skill development. They also provide the perfect amount of firmness for training on your feet. The mats provide superior shock absorbing properties and are reversible.
Hand Scraped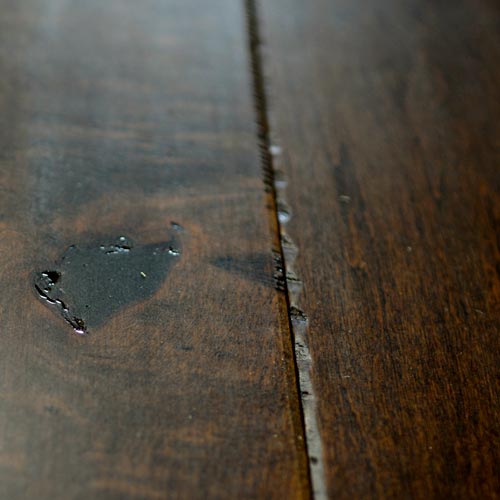 Florence Green Engineered Hardwood presents a
hand scraped floor texture
with the look of hand stained planks in a vibrant and dynamic flooring product. This is a suitable flooring solution for any home, cabin, office, or retail space. This engineered wood product features beveled edges and a stunning finish, while containing at least 60 percent recycled pre-consumer raw material.
The floor is simple to clean with a broom or dust mop as needed.
Smooth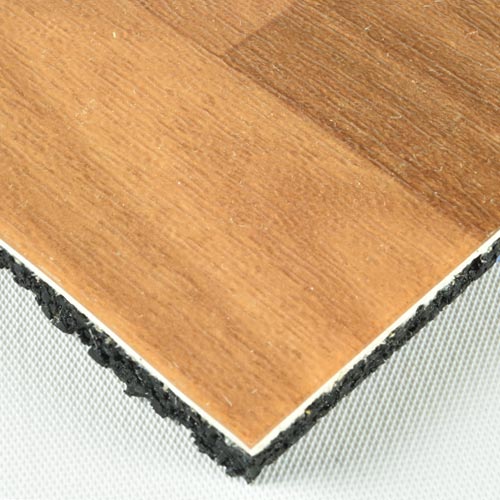 Athletic Vinyl Padded Roll has a smooth, seamless surface with a synthetic wood grain design, and it is extremely sound and shock absorbent. It features a 5mm rubber base layer providing an ergonomic and quiet underfoot experience.
This beautiful flooring is fade resistant and wears well. It looks like wood, but it is much easier to clean and much more affordable.
Cleaning this floor is so easy with a vacuum, broom, and damp mop process. It comes in a standard roll length of 30 linear feet.
Choose Greatmats!
When you are ready to buy flooring, Greatmats is your one stop shop. With texture options available, there is a product that would suit any use, price point preference, or thickness. Select one of the products highlighted here, or, one of the many other products at Greatmats, and rest assured, you will get the best quality and service that money can buy.