Wearwell ErgoDeck ESD Solid 18x18 Inch Tile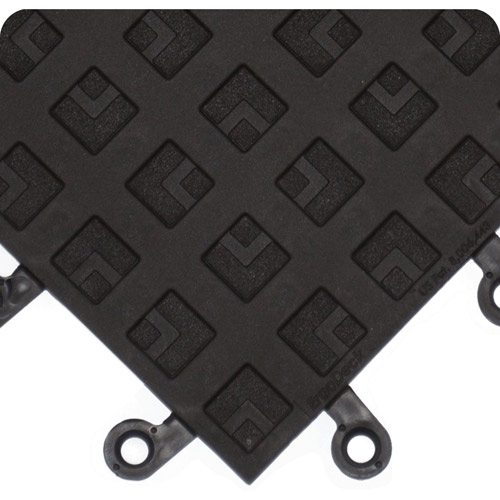 Standing relief in static sensitive applications
Customize in 3'' (8 cm) increments to fit any area or configuration
Positive Interlocking System prevents separation
Ships Out: Estimate 4-6 Working Days
How Much Flooring Do I Need?
VIDEOS
How to Install Wearwell ErgoDeck Tiles
Wearwell ErgoDeck Flooring Promotional Video
How to Connect ErgoDeck Tiles without Tools
How to Cut PVC Floor Tiles
TOP FEATURES
Standing relief in static sensitive applications
Customize in 3'' (8 cm) increments to fit any area or configuration
Positive Interlocking System prevents separation
Easily replace single pieces or sections as needed to reduce costs
Carbon impregnated PVC tiles provide maximum durability
Overall thickness 7/8 inch (22 mm)
Use this tile in dry conditions
Use Types
Manufacturing, transportation, health, lab and pharmacy
NOTE: This item is a custom order and is not returnable.
Wearwell ErgoDeck ESD Solid Tile for standing relief in static sensitive applications. Static electricity is created by two materials rubbing together, and seeks a path to ground - often through the human body or through sensitive, conductive equipment. The best way to eliminate these risks is to create a static-dissipative environment. ErgoDeck ESD (ElectroStatic Discharge) - a comprehensive flooring solution - offers the best defense. Used over conductive sub-flooring, ErgoDeck ESD is your best defense against fatigue and static shock that could compromise the quality of your products. Made of a proprietary TPO/Carbon blend, the ESD properties are throughout the entire tile. No snaps or additional grounding is necessary when used over conductive flooring. Positive interlocks stay secure, ensuring areas of any size are protected. When installed wall-to-wall, ramps and corners aren't necessary. For transition areas use ErgoDeck's standard, universal ramps.
Black Wearwell ErgoDeck ESD Tiles, 18x18 Inches

Customers who need a type of mat that provides static control in a medical facility, industrial facility, or other use case can count on our Black Wearwell ErgoDeck ESD Tiles, which carry the highest levels of quality and performance.

Each of our interlocking ESD tiles measures 18 by 18 inches in size. However, you can create any size of coverage in the floor by connecting multiple mats together. Each mat has interlocking tabs on the edges, which simplifies the process of connecting the mats.

The tiles will remain tightly connected, even when placed under stress, because of the positive interlocking system. Installers will not need any glue or adhesive to put the mats together, yet they will remain tightly connected as if the installer did add glue.

Should the installer need to disassemble the tiles later to move them into storage or to create a smaller coverage space, these tiles will pop apart just as quickly as they went together. This is a highly convenient type of floor that offers all of the benefits of PVC plastic flooring, along with ESD properties.
What Are Electrostatic Discharge Tiles?
ESD is short for electrostatic discharge. ESD tiles create a type of flooring that does not allow static buildup for people or objects moving across the flooring. With certain types of floors, people may generate static through their shoes making contact with the floor as they walk.
When the person that is generating the static then touches another person or object, the static discharge may occur. This discharge can involve up to a few thousand volts of static electricity.
Should someone touch a device with sensitive electronics in it and discharge the static electricity, it could cause significant problems with the components in the device. This may lead to a failure of the device.
How Do ESD Tiles Protect Electronic Devices?
These tiles provide an anti-static makeup. First, they resist the buildup of static when people walk across them, thanks to the proprietary blend of materials.
Second, when someone does have a static buildup before stepping onto the mats, the materials will cause a dissipation of the static buildup before the person could touch sensitive electronics devices.
Through the design of these tiles, the manufacturer ensures that the anti-static properties carry through the entire thickness of the tile, as well as across the full dimensions of the tile. This design delivers maximum protection against the buildup of static, even if someone is walking along the edge of the mats.
Other Benefits of Static Protection Tiles
Each of these PVC plastic mats has anti-fatigue properties, which allow those who must stand and work for long periods of the day to receive a forgiving type of flooring.
People will have less pain in the lower body joints and in the lower back after standing on these cushioned mats for working. These properties also reduce fatigue in the legs.
When people have pain and fatigue in the lower body, they may struggle to avoid making mistakes toward the end of the workday. If they focus on the pain, they may be less effective while working and they may lose concentration.
Installation is an easy process. When installing these tiles, customers have the option of creating a wall-to-wall design or an island design. When pushing the flooring against a wall, installers may need to cut some of the tiles to reduce the size of the tile and create a tight fit. Cutting these tiles only requires a utility knife and a straightedge.
For an island design, where the layout will be in the middle of the room, the 7/8-inch lip on the tiles could create a tripping hazard. Customers can add an optional yellow beveled edge to the perimeter to reduce the trip hazard.
PVC Plastic Anti-Static Tile Specifications
Width: 1.5 feet

Length: 1.5 feet

Thickness: 7/8 inch

Coverage: 2.25 square feet

Weight: 2.2 pounds

Color: Black

Surface: Raised pattern

Edge: Interlocking
Maintenance and Care
Taking a few steps regularly to maintain and clean these ESD tiles will keep them looking like new and will extend their useful life. With ESD mats, it is important to keep them as clean as possible to maintain the static protection properties.
Regular cleaning and maintenance also will allow the mats to maintain the grippy surfaces that PVC materials naturally have. (PVC is an alternative term for vinyl flooring and is short for polyvinyl chloride.)
Start by sweeping or dry-mopping the surface on a regular basis to keep dust and dry soils off the material.
In a heavy traffic environment, customers may want to wet-mop these tiles a few times per week. Use a mild soap diluted with water, or use a cleaning solution specifically made for static control mats.
Do not use a cleaning solution that will leave a residue on the PVC plastic material. As long as the cleaner does not leave residue behind, the mat should continue to perform as intended in terms of its static control properties.
ErgoDeck is a registered trademark of Wearwell
Maintenance
Sweep regularly or dry-mop the surface.
Shipping
Ships in cartons via ground service to your door, for larger orders product may ship freight delivery
This Product Ships UPS Ground, FedEx Ground and/or Freight.
Please review our shipping disclaimer.
WARNING: This product can expose you to chemicals including Lead and/or Phthalates, which are known to the State of California to cause cancer and birth defects or other reproductive harm. For more information go to www.P65Warnings.ca.gov.
ACCESSORIES
Accessories for WEARWELL ERGODECK ESD SOLID 18X18 INCH TILE
ANSWERS
Product Questions:
Q: I am looking at the ErgoDeck ESD tiles: Where do I find the bevel edge options? I would like to use a yellow bevel around the black EDS tile.
A: We do offer a yellow beveled edge option. Please call one of our reps to order or find out pricing.
SPECIFICATIONS
| | |
| --- | --- |
| SKU# | 557.78x18x18BK |
| In Stock | Yes |
| Product Type | Tile |
| Material Type | PVC Plastic |
| Product Edging | Interlocking |
| Thickness | 7/8 inch |
| Width | 1.50 feet |
| Length | 1.50 feet |
| SF per Item | 2.25 |
| Weight | 2.20 lbs |
| Packaging | Cartons |
| Number of Pieces per Package Type | 10 |
| Non Absorbent | Yes |
| Special Adhesives | No |
| Universal Interlock | No |
| Interlock Loss | 0.00 feet |
| Interlocking Connections | Yes |
| Made In | USA |
| Surface Finish | Raised pattern |
| Surface Design | Solid color |
| Installation Method | Interlocking, dry lay |
| UV Treated | No |
| Reversible | No |
| Border Strips Included | No |
| Manufacturer Warranty | 1 year limited |
HOW TO'S
RELATED PRODUCTS
RELATED BLOGS