How to Make Playground Flooring Wheelchair Compliant
By Paige Cerulli Created: September, 2022 - Modified: November, 2022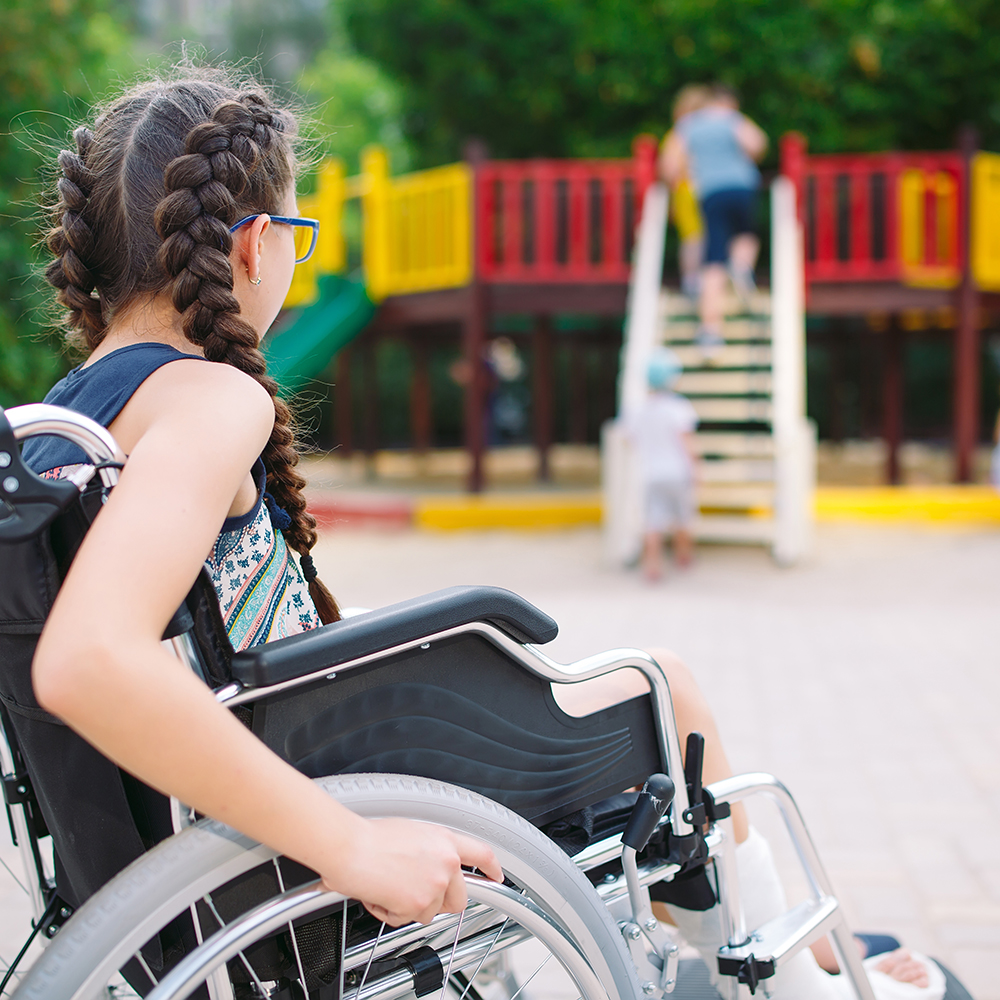 When creating an accessible playground, it's important to ensure that the space meets Americans with Disabilities Act (ADA) regulations. ADA regulations help to ensure that the space is inclusive and friendly to kids and family members who may have physical disabilities that require ramps and other elements for access.
Are Rubber Playground Tiles Wheelchair Compliant?
No, rubber tiles by themselves are not wheelchair compliant.
Using ADA compliant rubber ramps can make your rubber tiles wheelchair compliant
, however. By meeting these requirements, you can ensure that playground visitors who rely on wheelchairs and other medical equipment can still access the area.
ADA requirements are specific, including that the ramp needs to have a 1:12 slope ratio, must be at least 36 inches wide, and must have protected edges to prevent a wheelchair from sliding off the edge of the ramp. By shopping from our
ADA rubber ramps for playgrounds
, you will have the peace of mind of knowing that you are purchasing a ramp that meets all of these requirements.
Designed to be used with rubber pavers and tiles, these rubber ramps can provide equipment access to surfaces throughout your playground. By strategically positioning the ramps, you can provide kids with access to swings, slides, and other playground equipment.
These rubber ramps are highly durable additions to your playground. They are resistant to mildew and wear, and they offer a non-slip surface that offers the traction that wheelchair users need to be able to travel up and down the ramps.
The ramps offer shock absorption, and they are fall height rated. They can help to prevent and minimize injuries, making your playground a safer space.
The ramps also feature guides on both sides to help keep wheelchairs and equipment safely centered within the surface. They can help to prevent the equipment from falling off the edge of the ramp, increasing the overall ease of use and the safety of the ramp.
Choosing the Right Wheelchair Friendly Ramp for Your Playground Flooring
As you explore the different ramps for sale, consider the following qualities to determine which ramp is right for your playground.
Overall Ramp Height
It's important to choose a ramp that matches the height of your playground surface. At Greatmats, our ramps range from 1 to 4.25 inches in height, so they can accommodate many different playground surface heights.
Ramp Material
You can purchase ramps made of many different materials, but it's essential that the material is a good fit for your environment and how you plan to use the ramp. Some materials are more durable than others.
You might find plastic ramps for sale, but lower-quality plastic ramps lack durability and can get slick when they're wet. They also tend to be lightweight, which means they are prone to shifting out of place, and they can crack as they age.
Rubber is a much more practical choice for a ramp. Rubber is supremely durable and can withstand both hot and cold temperatures, so you can leave the ramp outdoors year-round.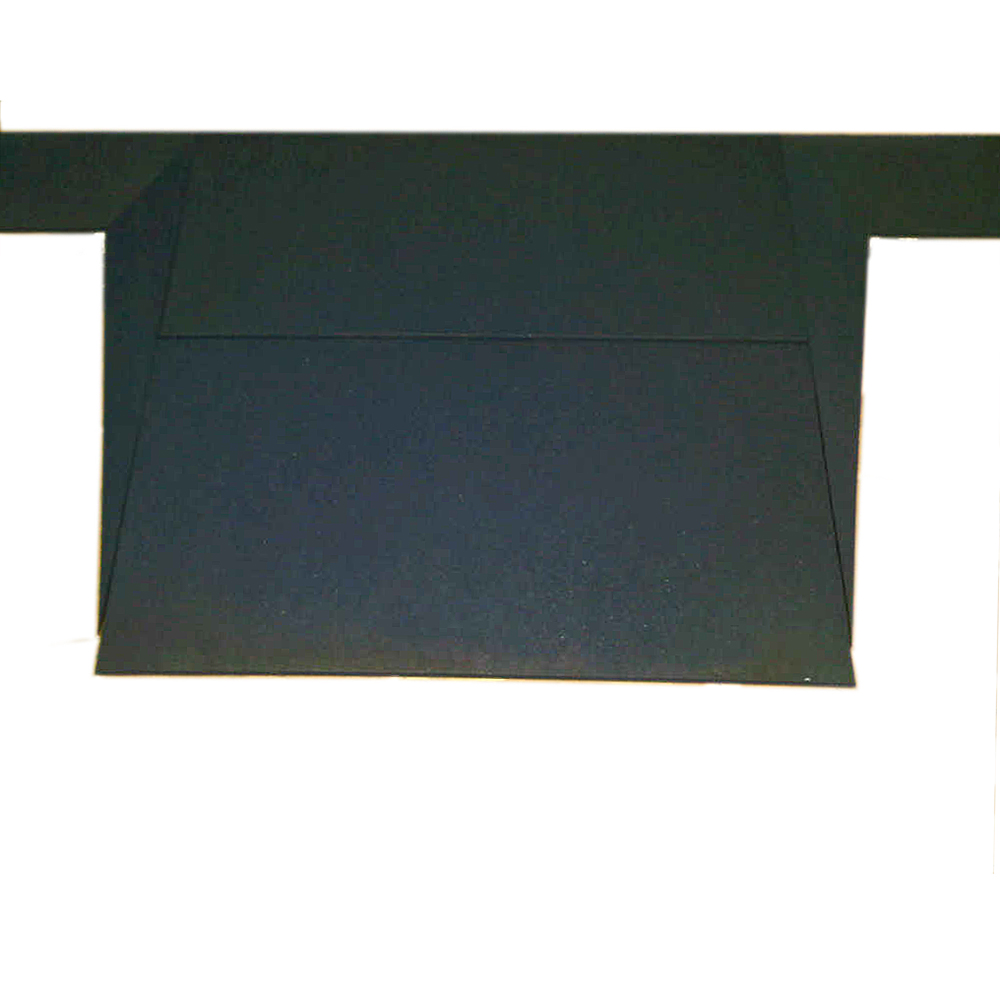 Rubber also offers excellent traction, even when it's wet. And if someone should trip and fall on the mat, rubber offers some shock absorption to help minimize injuries.
Our rubber ramps feature an interlocking design that allows you to connect them to your rubber playground tiles. They can also be glued down for a secure installation that won't shift.
Traction
The ramp that you choose needs to provide adequate traction not only for shoes, but also for wheels. It should provide that traction both when it is wet and dry.
Ramp Width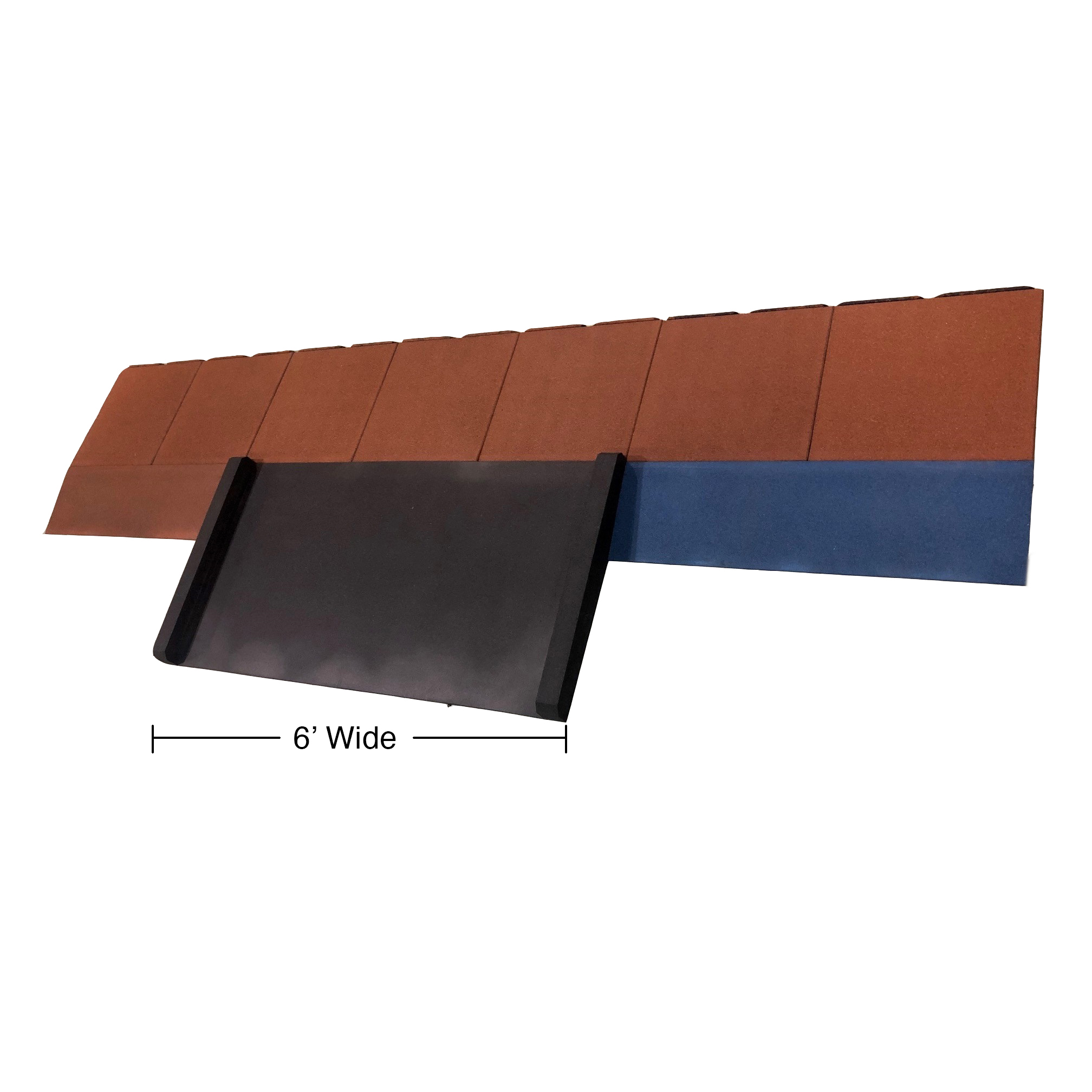 Consider which width is best for your space. To be ADA compliant, ramps need to measure at least 36 inches wide, which provides adequate space for a wheelchair.
But in some cases, you may want to make the ramp even wider. A wide ramp can accommodate multiple wheelchair users or lots of foot traffic without funneling that traffic into a smaller area.
An even better option may be an access ramp kit, which you can use to surround your entire playground surface. This kit creates a continuous ramp around all of the sides of your playground, which makes for a smoother transition onto and off of the playground surface for all users.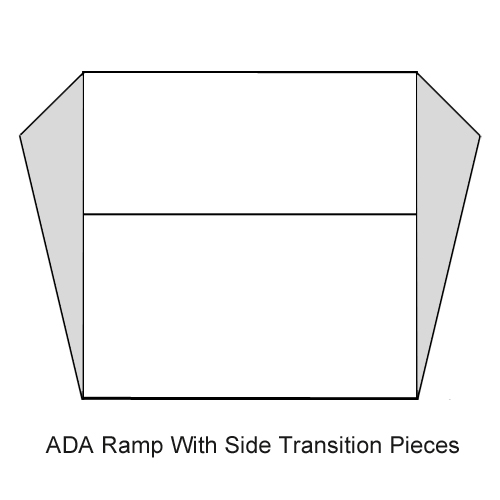 The kit eliminates a step down off of or up onto your playground. In doing so, it helps to minimize tripping and falling, while also making the entire space wheelchair accessible.
Durability
Playground ramps need to be able to withstand weather, temperature extremes, and plenty of traffic and use. This is particularly true of ramps that are installed in busy playgrounds.
Consider the durability of any ramp that you might purchase. Ramps made of rubber are highly durable, and many of our ramps are backed by a one-year manufacturer's warranty.
By confirming that the ramp you are buying is designed with durability in mind, you can maximize the value you get out of this important investment in your playground.