Where Can I Use Interlocking Drainage Floor Tiles?
By Paige Cerulli Created: October, 2023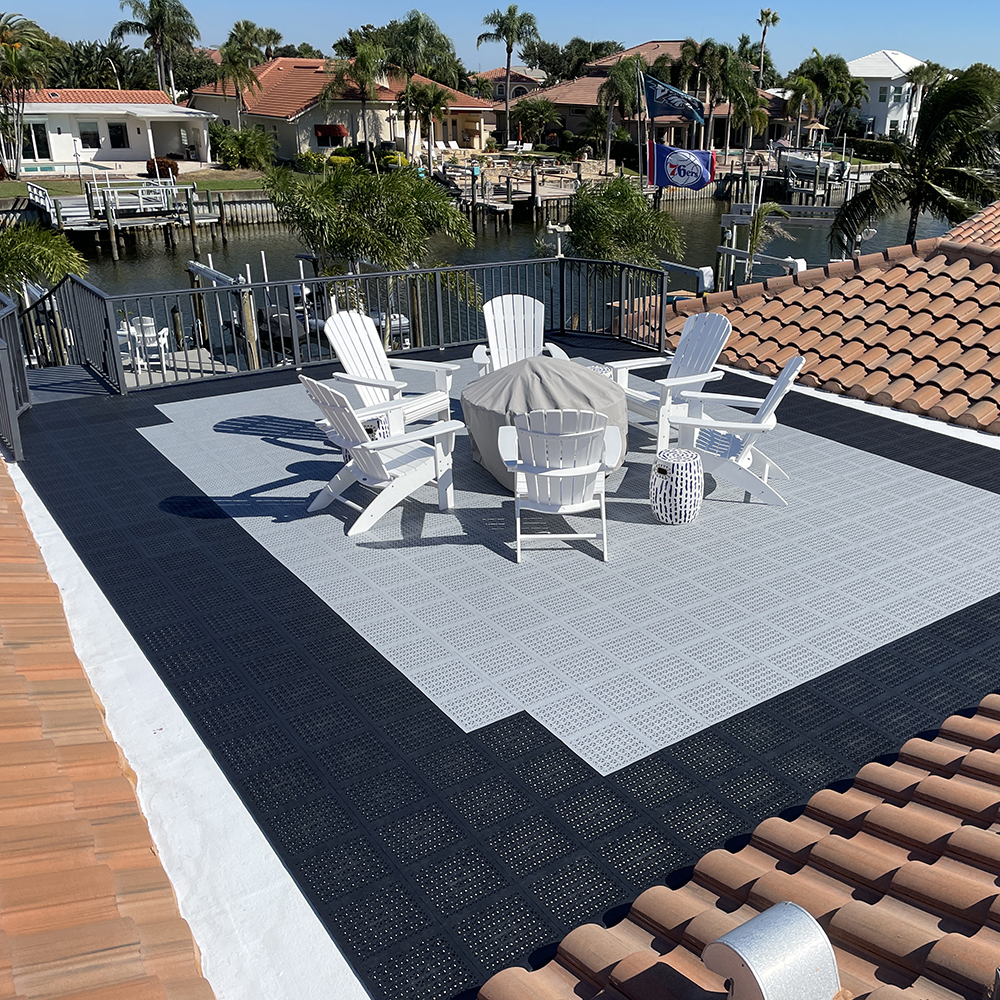 Interlocking drainage tiles are a versatile and popular flooring option. These self draining tiles are suitable for installation in many areas, including outdoor and indoor spaces. Whether you're planning a drainage floor in a shower, basement, patio, or other space, chances are that these tiles may be the ideal solution.
The Benefits of Interlocking Drainage Tiles
Interlocking drainage tiles are raised tiles that allow liquids to drain through and underneath them. That raised tile design helps to keep your feet up and out of liquids, which can create a safer space. Since the tiles are raised, air and liquids can circulate beneath the tiles for faster drying.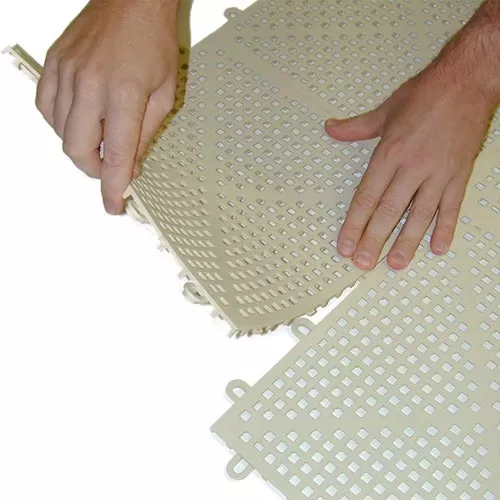 We offer a large selection of interlocking drainage tiles that are made of flexible PVC and rigid polypropylene plastic. Because the tiles connect together, it's easy to create a unified flooring surface that can also be removed again if needed. The tiles are suitable for a wide range of uses as drainage flooring.
Where to Use Interlocking Drainage Floor Tiles
Many of the interlocking drainage tiles that we carry have multiple potential uses, but here are some of our recommendations.
Outdoor surfaces like patios, decks, and event spaces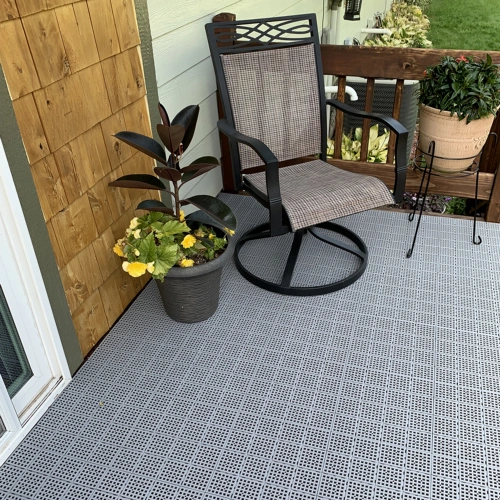 The
Patio Outdoor Tile
is a perforated tile that is suitable for indoor and outdoor use. It's made of a flexible PVC plastic that adds some cushion to make an area more comfortable. The slip-resistant texture contributes to safety, and these deck tiles measure 1x1 feet, so they're easy to transport and install.
The
StayLock Perforated
is made of a flexible PVC plastic and features generous perforations for fast drainage. It's ASTM fall height rated to 20 inches for enhanced safety in case of a slip or fall. It also features an active locking connector system that holds the tiles together even when installed on uneven surfaces.
The
Ergo Matta Perforated
is made of flexible PVC plastic and is available in brilliant, eye-catching colors. Designed for drainage flooring, the tiles easily interlock together for a fast installation and are suitable for use on any hard, flat surface.
The
Portable Outdoor Tent Tile
is crafted with a rigid polypropylene plastic, so it can be installed over slightly uneven surfaces, like dirt. Clickable edges make for an easy installation, and the texture is slip resistant for safety. Perforations quickly drain water away, and the tile's 1x1 foot size can quickly cover larger spaces.
Outdoor courts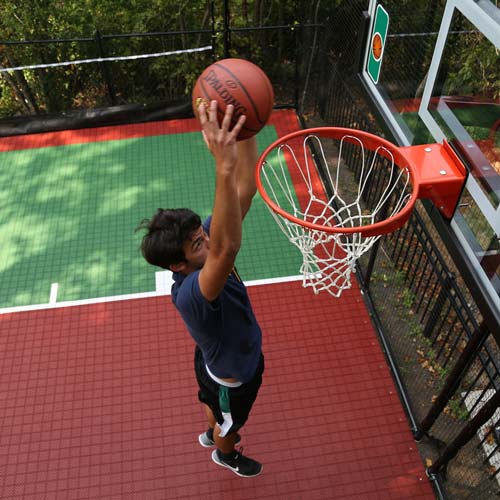 The
Outdoor Court Tile
is made of a rigid polypropylene plastic and is ideal for creating a court surface. Available in a wide array of colors, this tile is resistant to fungus and mildew. It features a 16,000-pound-per-square-foot static load rating and is supremely strong.
Garage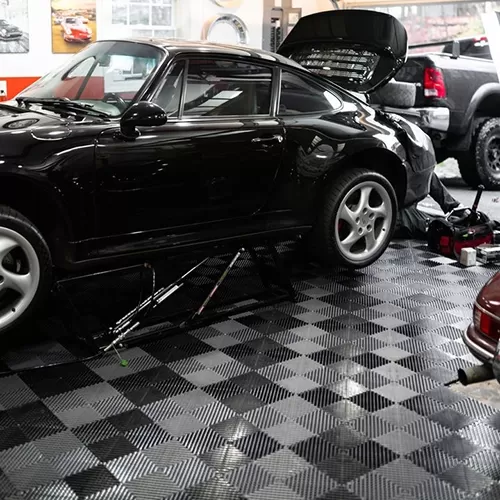 The
Perforated Garage Tile
features a rigid polypropylene plastic and a slip-resistant design for safety. Perforations quickly drain water away, and since the tile is rated to support a 10,000-pound static load, it's capable of supporting vehicles. The tiles easily connect together for a simple DIY-friendly installation.
Basement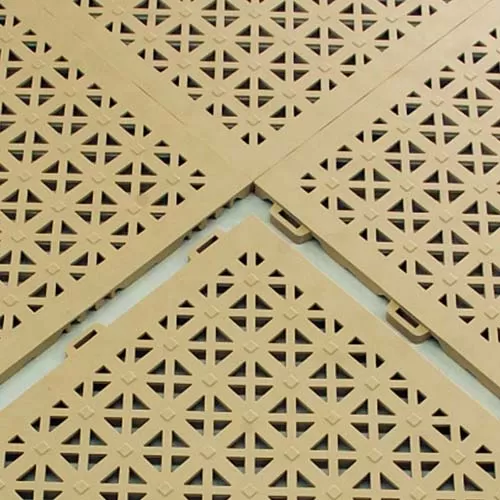 The
StayLock Perforated Tile
is a highly durable tile that's ideal for use in a basement setting. It's made of a flexible PVC plastic, so it's comfortable underfoot and can help to absorb impact during a fall. The tile is slip resistant, even when damp. If you plan to put furniture on the tile, we recommend using furniture coasters to help disperse the weight, since this is not a rigid tile.
Shower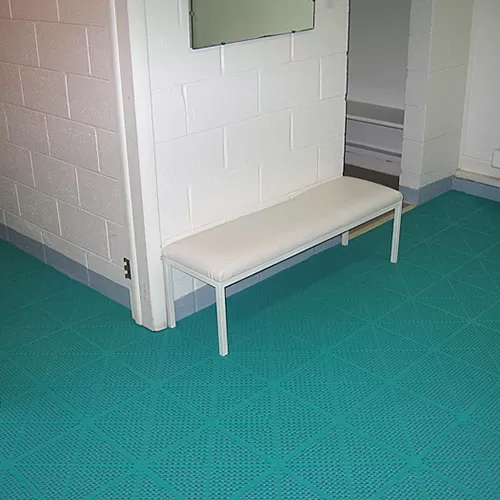 The
Soft Flex Tile
is made with a flexible PVC plastic for a soft, comfortable feel underfoot. The antimicrobial material is ideal for use in a shower setting, and the tile is also waterproof and non-slip. Suitable for indoor use only, the tile offers anti-fatigue benefits and easily installs without any adhesive.
Workstation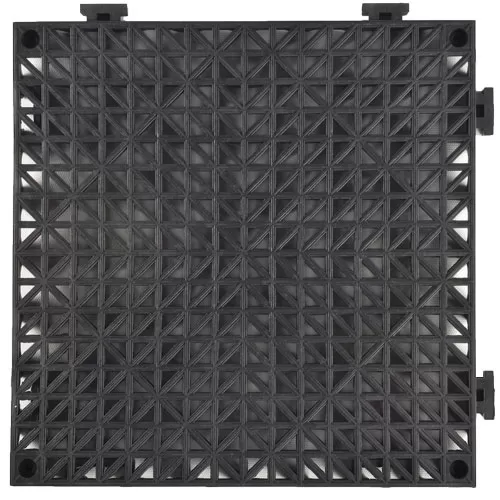 The
Perforated Tile Heavy Duty
features a PVC plastic that is somewhat flexible. Flow-through holes provide drainage, and since the tiles are ¾ inch thick, they help to keep workers up off of wet floors. The tile corners have a hole that can be used to screw tiles together, ideal when installing them on a slope or when installing them permanently. The tiles are highly durable and are resistant to oils, solvents, acids, and many other chemicals.
The
Safety Matta Perforated Black Tiles
are made of a flexible PVC plastic. The non-slip diamond tread design maximizes traction and worker safety. The raised tiles offer drainage and ergonomic properties to help keep staff comfortable.
Choosing the Right Interlocking Drainage Tiles
When installing floors with drainage, it's important to choose the tile that's right for the job. Whether you're looking for a vented tile for use in a workplace or you want a tile that's extra comfortable underfoot, we can help you find the right option.
Contact us today. The Greatmats customer service team is happy to answer your questions, provide shipping quotes, and help you find the best tile for your project.