Sport Karate Mats Testimonial - Infinity National Championships
By Brett Hart Created: June, 2017 - Modified: July, 2021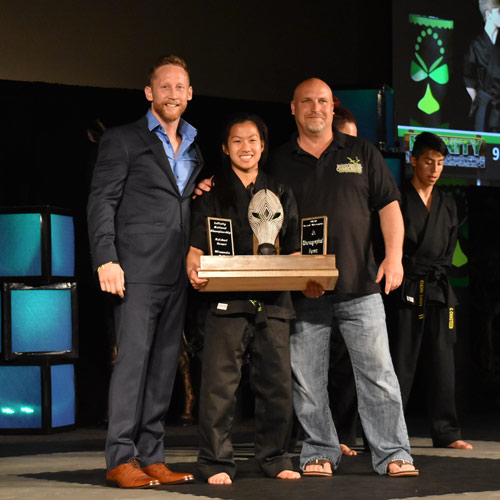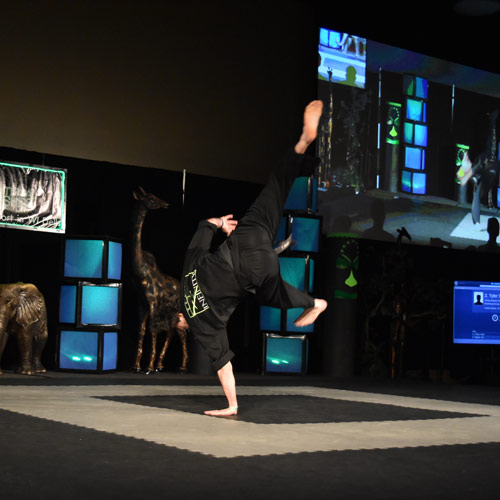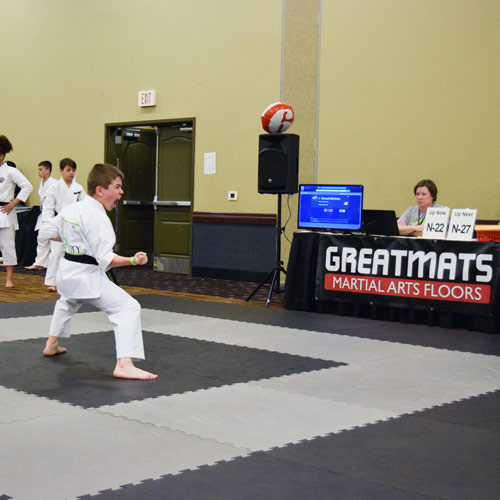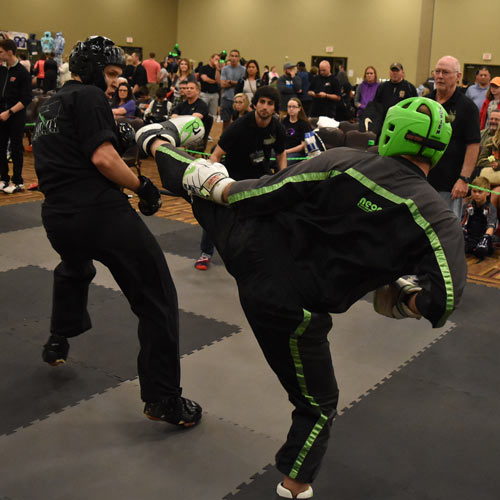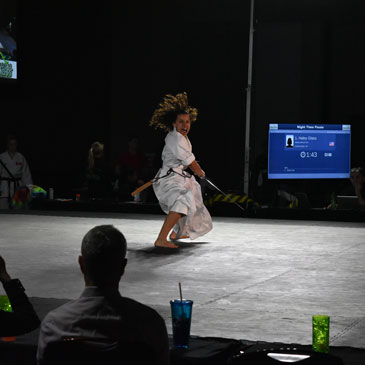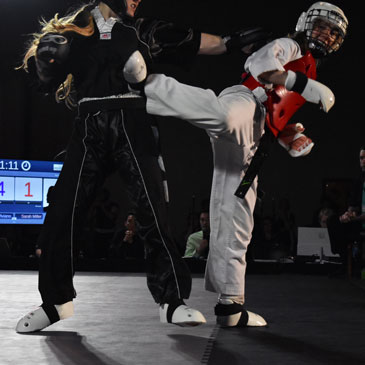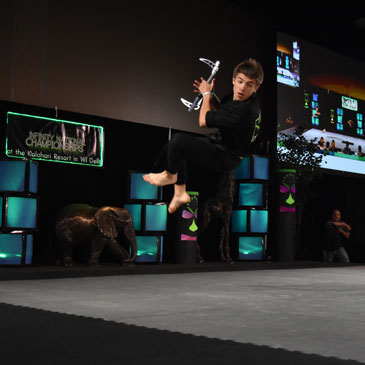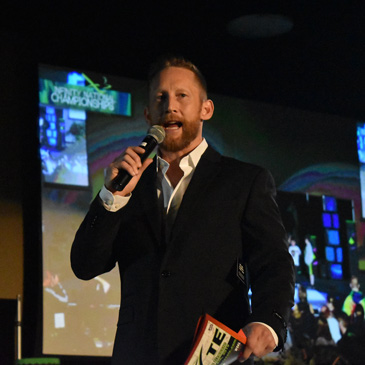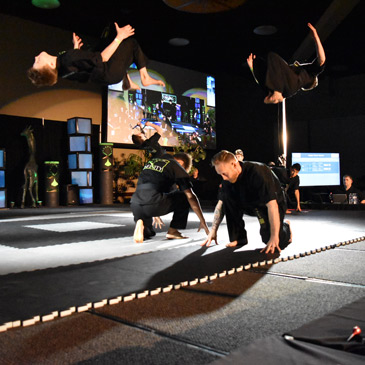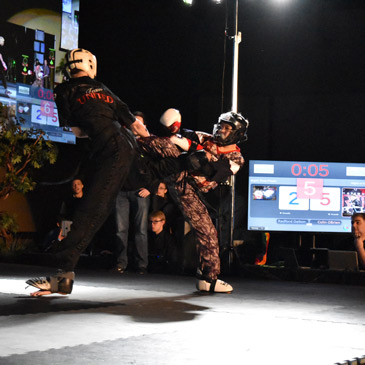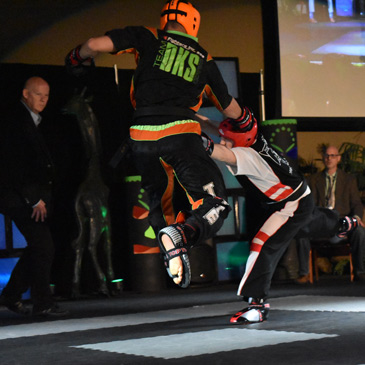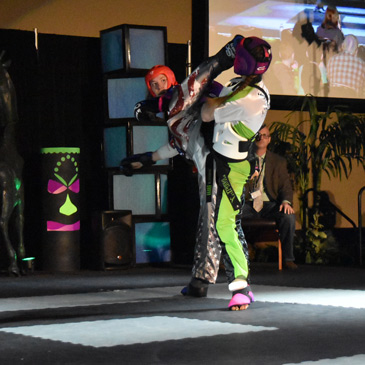 Infinity Martial Arts
founder Mike Welch first discovered tricking while competing in tournaments as an American Tae Kwon Do practitioner. Now, a fifth-degree blackbelt, he is one of the nation's premiere instructors in the sport.
''That's a really American style. I fell in love with it and then that's what I started teaching,'' Welch said. ''Now Infinity has six schools and it's part of our programs. Kids can... learn the extreme stuff - the flashy weapons, the tricking and kicking - and again when we go to a tournament, and they're throwing back flips and doubles and B twists and the tricks, it's clutch. It's better than slamming our feet on a wood floor.''
Recently Welch was approached by a good friend, and parent of one of his students, about starting his own tournament.
''We have the schools, so we have the judges and the competitors,'' Welch said. ''Infinity is well known around the area through tournaments. It was kind of a perfect storm. We found the Kalahari and everything just... fit well like lego pieces.''
In 2016, Infinity Martial Arts hosted it inaugural Infinity National Championships, which drew approximately 300 competitors.
''A shout out to Jeff Orlowski and his wife Michelle Orlowski - my co-promoter,'' Welch said. ''They put the details together. Everything you don't see that's behind the scenes, those details set us apart.''
The tournament featured eight competition rings and a stage equipped with Greatmats interlocking martial arts mats.
''Mats are always a plus for a tournament,'' Welch said. ''The Greatmats are nice because of how easy they are to put together and take apart. They lock in. They don't bubble. They don't stretch or anything like that. Our schools are using Greatmats, so it's where we get some of the rings from.''
Before its second annual national championship tournament, which hosted competitors from 10 states and two countries, the tournament invested in more new mats from Greatmats.
''Again another Lego piece that just fit,'' Welch said. The Infinity National Championships which host competitors of all ages utilizes three different 1x1 meter Greatmats interlocking Martial Arts Mats -
Pro Martial Arts Mats Sport 20 mm
,
Martial Arts Karate Mat Premium 1 inch
, and
Grappling MMA Mats 1 5/8 Inch
.
''The thicker ones come from the schools,'' Welch said. ''We spend a little bit more money so that the schools have the thicker mats. It's a nicer product. The thinner ones are easier to buy in bulk, but they work fantastic. None of the competitors are complaining about them. They're not slipping. The mats aren't sliding. They're not coming apart, so even the thin mats - they're perfect for our venue.''
1.5 Inch Martial Arts Mats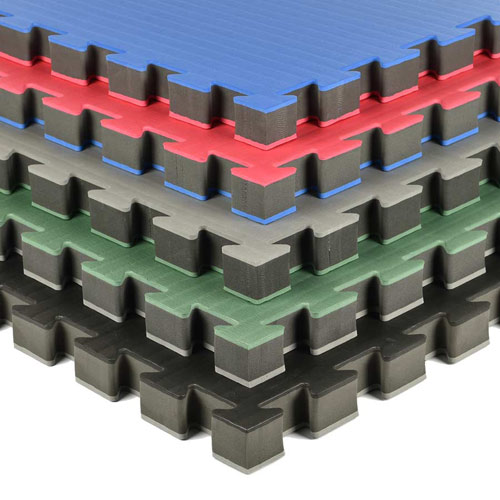 1 Inch Karate Mats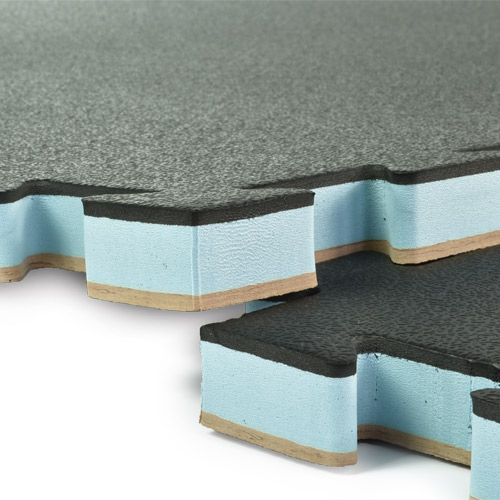 20mm Tournament Mats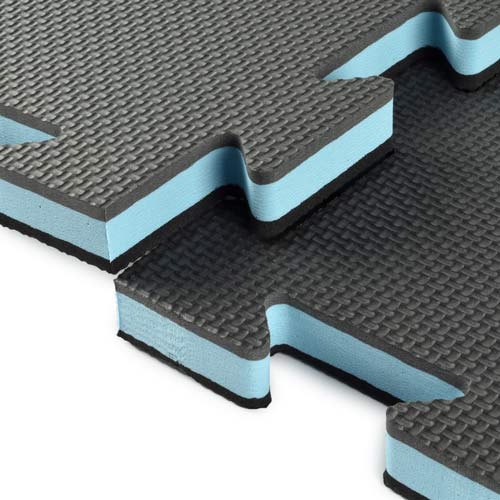 Learn more about select Infinity National Grand Champions:
2017 National Champion Tim Wegert
- Contemporary Forms
2017 National Champion Brett Thomason
- Point Sparring
2017 National Champion Zoe Brown
- Junior Japanese Forms, Junior Korean Forms
2018 National Champion Alex Dingmann
- Point Fighting
2018 National Champion Haley Glass
- Traditional Weapons, CMX Weapons
2018 National Champion Noell Jellison
- Team Sync Forms, Musical Forms
2019 National Champion Connor Chasteen
- Traditional Forms, CMX Weapons, Team Sync
2019 National Champions Diego and Sofia Rodriguez-Florez
- Team Sync, Traditional Forms
Infinity Martial Arts
After more than a quarter century of training in martial arts, Welch is now adding jiu jitsu to his arsenal, but says, ''Punching and kicking - That's my pastime.''
While tricking is a relatively new form of martial arts, the Infinity Martial Arts' program is especially unique in the upper Midwest, and it has grown to include six Wisconsin-based schools - located in Middleton, Sun Prairie, Waunakee, Oregon, Fitchburg/Verona and Evansville.
''All of our instructors are competitors,'' Welch said. ''They've been national and world champions. Our team is coming right out of our schools so that definitely sets us apart. We're elite when it comes to that side of the sport.''
''Greatmats was a great addition to our tournaments, to our schools.''

Mike Welch
Infinity Martial Arts
Middleton WI 53562