Warehouse Floor Coin PVC Tile Gray 1/4 Inch x 20x20 Inches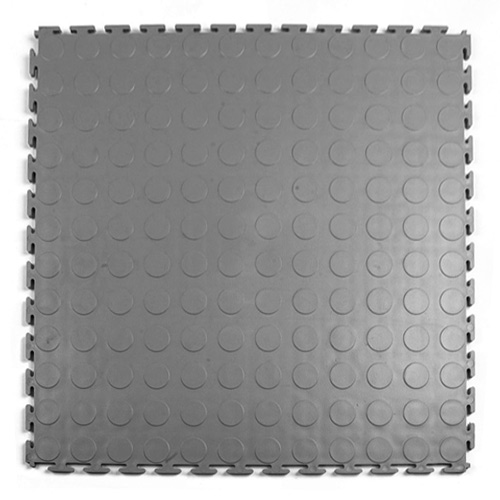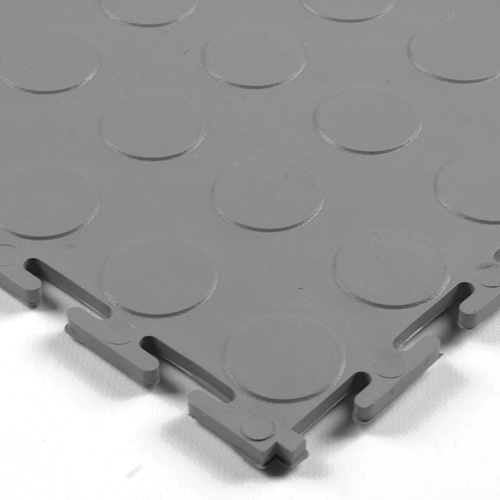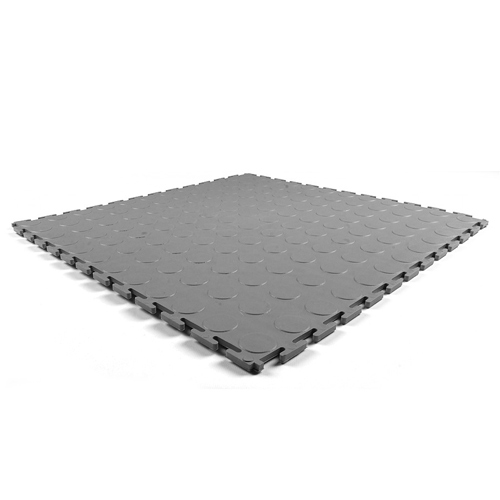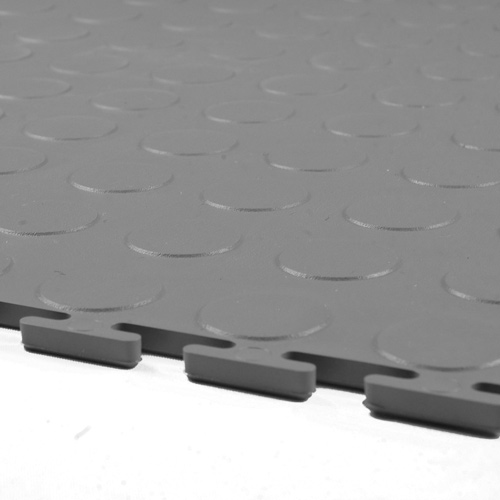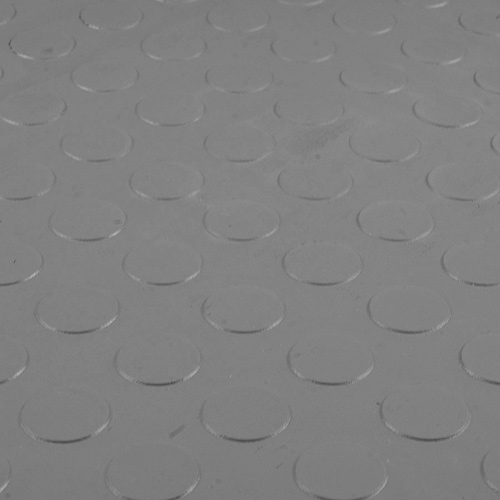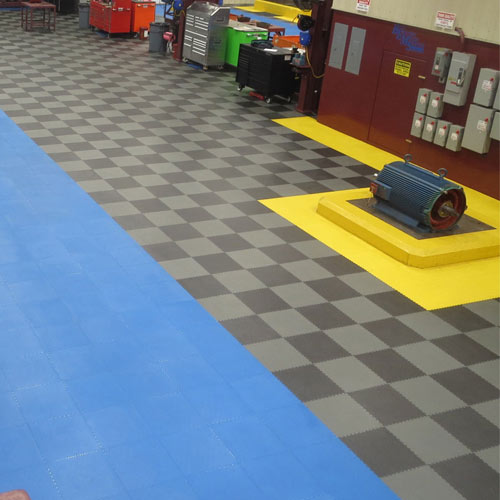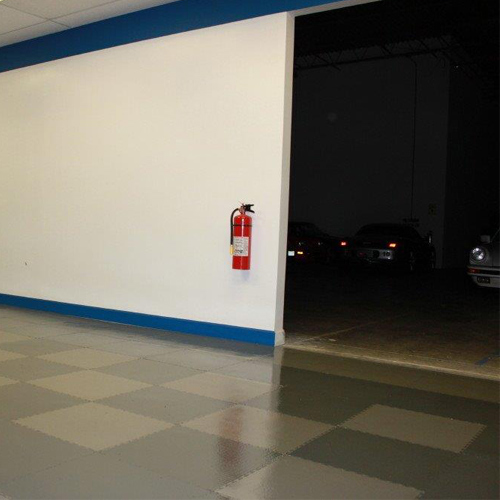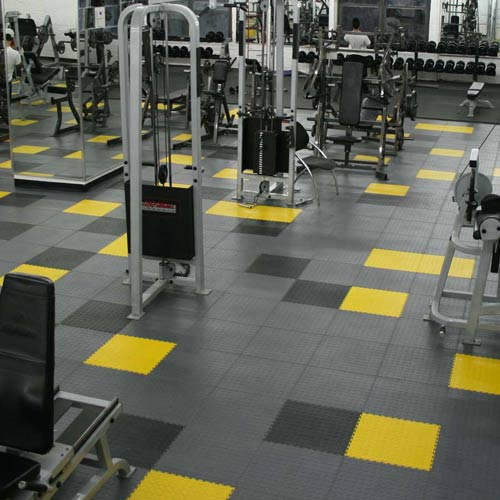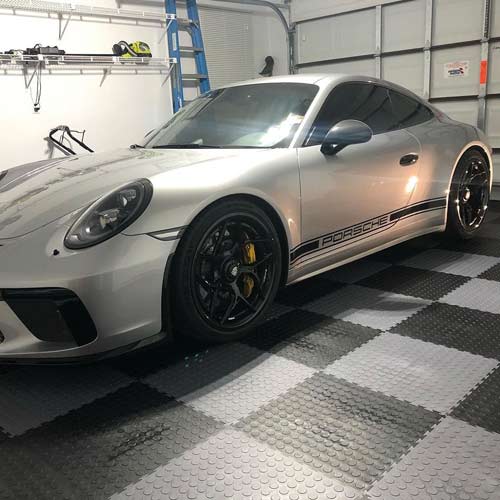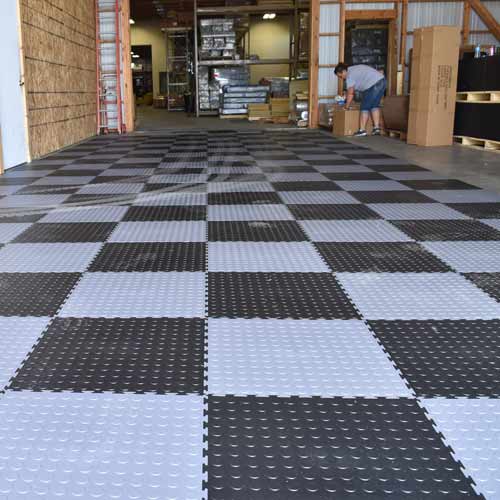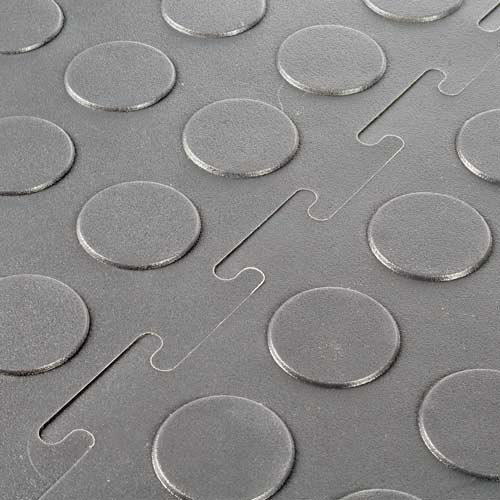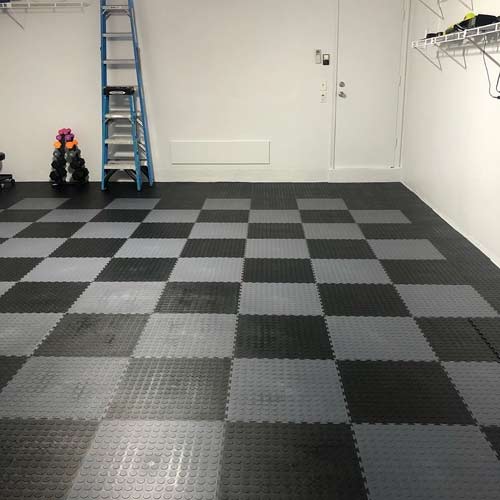 Resistant to oil, gasoline, most solvents & caustics
100% recycled PVC content
Color and tensile strength not affected by heat, cold, humidity
$10.47
/tile
(You Save 20%)
(19 Reviews )
Ships Out: Estimate 1-3 Working Days
How Much Flooring Do I Need?
VIDEOS
TOP FEATURES
Resistant to oil, gasoline, most solvents & caustics
100% recycled PVC content
Color and tensile strength not affected by heat, cold, humidity
Easy to clean, just damp mop
Interlocking installation
Retards bacterial growth and resistant to mold and mildew
No adhesive needed
Coin top or smooth surface
Use Types
Warehouse Flooring, Garage Floors, Industrial Flooring, Show Floors, Entrance Ways
Interlocking PVC warehouse and garage flooring tile with coin top
Warehouse Floor Coin PVC Tile Gray 1/4 Inch x 20x20 Inches gray with coin top surface texture is an easy-to-install, interlocking warehouse and garage flooring tile. Made of durable, recycled PVC plastic material, this tile is designed for heavy-duty vehicles such as forklifts, trucks and autos.
In a warehouse or garage setting where flooring will receive exposure to oils, chemicals, and moisture, the PVC coin top flooring tiles from Greatmats will deliver the performance level required, while delivering an easy-to-install design.


PVC is an ideal type of flooring to use in areas that will receive exposure to multiple types of spilled and leaked liquids, as it will not soak up these liquids. It also delivers a slip resistant design with its molded coin top pattern for maximum traction.


Size and Shape Options

Each piece of coin top flooring tile measures approximately 20 by 20 inches. Customers will lose a little bit of the expected coverage area per tile because of the design of the interlock edge on all four sides of the square shaped tile.

Each tile has a coverage area of 2.67 square feet. (Should you need help deciding how many tiles to order to handle your expected layout space, please call our customer service team.)

Our garage floor tiles have a 7 mm thickness measurement, or about 0.275 inches. Even though this seems like an extremely thin tile, it will stand up to the weight of heavy objects, including vehicles, without cracking or failing.

A single tile weighs 4 pounds, so one person can handle the installation as a DIY project.
Material Options
PVC, short for polyvinyl chloride, has outstanding durability and longevity, making it an ideal option for flooring. Each tile carries a 5-year limited manufacturer warranty.
Because we source our coin top flooring from a manufacturer in the United States, customers can trust the quality of the materials in the product. Customers do not have to worry about discovering weak spots in the tiles when placing them under the stress of a vehicle.
This tile consists of recycled PVC materials, using a 100% reclaimed material. This gives our flooring an eco-friendly design by keeping old PVC tiles out of the landfill.
Pattern and Texture Options
Our coin top flooring contains a circular pattern resembling coins molded into the surface of the PVC. This ensures the customers will receive slip resistance as they walk across the floor, even when the area is wet.
Color options with the tiles include dark gray and light gray. Understand that the color you select may have a slight variance from batch to batch. We recommend mixing tiles from different batches for a large area installation to make any variations less noticeable.
We also recommend applying Tireguard overcoat to the surface of the PVC coin top flooring. This is an optional coating, but it will help to reduce potential discoloration.
If automotive tires will make contact with these PVC tiles, black color from tires may come off on the tiles. If this is a major concern, consider ordering these tiles from Greatmats in a black color.
Common Use Options
Our flooring tiles are durable enough to stand up to use in a variety of locations. PVC is a highly versatile material to use in flooring. It does not become brittle or lose its tensile strength in excessive heat or in freezing temperatures.
Customers often will install our tiles in a warehouse setting, as they can stand up to multiple kinds of chemical spills. If the warehouse is damp or has constant exposure to water, PVC tiles resist the formation of mold or mildew, preventing unwanted odors.
Because of the strength of this flooring, it can withstand the weight of automobiles, forklifts, and trucks without buckling.
Homeowners can install these tiles as well, giving them a high-quality flooring at a reasonable price per square foot of coverage. You may want to install them in your garage, in a mudroom, or in a basement where moisture is frequently present.
Installation Options
Installation goes quickly with these tiles, thanks to the easy-to-use interlocking design. Customers do not need to hire a professional for the install process, as it can be a self install job.
Please note:
Use Tireguard overcoat and as optional application to product your new PVC modular floor tiles from discoloring. Mix together parts A and B prior to application. 1 gallon of mixed Tireguard product will cover about 200 SF of floor space. Coat this product immediately after installation of this floor tile if using this product. As an added precaution, we recommend that customers install black tiles in the areas of the floor where automotive tires will come into contact with this floor.
Maintenance
Product can be damp mopped with common household floor cleaners, avoid bleach.
Shipping
Ships in cartons via ground service to your door, for larger orders product may ship freight delivery.
This Product Ships UPS Ground and/or Freight.
Please review our shipping disclaimer.
WARNING: This product can expose you to chemicals including Lead and/or Phthalates, which are known to the State of California to cause cancer and birth defects or other reproductive harm. For more information go to www.P65Warnings.ca.gov.
ANSWERS
Product Questions:
Q: I have a project that needs to have a 440lb/sf load rating. What is the tested load rating for this product please?
A: These are rated at atleast several thousand lbs per SF. Forklift and heavy trucks are not an issue.
Q: Which border strips are to be used with this product?
A: Use a traditional slip on transition strip, purchased locally.
Q: Can this be used outdoors on dirt outside of horse's stall.
A: This tile should only be installed indoors. It would not be a safe mat for equine use.
Q: How does this hold up to salt?
A: These tiles stand up well to oil, gasoline, and most solvents & caustics, including road salt.