What's the Best Gym Flooring for a T25 Workout?
By Kyle Schurman Created: May, 2021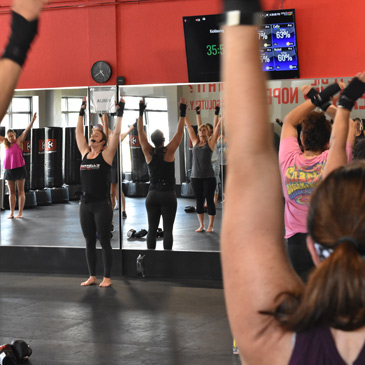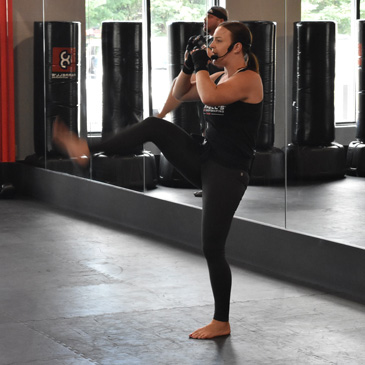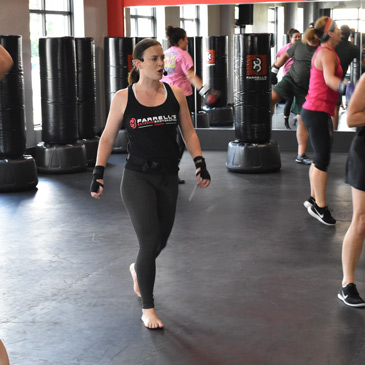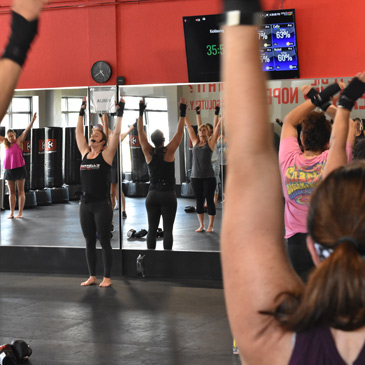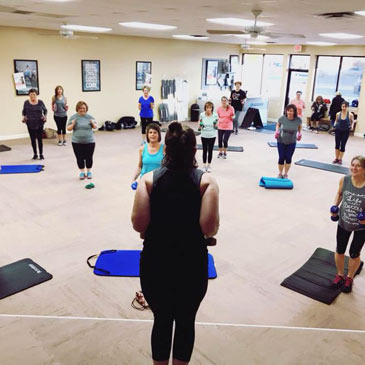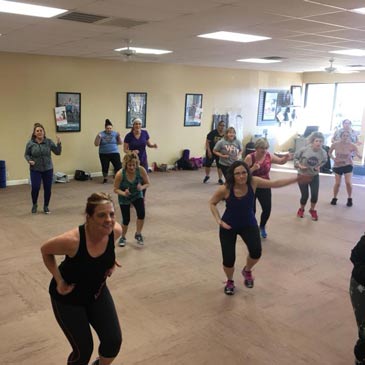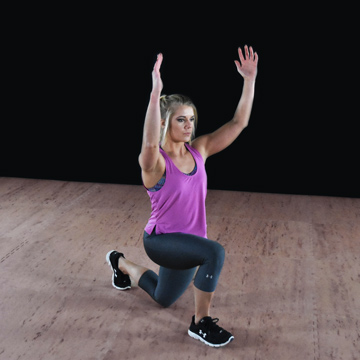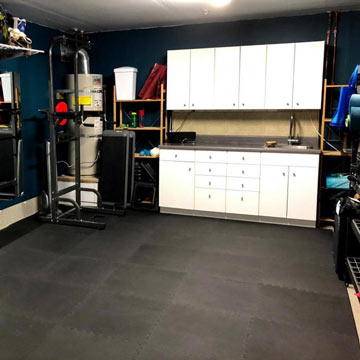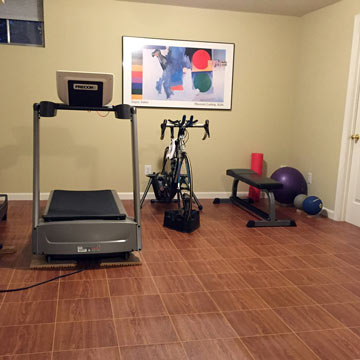 For a change-up in workout routines, some people like the idea of an
Insanity type workout
, such as the T25 workout. This is a challenging circuit that will provide maximum fitness and strength results in the shortest amount of time.
The proper T25 workout flooring needs to have some cushioning in it, giving athletes the protection they need for their lower body joints, allowing them to remain healthy and stick to the calendar of workouts. Some of the best options include:
Premium Martial Arts Karate Mat

Home Gym Pebble Flooring Tile

Sport Plus Designer Foam Tile

StayLock Orange Peel Tile

Max Tile Raised Floor Tile
What Is a T25 Workout?
T25 is available as a DVD or online video series for a home gym, providing a highly intense exercise session in a short amount of time. It's somewhat similar to the
Beachbody workout
in its design of quick, intense exercises.
The athlete will follow a calendar of workouts over a 10-week schedule, consisting of cardio, ab workouts, and total body circuits. An extra few weeks of the T25 workout session is available for those who want more.
Each style of workout has a name of alpha, beta, or gamma, and the athlete will progress through these three workouts.
Because of the intensity and the high impact nature of the T25 plan, having a great flooring is important for protecting the body, allowing the athlete to continue working out, rather than needing days off because of soreness or injury caused by a hard floor.
Is Foam a Good Choice for the T25 Sessions?
Because T25 involves such a wide range of workout types, having a versatile type of flooring is a must. It needs to yield a good level of cushioning for the athletes, while also providing a sure footing that will keep everyone safe from potential slips during workouts.
Floorings consisting of EVA foam are a popular choice, as this type of foam meets all of these conditions. EVA foam can have a high level of sturdiness, where it only gives slightly under pressure, unlike some other types of foam. Yet, it also has the level of cushioning people want in a best T25 workout tile.
For those doing a T25 session at home, these tiles use an interlocking puzzle edge to snap together with no need for glue. This means the installer can lay out the floor for the workout and then pick up the tiles afterward and quickly return the workout space back to its original flooring and purpose. This is an extremely handy design to use at home.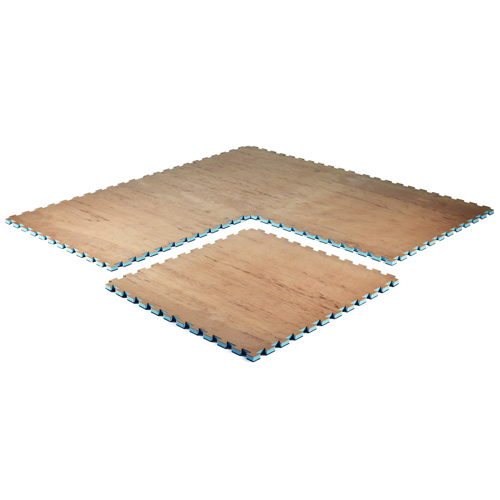 The Premium Martial Arts Karate Mat is one that athletes love to use. It measures 1 inch in thickness. It has a leather-type texture on the surface. It will stand up to the use of shoes without showing excessive scuffs or other wear.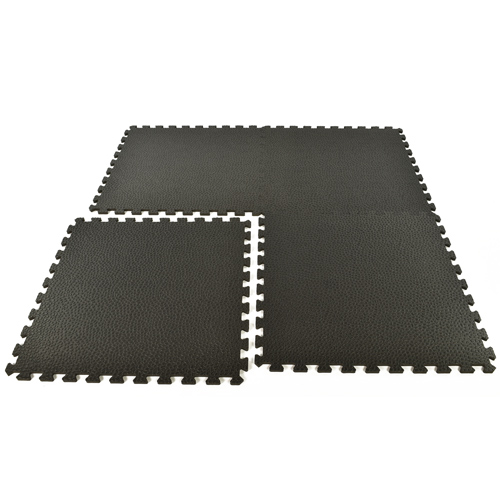 With the Home Gym Pebble Flooring EVA foam tile, athletes receive a slightly raised texture that resembles small pebbles. This provides a sure grip for the feet, allowing people to make quick movements without worrying about slipping.
It's tough enough to place underneath exercise equipment without damage, so athletes can use it in an exercise room at home for T25 and for traditional athletic machine workouts.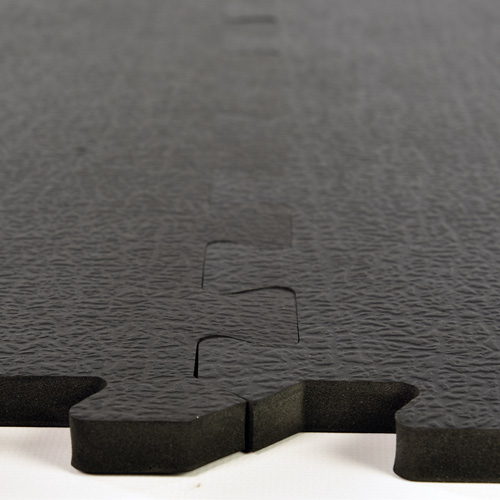 One more EVA foam model that will fit this use case well is the Sport Plus Designer Foam Tile. It absorbs impact nicely without excessive wear and tear. Its durability allows it to stand up for almost any kind of high intensity workout involving wearing shoes.
Do PVC Plastic Tiles Work for High Intensity Exercise Sessions?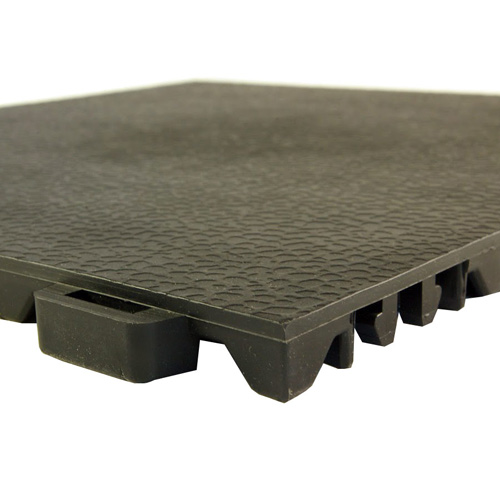 For those who want a material that provides a durability similar to rubber and a cushioning similar to EVA foam, PVC plastic is an excellent choice. The StayLock Orange Peel Tile has an impressive anti-fatigue rating, and it will serve those involved in T25 well.
It has a fall height rating of 20 inches, which showcases its cushioning properties. Yet, it will deliver the sure footing that athletes need for short burst workouts.
An advantage of these firmer PVC plastic interlocking tiles is that they will go over the top of carpeting without having to worry about the tiles sinking into the carpet at the seams and creating a tripping hazard.
What Kind of T25 Floor Looks the Best?
For workout flooring that installers can leave on display in the exercise room at all times, a tile that looks like a wood floor is a good choice.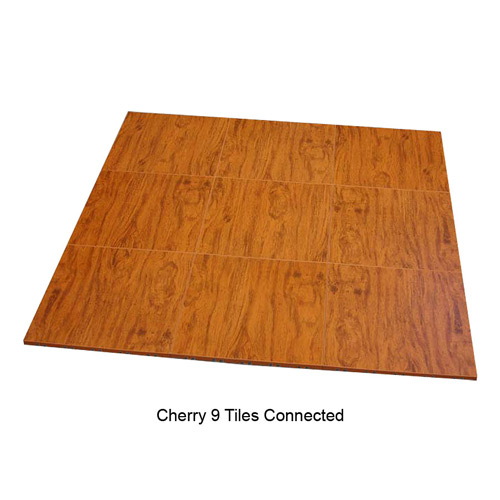 The Max Tile Raised Floor Tile is a smart choice here, as it uses a vinyl top layer that features five different wood stain color pattern choices (as well as a slate pattern) to match the decor in the room. The vinyl sits atop an interlocking plastic base, which simplifies the installation.
The vinyl is highly durable for workouts, and it'll help athletes avoid slipping. To gain a little bit of cushioning in this flooring, place a thin rubber underlayment roll below the tiles.