When Do You Need ADA Flooring Transitions?
By Kyle Schurman Created: March, 2021 - Modified: May, 2023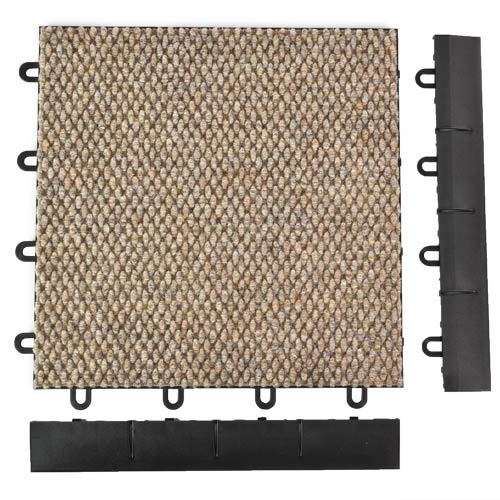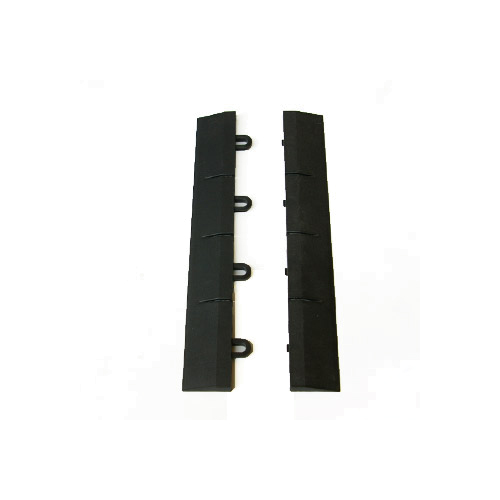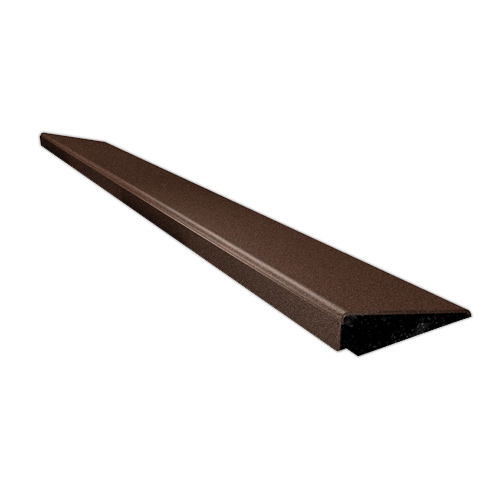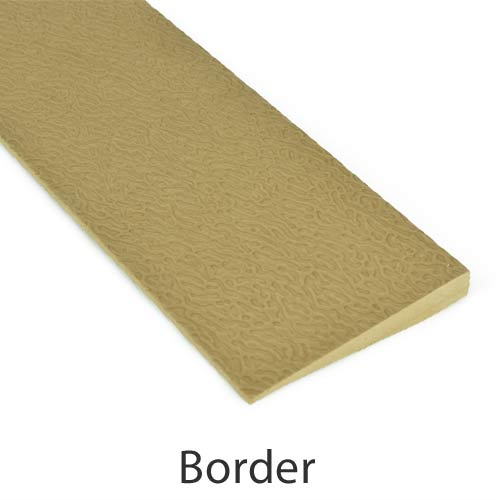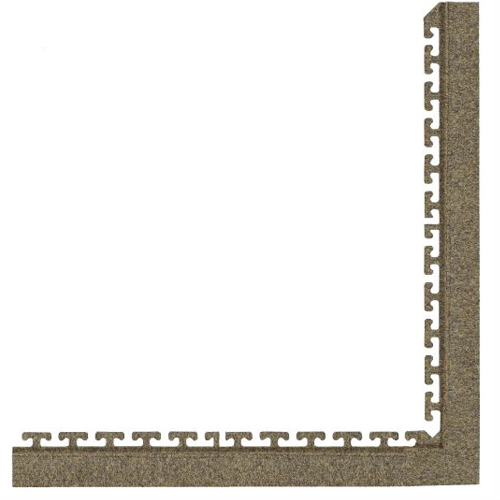 Determining when installation of ADA flooring and ADA floor transition pieces is necessary is a matter of following the ADA Accessibility Standards. These standards require that when installing flooring transitions, the installer must ensure that the transitions match up with the main flooring area without creating lips, gaps, or other potential trip or slip hazards.
The standards provide rules for an ADA floor transition in a variety of flooring types, including entryways to rooms, doorways, and any changes in levels. Some of the specific requirements that the ADA flooring standards address include:
Interior walking surfaces

Exterior walking surfaces

Access areas leading to ramps, lifts, and elevators

Aisles

Doorways

Turning spaces for a wheelchair

Open spaces in a room

Passenger loading zones

Handicap accessible parking spaces
What Are Some Requirements for ADA Flooring?
ADA flooring must provide slip resistance and a firm surface. It also must provide a maximum level of stability for those walking, using a walker or a cane, or steering a wheelchair across it.
To qualify, the surface cannot shift or slide under pressure. Additionally, it should not wear away when exposed to external forces, such as wind or heavy precipitation.
Outdoors, it's common for compliant flooring to consist of concrete, asphalt, rubber, or wood to create the level of stability and consistency required. Loose materials, such as gravel or mulch, rarely meet compliance requirements.
For indoor installations, rubber and multiple types of plastic tile flooring provide the stability and grip that the ADA standards require. Sometimes, vinyl and laminate flooring may result in a slip hazard, especially if someone spills liquids, so rubber or plastic works better.
When using interlocking tiles, they should fit together tightly without creating gaps that could cause a stumbling hazard or that could catch a wheel from a wheelchair or walker.
Carpeting is a tricky material to use in areas that require ADA compliance. To meet the rules, the carpeting must be securely in place so that it will not buckle or shift under the weight of people moving across it. If it bunches up, it creates a tripping hazard. Rugs and runners typically do not meet ADA requirements for this reason.
Carpet secured to the floor with adhesive usually represents the best option. For a secure installation involving carpet without the need for adhesive, interlocking carpet tiles will remain in place without shifting. With tiles, disassembly can occur later to return to the subfloor as an added benefit.
How Do You Know If a Type of Flooring Is ADA Compliant?
When selecting ADA flooring, the manufacturer's or retailer's description of the flooring should contain a listing as ADA approved, ADA certified, or ADA compliant. Without this certification, it's possible that the floors will not be OK to use in locations that must have ADA products.
If you don't see mention of compliance, there are a few things you should keep in mind to help you determine if the flooring system may be compliant.
Because most types of flooring have a slight lip on the edge, the material may need to have an ADA floor transition piece that the installer can attach to the main sections of the floor. This ADA floor transition creates a ramp that allows for a smooth entry on the floor. Without the transition piece, the flooring may not be compliant with the ADA regulations.
If the thickness of your flooring is ¼ inch or less, no ramped border or reducer is necessary to be compliant.
For any flooring system that creates a change in level between ¼ inch and ½ inch, a beveled edge with a slope no steeper than 1:2 can be used to reach ADA compatibility requirements.
Any change of more than ½ inch should be treated as a ramp with a slope no steeper than 1:12 or 8.33%.
Installers often will want to select a flooring model that has a compatible ADA compliant ramp piece that's available as an accessory that will connect directly to the main ADA flooring installation. These ADA floor transition pieces should interlock with the main flooring, ensuring a tight connection that will not pop loose when placed under stress.
Oftentimes, these transition ramps will only fit one or two particular models of flooring. The ramps are not universal, meaning installers cannot attach them to just any ADA flooring installation. Matching the ramp to the model of main flooring is important to ensure a proper interlocking fit.
Can You Purchase an ADA Floor Transition for Rubber Flooring?
Many types of rubber mats and interlocking rubber tiles will have compatible ramp edge pieces available that gradually reduce the thickness of the lip on the installed flooring, creating a safe ramp for moving onto and off of the main floor.
For outdoor or indoor locations that desire a rubber floor installation, such as rooftop patios or weightlifting areas, the specific transition pieces should match the thickness of rubber tiles.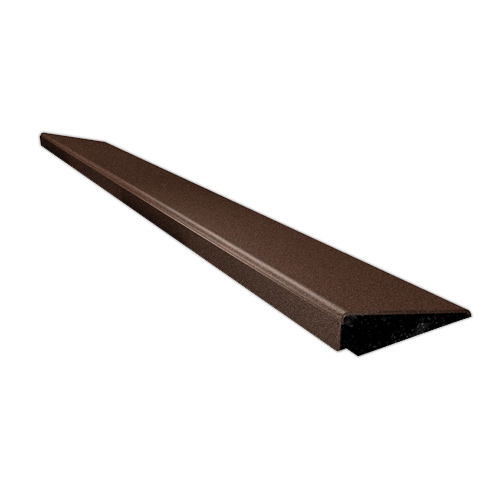 A popular selection under these parameters is the Sterling ADA Ramp 1.25 Inch piece. This border edge pairs with the
Sterling Athletic Rubber Tile 1.25 Inch Flooring
. The border pieces offer ADA compliance when connected to the main flooring, creating a ramp that reduces the 1.25-inch lip on the Sterling rubber flooring. Connecting the border pieces is an easy process.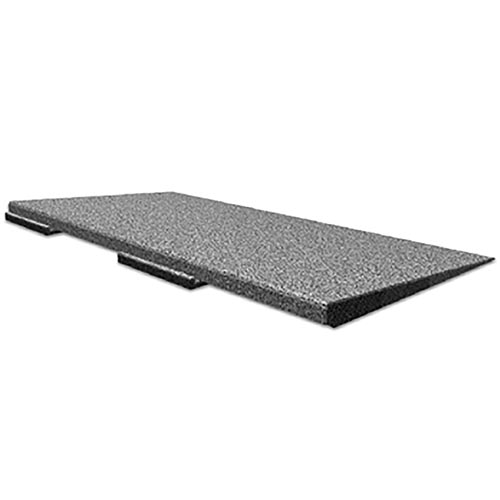 Installers seeking border edge pieces to create a ramp for the
Sterling Roof Top Tile 2 Inch Flooring
can make use of the Sterling ADA Ramp 2 Inch piece.
Both of these Sterling rubber flooring ramps measure 1.33 feet in width, generating a gentle slope when connected to the main flooring height. Like the main pieces of Sterling flooring, these edge pieces require adhesive in the installation to secure the interlocking edges.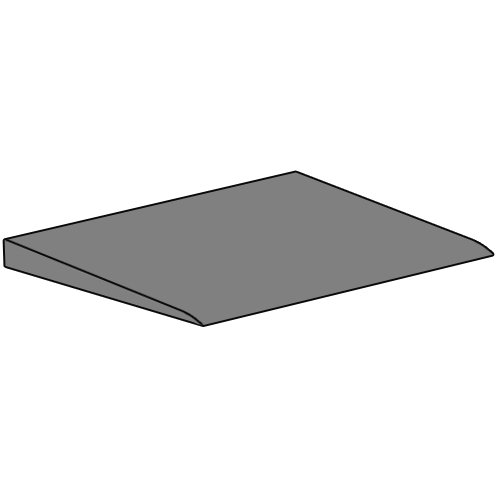 A common installation for rubber flooring in weight rooms is the
UltraTile Rubber Weight Floor
. This 1-inch thick floor has the compatible UltraTile Rubber Weight ADA Ramp piece available to create a safe edge that reduces tripping hazards over the lip of the floor.
The tiles on the main floor make use of a pin together installation, and installers should apply adhesive to the perimeter tiles of the main floor to secure them. The installer then will use glue to add the ramp pieces to the main floor. This ADA approved flooring ramp has 12 inches of width, which results in a gentle slope leading to the main section of floor.
An outdoor installation of rubber tiles at a playground creates a soft landing surface for children who may fall while running and playing. Rubber is highly durable for use on a playground too. But many playgrounds must meet ADA regulations, meaning transition ramp pieces need to be available.
One of the most popular choices for a rubber tile playground installation is the
2.5-inch Max Playground Rubber Tile
. If the playground must have ADA compliance on the surface, pairing the Max product with ADA Ramp is the best solution. Both the main playground tiles and the ramps require glue down installations.
What Are Some Non-Rubber Floors That Have an ADA Floor Transition Options?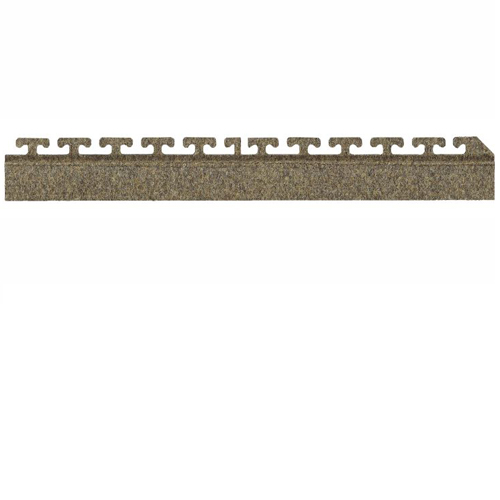 In areas where carpeting is a desirable style of flooring, but where ADA compliance is a requirement, the
Waterhog Carpet Tile
paired with the Waterhog Border Ramp is the smartest choice.
These interlocking carpet tiles measure 7/16 inches in thickness. They use a plastic base for reinforcement and sturdiness with the carpeted layer over the top. The ramped piece eliminates the lip and has puzzle style edges that fit perfectly into the main tile pieces, yielding a tight fit that does not require adhesive. Each ramp measures 2 inches in width, so it will fit in a tight space easily.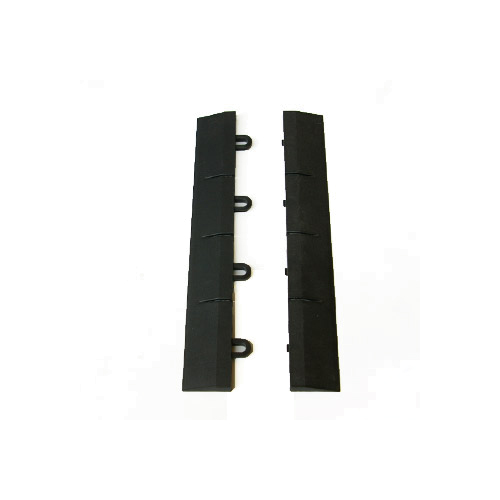 Another option for using tiles with a ramped border is the
TileFlex Floor Tile
, which uses a hook and loop interlocking edge that fits tightly with the TileFlex Border piece.
The main TileFlex tiles use a vinyl layer over the top of a plastic base, which delivers the firmness people want for ADA-compliant flooring. The interlocking edges are part of the plastic base layer, allowing for a secure connection.
The main tiles measure 1/2 inches in thickness, and the border pieces eliminate the lip on the edge. Each ramp piece measures about 2 inches in width, which allows it to fit in a tight spot while creating the ramped edge.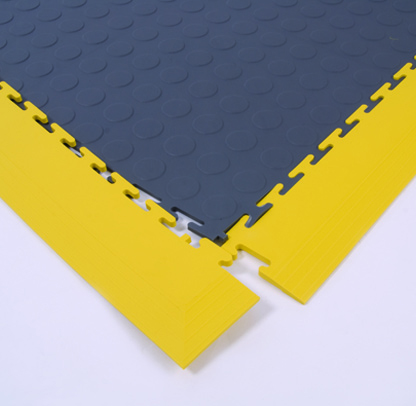 For excellent traction in a ramped flooring option, consider the
SupraTile Coin Pattern Tiles
. with the SupraTile Interlocking Edge Ramp. Each ramp piece connects tightly to the main tiles using an interlocking puzzle edge, so installers do not require adhesive to do the layout.
The main tiles measure 4.5 mm (0.18 inch) in thickness, and the ramped pieces measure about 2.5 inches in width. Installers can select from various colors of ramp pieces, creating a visual offset from the main tile pieces, which can be a benefit in a space where people need a visual warning about stepping onto and off of the flooring.
For outdoor installations of temporary pedestrian and vehicle roadways, having a border ramp on the roadway creates a safe option for avoiding a tripping hazard and for allowing wheelchairs and walkers to safely move onto and off of the temp walkway.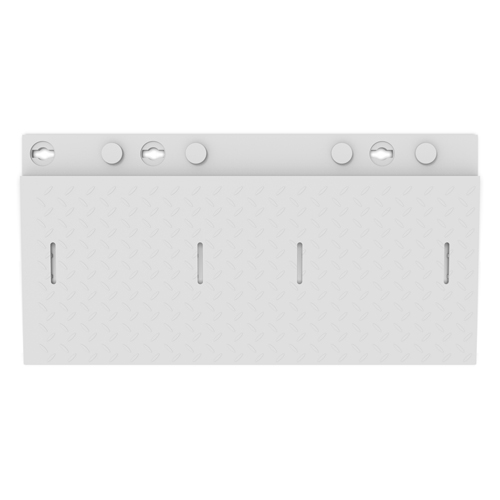 The Matrax Locking Ramp piece fits perfectly on both the
Matrax Heavy Duty Drivable Composite Mats
and the
Matrax Light Duty Pedestrian Composite Mats
.
Both the pedestrian and vehicle mats measure 1.5 inches in thickness, creating a significant lip on the edge of the temporary road. The ramped pieces measure 18 inches in width, creating a border with a gentle slope for climbing onto the main roadway. They lock in place securely, creating a very safe ramp.