Top 5 Horse Mats for Gyms - Home Gym Stall Mats
By Julia Nass Created: July, 2017 - Modified: August, 2020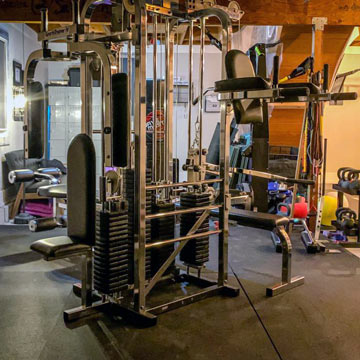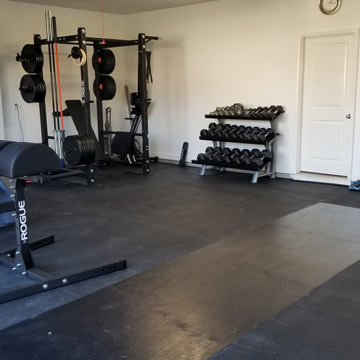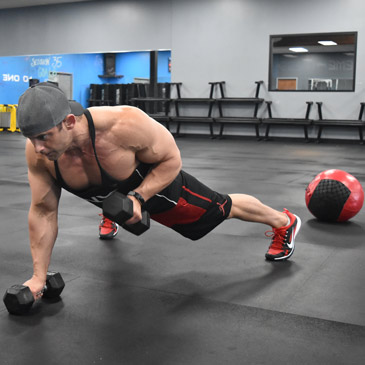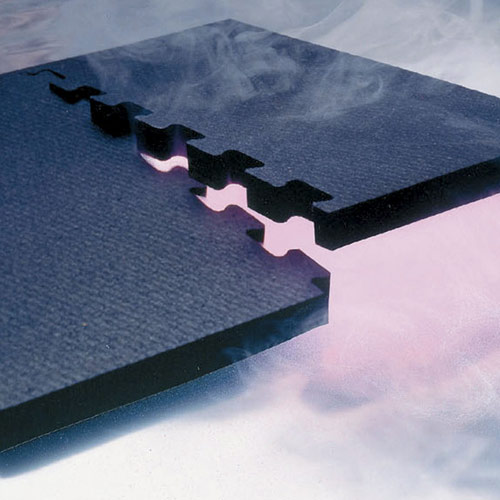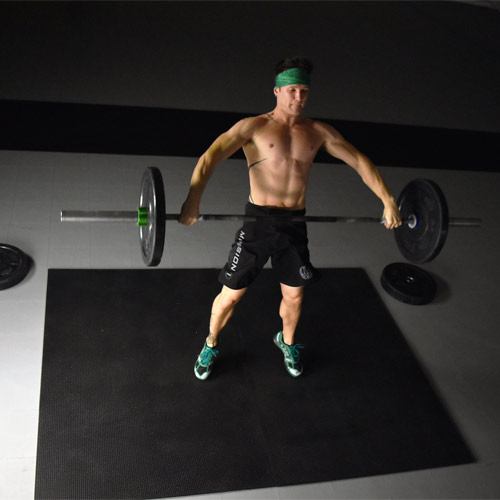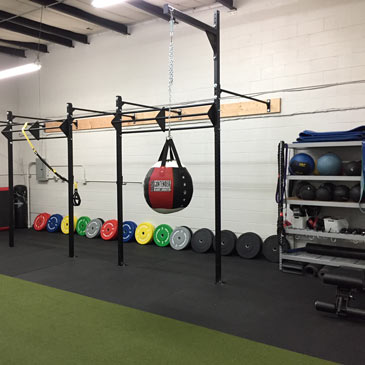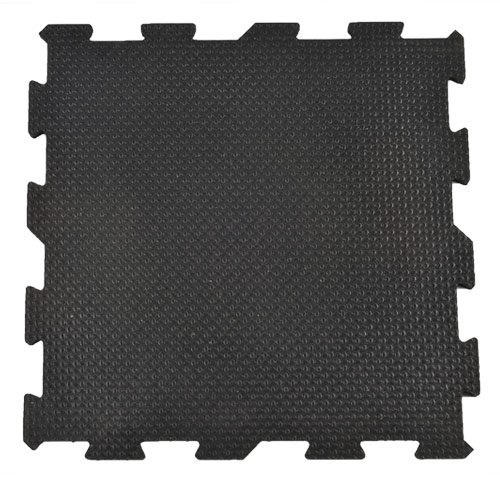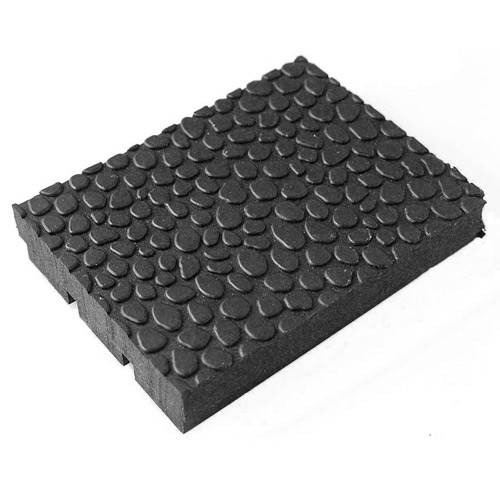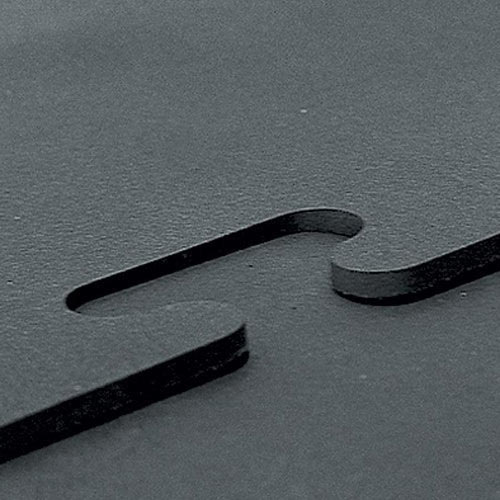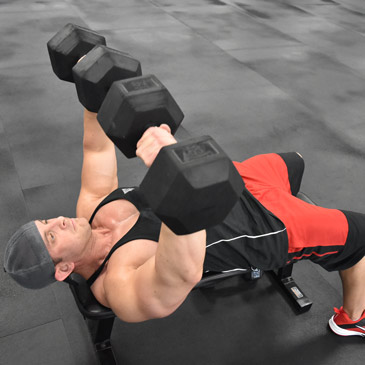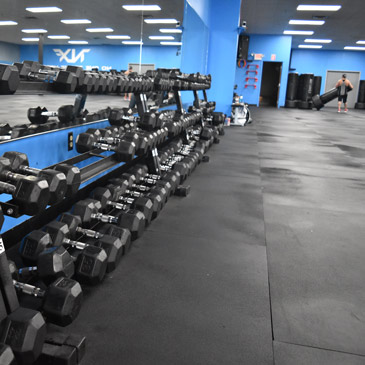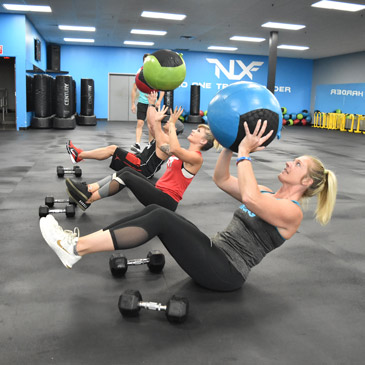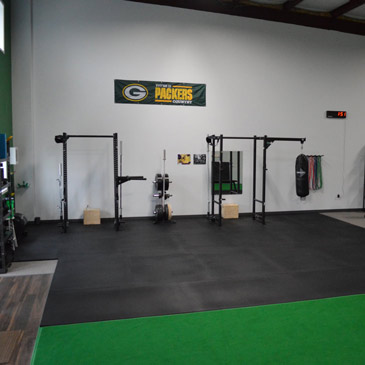 What do horse stalls and weight gyms have in common?
This may sound like the start of a bad joke, but it turns out there's actually a legitimate answer:
Horse mats
make excellent gym floors. First and foremost, horse stall mats yield a durability that stands up to the test of time and extreme use. They are designed to withstand large, sustained loads, so heavy exercise equipment is no problem. Next, many horse stall mats yield just enough give to help support bone and joint health. In addition, horse mats typically feature slip-resistance in order to create sure footing for animals and handlers alike; traction and safety is an obvious priority in gyms as well. Horse stall mats tend to be low maintenance and easy to clean, which translates perfectly to a gym environment.
Find out Greatmats' top five flooring options that put horse stall mats to use as gym flooring.
1. Horse Mats for Home Gym: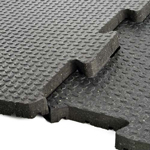 2x2 ft. x 3/4 inch interlocking black punter top
The smaller size and low-key installation process of Interlocking Black Punter Top tiles make them awesome horse stall mats for home gyms. These tiles can be laid down in a garage, a basement or any other room in the house for an instant gym floor. Each tile is 2 x 2 feet in size, which makes it easy to custom fit into any space. Create an island in the middle of the room, or insert a wall-to-wall gym floor.
These horse stall mats for home gyms are 3/4 inch thick and made of tough, quality rubber. Tiles are designed to take the repeated punishment, perfect for withstanding the dropping of heavy weights. The pebble top surface texture yields the prime amount of traction needed for weight exercises. Interlocking Punter Top tiles connect together like a breeze, yet are so tight-fitting they are nearly seamless. Even after being uninstalled and reinstalled time and time again, the tiles stay just as tight as the first day.
2. Best Priced Horse Mats for Gyms: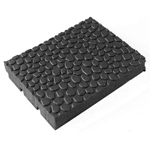 4x6 ft x 1/2 inch straight edge pebble top
Straight Edge Pebble Top mats present the very best value in horse mats for gym floors. Tiles are created from a top-of-the-line rubber that is designed to last you with very little maintenance. Because the mats are long-lasting and low-key to take care of, they make the initial investment the only one you will have to make. You won't be surprised with maintenance or replacement costs down the line. At only $1.75 per square foot, that makes the overall cost of these tiles incredibly hard to beat.
In addition to low cost, these tiles provide a well-rounded package. They are 1/2 inch thick and provide comfort, support and stability underfoot. Meanwhile, the pebble top surface texture provides just the right amount of traction for exercise. No special tools or adhesives are needed to install these mats. All it takes to install is an easy dry lay on any hard, flat surface. To keep these horse stall mats for a gym fresh, simply sweep or damp mop with a pH neutral cleaner.
3. Pre-sized Horse Mat Kits for Gyms (West Coast):
Horse Stall Mats Cascade 3/4 Inch 12x12 ft kit
For those on the West coast, Horse Stall Mats Cascade yield the best shipping rates for custom-sized horse stall mats for gyms. These horse mat kits for gym floors come in a total of nine tiles to create a 12 x 12 foot floor. The mats ship straight from Oregon to service all of the West coast.
Cascade mats are produced from 100 percent recycled rubber content. They are specifically designed to deliver maximum resilience while still providing comfort. Cascade stall mats are made in the USA and carry a 15-year warranty. Each one is precision cut to make every installation a perfect one. Installation is recommended on a hard, flat surface.
4. Pre-Sized Kits Horse Mats for Gyms (Central USA):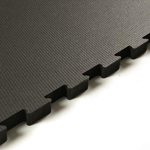 Horse Stall Mats Custom Kit Sizes
Central USA customers looking for a custom kit for a gym floor should check out Horse Stall Mats Custom Kits. These horse mats for gym floors come in a standard of 4x6 ft x 3/4 or 1/2 inch rubber interlocking mats that are then cut down to match the specific needs of your custom gym area. Based on your measurement and design, Greatmats will have the horse mats cut down for a perfect fit.
Greatmats features an online floor planner to help turn your area into a scaled drawing. Once the drawing becomes reality, the custom cut makes these mats a breeze to install. This product is made in the USA and features a 12-year warranty against manufacturing defects. However, Horse Stall Mats Custom are rated to last at least 20 years or more in an equine environment, which means they will likely last even longer in a gym. Mats yield safety and comfort underfoot.
5. Horse Mats for Heavy Lifting: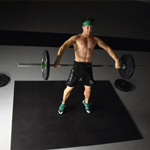 4x6 x 3/4 Inch Straight Edge Punter Standard
Serious lifters should consider the Straight Edge Punter Standard horse stall mats for home gyms. These mats are the straight edge version of the very popular Interlocking Punter Top Stall Mats (product #1). They offer serious strength, durability and stability under even the heaviest of weights and weight lifting equipment. At the same time, these mats are thick enough to provide just the right amount of give and bounce. Further, Punter Top Standard mats present supreme slip resistance for safety while exercising.
These horse mats for gym floors ship from all over the country, and Greatmats will give you the best possible shipping rate. Once mats arrive, simply lay them out on the floor to install, easy as that. The mats are completely waterproof and easy to take care of. Damp mop with hot water, using two buckets to keep the mop clean. If using a cleaner on rubber, always use one that is pH neutral. Otherwise, chemicals can erode the rubber.
Final Note
It's important to note that rubber horse stall products often produce a strong odor upon initial instillation. Please make sure proper ventilation is present before installing horse stall mats for home gyms. If this (or anything else) is a concern, check in with Greatmats customer service. They can help you choose horse mats for gym floors certain to suit every one of your needs.