Sundance Mats Interlocking 3/4 Inch x 4x6 Ft.
Due to high freight costs, must purchase 10 or more of item
Insulates against cold and damp conditions
Made from 100% recycled rubber
Handling Time Estimate: 3-4 Weeks on Average

Black
How Much Flooring Do I Need?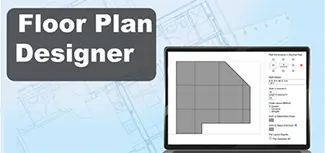 Due to high freight costs, must purchase 10 or more of item
Insulates against cold and damp conditions
Made from 100% recycled rubber
Kits available for stalls
Interlocking tiles makes for easy cleaning
Durable long lasting rubber stall mats
Affordable, interlocking horse stall mats, custom sizes available
Non-slip hexagon top
Horse Stall Mats, Commercial Gym, Functional Training, Fitness Center, Weightlifting, Gym Floors,
NOTE: This item is a custom order and is not returnable.
Sundance Mat: Equine, Weight Room & XFit
Super durable and affordable 4x6 ft interlocking rubber Sundance Interlocking Stall Mats flooring. This rubber flooring product is the interlocking version of our very popular Sundance Stall Mat. Use this product for horse stalls, Fitness Centers and weight rooms where the smell of rubber is not a concern indoors. The benefit of this rubber floor tile is the interlocking design, 3/4 inch thick durability and its affordable cost. Sundance Stall Mats feature a hexagon like top textured surface for added traction and grip to your stall floor.
For extremely durable flooring that delivers the ability to adjust the size of the layout, Greatmats offers rubber 4x6 interlocking stall mats. Installers can easily add more mats or remove a mat or two to change the size of the layout.
These large tiles measure 3/4 inches in thickness, ensuring they can stand up to tough conditions. Even though their most common use case will be in a horse barn or in a foal stable, installers can use these thick mats as gym flooring in areas where free weights and heavy exercise machines are in use.
Size and Shape Options
The perimeter edges of the rectangular mats will have a puzzle-style design. These mats all have the same size of 4 by 6 feet. Use a calculation of 24 square feet when trying to
order the correct number of our 4x6 interlocking stall mats
. However, understand that there will be a slight interlock loss.
If you have questions about how many pieces of this matting you will need to complete the floor layout in your desired space or room, contact our customer service team.
Each mat weighs about 100 pounds, so it will take more than one person to move these heavy mats into place. The weight of the mats drives up shipping costs, so customers will need to order a minimum number of the 4x6 interlocking stall mats to keep shipping costs reasonable.
Additionally, we ship these equine mats from warehouses across the United States in an effort to try to reduce shipping costs as much as possible. Our warehouse locations include:
North Haven, Ct.

Atlanta, Ga.

LaGrange, Ky.

Orlando, Fla.

Denver, Colo.

Colton, Calif.
Material Options
When installing flooring made for use around horses or in a gymnasium with extremely heavy equipment, thick rubber is an outstanding choice. It is extremely durable, and it typically does not show wear and tear.
Customers receive a 10-year limited pro-rated manufacturer warranty with these 4x6 interlocking stall mats, and most customers receive a far longer usable lifespan from the rubber matting. You will receive good value when you consider the longevity of this flooring product.
These mats come from Canadian manufacturers that use high-quality materials and that adhere to tight manufacturing tolerances. You can rest assured that these mats will not have defects that lead to buckling reducing the lifespan of the mats. This product is made from 100% recycled rubber material.
Pattern and Texture Options
Rubber offers a natural grippy surface, which is ideal for use in areas that may have some moisture. Horse stalls often are wet, as the animals spill drinking water and urinate in the stall. Handlers will be able to walk across the 4x6 interlocking stall mats and maintain a high level of traction, thanks to the rubber material.
For an added level of traction and slip resistance, the surface of these rubber tiles contains a hexagon top pattern, consisting of small raised rubber nubs.
Common Use Options
Even though these 4x6 interlocking stall mats are especially popular in settings with horses, they also will work anywhere thick rubber flooring is advantageous.
Weightlifting areas in fitness centers and gyms often make use of these mats. They are thick enough to provide protection for the subfloor when athletes drop heavy barbells and other free weights on the floor.
Additionally, rubber naturally will absorb sound, reducing the unwanted noise from the clanging of weights and making the rest of the gym a more enjoyable place to perform workouts. If your gym shares space in a building with another business, noise suppression is an advantage you really need.
In the horse barn, the rubber flooring provides slip protection for both the handlers and the horses. Additionally, it gives the horse a safer place to stand and rest versus bare dirt or gravel, which can develop ruts and become uneven. Rubber has just a little bit of cushioning to protect the leg and hip joints of the animal.
Installation Options
The interlocking edges on each of these mats will resemble the edges of a jigsaw puzzle. Line up the tabs on one mat with the slots on the adjacent mat and then press the edges together. Because of the thickness of these tiles, the installer may need to step on the edges to apply enough force to pop the tabs and slots together.
There is no need to use any tape or glue to hold the installation of the mats in place, as the weight of the mats will prevent them from sliding around.
If planning a wall-to-wall installation, the installer may need to cut the puzzle edges off a few of the rubber mats to create a flat edge. Lay the mat over a 2x4 piece of wood and use repeated cutting motions with a utility knife to allow the cut to slowly pull open, helping you work through the entire thickness more effectively.
Cleaning and Maintenance Requirements
To clean these tiles, sweep them with a broom or use a vacuum to remove dry debris. For more thorough cleaning, mop them with a neutral pH solution or rinse them with a gentle power washer.
Due to high freight costs, please purchase 10 or more of this item.
This product requires a loading dock or a lift gate at the delivery location.
The surface pattern has changed from Pebble to Hexagon as of March 2023.
Maintenance
Always use Neutral Ph cleaner on rubber flooring. Damp mop with hot water, use two buckets to keep mop clean.
Shipping
Ships via freight delivery shrink wrapped on pallets.
This Product Ships Freight Only.
Please review our shipping disclaimer.
| | |
| --- | --- |
| SKU# | RSMHVR5M-4x6 |
| In Stock | Yes |
| Product Type | Tile |
| Material Type | Rubber |
| Product Edging | Interlocking |
| Thickness | 3/4 inch |
| Width | 4.00 feet |
| Length | 6.00 feet |
| SF per Item | 24.00 |
| Weight | 100.00 lbs |
| Packaging | Shrink Wrapped on Pallets |
| Number of Pieces per Package Type | 25 |
| Non Absorbent | Yes |
| Special Adhesives | No |
| Universal Interlock | Yes |
| Interlock Loss | 0.21 feet |
| Material Hardness | Shore A 75 |
| Interlocking Connections | Yes |
| Made In | Canada |
| Surface Finish | Hexagon top |
| Surface Design | Solid color |
| Installation Method | Dry lay, interlocking |
| UV Treated | No |
| Reversible | No |
| Border Strips Included | No |
| LEED Points | Yes |
| Manufacturer Warranty | 10 year limited prorated |
Product Questions:
Q: Want to install in a gym, do the mats have an odor?
A: This rubber mat product is a higher smell rubber flooring option. This product is not recommended for homes with poor ventilation systems and/or for individuals sensitive to smells. This product is primarily used as a horse stall mat. Our sales team would be happy to assist with product selection.
Q: I need mats for 2 run in sheds. I believe that the interlocking would be my best choice. What would be the cost of 11 mats shipped to East Bridgewater MA 02333? How soon could I get them.
A: Please contact us a 877-822-6622 for estimates and shipping times.
Q: What is the weight of one 4x6 mat?
A: Each 4x6 mats weighs approximately 100 pounds.
Q: I'm putting a 14'x31' interlocking mat on a deck on a commercial boat can you put together exactly what I woud need for tiles as well I would like the edges all around with a straight finish .and a quote and I will furnish you with my cc and shipping details Thanks Brian
A: Please reach out to our sales rep Sarah for assistance with this request. She can be contacted at 877-822-6622, extension 112 or via her email sarah@greatmats.com.
RELATED PRODUCTS