What Flooring Is Best For A Rope Workout?
By Lisa Hobbie Created: May, 2021 - Modified: October, 2021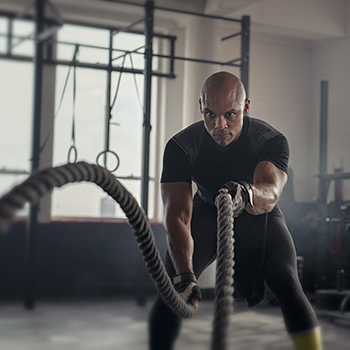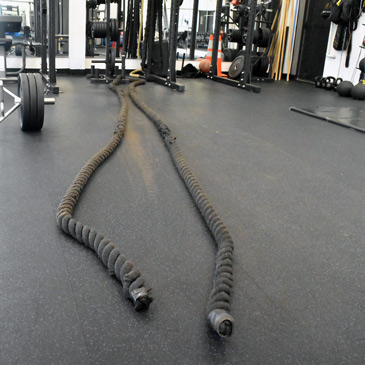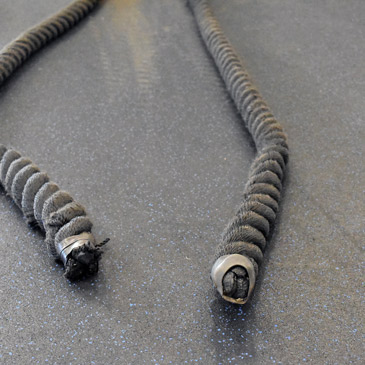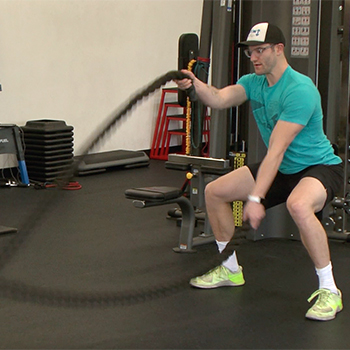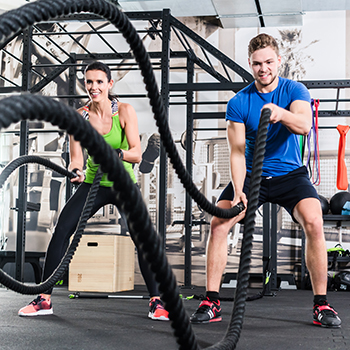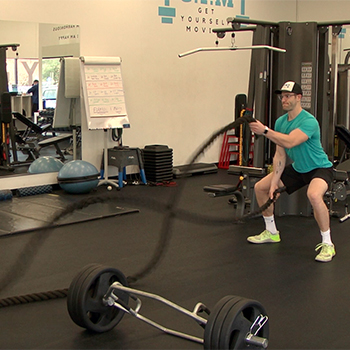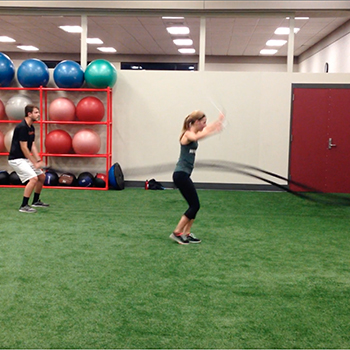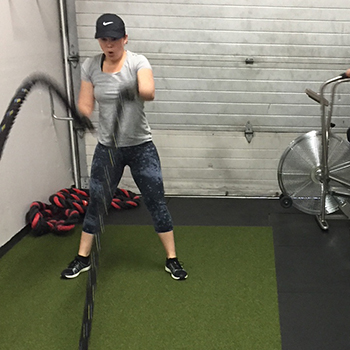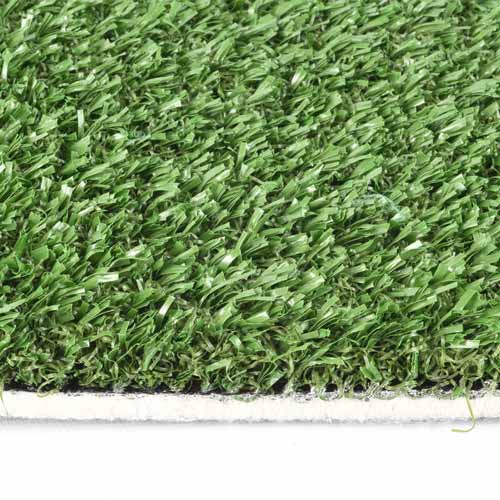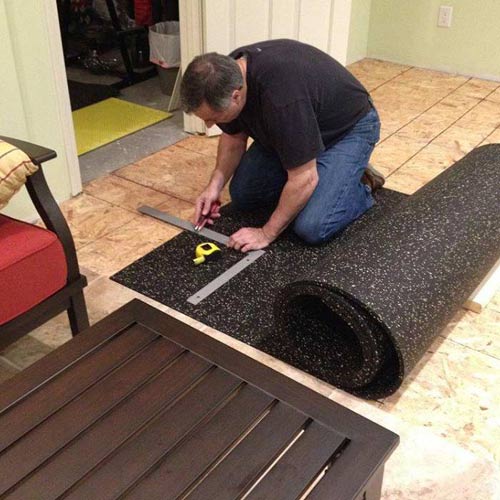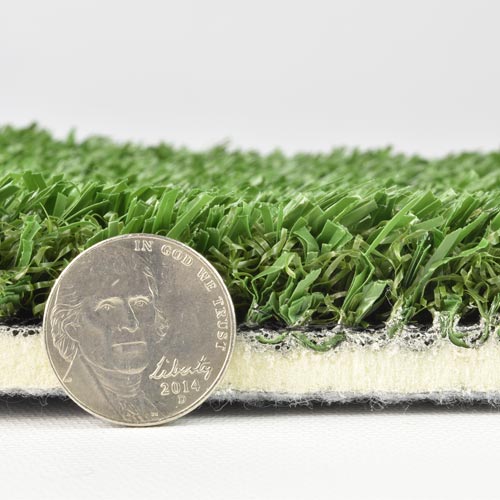 If you are a fitness fanatic or regular gym goer, one of the most effective workouts that you may or may not have tried is a rope workout. A rope exercise program is among the best for beginners and avid athletes alike, as it works the muscles in your arms, back, abs, glutes, and if you incorporate
hiit
,
cardio
, or additional floorwork, it's also great for your legs. This type of workout can be part of your existing training routine, or, it can prepare you for heavy
weight lifting
, a
boxing
or
wrestling battle
, or other intense full body challenges.
Among the numerous flooring solutions available at Greatmats, there are several that work perfectly for a
rope workout
. The two most popular are:
Each of these solutions offers superior performance, quality, value, durability, and versatility. They would both be perfect for a rope workout, and knowing which one to choose depends on your material preference and other activities you wish to accommodate on the floor.
Artificial Turf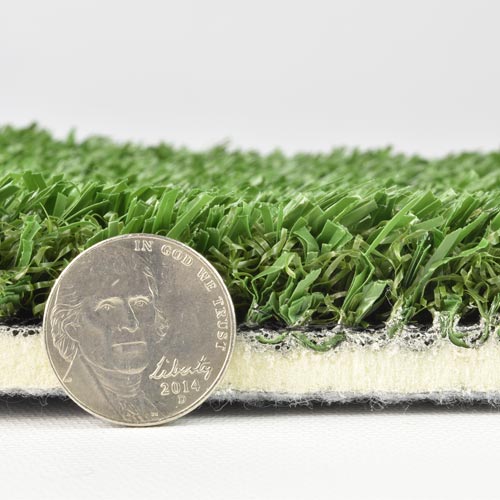 The V Max Artificial Grass Turf product is arguably one of the best and most popular gym turf flooring solutions available anywhere. This is among the best indoor/outdoor turf roll options that works for everything and anything from a rope workout and sled work to a surface for an indoor soccer field.
The high performance durability, quality, and value are unmatched by other turf options, as it is virtually maintenance free and reacts naturally. It is designed to deliver a realistic feel with a blend of nylon and polyethylene and ¾ inch pile height. It also has a 5 mm foam backing, so users will appreciate the feel and look of soft, natural feeling grass. For that reason, the product has been installed in numerous school and professional facilities, nationwide.
Ferris State University is a customer of Greatmats
, and they have installed different flooring solutions in their facilities. In regard to one of their fitness and training facilities, Racquet and Fitness Center Assistant Manager and Fitness Coordinator Ali Molnar. Recalled, ''We wanted a material that was durable, shock-absorbent, hygienic, and versatile enough to handle speed and agility training in addition to circuit training and yoga classes.''
She discovered that the Greatmats V-Max turf met all of those demands, so they installed enough of the turf to cover a nearly 1,700 square foot space.
Having previously been surfaced with carpet, Molnar reports, "The biggest response we have received from customers regarding the turf is how much better it feels on their feet and joints.'' She continues by reporting, ''I like that is has opened up so many more options for training customers and teaching classes.''
Rubber Flooring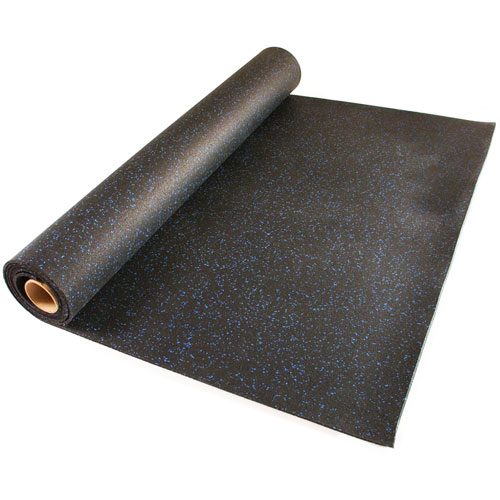 The Rubber Flooring Rolls 1/2 Inch 10% Color Geneva Per SF are perfect for any kind of high wear and tear workout. This is one of the most popular workout flooring options at Greatmats. It is among the best for weightlifters, so it can endure the abuse of rope routines, and it is even installed in commercial gyms, nationwide.
It is a low rubber odor product that comes in any roll length from 25 to 100 feet long, and it is 4 feet wide. It is made in the USA of recycled rubber content with unique color flecks distributed throughout that will not wear away over time.
This rubber roll option delivers a surface that doesn't get slippery when wet. It is extremely durable, versatile, stain resistant, mold resistant, and mildew resistant with a professional look - which is why it is always being installed in facilities.
John Fisher, owner of Get Yourself Moving (G.Y.M.) in New Brighton, Minn., wanted a product suitable for all types of strength training that would last the test of time. He chose the Geneva Rubber Flooring Rolls. He says, "We like the rubber flooring, especially what we have here with the blue specs in it because it went along with the blue logo model that we were going for," Fisher said. "My partner and I installed it ourselves. It was very easy to install and overall, the cleaning aspect is very simple. We just vacuum with a normal vacuum and mop with a normal mop and it cleans up really well…. It really is a great mat!"
Greatmats - For the Best Rope Workout Flooring Solutions
If you are ready for gym flooring, Greatmats truly is your one stop shop! From the options highlighted to other products available, there is an ideal option that will perfectly fit your space and budget. Simply reach out to the team at Greatmats, and together, you can determine which turf solution is the right one for your gym or workout space.