SupraTile T-Joint Coin Colors 6.5 mm x 20x20 Inches Caee of 10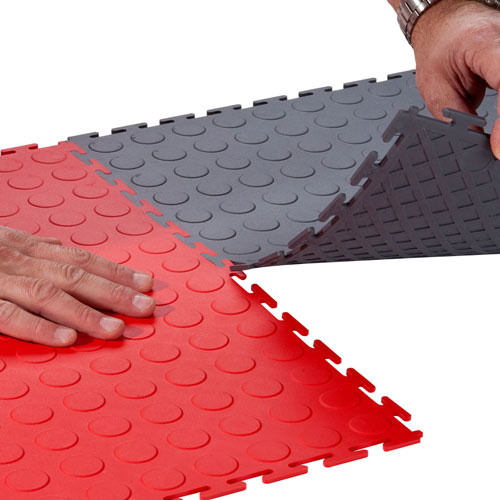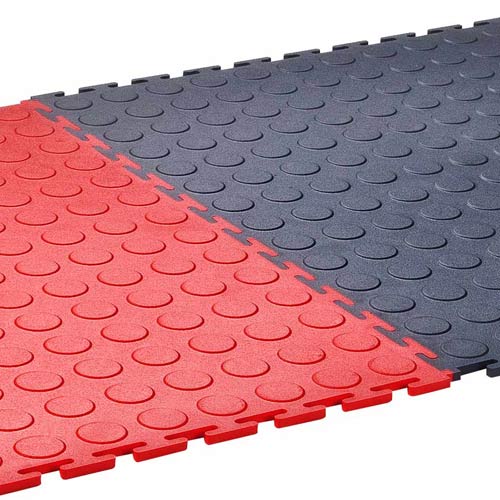 Quick and easy installation
Resistant to oils, chemicals, mold and mildew
Excellent resistance to impact, moisture and abrasion
Handling Time Estimate: 1-3 Working Days
VIDEOS
SupraTile T-Joint Coin Floor Tile Features and Benefits Video
How to Cut PVC Floor Tiles
Quick and easy installation
Resistant to oils, chemicals, mold and mildew
Excellent resistance to impact, moisture and abrasion
Warm and comfortable underfoot
Can be installed over old uneven, or contaminated sub-floors
Superior sound absorption, integrated ramp edging for most styles
Easy to remove and relay, protective topcoats available
Made from 80% recycled content
Auto Shops, Basement Flooring, Warehouse Floors, Industrial Flooring, Airplane Hangars
SupraTile T-Joint Coin Colors 6.5 mm x 20x20 Inches - Case of 10
SupraTile solid PVC SupraTile T-Joint Coin Colors 6.5 mm x 20x20 Inches Caee of 10. with a coin textured heavy duty floor tile with superior 'T' Joint interlocks.
SupraTile solid PVC SupraTile T-Joint Coin Colors 6.5 mm x 20x20 Inches Caee of 10. with a coin textured heavy duty floor tile with superior 'T' Joint interlocks.

For auto shop flooring that can stand up to the weight of commercial trucks, airplanes, and other large vehicles, trust the 6.5 mm thick SupraTile models from Greatmats.

These PVC plastic tiles are extremely durable, providing a 20-year manufacturer warranty that ensures customers receive excellent value from this flooring. PVC flooring for garages will deliver many of the same benefits as epoxy coating. However, PVC costs less and is easier to install. This product is made from 80% recycled content.
Size and Shape Options
Each of these square-shaped tiles has a T-shaped interlocking edge consisting of tabs and slots that resemble a jigsaw puzzle edge.
An individual auto shop flooring tile will measure about 20 by 20 inches, although some of the tile's coverage area is lost to the interlocking edge design. You should receive about 2.75 square feet of coverage per tile. (Should you need help deciding how many tiles to order for your space, contact Greatmats.)
A single tile measures 6.5 mm in thickness, which is almost equal to 1/4 inch. Although this is a thin tile, it can stand up to significant weight without buckling or showing damage from impacts or abrasions.
Each auto shop flooring tile weighs 5 pounds, which greatly simplifies installation. Customers do not need heavy equipment to move the tiles, and they do not need to hire a professional to handle the installation process.
Material Options
PVC (polyvinyl chloride) is a versatile type of flooring, as it has a bit of cushioning that's more comfortable to stand on for work than a concrete floor that commonly appears in a repair garage.
Because PVC provides resistance to absorbing moisture, oil, chemicals, and other liquids, it's a popular choice in areas where people will be parking and working on vehicles. (Customers do need to apply a seal to this type of flooring when used as a body shop or auto shop flooring.)
Another advantage of using PVC mat flooring is its ability to absorb noise. In an area where repair technicians will be doing custom bodywork, engine repair work, or anything in between, the area can become quite noisy, making it difficult to communicate. PVC is one of the best materials to absorb sound and to cut down on echoing noises.
Pattern and Texture Options
When rain and snow drip off cars in the repair garage or in your garage at home, the moisture can create slippery areas on cement flooring and on other types of flooring.
However, with the coin top raised pattern on our PVC mats, those walking on the damp floors will receive some slip resistance properties. The manufacturer molds the circular pattern into the surface of the PVC, so the raised areas will not break loose whenever placed under pressure.
This model of SupraTile is available in bright colors of royal blue and red. Greatmats also offers this thickness of coin top PVC tile in neutral colors, if that would fit your use case better.
All the tiles in this SupraTile family use the same T-shaped interlocking edge, so installers can mix and match colors as desired to create a checkered pattern.
Common Use Options
The most common use case for this auto shop flooring is in places where people will be storing, displaying, or working on vehicles. As long as the installer applies sealant to the floor, it can stand up to automobiles, large trucks, military vehicles, and aircraft.
Each tile can hold up to 16,000 pounds of weight without showing indentations or abrasions. (Thinner SupraTile options cannot support the weight of extremely large vehicles.)
Other areas that work well with these tiles include warehouses, factories, airplane hangars, commercial buildings, industrial buildings, and high-traffic walkways. The tiles work well in large buildings that need to cover a big space for a budget-friendly price.
Homeowners may install these tiles in a basement or garage, thanks to their moisture-resistant design.
Installation Options
To connect these tiles in the final layout, just line up and connect the tabs and slots on the edges of adjacent tiles. Then pop them together by hand or with a rubber mallet.
Installers can dry lay these tiles if they would like to pick up the tiles in the future, or they can glue them to the subfloor for a permanent layout. Do not apply glue to the interlocking edges, as the tiles will remain tightly connected without the need for adhesive on the edges.
Cleaning and Maintenance Requirements
When cleaning our auto shop flooring, you will want to remove dry debris with a push broom or a vacuum cleaner. Removing dry debris regularly is especially important when using a brightly colored style of floor that could make soils more noticeable.
When you desire to apply a cleaning solution on this type of flooring, just make use of a common household cleaning solution diluted with water in a ratio indicated on the bottle of cleaner. Apply it with a mop or with a cleaning machine. Allow the space to dry naturally in the air or use fans to speed up the drying process.
Maintenance
Clean with damp mop, hot water and common household floor cleaner.
Shipping
Ships in cartons via ground service to your door, for larger orders product may ship freight delivery.
This Product Ships UPS Ground, FedEx Ground and/or Freight.
Please review our shipping disclaimer.
WARNING: This product can expose you to chemicals including Lead and/or Phthalates, which are known to the State of California to cause cancer and birth defects or other reproductive harm. For more information go to www.P65Warnings.ca.gov.
| | |
| --- | --- |
| SKU# | SUPRA6.5-TJ-20.5x20.5-COIN-C |
| In Stock | Yes |
| Product Type | Tile |
| Material Type | PVC Plastic |
| Product Edging | Interlocking |
| Thickness | 6.5 mm |
| Width | 1.66 feet |
| Length | 1.66 feet |
| SF per Item | 27.50 |
| Weight | 50.00 lbs |
| Packaging | Cartons |
| Number of Pieces per Package Type | 10 |
| Non Absorbent | Yes |
| Special Adhesives | No |
| Universal Interlock | Yes |
| Interlock Loss | 0.02 feet |
| Material Hardness | Shore A 92 |
| Interlocking Connections | Yes |
| Made In | Ireland |
| Surface Finish | Coin top |
| Surface Design | Solid color |
| Installation Method | Interlocking, dry lay |
| UV Treated | No |
| Reversible | No |
| Border Strips Included | No |
| Manufacturer Warranty | 20 year |
RELATED PRODUCTS