Sprung Dance Floor Full Panel 2 Inch x 3.5 x 3.5 Ft.
WaveLock design eliminates soft and hard spots in floor
Portable and removable while maintaining floor value
Excellent sprung and bounce for dance floors
Handling Time Estimate: 11-14 Working Days
How Much Flooring Do I Need?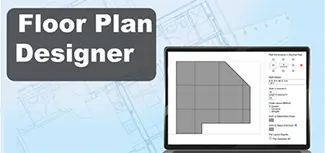 VIDEOS
Rosco Sprung Floor with Customizing Panels Video
Rosco Sprung Floor Installation
WaveLock design eliminates soft and hard spots in floor
Portable and removable while maintaining floor value
Excellent sprung and bounce for dance floors
No adhesive required, all screw together components
Made in the USA
WaveLock technology is the best sprung flooring on the market
Take with you when you studio moves
Sprung Dance Floors, Studio Dance Floors, Dance Studio Sprung Flooring, University Dance Floors, Ballet Dance Floors
Wavelock Rosco sprung dance floor, Dance sprung floor Rosco panels
Rosco Sprung Dance Floor Full Panel 2 Inch x 3.5 x 3.5 Ft. was developed and tested by dancers to insure the perfect combination of resilience, spring or bounce with stability in a floating dance floor that is portable. The revolutionary WaveLock design of this sprung floor eliminates soft spots in the floor where the plans nest together.
Rosco Sprung Dance Floor

The sprung floor system is flexible enough to absorb the energy from a dancer's impact but provides the right amount of resistance for dance movements ranging from ballet to tap and including folk, modern, flamenco and Irish dancing. Each panel is 3.5 x 3.5 ft in size, and covers 12.25 SF and makes a floating dance floor.

The 42 x 42 inch sprung dance floor panels nest together into each other seamlessly. The unique WaveLock technology design of this panel eliminates any hard or soft spots in the floor. Perimeter pieces are designed to hold the panels together.

Some light carpentry work is required for installation on these dance floor panels. Please review the Rosco Sprung Floor installation document.

Most users will be able to install the Rosco Sprung Dance Floor on their own. Panels weigh only 44 pounds each. Perimeter pieces are 4-3/8 inches wide, holding the entire floor together. The perimeter of this systems can be connected to concrete or wood floors and can also be removed and re-used in case of a change in venue.

An integral part of the Sprung Floor by ROSCO system is the 4.5 inch diameter closed cell foam pads. These 1 inch thick pads are affixed at specific locations on the underside of each sprung floor panel. This, combined with the Medium Density Fiberboard (MDF) construction of the dance floor panels, utilizing our patented WaveLock technology, yields superb resilience and dimensional stability. Finished vinyl marley dance flooring is required on top of the ROSCO sprung floor panels.

When looking at sprung floors, consider our

Rosco sprung floor

system. Constructed with a pre built dance floor panel system, these sprung floors are the best available, and will help the health and safety of your dancers.

The Rosco sprung floor system for dance studios or university school classrooms are suitable for the most demanding of professional and students alike. These sprung dance flooring panels by Rosco are made in the USA. The professional dance studio surface will eliminate soft spots in the floor. This sprung floor by Rosco is used nationwide in professional dance studios and traveling dance troupes.

This sprung floor for pro dancers utilizes the WaveLock technology that eliminates soft or hard spots in the dance floor panels at the seams and provides enough flexibility to absorb impact and provide proper bounce. Closed cell foam pads stick to the underside of the sprung dance panels helping to provide superb resilience and dimensional stability. The 42x42 inch dance floor panels nest together seamlessly. This unique design improves performance and increased safety and comfort.

For traveling professional shows, this dance floor panel system is an excellent choice that can be assembled and disassembled as needed repeated with no hard or damage to the sprung floor. Take the sprung floor out if the studios moves locations and reinstall elsewhere in a new location. This floating dance floor panel system installs with customizing panels for a wall-to-wall fit. Nest the pre built sprung floor panels together during installation.
Rosco Custom Sprung Floor Panels
The Rosco customizing sprung floor panel option provide an economical installation for customers that can handle more DIY installation. These
DIY sprung dance floor panels
offer an option to save on cost and install the finished layer with BCX plywood. Light carpentry is required for wall to wall installation.
Use the customer floating dance floor panels the sides of studio floor installations to put the finishing touch on a wall-to-wall installation. With these panels, you can customize your floating dance floor around columns and fit irregular shaped rooms.
DIY customizing sprung dance floor panels offer the same spring and bounce as the full panels. Purchase the finished BCX plywood layer locally to complete the install. To save cost consider DIY custom dance floor panels for the entire floating dance floor.
Marley surfaces are sold separately with all sprung floor systems.
Rosco Sprung Dance Floor Component Pieces
300 08000 4242 - 42 x 42 inch x 2 inch Panel
300 08010 0042 - 4-3/8 inch x 42 x 2 inch Perimeter
300 08010 0084 - 4-3/8 inch x 7 ft x 2 inch Perimeter
300 08015 0000 - 4-3/8 inch x 21 x 2 inch (x2) Corner
300 08016 0000 - 4-3/8 inch Inside Corner
300 08020 0000 - 21 x 42 inch x 2 inch Ramp
300 08021 0000 - 21 inch Corner Transition Ramp
Please call customer service to order these accessories.
Shipping
Ships via freight delivery, shrink wrapped on pallets
This Product Ships Freight Only.
Please review our shipping disclaimer.
| | |
| --- | --- |
| SKU# | 08000-4242 |
| In Stock | Yes |
| Product Type | Tile |
| Product Edging | Interlocking |
| Thickness | 2 inch |
| Width | 3.50 feet |
| Length | 3.50 feet |
| SF per Item | 12.25 |
| Weight | 44.00 lbs |
| Packaging | Shrink Wrapped on Pallets |
| Number of Pieces per Package Type | 35 |
| Non Absorbent | No |
| Special Adhesives | No |
| Universal Interlock | Yes |
| Interlock Loss | 0.00 feet |
| Interlocking Connections | Yes |
| Made In | USA |
| Surface Finish | Smooth |
| Surface Design | Solid |
| Installation Method | Spoon together, screw down |
| UV Treated | No |
| Reversible | No |
| Border Strips Included | No |
| Manufacturer Warranty | 5 years limited |
Product Questions:
Q: Can your dance flooring be installed on top of carpet? This is for home ballet use. Thanks!
A: Great question, the answer is no, the marley vinyl dance floor needs to be installed over a hard flat surface, such as our indoor court tile. The court tile can be installed over carpet indoors to provide that hard surface the marley needs.
Q: Do you ship to Australia? Can this flooring go on concrete?
A: We only ship in the USA, our customer would have to arrange for international shipping, unless its a container. This subfloor product can be installed over any hard flat surface.
Q: Can you put this on directly over concrete or do you need a subfloor?
A: This subflooring can be installed directly on top of any hard flat surface, including concrete.
Q: Can a hardwood dance floor be installed over the sprung dance subfloor panels? (this is for ballet and ballroom home use)
A: If the hardwood flooring is free floating then yes.
Q: Can my daughter dance directly on the subfloor or do I need to install flooring on top of it?
A: This subfloor is not a finished dance surface and does require a marley top surface.
Q: Can I use this outside like on grass?? I am A wedding minister, and A Dj, and need A dance floor for my dancers.. Will this work?? If not what do you suggest??
A: This is an indoor floor, what you want is the temporary floor tile with our portable dance floor on top. Read our blog about
dance floors on grass
.
Q: What is the fire rating on this flooring? Does it comply with the IBC (International Builders code)What is the fire spread rating and smoke rating?
A: We do not have this test available to us from the manufacturer.
Q: To create a solid surface for a ballet dancer over a concrete surface you first install the Sprung Dance SubFloor and then the Marley Surface, which Marley product do you recommend.
A: Over a wood subfloor you can use either the Rosco Adagio or the Rosco Reversible Dance Floor. Review our blog about
ballet floors
.
Q: How portable is this flooring?
A: Its not designed to be taken up and down every day. But rather if the studio moves it can be taken out and reinstalled without damage to the subfloor.
Q: Do the springs adjust to make a level floor?
A: The sprung dance floor does not contain springs. Foam discs are what give this product its bounce and cushion.