What Kind of Flooring Is Used In A Gym?
By Lisa Hobbie Created: December, 2019 - Modified: September, 2023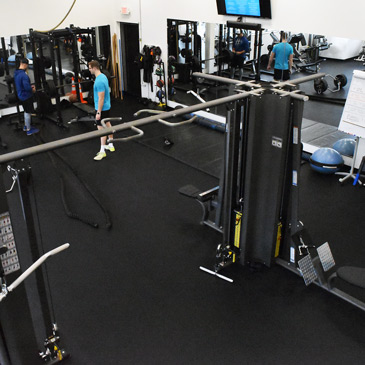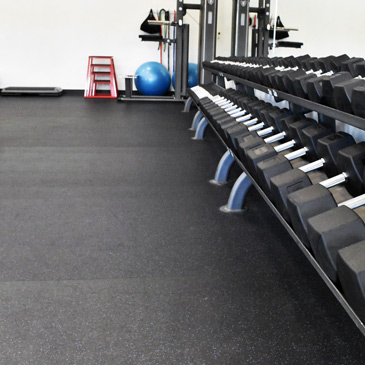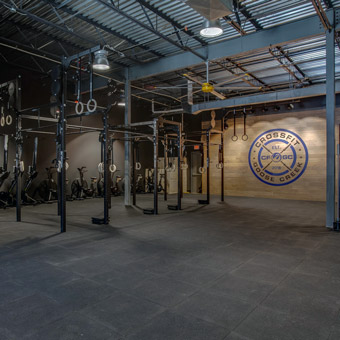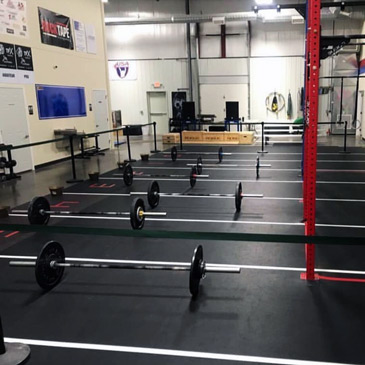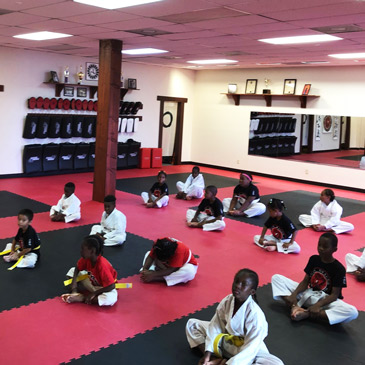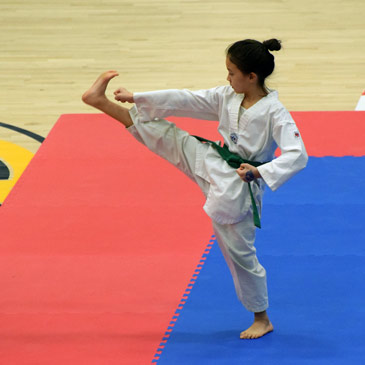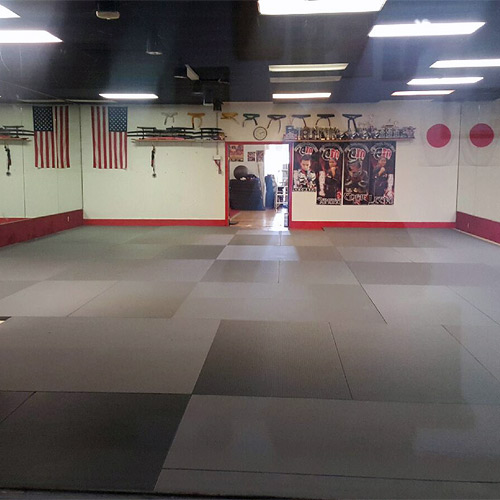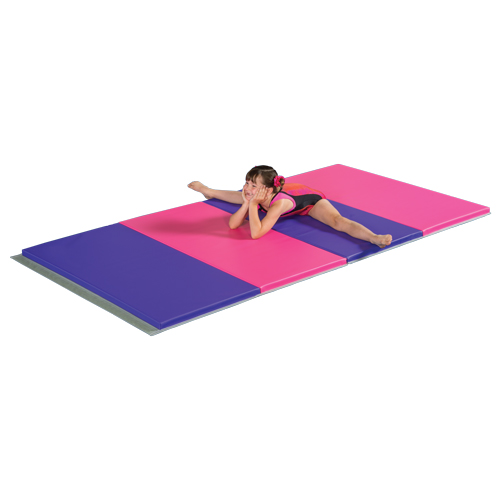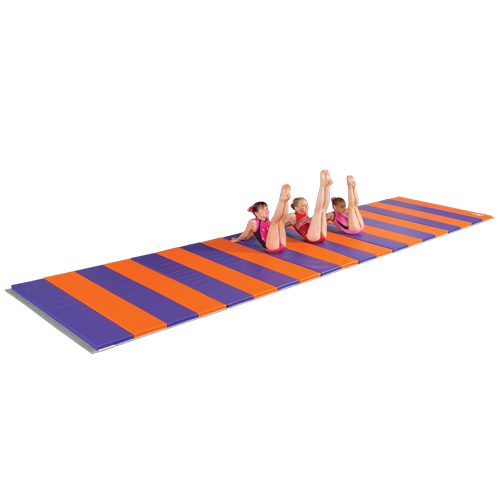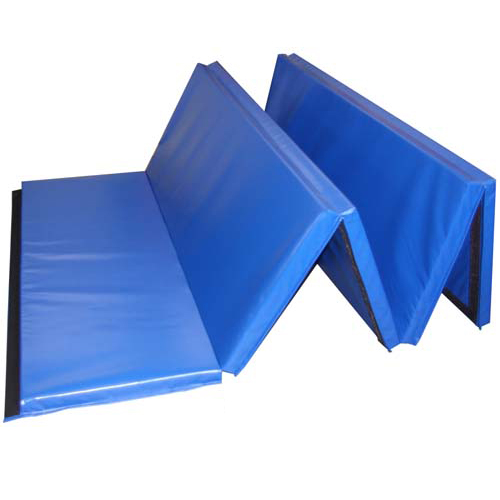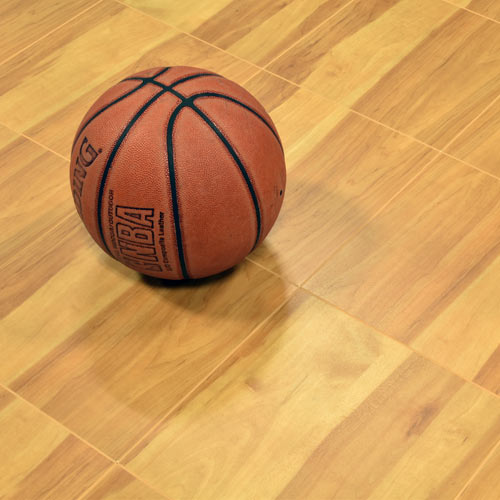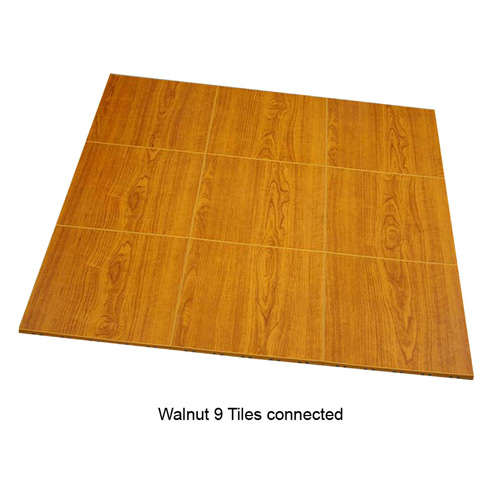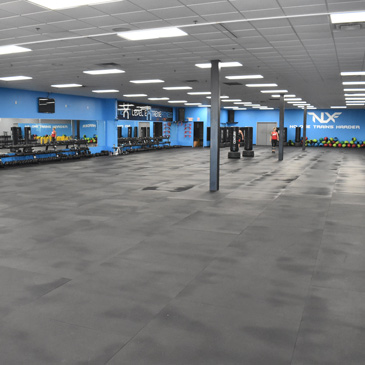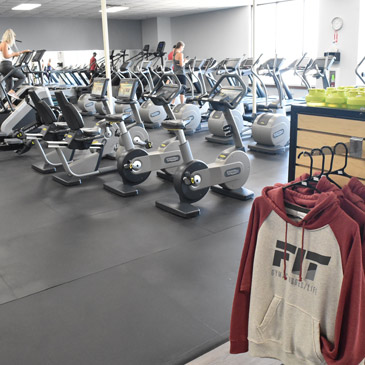 When it comes to gyms and workout facilities, the flooring is not typically a one-size-fits-all. Sure, a rubber floor could suffice in most gym scenarios, but it wouldn't necessarily be the best for every situation. When examining what type of flooring is used in gym settings, knowing the purpose the gym serves will help to determine the answer.
What Types of Flooring do Gyms Use?
Rubber Flooring Rolls
Rubber Mats or Tiles
Interlocking Foam Mats or Tiles
Gym Mats - Folding, Tumble or Landing Crash Mats
Cushioned PVC Tiles for Basketball Courts


Flooring Used in Weight Rooms & Commercial Gyms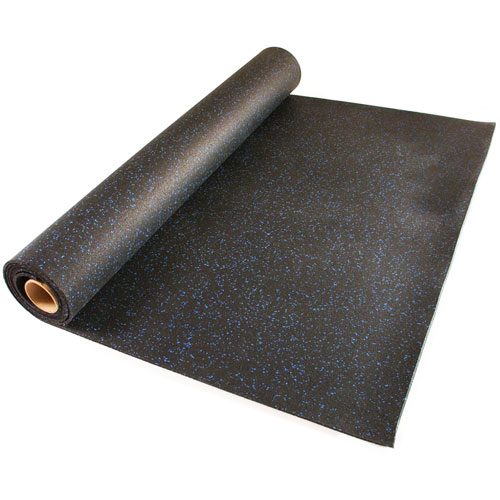 When thinking about what type of gym flooring is best for a weight room or commercial gym, there 3 aspects that are imperative to consider.
The floor must be durable enough to handle heavy fitness equipment and the potential of dropped weights, as well as foot traffic and a variety of shoe types.
The flooring should be waterproof, as it will likely succumb to spilled water bottles and droplets of sweat.
It should be slip-resistant and shock absorbent, and it should be easy to clean and maintain.
Rubber Flooring Rolls
A rubber gym flooring roll is the most popular option for this type of gym.
Rubber flooring rolls
is extremely durable and versatile options for gym flooring and are
easily installed over a concrete subfloor
with either glue or double-faced tape and are available in a variety of colors and thicknesses. Once the rubber flooring roll is placed and secured, it requires little maintenance, with a sweeping, vacuuming, or damp mop cleaning process, as needed. They are stain, mold, and mildew resistant – making them an ideal flooring option for a gym where sweat and moisture are often present or in an area that tends to get damp like a garage or basement.
When it comes to durability, not many flooring types are better than rubber flooring rolls. They also provide impact absorption, which may greatly reduce the likelihood of leg injuries and fatigue. They provide excellent traction, which prevents slipping and falling that could occur on a solid surface – especially when damp, and they provide excellent protection of the base floor. Rubber flooring rolls also provide some thermal insulation and noise dampening.
Rubber Mats & Tiles
Rubber Mats and Tiles bring a different perspective to a commercial gym depending on thickness.
Rubber mats
offer options of greater thickness than rubber rolls, therefore providing options with more subfloor protection against dropped weights. These are especially popular in Olympic weightlifting spaces.
Rubber tiles
are popular for smaller commercial gym spaces due to the ability to customize to tight quarters with limited waste. They also provide the greatest selection of thicknesses and can be specially designed to
reduce vibration and noise
in places such as CrossFit Gyms where weight heavy weight dropping is common practice.
Flooring Used in Martial Arts Gyms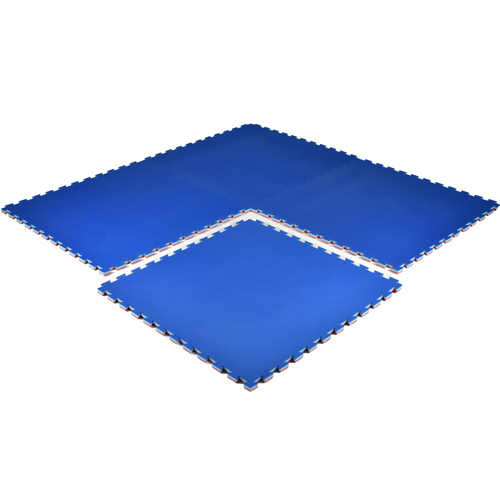 When it comes to gym flooring in facilities designed for martial arts,
foam puzzle mats
are among the best options. Puzzle mats are popular because they are portable, provide multiple room layout options, come in many colors, designs, and thicknesses, and are often durable enough for heavy foot traffic and equipment use. If one part of the installed mat becomes damaged, it's simple to remove that piece and replace it with a new one. They are also made from non-absorbent materials and allow a simple, non-adhesive "jigsaw puzzle/interlock" assembly over any hard surface that requires little skill and time.
Although each type of puzzle mat may appear to be the same, it's important to note the seemingly minor differences that are important factors in determining if it will fit the needs of a particular discipline.
Pro Taekwondo mats
are an economical option for the professional dojo, martial arts, and TKD studios that are designed for barefoot use, or, with boots and shoes. These commonly serve dual purposes, also being used as tournament rings. They are typically ¾" (20mm) thick with a textured surface that is resistant to scuffs, indentations, and divots. They are also very durable, providing years of portable protection and enjoyment.
Karate Mats
, although among thinner martial arts mats, provide for a slightly thicker and firmer padding than taekwondo mats – typically 1 inch, and are ideal for Karate, Taekwondo or other striking arts studios. These mats will usually have a smooth surface finish that works well for bare feet or soft shoes.
A martial arts mat that is suitable for skill development and training is a
Judo jiu jitsu mat
. This mat is ordinarily 1.25 inches thick and surfaced with a no-burn tatami top to prevent floor burns. These mats provide a safe, cushioned surface for students of all ages. These mats do provide for a cushioned fall but are also appropriately firm – allowing for a strong footing.
Grappling MMA mats
are typically 1.5 inches thick, and are ideal for these disciplines, as well as Judo, grappling, Jiu Jitsu, and other intense training. The no-burn tatami mat surface texture is designed to prevent mat burns and is most suitable for bare feet. Soft shoes can be worn, but they may scuff the mat. These grappling mats are waterproof, reversible, and have many potential uses – including indoor playground padding.
Flooring Used in Gymnastics Facilities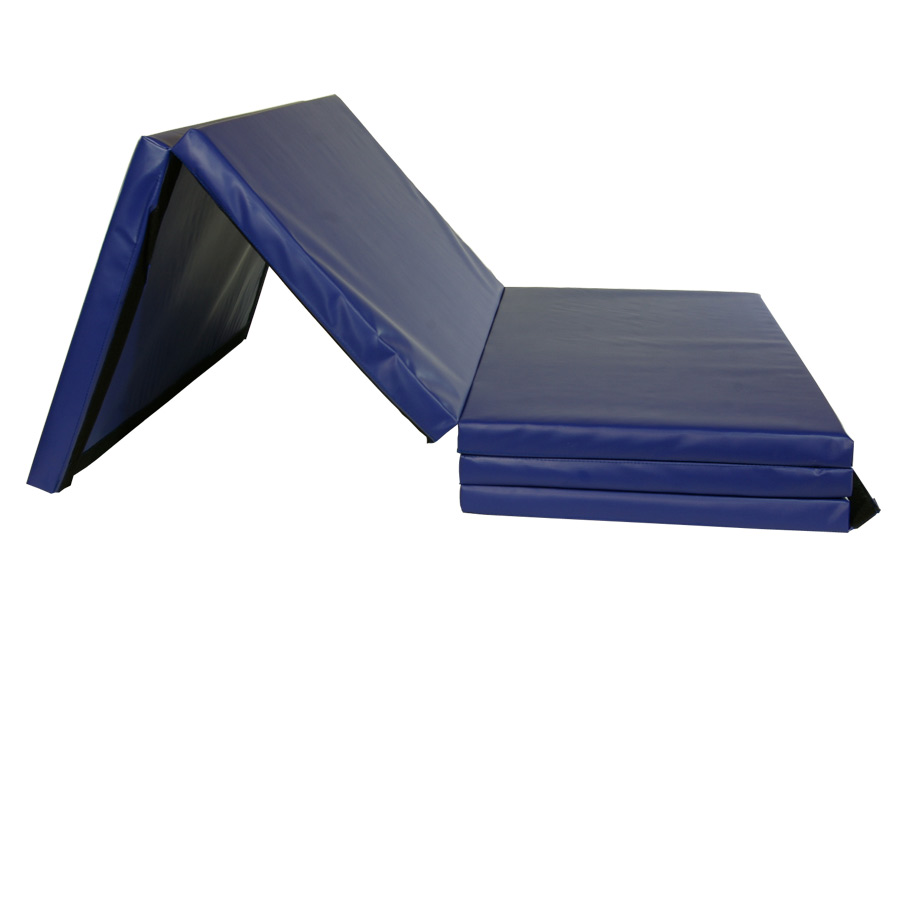 Gym flooring used in a gymnastics facility will likely include a subfloor of wood or similar hard surface, with the addition of numerous
gymnastics mats
designed to cover various areas of the floor. Gymnastics is a sport that requires heavy equipment and safe practice areas to prepare the athletes for flips, tricks, and tumbles - among many other things. Along with this sport comes the potential for injury - which is greatly minimized with the use of gymnastics mats.
There are a number of different types of mats, from folding and tumble to crash… and everything in between. They come in many different sizes and densities and serve different purposes from general safety to intense training of new skills.
A quality mat that is versatile for developing and mastering any skills involving forward rolls, leaps, tick-tocks, walkovers, and back handsprings is a
gymnastics octagon mat
. Another great mat used for learning and mastering new skills is an
incline gymnastics mat
, which allows for the gymnast to start at the high end of the mat and work along the downhill portion of the wedge or vice versa. This helps the athlete adapt to making his or her body move correctly for a given skill or exercise until they are strong enough to perform it on a flat floor surface.
Landing mats
are the best option to provide cushioning for landing areas or to protect against potential falls from things like bar, beam, or vault equipment. They can also work well for tumbling passes and cheerleading jumps, as they provide a great mix of shock absorption and footing.
A versatile, durable, and dependable mat that can be used for anything and everything in the world of gymnastics is a standard
gymnastic panel mat
. Greatmats offers a huge selection of colors, thicknesses, and sizes of these mats, making it easy to provide protection in any space - large or small. They are constructed with high-quality foam and topped with a durable vinyl cover. They are designed for superior shock absorption with a medium density, and the folded panel option can be easily moved or transported.
Safety mats
is the perfect choice if you need a thick, cushioned place to land or crash. There is a size and thickness for just about any gymnastic or athletic move or exercise that requires extra support when learning a new skill.
Flooring Used in Basketball Court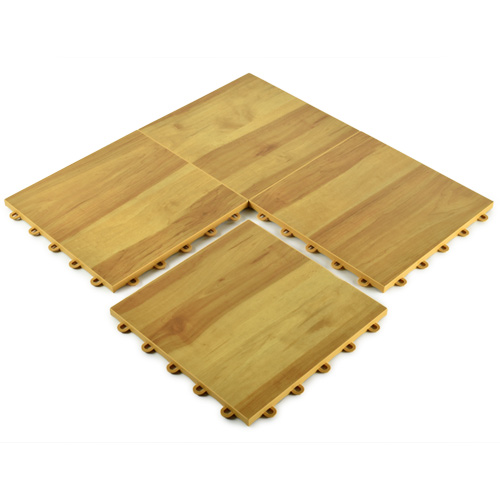 Although one may assume that a school basketball court would only have a hardwood gym flooring, another excellent option is one constructed of
modular basketball court tiles
with a commercial vinyl top or polypropylene surface finish. These tiles are designed for use in a commercial, home, or school basketball court and will stand up to the test of time. They can be installed over any hard surface, and are simply snapped together for a simple installation process. The result is a high-quality, solid color or wood-grain-looking court that is scuff and stain-resistant, flexible, and durable. For indoor installations, a rolled rubber underlayment is typically advised.
Greatmats - One Stop Gym Flooring Shop
When you're ready to install a floor in any type of gym facility, Greatmats has numerous options to choose from. With unbeatable pricing, quality, and service, you can feel confident when you choose Greatmats for your flooring needs.