Playroom Floor Mats: Soft and Inexpensive Ideas
By Cara Walters Created: July, 2017 - Modified: June, 2023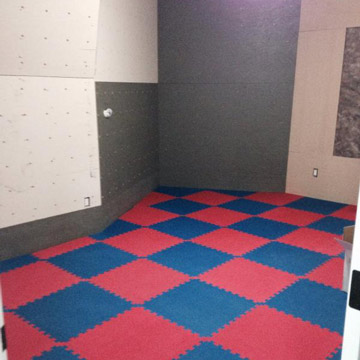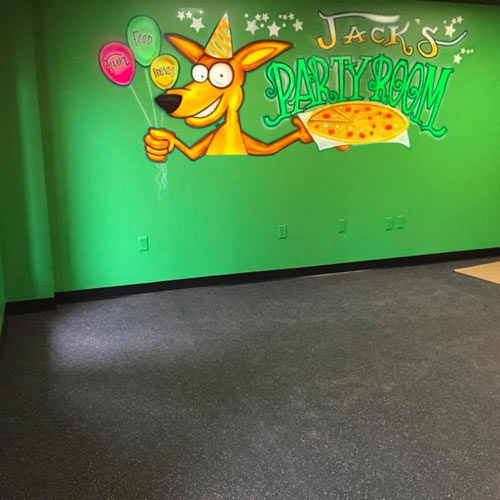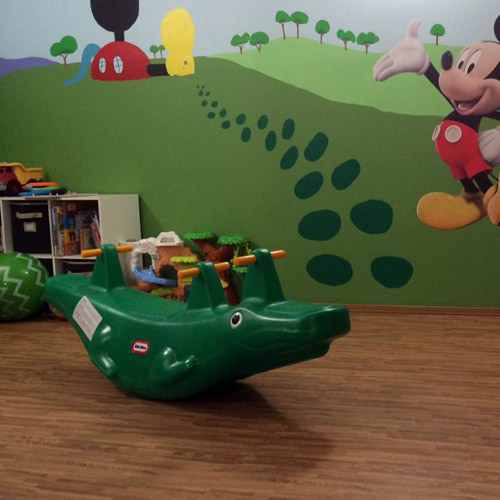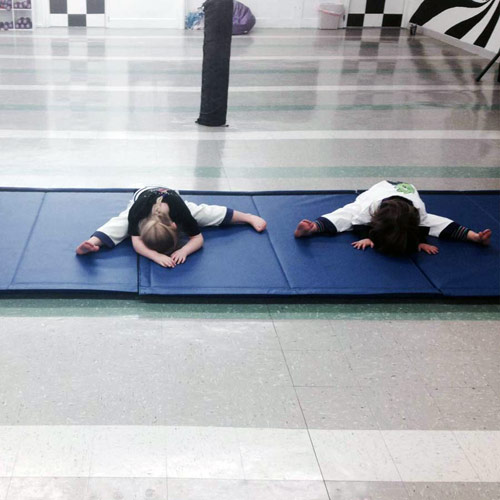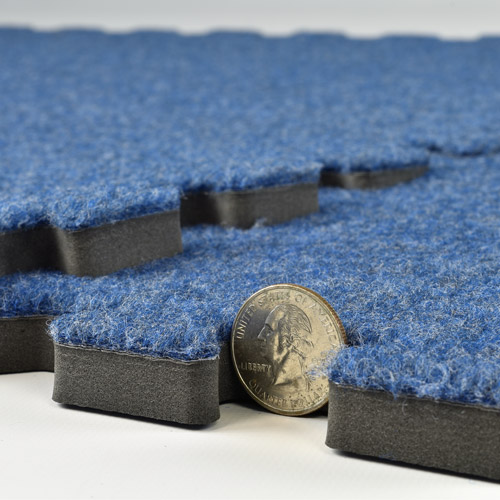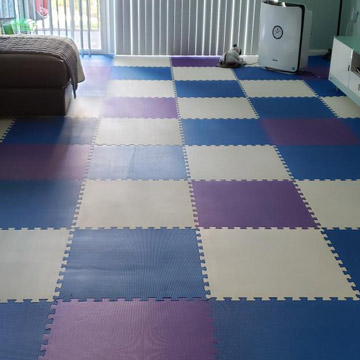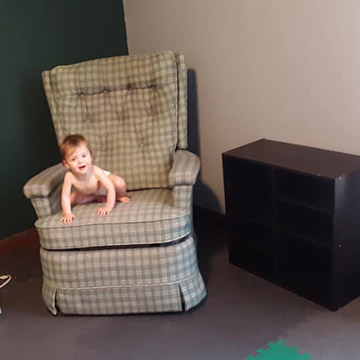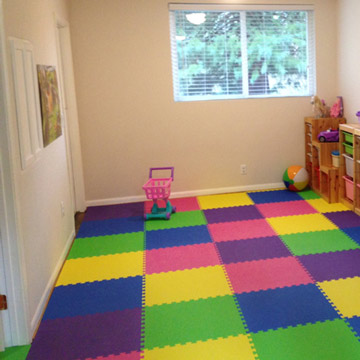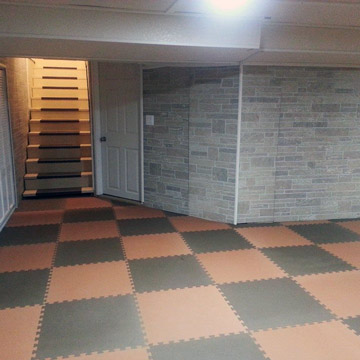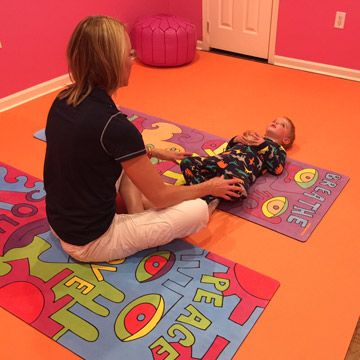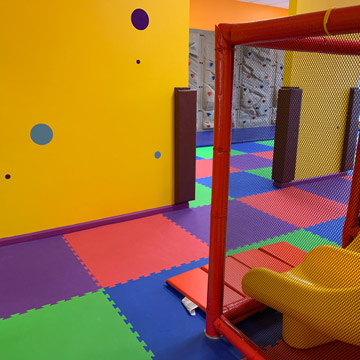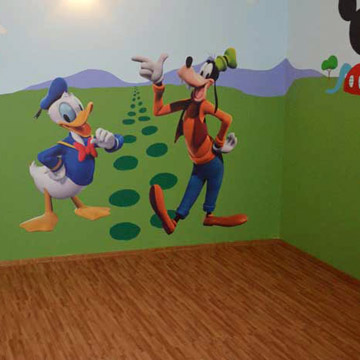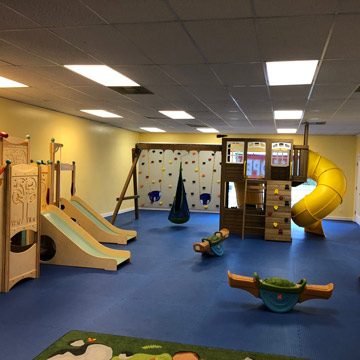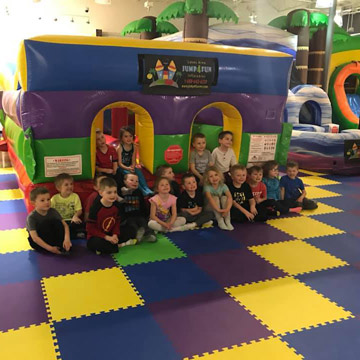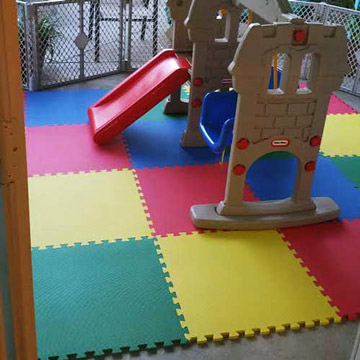 When it comes to quality flooring, even your kid's playroom deserves the best. Between toys, arts and crafts, games and friends, there is a lot of activity and little room for the original flooring to get messy; but that doesn't mean you have to sacrifice quality for budget flooring.
Whether your playroom doubles as a bedroom or living room - or is in the basement, Greatmats has a wide variety of
playroom floor mats
in different materials and thickness to best suit you (and your children's) playroom needs.
The top five playroom floor mats on a budget are:
1. 5/8 Inch Foam Playroom Floor Mats
(Approximately $1.75/sq. ft.)
Pros
Set. Lock. Repeat. That's how easy Greatmats' Foam Mats Premium are to set up and use. Available in thirteen color options, these playroom mats can be easily customizable to fit the design and theme of your playroom or kids room over any hard surface. Greatmats Kids and Gym Foam Playroom Mats deliver a quality foam flooring option at an economical price. The easy-to-clean, non-slip thatch surface is ideal for kids and parents alike. Place these playroom foam mats directly on any hard, flat surface for immediate use and years of play. Make any room a playroom with the lightweight and portable economy foam playroom mats.

For basement playrooms, the closed-cell EVA foam material also offers thermal insulation, meaning those cold concrete floors will be converted into a warm, temperature-steady foundation for learning and large motor skill development. This style of flooring will also serve to absorb much of the sound, helping prevent the noise from radiating throughout your home.

Greatmats foam playroom mats also come in premium, multi-colored puzzle tiles for visual stimulation, non-surface burn tatami sport, MMA, and many others. View all foam playroom mat options.



Cons
If placed over carpeting as an island installation, the economy foam playroom mats could shift during activity. Proper footwear should be worn on economy foam playroom mats as high heels could puncture the foam.

If you need more ideas on how to outfit your kids' playroom or bedroom, read The Magic of Foam or see just how easy foam playroom mat installations are.
2. Rolled Rubber Playroom Floor Mats
(Approximately $1.65/sq. ft.)
Pros
Rolled rubber flooring is a great option for basement playrooms that are prone to heavy traffic. This durable material acts as a sound dampener and floor protector, while still delivering a comfortable space for kids and adults to gather and play.

Greatmats rolled rubber playroom floor mats come in four-foot widths and can be customized to any size playroom. Four-foot wide rolls are stocked for immediate shipment in 25- and 50-foot roll lengths with either 8 millimeter or 3/8-inch thickness. This playroom flooring comes in a variety of colors including 100 percent black or various colors with 10 percent color fleck.

These playroom mats can be rolled directly over concrete, ceramic tile, or any smooth, hard, flat surface. For wall-to-wall installation, simply unroll the rubber flooring and cut to fit with a straight edge and sharp utility knife. Rubber mat rolls are factory cut with precision so they will lay side-by-side with no gaps between rolls. The ends of the rolls, however, are not cut square and will require trimming during installation.



Cons
Avoid soaking this rolled rubber product with water or other liquids. Although very non-porous, this rubber material will absorb water over time when submerged repeatedly or power washed on a regular basis. To dry this rubber material, it is best to elevate the material off the ground or hand-dry.

Rolled rubber is hard like a car tire and will not provide enough cushion for roughhousing, wrestling or tumbling.
3. Wood Grain Reversible Foam Playroom Floor Mats
(Approximately $2/sq. ft.)
Pros
For a multi-purpose flooring option, the wood grain reversible foam floor playroom floor mats can instantly go from playroom to casual family room. The wood side of this playroom mat features a smooth surface that is wood film while the tan side of the tile features a scuff resistant thatch texture. This thatch surface is durable enough for almost all shoe types.

Your kid's playroom can have a cozy wood-grain look, a tan texture, or both. Easily transform a playroom into a warm and inviting family room with the simple switch of the tiles. This interlocking floor tile is easy to install and maintain; simply clean with common household cleaning solutions (avoid bleach).

You can easily cut this material with a sharp utility knife to fit the tiles in wall-to-wall installations. Each tile measures two foot by two foot x 1/2 inch (13 millimeters thick). Start your installation in a corner, using the provided border strips to reduce the amount of cutting required for a wall-to-wall installation.



Cons
If placed over carpeting as an island installation, the economy foam playroom mats could shift during activity. Any foam playroom mats could be punctured or indented by small load-bearing items such as high heels or folding chairs.

To learn more about the wood grain reversible foam playroom mat, visit the Reversible Wood Grain Foam product page to watch see specifications, watch videos and get answers to all of your questions.
4. Gymnastics Playroom Floor Mats
(Starting around $190.00 each)
Pros
For the future champion gymnast, avid tumbler or just your regular group of playful kids, gymnastics mats are fun additions to any playroom. Greatmats' quality manufactured gym mats that fold are available in six different sizes and three gym mat thicknesses. Our USA-produced gym mats are custom made to order, from the highest quality materials, including 18 oz. 6P compliant vinyl covering and durable foam. These custom-made mats feature superb shock absorption making them an excellent multi-purpose playroom mat that could double as home gym flooring.

With gymnastics mats, the playroom is easily transportable to other parts of the house, or even outside (temporarily). Simply fold the gymnastics playroom floor mats and go from indoor to outdoor play instantly while still keeping your children safe.

Custom design the gymnastics mat playroom flooring that best suits your needs and style. Durable 18-ounce vinyl mat covers are standard, but the hook and loop style varies: V2 has hook and loop fasteners on short sides of the mats; V4 has hook and loop fasteners on all four sides. Choose V4 for attaching the mats to each other on the long side of the folding gym mats (side-to-side placement). Choose V2 for attaching the mats on the short side for a long run.



Cons
Greatmats gymnastics playroom mats are not built to eliminate or reduce injuries. Safety precautions should still be used during play or tumbling activities. They are also not weatherproof, so they should not be left outdoors during adverse weather conditions.
5. Interlocking Carpet Playroom Floor Mats
(Approximately $2.85/sq. ft.)
Pros
Royal interlocking carpet tiles are great if you want a playroom with a more plush surface. This is not your typical burlap-like carpet tile; this playroom flooring will have your little one's feet cushioned against material that mimics luxury vehicle flooring. Best yet, the royal interlocking carpet playroom floor mats are easy to clean with a vacuum and are waterproof and stain-proof, making it the perfect kids playroom flooring.

These playroom mats are easy to install; tape is not necessary. Interlock the tiles together and cut with a sharp utility knife to fit the area of the room. Should your playroom change, these playroom mats are a convenient option, simply stack them together and take them with you. At just under 1.5 pounds per tile, and 2 feet in diameter, royal interlocking carpet tile playroom mats are easy to carry.

Available in three different colors (light gray, dark gray and charcoal), each tile includes two border strips which allow them to be used as a center, border or corner piece. An attractive color scheme complements any design theme in your home while still adding functionality to your kid's playroom.



Cons
Heavy furniture can cause indentation marks. Furniture sliders are recommended.

Additionally, shade and color may vary from tile to tile within the same order and/or batch of tiles. This is common with this type of interlocking carpet tile.

Learn more about royal interlocking carpet tiles and how they can enhance your playroom flooring.
Go from a good playroom to a great playroom with fun, inviting and fully-functional playroom floor mats. You can allow kids to just be kids without having to worry about damaging your flooring with a variety of colors and materials that outfit the perfect playroom, from basic foam interlocking mats to gymnastics mats, rubber roll flooring and more.
Greatmats has an
all-access Buyer's Guide
to help you narrow down your perfect kid's playroom flooring. Read blogs, watch videos and get answers to all of your questions. Decide between the material, the design and the functionality you are trying to achieve, and Greatmats will deliver the kids playroom floor mats to fully fit your specific needs.