Soft Flooring for Kids Room - DIY Bedroom Tiles
By Julia Nass Created: July, 2017 - Modified: March, 2023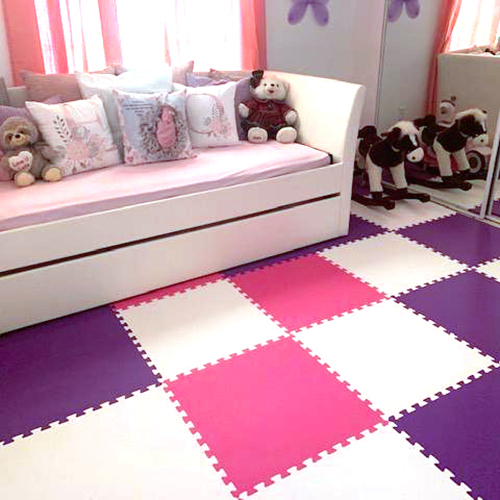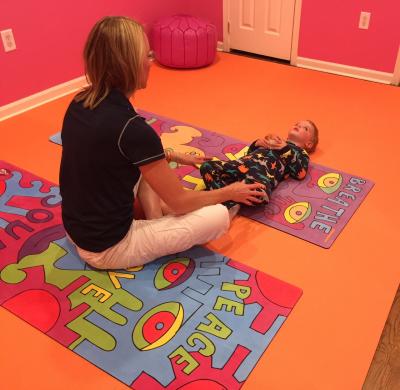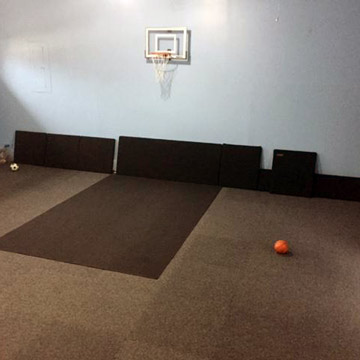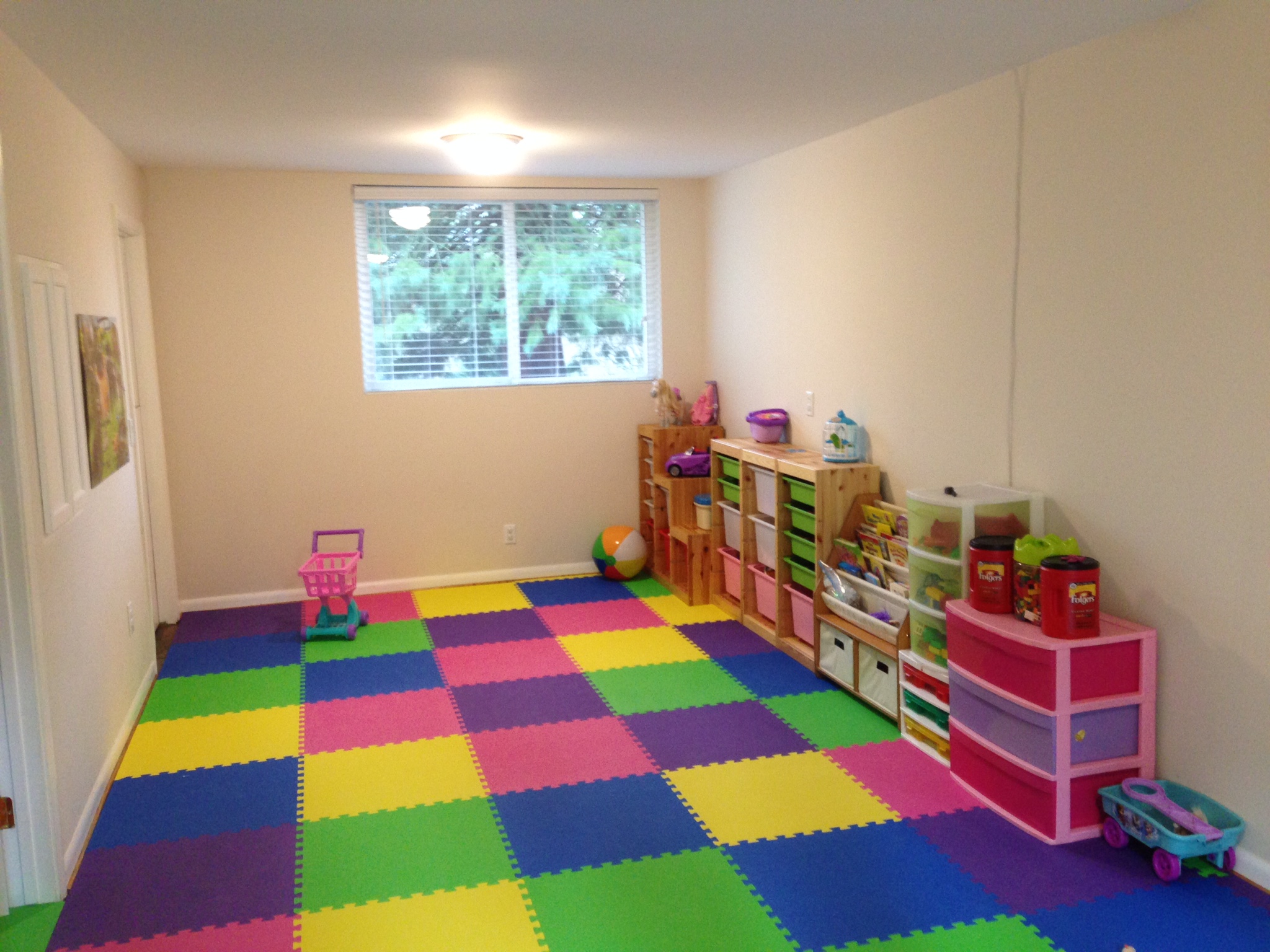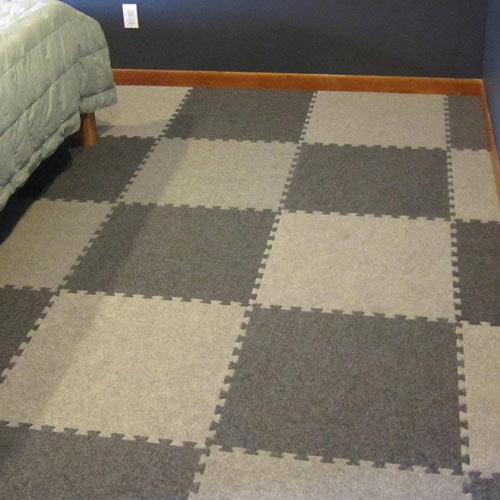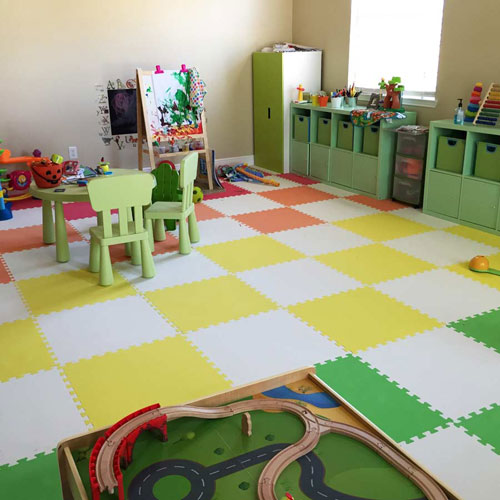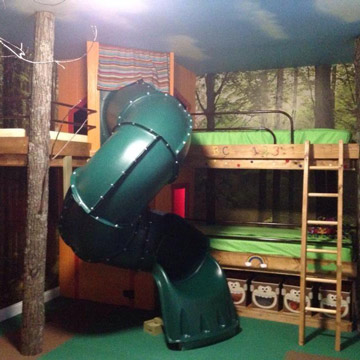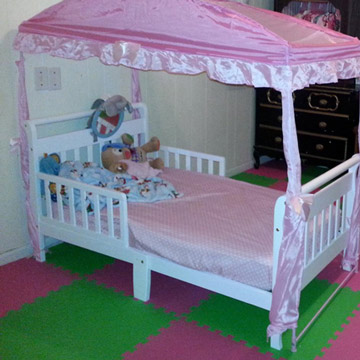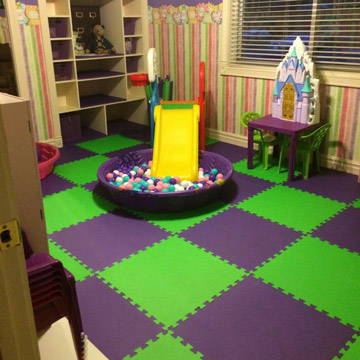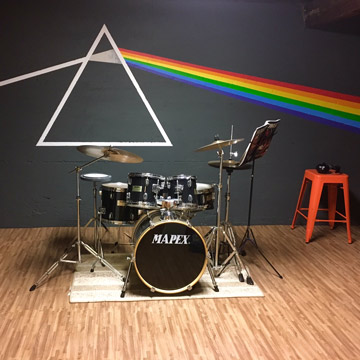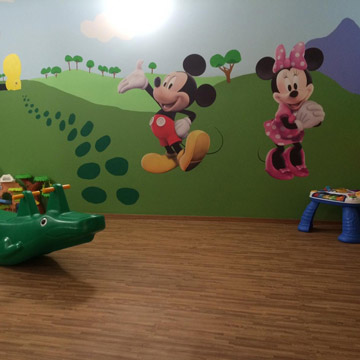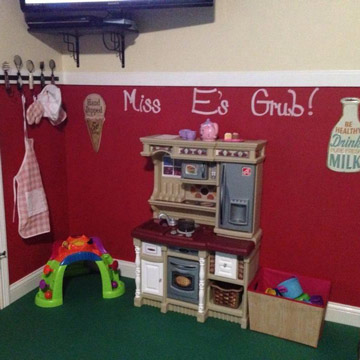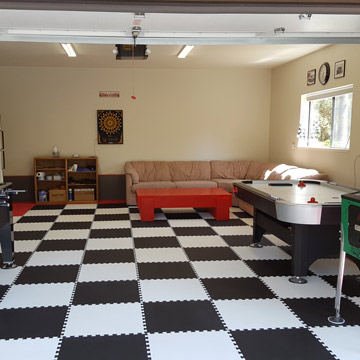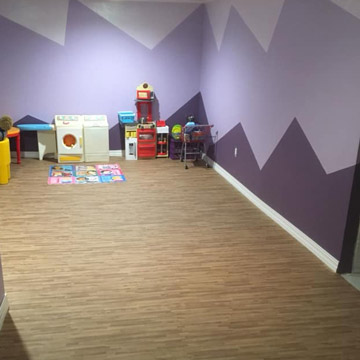 Kiddos spend a lot of time on the floor - playing, crawling, sitting with pets. With so much time spent on the floor, why not bring comfort and safety to the very ground they stand on? Growing bodies deserve a floor that is pleasant to spend time on, while you deserve to not have to worry about their safety. Cushioned
kids bedroom flooring
is a fabulous way to create a snug and protective environment.
Certainly, this includes carpet, but what about other options? It may not be obvious, but foam flooring happens to be one of the most popular choices out there for a cushion bedroom. Let's take a closer look.
Interlocking Foam Bedroom Flooring Tiles
One of the most fun and creative ways to create soft kids flooring is to install interlocking foam tiles. Foam tiles are consistently one of Greatmats' most popular kids flooring options because of their quality, comfort and allure. Not only that, but they are an all-around economical flooring choice. With foam kids room flooring, you can create a protective and engaging environment that won't cost you much and will give back tremendously.
Specs and Safety:
Foam tiles are made from a premium quality foam material called ethylene-vinyl acetate (EVA). Although they come in a variety of thicknesses, the most popular is the 5/8 inch kids bedroom flooring tile. Whether kiddos are scurrying about on their feet or mellowed out on their backs, EVA foam provides great cushion and support. There is enough shock absorption to soften the impact of falling or other forceful landings. Not only does cushioning provide safety and comfort measures, but it also provides sound and heat insulation for kids rooms.


Foam tiles are also slip-resistant. For added traction, you can find foam tiles with textured tread. Many Greatmats foam tiles feature, such as the Kids Bedroom Flooring Play Mats, are textured and colorful sides, so you can easily change your mind about the best fit for your child's room. The soft and pliable nature of the EVA foam also helps it deliver excellent anti-fatigue properties that even youngsters will notice.





Creative, Easy Installation:
Foam Tiles work like a giant puzzle and are fun for the whole family to install. The tiles allow you to be the creative designer. With more than 15 vibrant colors to choose from and the flexibility to install in any pattern you want, you can truly create a floor to spark playfulness and imagination. Alternatively, you can put in cool and calming colors for a more relaxed kids bedroom environment. You can even find foam Soft Bedroom Flooring tiles in a wood-grain design. Popular patterns include checkerboard, stripes and multi-colored framing.



Maintenance:
Clean-ability and ease of maintenance are more awesome features of EVA foam tiles. Foam kids floor tiles are waterproof and resistant to stains. Some textured foam tiles are resistant to scuffing.

EVA tiles can be cleaned on a daily basis with a broom or damp mop. If a more serious accident happens, you never have to worry about installing a new floor or hiring someone to take care of it. All you have to do is pick the affected tile or two and replace them with new ones.


Other Foam Tile Perks:
There are still a few other awesome perks to mention. Greatmats EVA foam tiles are lead and latex free guaranteed. They can also easily be cut with a sharp utility knife to fit any room irregularities. Many come with border strips for easy wall-to-wall installation.

Still unsure? Check out Greatmats.com to read all of the 5-star reviews on foam tile products or receive assistance from live customer support.
Soft Carpet Kids Bedroom Flooring Tiles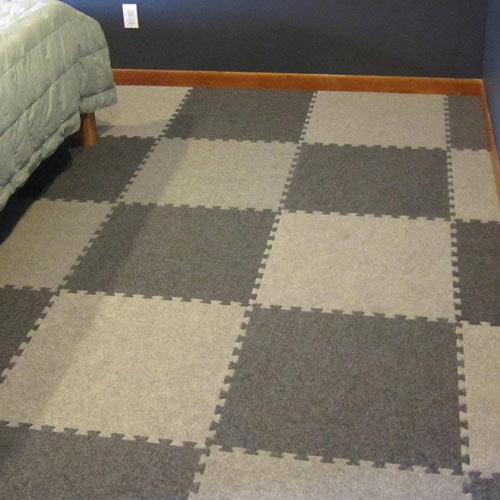 Carpet is a classic choice for cushion and comfort. However, many types of carpet only provide surface level comfort. Often times, there isn't much underlying cushion. Without it, carpeted floors may look soft and feel soft to the touch, but when it comes to real weight or impact, they can be just as hard as concrete or wood.
In response to this issue, Greatmats offers a wonderfully cushioned carpet kids bedroom flooring tile. The foam-cushioned carpet tiles are made of the same premium foam as EVA foam tiles, except they are finished with a plush carpet surface. Greatmats' carpeted tiles provide all of the safety, comfort and ease of foam tiles with an added layer of softness and warmth.
Like other foam tiles, interlocking carpet tiles are put together with a puzzle-piece connecting system. Unlike other foam tiles, however, foam carpet tiles only come in a few different colors. Interlocking carpet tiles are also a wonderful kids bedroom flooring option because of the ease of maintenance: just vacuum regularly.
Protecting Interlocking Kids Bedroom Flooring
With soft kids bedroom flooring comes a downside - foam floors are more susceptible to negative effects from furniture than other harder floors. Heavy furniture like bed frames and dressers can cause permanent indentations into foam floors when left in place for extended periods of time. Although it won't necessarily damage the foam, indentations can still be a drag to look at. Therefore, it's smart to take precautions. One simple way to protect foam kids bedroom flooring is to put furniture coasters underneath legs or corners. Furniture coasters help distribute the weight of furniture more evenly, which helps prevent deep, long-lasting indentations.
Furthermore, be aware when moving furniture. Dragging heavy furniture across the floor is a sure way to create unwanted marks or material tear. Practice caution when moving furniture and avoid pushing and dragging if possible. It's also smart to utilize furniture glides, which help prevent flooring damage when furniture is on the move.