What Flooring Looks Like Clay or Terracotta Floor Tiles?
By Kyle Schurman Created: March, 2021 - Modified: June, 2023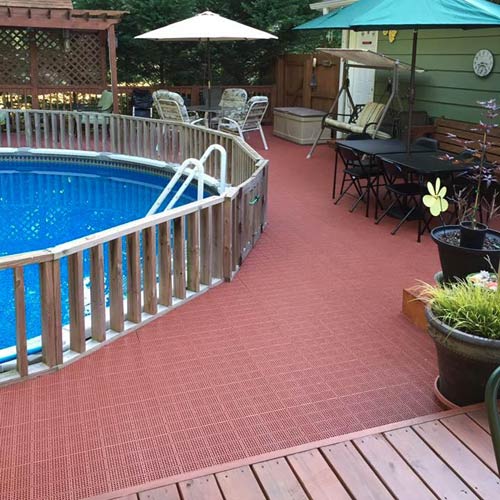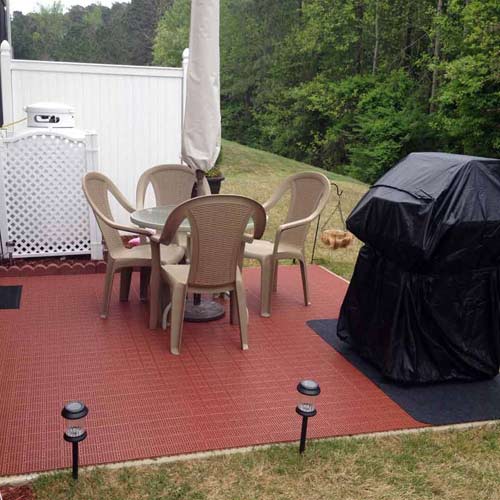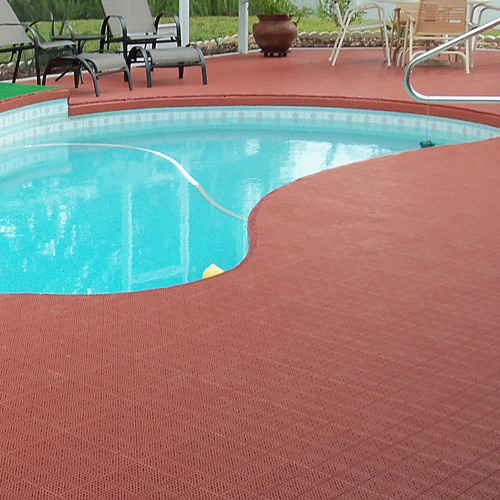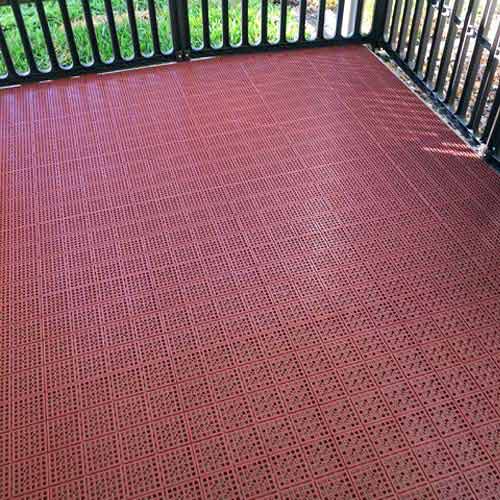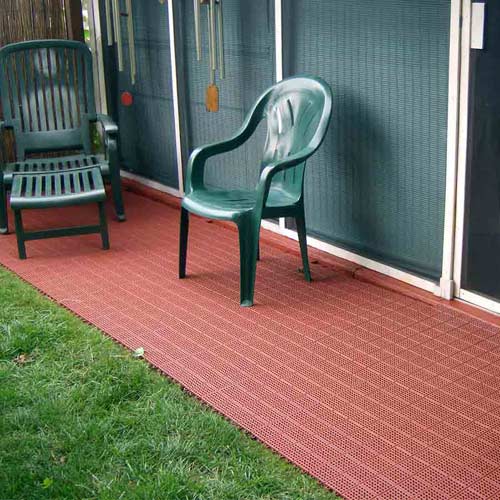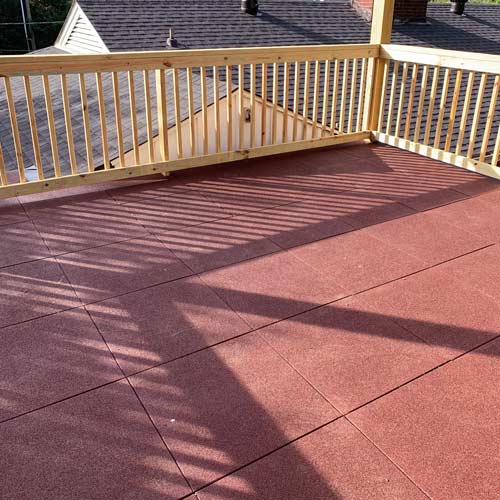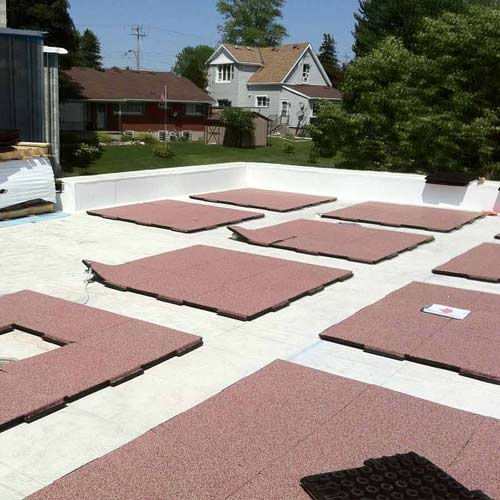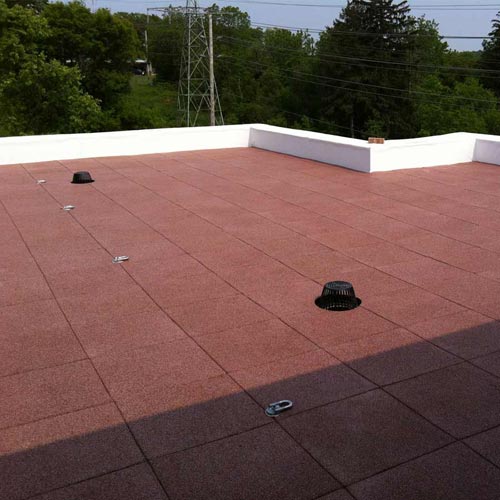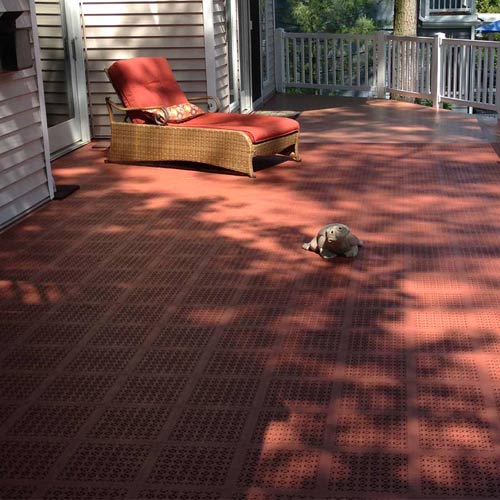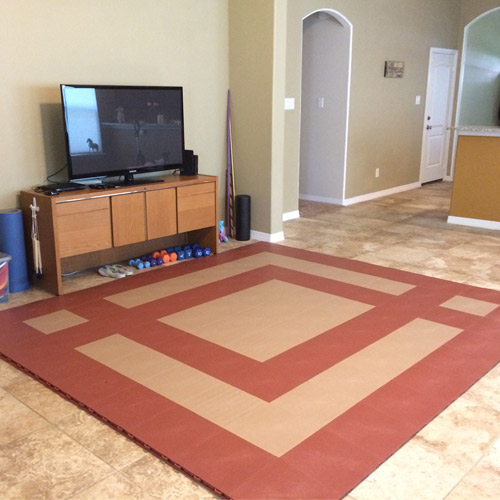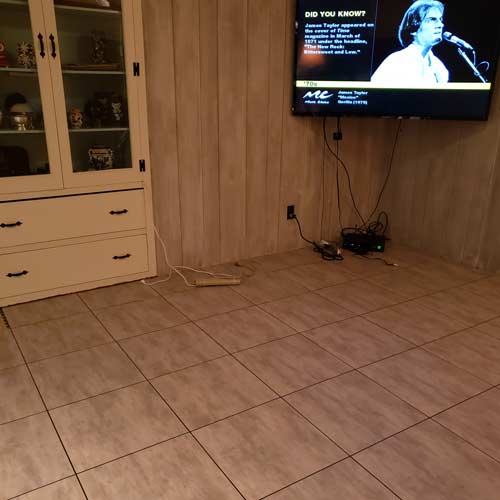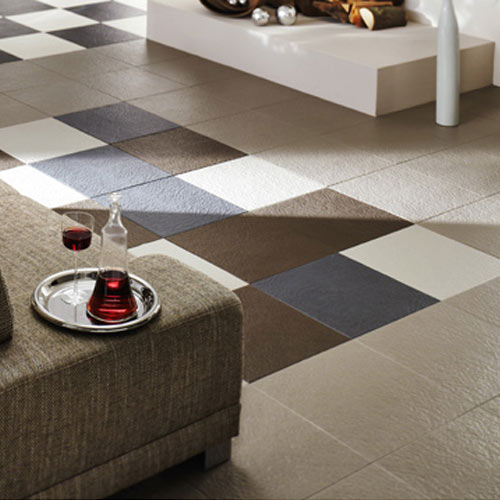 Having the
look of natural stone
in flooring is highly desirable, but price and installation challenges hold people back. Instead, consider some of the best faux terracotta floor tiles and clay floor tiles that look like the real thing at a far lower price. Some of the best tiles that look like natural stone include:
Terracotta Equine Paver Tiles

Terracotta Sterling Roof Top Tiles

Terracotta StayLock Perforated Tiles

Terracotta Patio Outdoor Tiles

Clay and Terracotta Slate Floor Tiles

Clay SupraTile Designer Vinyl Top Series Tiles

Clay Home Plate Mat
What Are Some Advantages and Disadvantages of Natural Stone Floors?
Natural stone floors deliver impressive toughness, allowing them to last for many years. Terracotta and clay floorings have been around for centuries, maintaining their natural look over time. They work equally well for interior or exterior installations.
Customers like the earthy red and brown color pattern variations found in terracotta and clay flooring, delivering a rustic style to any home.
However, these natural stone floors are not perfect for every situation. The terracotta flooring must have the proper sealing to ensure long lasting performance. This material is extremely porous, which means it will absorb moisture without sealing.
Should clay or terracotta end up with stains, these blemishes are nearly impossible to remove without replacing the stained brick. The grout used with these bricks easily becomes discolored over time too, detracting from the natural beauty of the clay and terracotta.
Finally, installation of these bricks can be a difficult process. The install rarely works as a DIY project for the average home owner. Most people will need to hire a professional to install the stone flooring, driving up the overall price of the project.
What Are Some of the Best Faux Terracotta Floor Tiles?
When selecting terracotta floor tiles, customers want a clean design that's easy and safe to install. By using a faux terracotta stone, customers save money on the purchase of the material versus natural stone. They also can perform the installation as a DIY job, saving even more money.
Further ideas for weather protected terracotta floor tiles include the Equine Paver Tiles and the Sterling Roof Top Tiles. Both of these designs consist of 100% high quality recycled rubber, delivering outstanding durability in all weather conditions.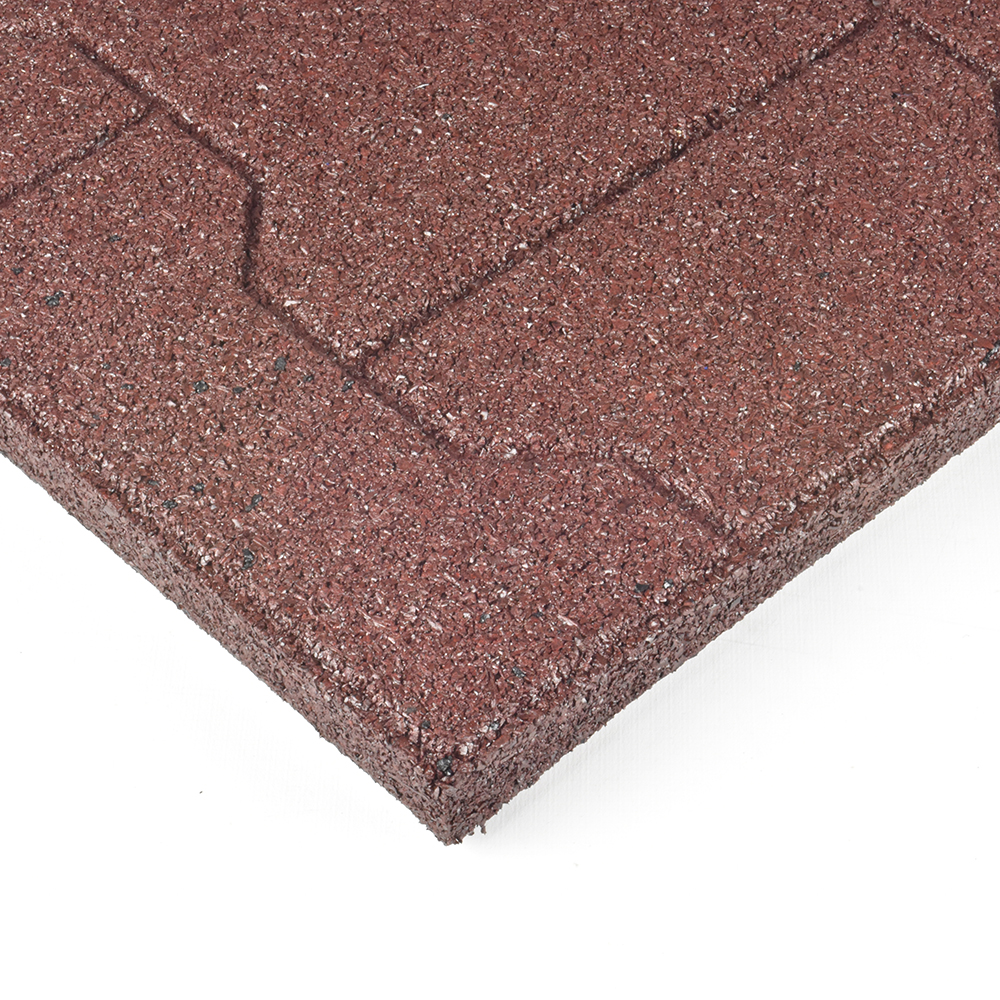 The Equine Paver Tiles have an interesting pattern resembling a dog bone, which creates a fun pattern in the flooring area, resembling an antique layout of cobblestone. The reddish-brown color of the terracotta matched with the interesting lines in the flooring layout pattern will be a complement to any decor.
This type of flooring often appears in horse stalls, wash bays, and breeding areas on the equine farm, but it also works well for patios and decks where customers are looking for a significant change in style from the typical black rubber tiles. Each 2x2-foot paver measures 30 mm in thickness (about 1.18 inches).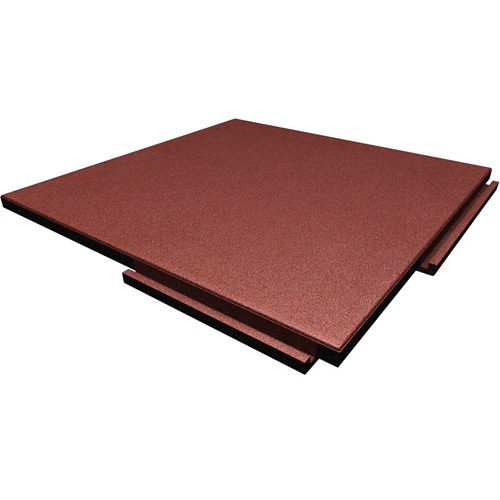 For a slightly thicker option in terracotta floor tiles, the Sterling Roof Top Tiles are a cost effective choice. Each 2-by-2-foot tile measures 2 inches in thickness and weighs 24 pounds. This size and heft make a solid layout that works as a dry lay install or a glue down install. (Installers do need to glue the interlocking tabs together for the tightest possible installation.)
The Sterling tiles work equally well to create a rubber flooring area
over a typical wood deck
or on a rooftop. For use on a deck or patio, these thick rubber tiles allow customers to place furniture directly onto them with no worries of gouging or damaging the rubber material. They work in either residential or commercial settings.
Are Terracotta Colors Available in PVC Plastic Tiles?
Interlocking
PVC plastic tiles
provide an easy-to-install design that's available in multiple colors, including terracotta. PVC plastic has flexibility to it, which creates a slightly cushioned surface in case of falls, while also delivering excellent durability and fatigue relief. Customers can install these tiles outdoors around pools or indoors in a basement, bathroom, or locker room.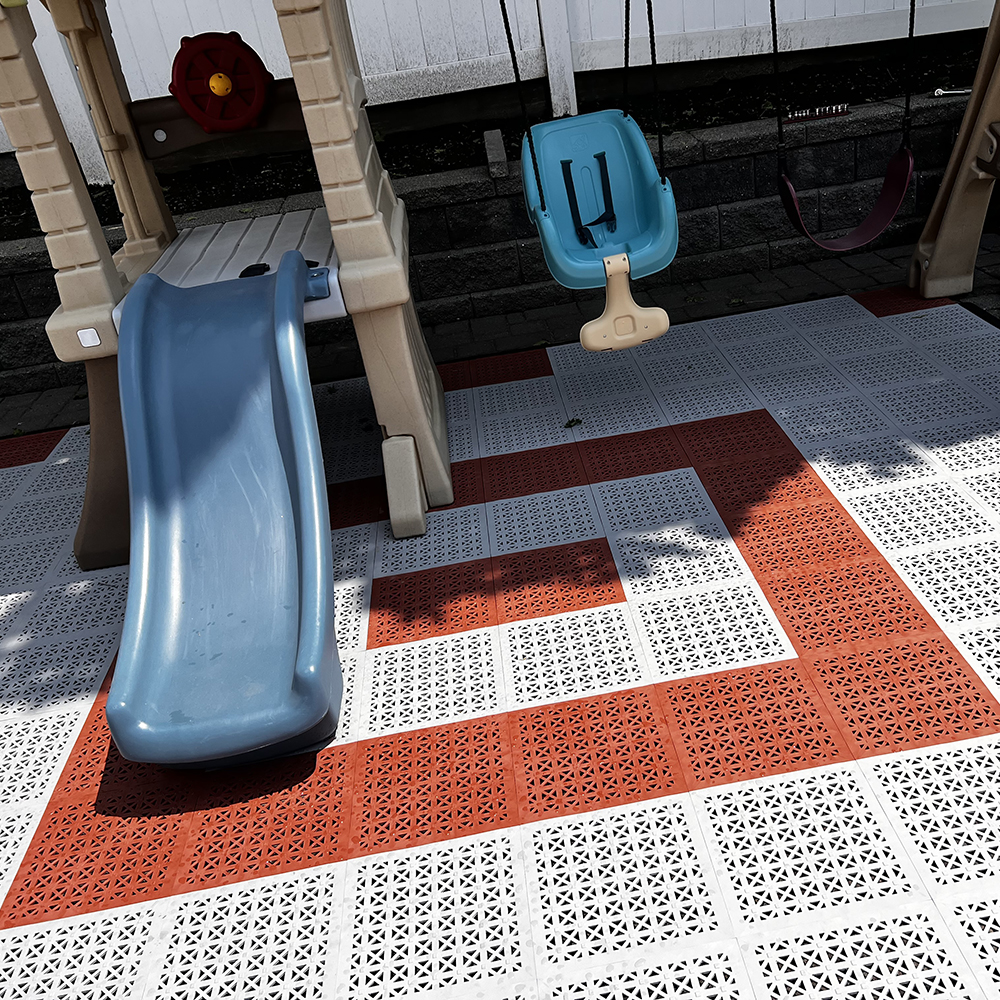 The StayLock Perforated Tiles product has perforations through the entire 9/16-inch thickness of the tile, allowing water to drain away, rather than pool on the surface. It has an ASTM
fall height rating
of up to 20 inches.
Installation goes quickly
with these 1x1-foot tiles, as they have a hidden interlocking system that leaves an installation with clean, straight lines. These tiles are available in multiple colors beyond terracotta. The PVC plastic contains UV protection, which preserves the look of each color without fading, even when exposed to regular sunlight.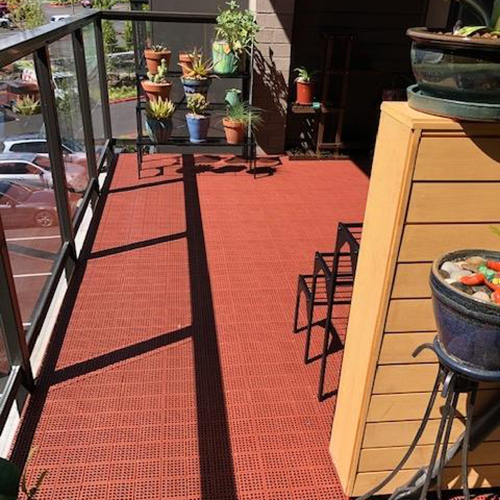 Another option with perforations through the entire thickness of the tile is the Patio Outdoor Tiles product. These tiles offer a non-slip surface texture along with the perforations, making them the perfect installation choice in areas exposed to water regularly, such as around a pool or sauna or in a laundry room or shower area.
These also work in a basement setting with frequent moisture issues, as the underside of the tile has a few hundred tiny pegs to lift the base away from the subfloor. This allows air to move underneath the tile, helping to evaporate any moisture on the subfloor. It uses a tab and loop interconnect system that ensures a tight fit between adjacent tiles without the need for glue.
What Are Some of the Best Faux Clay Floor Tiles?
When seeking to mimic the reddish-brown color of natural clay, multiple types of mats and tiles can create this look in materials that are far easier to install and maintain than actual clay tiles and bricks.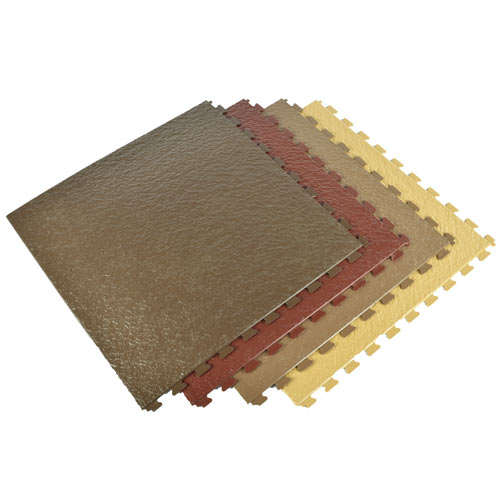 An easy type of interlocking tile to install is the Slate Floor Tiles product. These 1-by-1-foot tiles make use of a hidden interlocking system with tabs and slots on the underside of the tile. After the installation, only straight, clean lines will be visible, making these tiles a good installation choice both indoors and outdoors where style is important. Installers do not need adhesive with these tiles.
Beyond the reddish-brown clay color, multiple other colors of these PVC plastic clay floor tiles are available, including terracotta,
sandstone
, and white. Use these tiles in nearly any indoor location, including in entryways, basements, or playrooms.
They even work in a garage setting when wanting to park cars in the area, although installers will need to apply a protective coating to the surface of these clay look floor tiles to protect them from taking on marks from the tires.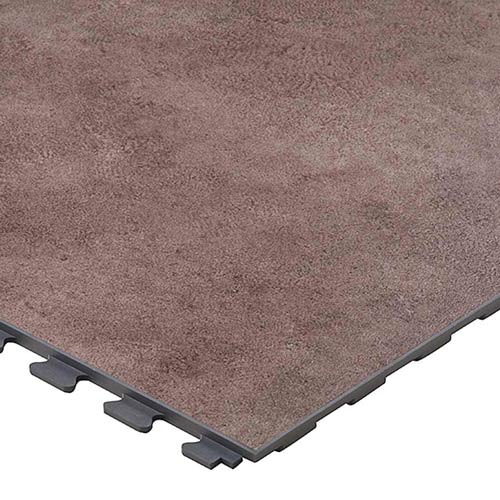 For those seeking the durability of vinyl in clay floor tiles, the SupraTile Designer Vinyl Top Series Tiles product is an ideal selection.
Rather than consisting of a roll of vinyl, which could be tricky to install for a DIY project, the SupraTile synthetic clay floor tiles consist of a decorative vinyl layer that contains the clay colors attached to an interlocking base layer. (Other available colors include sandstone, granite, and marble.) The tabs and slots in the base layer simplify installation without the need for glue.
The vinyl wear layer is extremely durable, allowing customers to install these clay styled floor tiles in areas with high levels of foot traffic. A significant advantage of these tiles is that they will fit over subfloors that are not perfectly level or that have slight cracks and fissures, as the base layer has a slight flex to it.
Are Clay Colored Mats Available for Baseball Practice?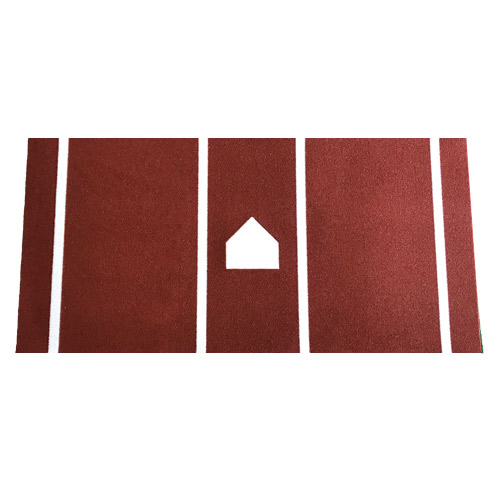 For those seeking to create a practice area for baseball or softball with a realistic looking clay colored mat, the Clay Home Plate Mat is the perfect choice. The clay color looks like the dirt around home plate on a softball or baseball diamond.
This is an artificial turf softball practice mat consisting of polypropylene plastic with a 3/4-inch pile height attached to a 5 mm foam backing. It has a professional level quality, so it will stand up to regular use at home, at an athletic facility, or at school. It has white batter's box lines imprinted over the clay base color, as well as a white home plate, creating an ideal batting practice mat.