Stone Look Flooring Videos
Stone Look Flooring How To's - View All
Stone Look Flooring Ideas - View All
Stone Look Flooring Features - View All
Stone Style Floor Tile Videos and Testimonials
If you want to get the look of stone, you don't necessarily have to purchase and install stone or slate tiles to get that desirable aesthetic. Stone look flooring made of vinyl, laminate, and other materials may not be genuine stone, but it can also be incredibly realistic. This faux finish is, in many ways, more practical than stone for lots of applications.
At Greatmats, you can choose from a wide array of flooring products that give you the look of stone at a much more affordable price.
Stone Look Flooring Types
Our stone look flooring comes in multiple types, so you'll have plenty of choices for your project.
Stone Look Floor Tiles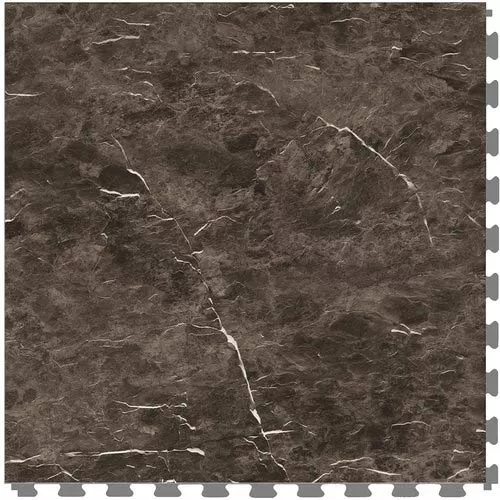 You'll find the most variety when shopping for stone look floor tiles. These tiles tend to measure 12 by 12 inches, and they're conveniently sized and lightweight for easy installation. We offer many modular floor tiles with a stone look finish, so you can install them, remove them, store them, and relocate them as necessary. These tiles can also help to save you on the cost of a professional installation, and they're ideal if you may want to repurpose or redesign your space in the future.
Our TileFlex Floor Tile is one of our most popular options. This raised tile is waterproof, so you can use it in basements, family rooms, garages, and other spaces where it may get wet. The floating design lets water and air circulate beneath the tile, rather than trapping it there, so moisture dries quickly, reducing the chance of mold or mildew growth. This tile features a cushioned support system so it's comfortable underfoot, and its vinyl surface never needs to be refinished. It can be dry laid right on top of a flat, firm flooring, like concrete.
Floor tiles are available for both indoor and outdoor use. Tiles for indoor applications can add an elegant look to your space, while tiles for outdoor applications are often equipped with features like UV and extreme temperature resistance.
These synthetic tiles are available in many finishes, including the most popular stones like slate, sandstone, pebble, marble, and granite. Some of these tiles feature textures for extra realism and beneficial anti-slip properties. Alternatively, you might prefer a tile that has the look of stone paired with a smooth finish for easier cleaning and maintenance.
Stone Look Marble Mats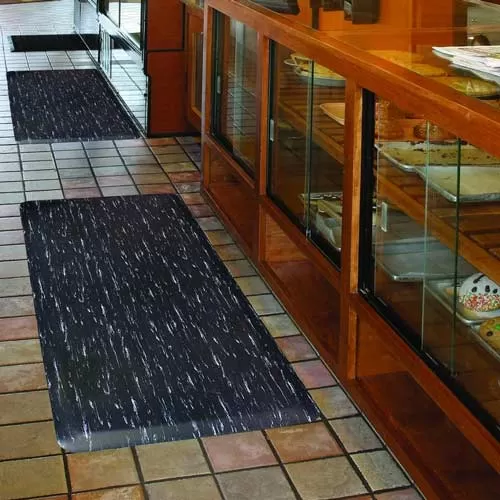 You can also get the look of stone in a cushioned, comfortable mats. Options like the Marble Foot Mat feature a marbleized top surface that looks like stone. These anti-fatigue mats have a durable rubber surface that's bonded to closed cell vinyl foam. They provide anti-slip traction and can enhance both the form and function of a home or residential kitchen or workspace.
Benefits of Stone Look Flooring
If you love the look of stone, you might consider using stone look flooring instead, for many good reasons. Stone look flooring can be less expensive to purchase than stone, and most of these products allow for an easy DIY installation. You'll save over the time and cost of hiring a professional to install your flooring, so it's even easier to come in under budget. Faux stone tiles weigh much less than genuine stone, so they're easy to carry into your home or business.
The texture provided by many of these products is desirable when compared to stone. You'll enjoy the same natural look of stone, but a fake synthetic alternative is much more comfortable underfoot. Many of these products offer some shock absorption properties, and they'll naturally be warmer than genuine stone flooring is.
Because stone look flooring can often be installed and removed again, if a tile is damaged or stained, you can remove and replace that one tile. This is much less complicated than fixing an issue with genuine stone flooring would be, especially if you're trying to seamlessly remove and replace a cracked stone tile.
Faux stone look flooring is also highly versatile, and you can install it in areas where genuine stone is impractical or impossible to install. For example, you can lay stone look tiles over your pool deck or patio surround without worrying about the extra weight you're adding to the structure. Because many of these tiles are waterproof, there are few limitations to where you can install them.
Stone look flooring buying guide.
Thanks to our extensive selection of stone look flooring, you'll have plenty of choices whether you're working on your kitchen, bathroom, or professional business space. For additional information that can help you to choose the best product for your project, click on the links in our guide, which include everything from product recommendations to installation tips. If you need additional help, you can always give our Greatmats customer service team a call. We're happy to help you choose the product that's just right for your project and budget.