Wearwell ErgoDeck No-Slip Cleats Open 18x18 Inch Tile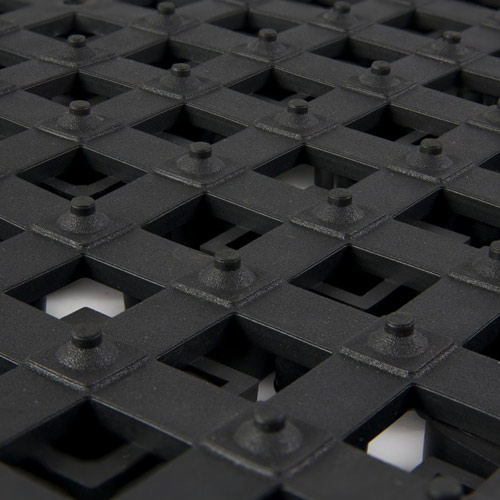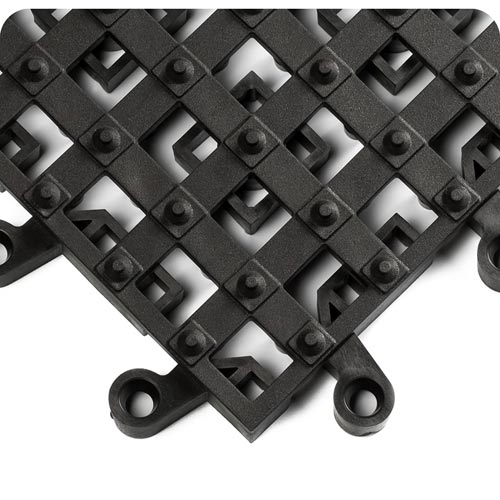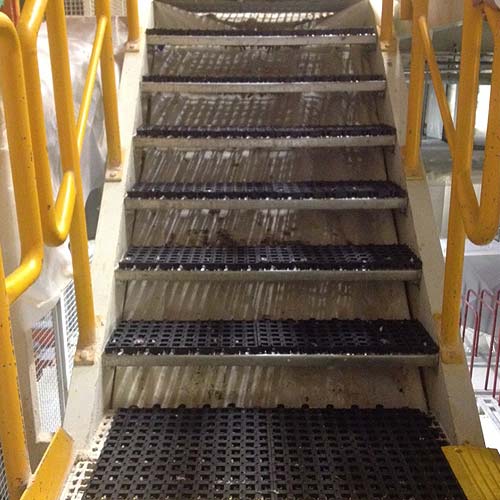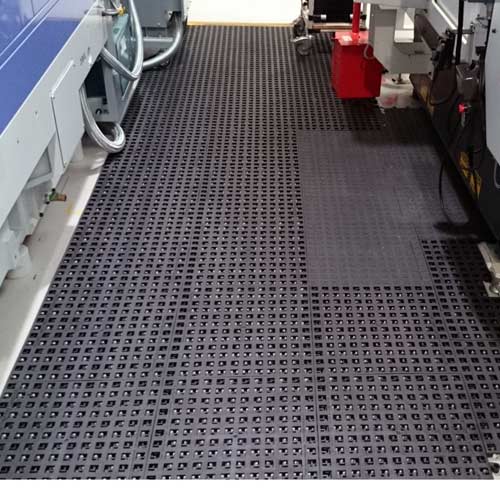 Unmatched slip prevention
Positive Interlocking System prevents separation
Outperforms and outlasts grit
Ships Out: Estimate 4-6 Working Days
How Much Flooring Do I Need?
VIDEOS
How to Install Wearwell ErgoDeck Tiles
Wearwell ErgoDeck Flooring Promotional Video
How to Connect ErgoDeck Tiles without Tools
How to Cut PVC Floor Tiles
TOP FEATURES
Unmatched slip prevention
Positive Interlocking System prevents separation
Outperforms and outlasts grit
100% Silicone Free PVC tiles provide maximum durability
Customize in 3'' (8 cm) increments to fit any area or configuration
Can withstand powerwashing and aggressive maintenance
Available in Solid and Drainage version
Use Types
Machining, General Manufacturing and Automotive Manufacturing
NOTE: This item is a custom order and is not returnable.
Wearwell ErgoDeck No-Slip Cleats Open Tile with open grid surface features a high traction, open-top surface design that promotes drainage and quick flow-through of liquid and small debris. Especially for use in wet areas, areas with overspray, or hazardous locations that get extremely slick and dirty. Ergonomic design effectively combats standing fatigue, while the No-Slip Cleats help prevent unwanted slips and falls. These ultra-rugged tiles are perfect for individual workstations that reside in some of the toughest industrial environments.
Wearwell ErgoDeck Perforated Non-Slip Tiles, 18x18 Inches

Customers seeking a high level of traction in a floor that also provides drainage through perforations will appreciate the quality they receive with the Wearwell ErgoDeck Perforated Non-Slip Tiles.

Industrial areas and factory floors can become extremely slick when spills of chemicals and liquids occur. As employees work in these difficult environments, they need protection through anti slip floor installations. The use of this flooring is one way for employers to show employees they care about their safety.

Our PVC plastic non-slip tiles deliver a high level of traction through the use of raised cleats on the surface. The cleats only extend a fraction of an inch over the surface of the material, so they will not create a stumbling hazard as people walk across the surface of the tiles.

The cleats stand up to regular use and significant foot traffic without wearing down or pulling loose from the surface of the non-slip tiles. They're ready to handle the most difficult commercial environments, including manufacturing and machining facilities.
Easy Anti Skid Flooring Installation
These 18 by 18 inch tiles each have tabs and loops on the edges. This positive interlocking system is extremely secure, ensuring that the non skid tiles will not pull loose when placed under the stress of busy foot traffic patterns or the use of rolling carts.
Installers do not have to add adhesive or glue to the tabs and loops. Instead, the PVC plastic edges will fit together tightly on their own.
The dry lay installation delivers a significant advantage over floor tiles that require adhesive, as the installer can pull these tiles apart and install them in a new location or can place them in storage at any time. Should the installer need to reconfigure the tiles to create a different coverage size, this is an easy process.
Cutting any of the 18x18 non-slip tiles to fit around a stationary object or to go tightly up against a wall is an easy process too. Use a utility knife and a straightedge to create a precise cut that looks great.
The installer may need to use several cuts to move all the way through the 7/8-inch thickness of the PVC plastic. But PVC plastic tiles are easier to cut than denser materials, such as rubber.
To maintain the integrity of the positive interlocking system on these tiles, the manufacturer requires that installers only cut the tile in 3-inch increments either horizontally or vertically. By following these instructions, installers can securely attach the cut tile to the remainder of the floor.
Rugged Tiles for Workers Who Stand All Day
PVC plastic provides a slight cushioning effect when employees must stand and work for large segments of the workday. With these anti fatigue properties, employees will feel more comfortable as they stand and work. This allows them to focus on the job at hand, rather than worrying about back and knee pain.
Even though the PVC plastic tiles have a little bit of cushioning and give, they remain firm enough to support the weight of rolling carts transporting materials to the employees on an assembly line or working in a manufacturing plant.
A firm floor with slight cushioning properties is ideal for employees who are standing to do their jobs. Firmness allows employees to maintain their balance and stand comfortably, which is important for limiting lower body joint pain.
This is a durable style of manufacturing flooring, offering a 3-year limited manufacturer warranty. Customers will receive a much longer lifespan and a greater value from the tiles through regular maintenance and cleaning processes. This is a silicone-free PVC, which enhances its longevity.
Interlocking Tile with Cleats Specifications
Width: 1.5 feet

Length: 1.5 feet

Thickness: 7/8 inch

Coverage: 2.25 square feet

Weight: 5.5 pounds

Color: Black

Texture: Perforations with raised cleats
Maintenance and Care
Because these non-slip tiles have a design for use in wet areas primarily, cleaning the tiles is an easier process than with some other styles of commercial tiles made for dry areas.
You can sweep or vacuum the slip resistant tiles to remove basic soils every few days or as needed.
Rather than sweeping, another option for an area that has a floor drain available is to use a spray hose with a pressure nozzle to wash the dry debris from the surface of the tiles. Do not exceed a pressure setting of 500 psi with the nozzle.
Customers also can mop these tiles to remove stubborn soils using a mixture of neutral pH cleaner and warm water (at a temperature of less than 160 degrees Fahrenheit).
The manufacturer does not recommend using a steam cleaner or placing the mats inside a washing machine.
After washing them, allow them to air dry naturally. You may want to wash both sides of the mat, because as oils, greases, and powdery solids drain through the perforations in the mat, they may cling to the underside.
ErgoDeck is a registered trademark of Wearwell
Maintenance
Spray hose with mild detergent and warm water.
Shipping
Ships in cartons via ground service to your door, for larger orders product may ship freight delivery
This Product Ships UPS Ground, FedEx Ground and/or Freight.
Please review our shipping disclaimer.
WARNING: This product can expose you to chemicals including Lead and/or Phthalates, which are known to the State of California to cause cancer and birth defects or other reproductive harm. For more information go to www.P65Warnings.ca.gov.
ACCESSORIES
Accessories for WEARWELL ERGODECK NO-SLIP CLEATS OPEN 18X18 INCH TILE
SPECIFICATIONS
| | |
| --- | --- |
| SKU# | 553.78x18x18BK |
| In Stock | Yes |
| Product Type | Tile |
| Material Type | PVC Plastic |
| Product Edging | Interlocking |
| Thickness | 7/8 inch |
| Width | 1.50 feet |
| Length | 1.50 feet |
| SF per Item | 2.25 |
| Weight | 5.50 lbs |
| Packaging | Cartons |
| Number of Pieces per Package Type | 10 |
| Non Absorbent | Yes |
| Special Adhesives | No |
| Universal Interlock | No |
| Interlock Loss | 0.00 feet |
| Interlocking Connections | Yes |
| Made In | USA |
| Surface Finish | Raised pattern with cleats |
| Surface Design | Solid color |
| Installation Method | Interlocking, dry lay |
| UV Treated | No |
| Reversible | No |
| Border Strips Included | No |
| Leed Points | Yes |
| Manufacturer Warranty | 3 year limited |
HOW TO'S
RELATED PRODUCTS
RELATED BLOGS