Wearwell ErgoDeck Comfort Solid 18x18 Inch Tile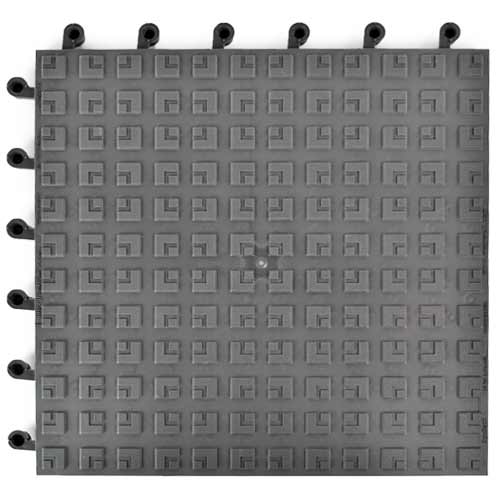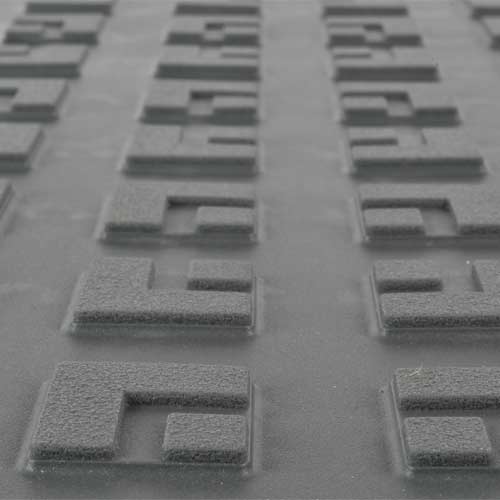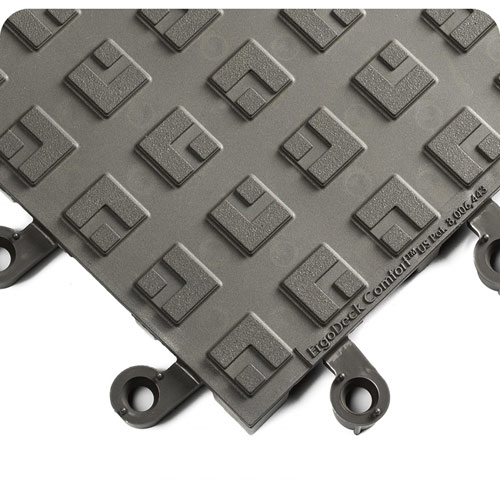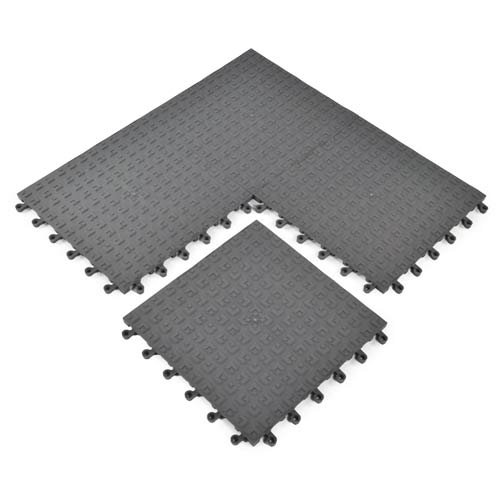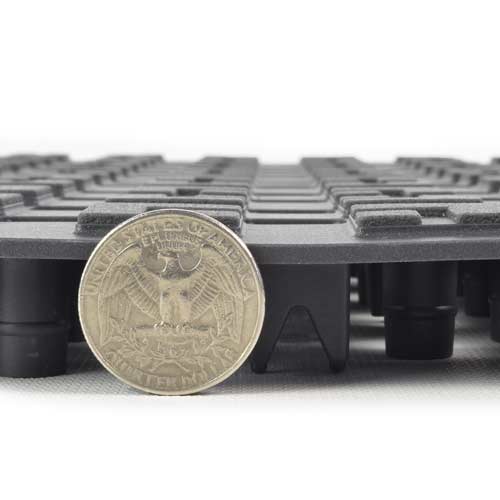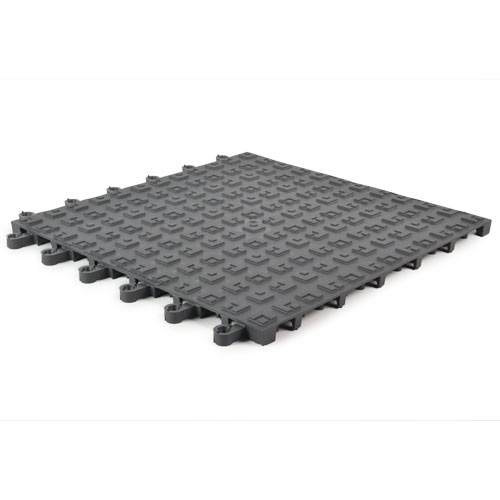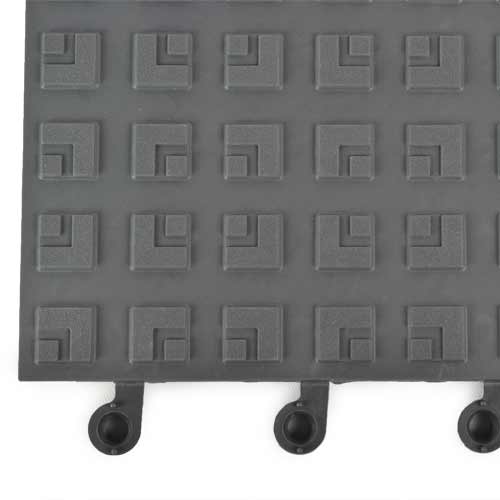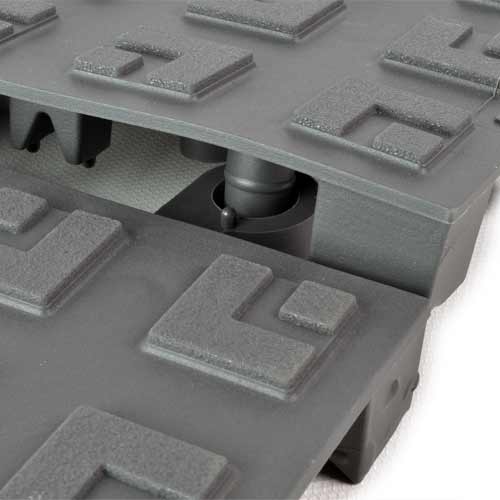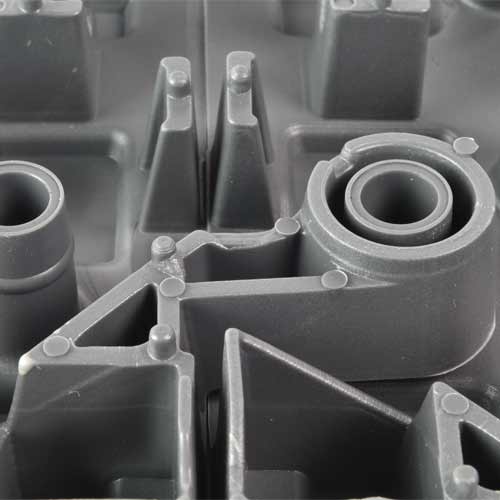 Softer compound for greater standing relief in dry applications
Positive Interlocking System prevents separation
Easily replace single pieces or sections as needed to reduce costs
Ships Out: Estimate 4-6 Working Days
How Much Flooring Do I Need?
VIDEOS
How to Connect ErgoDeck Tiles Without Tools
Wearwell ErgoDeck Flooring Promotional Video
How to Install Wearwell ErgoDeck Anti Fatigue Tiles
TOP FEATURES
Softer compound for greater standing relief in dry applications
Positive Interlocking System prevents separation
Easily replace single pieces or sections as needed to reduce costs
100% Silicone Free PVC tiles provide maximum durability
Offers fatigue relief
Overall thickness 7/8 inch
Use Types
General Manufacturing and Automotive Manufacturing
NOTE: This item is a custom order and is not returnable.
Ergodeck comfort solid tiles 18x18 inches, Fatigue cushion Ergodeck mats
When employees are on their feet all day, it causes fatigue, which can lead to mistakes late in the day. Depending on the type of work being performed, those mistakes could range from a simple clerical error to an injury-causing lapse. One way to help employees remain safer and feeling fresher is with the ErgoDeck Wearwell Comfort Solid 18x18 Inch Tile.
This manufacturing safety Ergodeck mat option is the optimum defense for fatigue in work related areas where there is heavy foot traffic but little or no cart traffic. The softer cmaterial ompound and spring-back underside of these Ergodeck anti fatigue mats compress and rebound underfoot for a feel that will remind you of a rubber flooring.
Ergodeck Mat Connection
This type of
ergo flooring
Ergodeck floor mat works great in areas where gaps between the individual tiles are not desired. Because of the way the tile connector system works, the seams will be tight with no gap. Another benefit to these ergonomic mats are the interlocking connections between the tiles. These connections hold the tiles securely together, but they also can be taken apart whenever you want to return to the original sub-floor.
Ergodeck Edge Border Ramps
Ergodeck anti fatigue mat measures 7/8 inches in thickness. Ramp strips are available. These ramp strips contain the same connector system that the main Ergodeck tiles have, meaning you can install the ramp strips securely. Contact the Greatmats customer service team to learn more about your options for reducing the impact of the lip of these anti fatigue mats, which is important for safety in an industrial or commercial setting.
Ergodeck Anti-Slip Textured Surface
The surface of the Ergodeck
ergonomic matting
contains raised areas that provide an anti-slip texture for those walking across it. Additionally, the textured surface helps with the flexibility of the flooring, making it more comfortable to use. The texture on the anti fatigue mats consists of tiny squares with grooves in them. This also gives the charcoal colored ergonomic floor tile a nice design that'll look great in many different settings.
Ergodeck Easy to Assemble
The fatigue relief tiles each have dimensions of 18 by 18 inches, meaning they cover a lot of area in a hurry when installing them. Each tile offers 2.25 square feet of coverage area, which is more than double what you receive with a 12-by-12-inch tile, allowing you to install our anti fatigue flooring more quickly than other types of tiles.
Each piece has six female connectors on two sides of the tiles. These connectors are visible and extend beyond the edges of the tile. On the other two sides of the tile, you'll have hidden male connectors on the underside of the tile. To connect the tiles, just slide the side with the male connectors over the female connectors on an adjacent tile. Then press down on the seam between the two tiles, and the connectors should pop together, as long as you have them aligned properly.
To disassemble the tiles, just stand on the side of the tile with the female connectors and pull up on the adjacent tile with the hidden male connectors. The two tiles should pull apart with just a little force on your part. If you want the installation of these anti fatigue mats to be permanent, you can glue the tiles together at the connector points.
Each ergonomic floor tile weighs 5.5 pounds, which means one person can handle the installation process alone, but the process will go faster with multiple people involved.
Ergodeck Flexible Fit
One of the best reasons to pick the
Wearwell Mats
ErgoDeck Comfort Solid 18x18 Inch Tile is because ErgoDeck tile models all use the same type of assembly system. This means you can connect different models of Ergo Deck tiles together and still receive the same level of performance.
It's also easy to customize these anti fatigue mats on site. You can cut across the face of the tiles vertically or horizontally every 3 inches without causing problems with the interconnection system. This allows you to do a wall-to-wall installation if desired, although most of our customers use a simpler island installation, placing these tiles in a walkway or in a specific area where people will be standing and working.
When this interlocking system for anti fatigue flooring is totally engaged, the tiles are accurately aligned without gaps, creating a neat and clean installation. Single tiles can easily be replaced, should they become damaged, or you can replace entire sections as needed. However, these anti fatigue mats are not reversible, so you cannot flip a tile over if it becomes damaged.
Ergodeck Benefits by Wearwell
In most industrial and commercial floor settings, the sub-floor is an extremely hard material, like concrete or tiles. This type of flooring is perfect for durability, but it's not necessarily great for employees to have to stand on for long periods of time. Those who stand on hard surfaces for hours at a time can suffer problems from blood pooling in the legs, as the muscles in the legs don't move enough to encourage circulation. Other Wearwell Mat Options: ErgoDeck Max,
Wearwell Diamond Plate
and
Ergodeck Smooth
and both good fatigue flooring choices.
The right type of anti fatigue flooring will encourage workers to move on occasion, helping them to use different muscles in their legs and to improve circulation. You don't want an ergonomic matting that is too soft, as the employees will sink into the material too far, potentially causing stumbles. Instead, you're looking for a type of fatigue flooring that perfectly mixes cushioning with firmness, as this material will cause the person standing on it to engage in subtle muscle movement, which is perfect to avoid significant muscle fatigue.
The most common materials found in this type of flooring are PVC plastic, dense rubber, and synthetic foam. As PVC plastic is much lighter than rubber, you'll be able to move PVC plastic tiles more easily for installation. Foam flooring isn't quite as durable as PVC plastic, so the PVC material is perfect in an industrial situation, where you need durability. Some types of foam will absorb liquids or other materials, which can be problematic in industrial settings.
Use Cases for Ergodeck Fatigue Flooring
An ideal anti fatigue mat flooring surface will have some give to it, but it also will bounce back quickly when the person moves. With its flexible PVC plastic compound and springy underside, the Ergo Deck by Wearwell as Comfort Solid 18x18 Inch Tile is engineered to cushion the impact of long-term standing and foot traffic. Each mat measures 7/8 inch thick in order to give the highest level of performance demanded out of fatigue flooring.
Our anti fatigue matting line of Ergodeck by Wearwell are completely free of silicone, which gives them a greater longevity. You'll be able to use these tiles in many different flooring situations. They're especially good to employ in floor surface areas where you need an extremely durable anti fatigue flooring, as this Made in the USA product carries a limited lifetime manufacturer warranty. Additionally, the Ergo Deck floor tile consists of at least 80% recycled materials, which is an environmental benefit.
These fatigue mats are not UV treated, so they are not recommended for outdoor use. Instead, this solid surface mat product is recommended for interior, mostly dry areas of heavy foot traffic fatigue flooring. Our manufacturing cushioned flooring product is non-absorbent, but it is best used in areas that don't have a lot of moisture.
Ergo deck Installation Tips
Because this anti fatigue flooring is thick, we recommend using a sharp utility knife or industrial sheers if you need to cut the tiles. Some people even will use a circular saw or a band saw to cut these tiles. If you need to cut them, we recommend you wear heavy-duty gloves to avoid injuries.
Measure the area carefully and be certain of the size you want to cover before you begin assembly or before attempting to cut any tiles. If you plan to use border ramps with the installation, be sure to take these pieces into account when making your measurements.
To maintain the integrity of the connector system for the anti fatigue flooring, it's extremely important that you cut the tiles perfectly straight. Have a straightedge on hand to help you make the proper cuts.
Ergodeck Maintenance
For the best performance from the Ergo Deck Wearwell Comfort Solid 18x18 Inch Tile, we recommend that you regularly clean it. Start by sweeping the mats to remove any dust or debris. As needed, you can mop the mats using a mild soap or detergent. This ergonomic flooring is waterproof, so you don't have to worry about the materials soaking up water from the cleaning process. Avoid using a high concentration of cleaning solution on this flooring, as you could leave a film on the surface.
You'll find that this anti fatigue flooring is easy to clean and maintain with just a little bit of time invested. Our customers love this type of flooring to give them the type of cushioned floor they need for standing work environments. If you have any questions about this style of floor, please contact our customer service team, where you'll also find help with ordering.
Maintenance
Sweep, damp mop with mild detergent and warm water.
Shipping
Ships in cartons via ground service to your door, for larger orders product may ship freight delivery
This Product Ships UPS Ground, FedEx Ground and/or Freight.
Please review our shipping disclaimer.
WARNING: This product can expose you to chemicals including Lead and/or Phthalates, which are known to the State of California to cause cancer and birth defects or other reproductive harm. For more information go to www.P65Warnings.ca.gov.
ACCESSORIES
Accessories for WEARWELL ERGODECK COMFORT SOLID 18X18 INCH TILE
ANSWERS
Product Questions:
Q: Can I use this mat in a kitchen
A: Yes this Ergodeck fatigue mat a good option for a commercial kitchen environment.
SPECIFICATIONS
| | |
| --- | --- |
| SKU# | 556.78x18x18CH |
| In Stock | Yes |
| Product Type | Tile |
| Material Type | PVC Plastic |
| Product Edging | Interlocking |
| Thickness | 7/8 inch |
| Width | 1.50 feet |
| Length | 1.50 feet |
| SF per Item | 2.25 |
| Weight | 5.50 lbs |
| Packaging | Cartons |
| Number of Pieces per Package Type | 10 |
| Non Absorbent | Yes |
| Special Adhesives | No |
| Universal Interlock | No |
| Interlock Loss | 0.00 feet |
| Interlocking Connections | Yes |
| Made In | USA |
| Surface Finish | Raised pattern |
| Surface Design | Solid color |
| Installation Method | Interlocking, dry lay |
| UV Treated | No |
| Reversible | No |
| Border Strips Included | No |
| Manufacturer Warranty | Limited lifetime warranty |
HOW TO'S
RELATED PRODUCTS
RELATED BLOGS