Installing Puzzle Carpet Squares Over Concrete
By Paige Cerulli Created: July, 2017 - Modified: June, 2022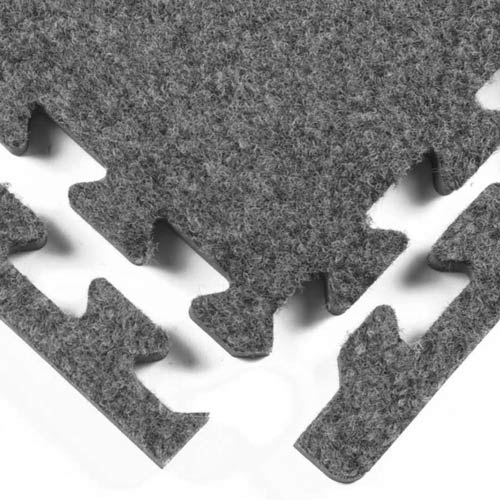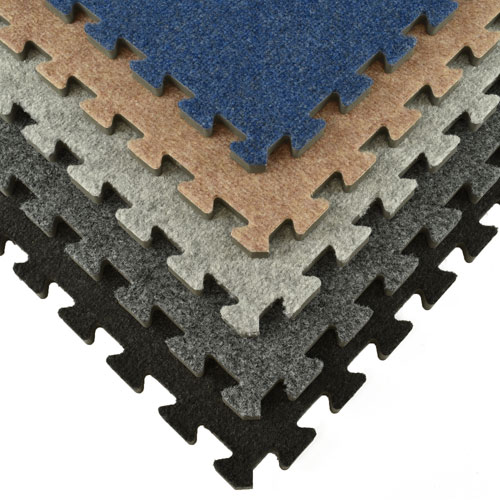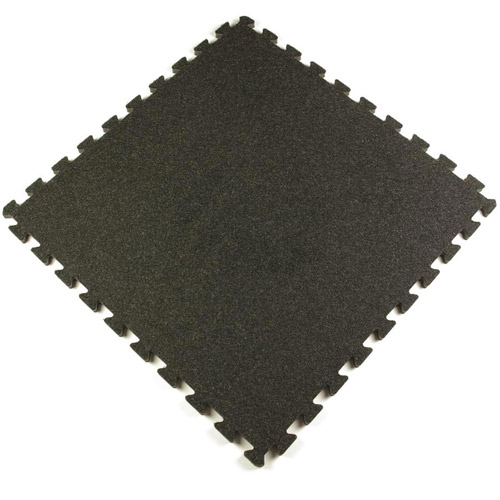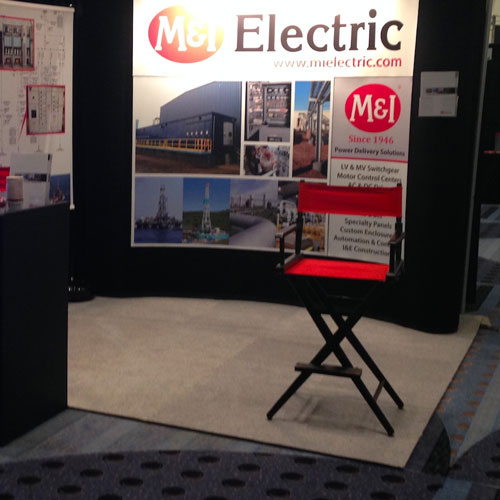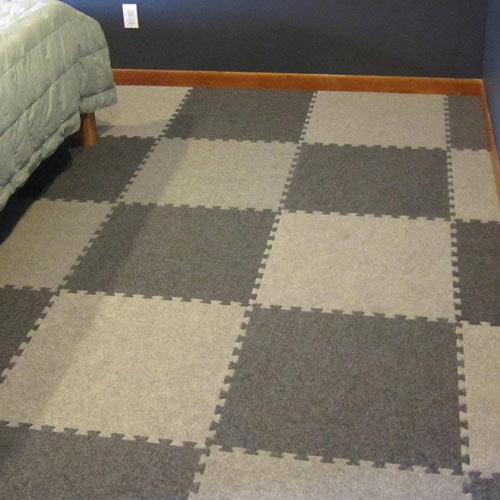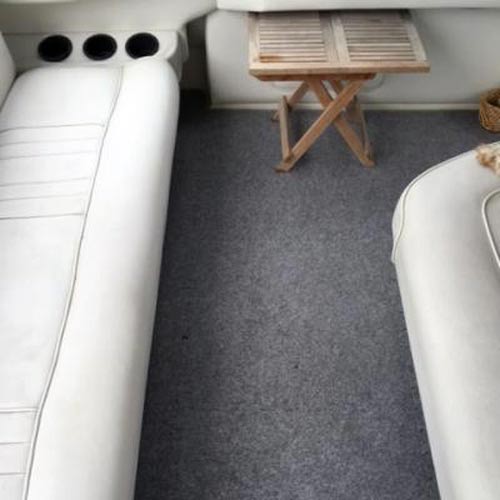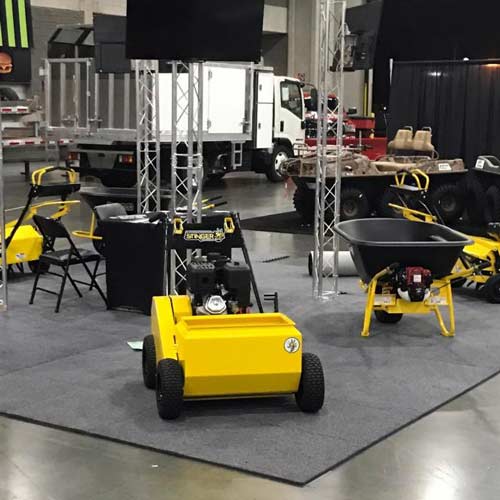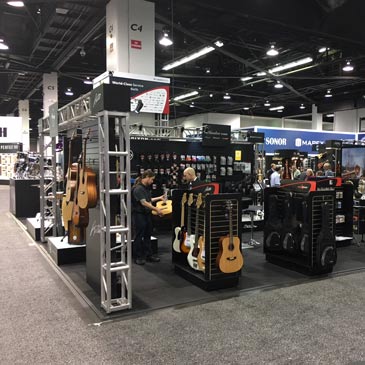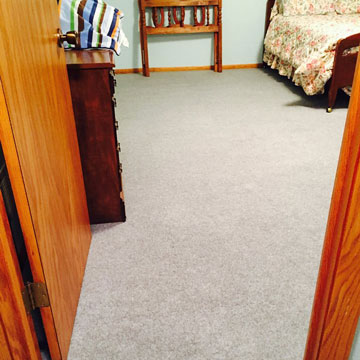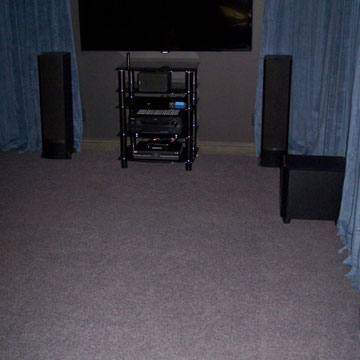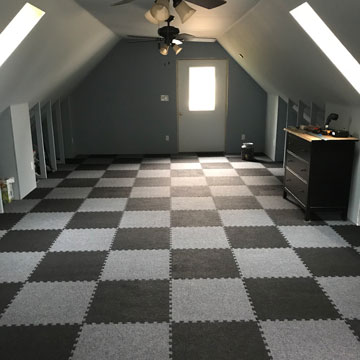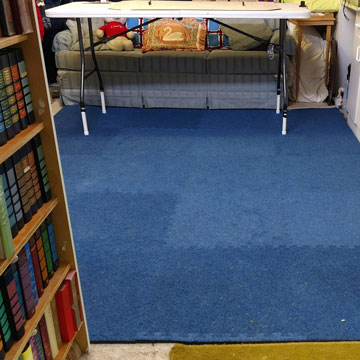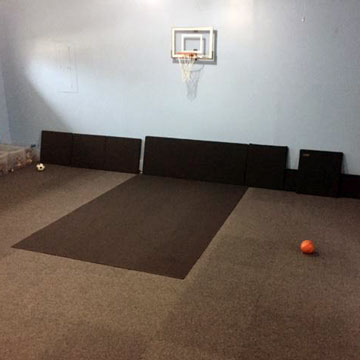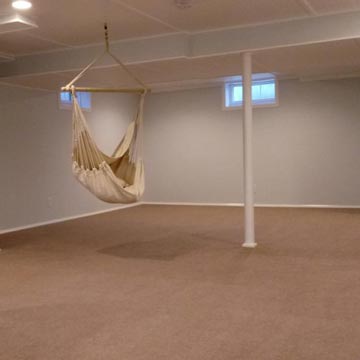 Carpet puzzle squares, like Greatmats' Royal Interlocking Carpet Tile, allow you to achieve the look and feel of carpeting without the extra work that comes with installing a roll of carpet. These tiles feature anti-fatigue and
insulation
properties that are similar to what you'd enjoy from traditional carpet. They're waterproof, odor proof, and stain resistant, and they're suitable for installation in environments like basement settings where they might be exposed to moisture.
These puzzle carpet squares can be installed directly on concrete, wood, and tile.
How To Install Puzzle Carpet Tiles/Squares on Concrete
You can choose to install these puzzle carpet tiles in a wall-to-wall layout, or in an island installation. If you're performing an island installation, you won't need any tools. For a wall-to-wall installation, you may need a tape measure, sharp utility knife, and a straight edge to cut the tiles as needed.
These carpet tiles don't require any adhesive for installation.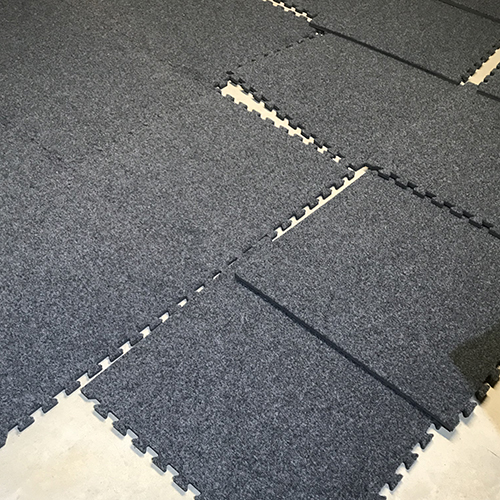 Start in 1 Corner and Work Your Way Out
When performing a wall-to-wall installation, you will need to start in one corner of the area to be covered. Work over a clean, hard, flat surface. These tiles may expand and contract with heat and humidity, so leave a gap of ¼ inch between the tile edges and the wall. This gap can help to prevent the floor from
buckling
if the tiles expand.
Remove the attached border strips from the tiles as needed, then connect the tiles together by pushing their seams together. The tiles have a universal interlock design, so they'll connect together in any direction.
These tiles do have nap that you may want to keep facing in the same direction. To ensure that the tile alignment is correct, follow the arrows printed on the tile underside. By keeping the arrows facing in the same direction, the nap will be continuous.
Work your way out from the corner, keeping all tiles facing the same direction and attaching one tile at a time. Work your way out from the corner and work your way evenly in both directions until you can't attach any more unaltered tiles between the floor and the wall.
Cutting Puzzle Carpet Tiles
When you need to
cut tiles to fit
, measure to ensure you leave an expansion gap between their edges and the walls. Mark the underside of each tile that you need to cut with a pen. Then, make the cut using a sharp utility knife. Use a straight edge to guide your cuts. Create a series of shallow scores to ensure a clean cut.
Finish your installation by connecting the cut tiles next to your remaining walls.
When creating an island or floating installation, you can reconnect the border strips along your outside edges for a polished, clean look. Each tile includes two border strips.
Top Q & A's for Puzzle Carpet Tiles
Removing Puzzle Carpet Squares
If the area where you're installing your carpet tiles ever floods, or if you need to remove the tiles for another reason, you can do this without damaging them. Simply disconnect the seams and remove or relocate the tiles as needed.
Working with individual carpet tiles instead of a roll of carpeting also offers advantages when maintaining your floor. If a tile becomes worn or damaged, you can remove and replace that single tile, instead of having to replace all of your flooring. This can save you both money and time.
How do I care for carpet tiles?
Carpet tiles are easy to care for. Just vacuum them regularly, much like you would with regular carpeting. Be sure to test your vacuum on an inconspicuous area of the carpeting tiles first. For tough stains or ground in soil, you can even remove a tile and
hose it down
or scrub it in a sink and then re-lay it once it's dry.
Do carpet squares work?
Carpet puzzle tiles work very well as flooring for basements,
trade show booths
, theaters, and other locations. These tiles are designed to be durable, and our Royal Interlocking Carpet Tile features a foam backing that adds cushion and strength. These tiles won't absorb liquids, which helps to reduce the chance of mold and bacteria growth, making this puzzle carpet a top choice for all sorts of installations.
How do you keep carpet squares together?
Puzzle piece carpet tiles like Greatmats Royal Carpet Tiles fit together like puzzle pieces. These jigsaw carpet tiles feature seams that lock together tightly, keeping the tiles connected to form one solid surface. If needed, you can remove one or more carpet puzzle tiles and reconnect them again.
Are carpet squares cheaper than carpet rolls?
In terms of the cost per square foot of each product, carpet squares are more expensive than carpet rolls. However, it's important to realize that the initial product cost isn't the only factor that affects what you'll pay by the time your project is done. While carpet rolls may cost less per square foot, they often require professional installation, which can greatly add to their cost.
Carpet squares, in contrast, offer a DIY installation, so you can save money. You might pay more initially for carpet squares, but it's possible that they actually make your project costs lower than what you'd face with carpet rolls.