The Best High Heel Friendly Trade Show Flooring
By Lisa Hobbie Created: October, 2019 - Modified: November, 2019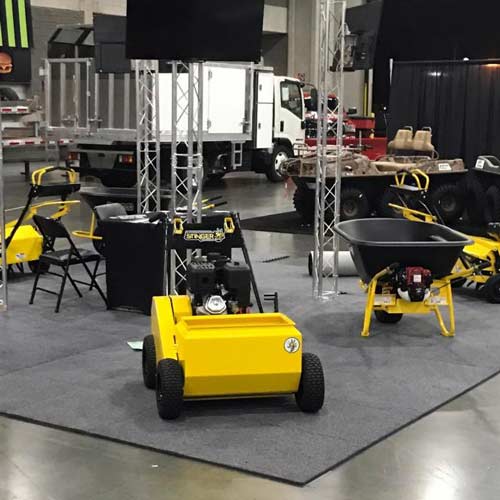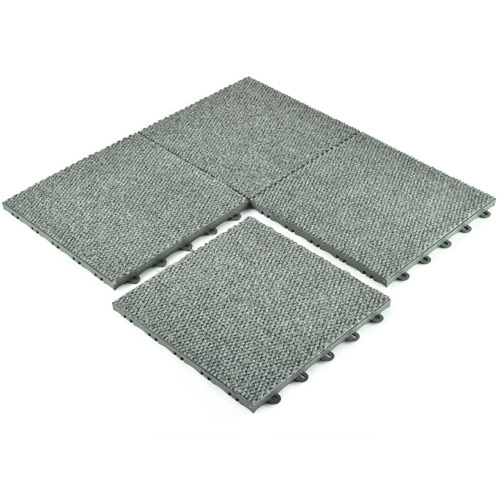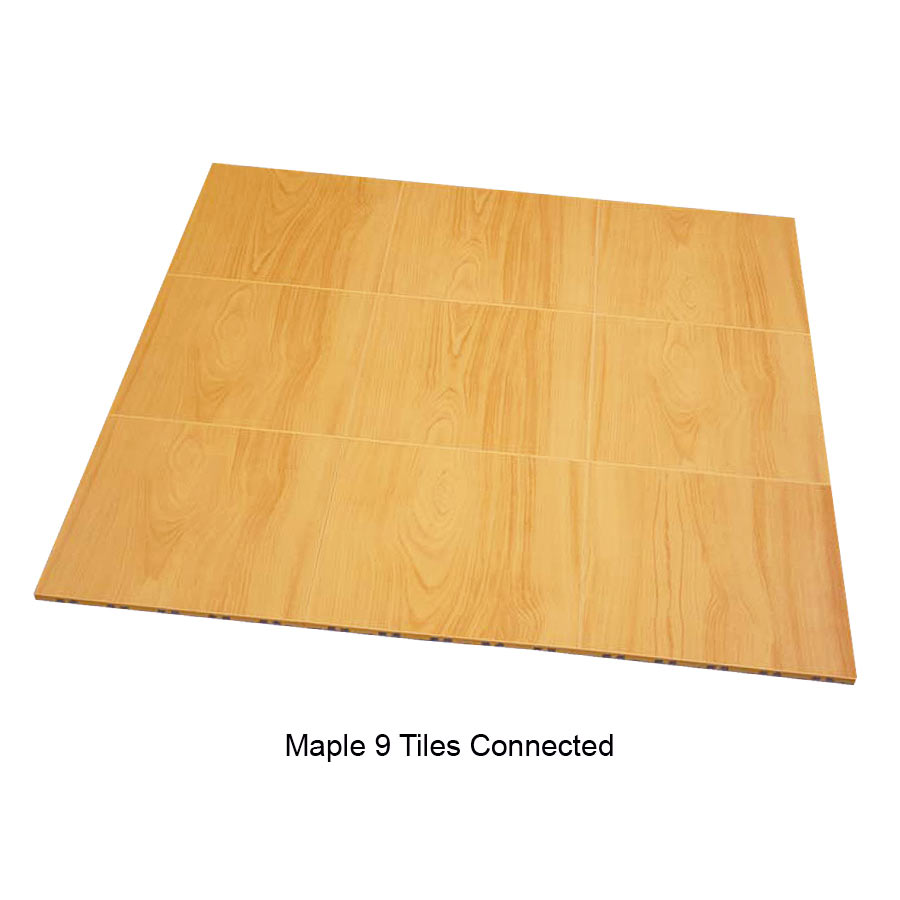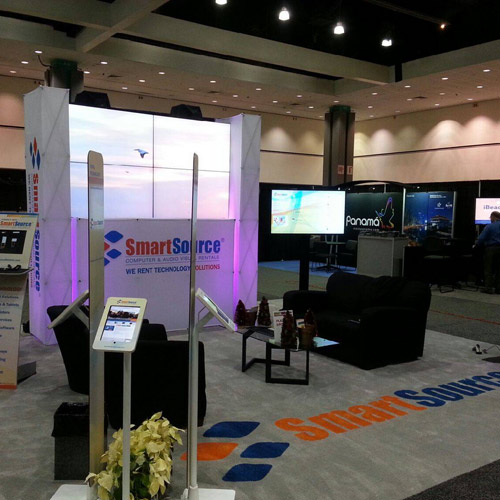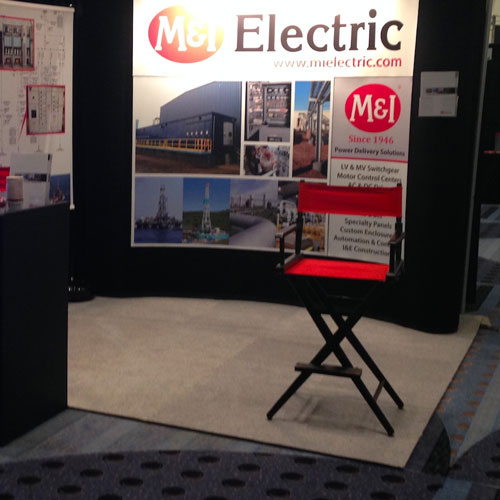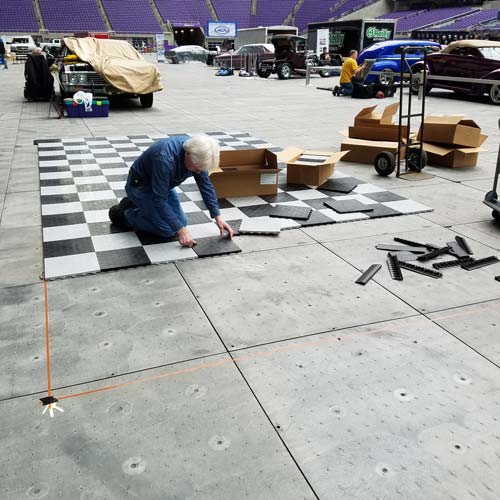 Nothing beats an attractive trade show booth designed to best showcase your goods, services and products. An effective booth will likely have an eye-catching display to draw attendees in and hopefully convert interest into a sale, rental or booking. One important aspect of a successful trade show appearance is the flooring. A trade show floor should be accessible, fatigue reducing, attractive, and durable. It must be the perfect blend of professional and comfortable and accommodating to things such as high heels - which can be uncomfortable for the attendee... and damaging to the flooring.
There are a number of trade show flooring options that would be suitable for audiences in high heels, all of which are available from Greatmats. From raised floor tiles that have the look of wood but durability of vinyl to the comfortable and welcoming look and feel of carpet, there are numerous products that would hold up well in a trade show setting.
Modular Vinyl Tiles
Max Tile snap together floor tiles
are commercial grade and designed for a number of applications. They are a perfect blend of durable vinyl surface and attractive design with a slight raise. They are removable and finished with a UV protection, making them last for many indoor uses, including in areas where direct sunlight beats in on the floors. In fact, the wear layer thickness is rated for 7 years in commercial applications. They work great as a trade show flooring option, as they provide a professional, finished look with the black ramped border edging. They can even be used in damp areas as they are also designed to allow water and air to flow underneath. These raised floor tiles are durable, versatile, and of the highest quality - making them an excellent consideration for trade show flooring.
Interlocking Carpet Tiles
For a cushioned, soft, and professional look, you may consider interlocking carpet tiles as a trade show flooring option. These are so easy and fast to install, as you can simply place them directly over a base floor without using adhesive, much like you would a carpet mat. They are also very lightweight, portable, and easy to clean. The carpet tiles are notably comfortable for those high heel wearers, as they present an anti-fatigue and insulation value similar to carpet. Plus, they are extremely resistant to puncture, unlike most foam flooring. The carpet tiles are attractive and versatile with the ability to mix and match to create a custom design.
Royal Interlocking Carpet tiles
are also waterproof, odor proof, and very easy to clean.
Raised Modular Carpet Tiles
If the look and feel of high-quality yet firm carpeting sounds ideal for your trade show flooring, you may want to plan on raised modular carpet tiles. These are tiles that are easy to snap together and are surfaced with high quality carpet. They are made in the USA from recycled content, are waterproof, and very durable with the ability to handle high roll loads. This means, you can place tables, chairs, and attendees on top of the carpet tiles, and this product will hold up to the weight. But, because of the ease of assembly and disassembly, these modular carpet tile squares work very well as a temporary trade show flooring.
Comfort Carpet Tile
For a convenient 10x20 trade show flooring carpet kit, choose our
comfort carpet tile
option! This product features the anti-fatigue and insulative value of foam and the look of carpet, but it is easy to install and disassemble, is lightweight and is portable. It's available in numerous colors and kit sizes, with the ability to be custom cut. With the interlocking design and the ability to be placed directly on concrete or tile, this commercial grade kit provides a long lasting flooring option.
Garage Floor Tile
For an extremely durable and versatile trade show flooring option that can take extreme weight, use, and abuse from shoes, vehicles and many other things, a
garage floor tile
in the diamond option would be a great selection. This tile is made in the USA from virgin material, and will not sink or divot like many others on the market. It is rated for 10,000 pounds making it suitable for countless applications. It features a tight fitting snap together connector system, and it comes in many colors.
Greatmats truly has countless flooring options that would be suitable for a trade show, from puzzle mats and raised modular tiles to carpet tiles and everything in between. The options mentioned simply skim the surface of its catalog, and there are numerous colors and materials that go far beyond these choices. If you aren't sure which option is best for you, contact Greatmats friendly and knowledgeable customer service team who will be able to walk you through the pros and cons of numerous options and help you decide which product is the best for your budget and space.