dBTile Gym Floor Tile Black 2.5 Inch x 2x2 Ft. with Quad Blok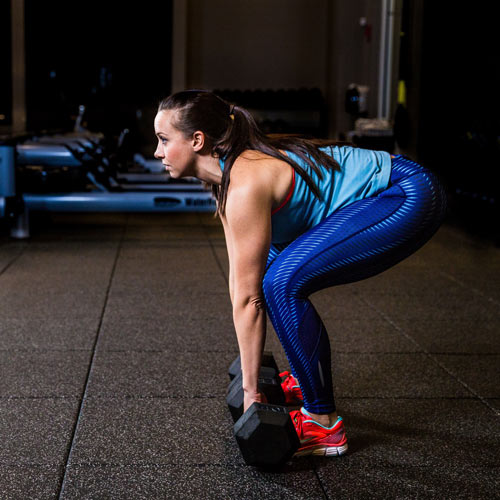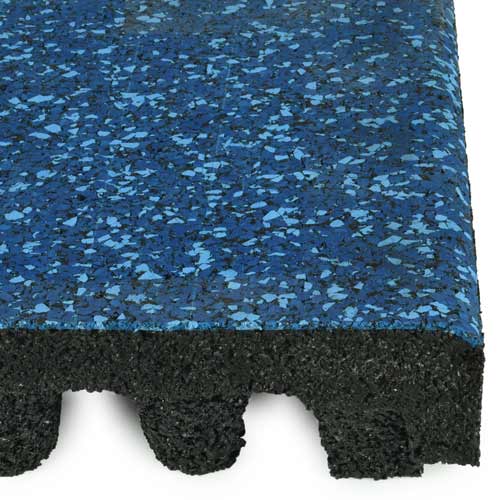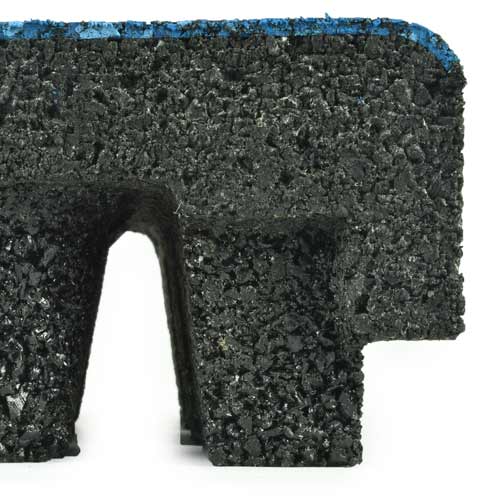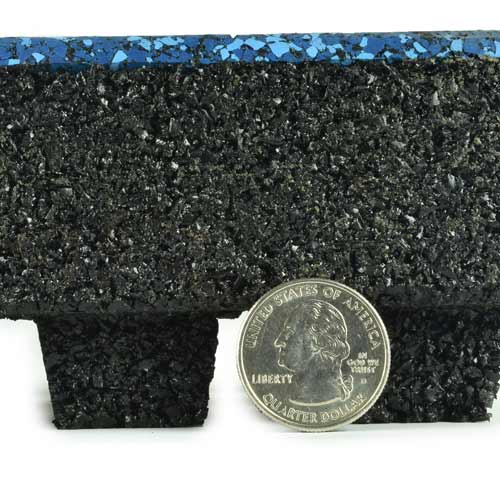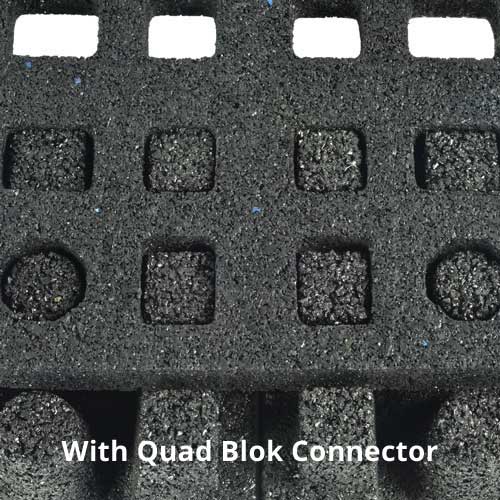 Superior noise and shock absorption
90% recycled rubber floor material
Patented high-density wear layer
Ships Out: Estimate 4-6 Weeks

Black
How Much Flooring Do I Need?
VIDEOS
TOP FEATURES
Superior noise and shock absorption
90% recycled rubber floor material
Patented high-density wear layer
Professional grade installation with Quad Bloks
Slip resistant surface
Optional color choices provide custom design options
Made in the USA
Reduces impact force
Use Types
Weight Room Floors, Home Gym Flooring, Sports Flooring, Rubber Gym Mats
dBTile gym and weight room floor tile, Durable rubber gym flooring
dBTile Gym Floor Tile Black 2.5 Inch x 2x2 Ft. with Quad Blok Extreme durability combined with superior sound and shock absorption make this the ultimate rubber gym tile. Use this durable rubber gym flooring at home, in weight rooms, or sports facilities. Use our Quad Blocks for professional grade installation and durability. Heavy drop gym tiles are slip resistant when wet or dry, making it a great flooring option for gym and workout areas.
Sound Reduction Black Gym Floor Tiles, 2.5 Inch Thickness

For the ultimate in rubber tiles made for a gym setting, our Sound Reduction Gym Floor Tile Black 2.5 Inch x 2x2 Ft. tiles will deliver outstanding durability, along with sound absorption and shock absorption properties.

This is a Made in the USA product that relies on high-quality materials and the most precise levels of manufacturing tolerances to yield a product that's perfect for weight rooms, sports facilities, and fitness centers.

Our black gym floor tiles represent an eco-friendly option, as they consist of recycled rubber materials. This keeps rubber tires out of the landfill, creating a better option for the environment. These are made from 90% post-consumer recycled materials.
Drop in Install Process With Quad Blok System
Installing large tiles over a wide space can be a challenge for someone who doesn't have experience laying out rubber flooring. However, because these black gym floor tiles make use of the Quad Blok system, it simplifies the process.
For the best results, installations should occur over a concrete surface, although plywood is an acceptable subsurface layer too. Installers can lay out the Quad Blok tiles first over the subfloor, leaving them as a dry lay installation if desired.
After laying out the base connector system, installers can insert the primary tiles into the Quad Bloks. Each of the 2.5 inch thick tile pieces has cylindrical shaped pegs on the bottom. These pegs fit into the perforations in the Quad Blok connectors, ensuring a sure fit and a secure layout.
Each tile includes one Quad Blok Connector 8x8 Inches for 2.5 Inch tiles.
Because the individual tiles measure 2 by 2 feet and weigh more than 27 pounds per piece, some customers may prefer using a commercial installer to handle the job.
Additionally, installers will need to cut some tiles to fit in a wall-to-wall layout. Cutting such thick tiles can be challenging for someone without experience or without the right tools. Use a linoleum knife or a saber saw to cut the tiles to fit the space.
High Density Wear Layer
One of the best aspects of this style of rubber black gym floor tiles is the ability to continue to look like new, even when exposed to rough conditions and constant use in a school weight room or in an athletic facility.
The manufacturer included a thin, but highly durable, wear layer. This layer provides the anti slip capabilities that make these tiles so popular for athletes, but it also protects the tile from excessive wear in a busy environment.
When weightlifters or other athletes are seeking a type of flooring that gives them the trustworthy traction they need to make a high level move or to deliver the resistance required for a record lift, our tiles will deliver. They create the sure footing that's a must for athletes.
As an added advantage, these tiles work perfectly for areas that host workouts with heavy free weights. When athletes will be dropping barbells onto the floor, our rubber mats will protect the subfloor and cut down on the amount of noise the barbells generate as they hit the ground.
Protection for Lower Body Joints
Rubber naturally has shock absorption properties, which is why it is such a popular choice for gymnasiums and fitness centers. It also is popular for commercial and work-related settings where people must stand for long periods of time because of its ability to protect the lower body joints of people using it.
The rubber flooring helps athletes feel fresher after tough workouts. This allows them to continue their workout routine the next day, rather than needing extra time off to recover. It helps with pain and fatigue in the hip, ankle, and knee joints.
Our black gym floor tiles provide a force reduction and impact energy rating of 67.7%. They also have a 46.1% measurement for the useful return of impact energy, ensuring the highest level of performance for athletes.
Commercial Level Slip Resistant Tile Specifications
Width: 2 feet

Length: 2 feet

Thickness: 2-1/2 inches

Coverage per tile: 4 square feet

Weight per tile: 27.8 pounds

Pieces per carton: 100

Coverage per carton: 400 square feet

Color: Black

Texture: Smooth with a slip resistant wear layer
Maintenance and Care
Customers can lengthen the lifespan of these black gym floor tiles by performing routine maintenance and cleaning processes. Sweeping the tiles on a daily basis is the best way to handle regular use and frequent foot traffic
Daily cleaning also can involve a dust mop or a wet mop. When wet mopping the rubber surface, the manufacturer says customers should use the Ecore E-Cleaner product or another neutral pH solution.
For cleaning problems that involve more stubborn soils, customers can use an auto scrubber with a black pad. After removing the heaviest soils on the surface of the rubber, customers may have excess water left behind. Make use of a wet/dry vacuum to pick up this liquid.
After removing the liquid, allow the area to air dry. This heavy duty tile contains a 15-year limited manufacturer's warranty.
Maintenance
Always use a neutral Ph cleaner on rubber flooring material.
Shipping
Ships via freight delivery, shrink wrapped on pallets.
This Product Ships Freight Only.
Please review our shipping disclaimer.
ACCESSORIES
Accessories for DBTILE GYM FLOOR TILE BLACK 2.5 INCH X 2X2 FT. WITH QUAD BLOK
ANSWERS
Product Questions:
Q: Is your pricing $7 per 2x2 floor tile or is it per square foot?. Can I buy 20 pieces and 12 quad block connectors?
A: The price is shown per tile and per SF on the product page. Please contact customer service for a quote.
Q: Will this help to reduce noise when I do aerobic exercise (jumping, burpee, etc.)? I live in an rickety old apartment and I don't want to bother my downstairs neighbor during my workout. Or would you recommend other mats for my purpose? Thanks!
A: Yes. It is designed to reduce noise from dropped weights. Jumping produces a similar impact/vibration on floors as dropping weights only not as severe.
Q: How will these mats hold up to a sledghammer slam workout if we don't use tires?
A: We have not tested these mats for that purpose.
SPECIFICATIONS
| | |
| --- | --- |
| SKU# | SmshTile-Blk |
| In Stock | Yes |
| Product Type | Tile |
| Material Type | Rubber |
| Product Edging | Straight |
| Thickness | 2-1/2 inch |
| Width | 2.00 feet |
| Length | 2.00 feet |
| SF per Item | 4.00 |
| Weight | 27.80 lbs |
| Packaging | Shrink Wrapped on Pallets |
| Number of Pieces per Package Type | 100 |
| Non Absorbent | Yes |
| Special Adhesives | No |
| Interlock Loss | 0.00 feet |
| Material Hardness | Shore A 60 |
| Interlocking Connections | No |
| Made In | USA |
| Surface Finish | Smooth flat |
| Surface Design | Solid color or color fleck |
| Installation Method | Pin connectors |
| UV Treated | No |
| Reversible | No |
| Border Strips Included | No |
| Leed Points | Yes |
| Manufacturer Warranty | 15 year limited |
HOW TO'S
RELATED PRODUCTS
RELATED BLOGS