What Gym Mats Work Best for Darebee Workouts?
By Kyle Schurman Created: May, 2021 - Modified: February, 2023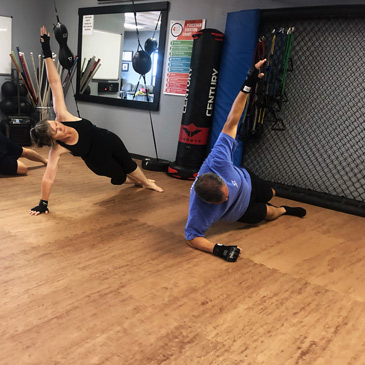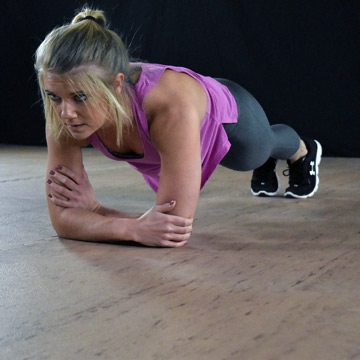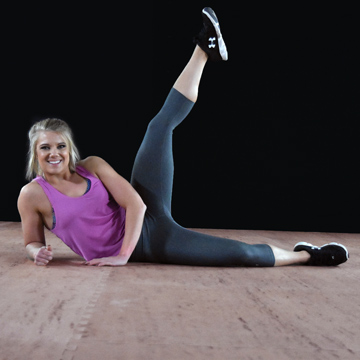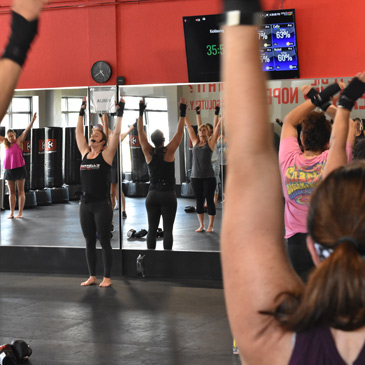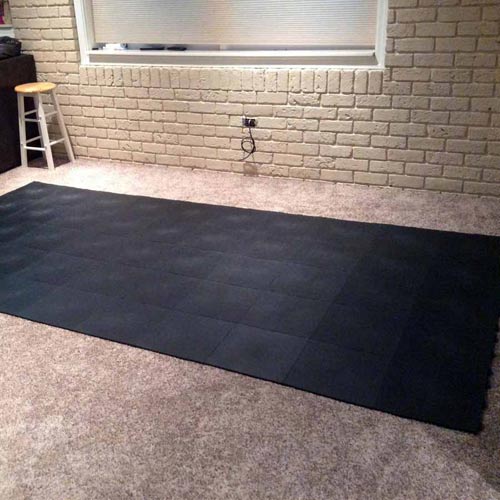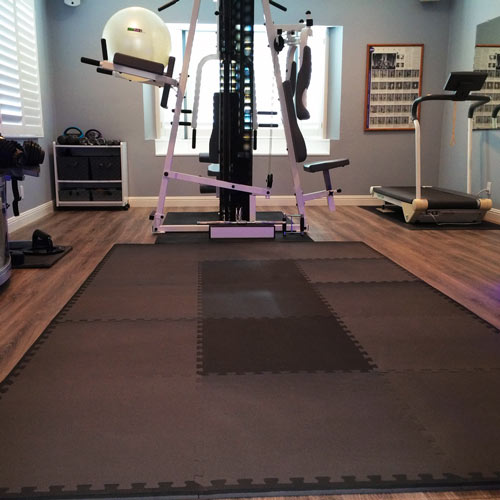 A Darebee workout can involve a wide range of potential exercises, giving athletes a high level of fitness. This program differs from some other exercise programs, as Darebee is a non-profit global resource for fitness ideas and routines. User donations fund the Darebee website, giving those visiting the site a wide range of workout options to improve performance and fitness.
Because a Darebee workout involves so many different potential exercise routines, having a versatile style of workout flooring is the best option. Some of the best all-around fitness flooring options include:
Premium Martial Arts Karate Mat

Home Sport and Play Mat

Gym Floor Workout Pebble Fitness Tile

StayLock Orange Peel Tile

StayLock Bump Top Tile
These tiles commonly consist of PVC plastic or EVA foam. Those materials are easy to clean, so they're great for a workout area where people may sweat during a Darebee workout. They also have just a little bit of cushioning, which is helpful for keeping the athlete's lower body joints feeling fresher after a hard workout.
Members of the Darebee team test every potential workout before placing it on the website, ensuring it will provide the right benefits and that it will be safe for athletes of all levels.
Each Darebee workout will appear on a poster on the website, using illustrations and a brief explanation to give athletes clear directions on how to perform the exercises properly. Each workout session includes an eye-catching title, which should make it easier for athletes to remember their favorites.
What Are Some Lightweight Floors to Use for a Darebee Workout?
EVA foam is a great material to use for Darebee exercises, as it has a high level of cushioning without sacrificing the durability of the floor. With a cushioned surface, athletes can work on the muscles in the arm and chest area through push-ups in a Darebee session, as the floor is comfortable for a ground-based workout.
The level of cushion in EVA foam also helps with high intensity workouts, such as HIIT, that involve lunges in the gym. Athletes will feel fresher in the legs the next day, thanks to the cushioned floor, allowing them to perform another workout, rather than needing a day or two to rest and recuperate.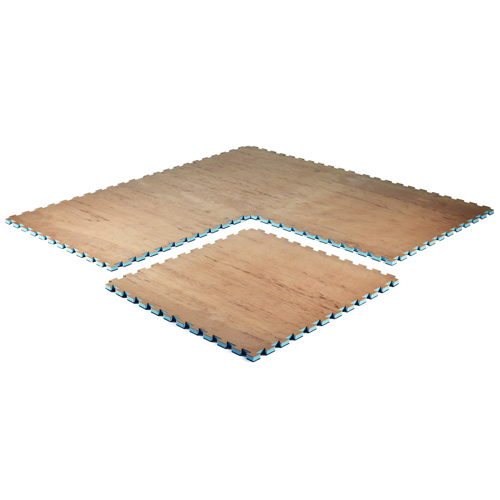 The Premium Martial Arts Karate Mats are a popular choice for this use case, consisting of 1-inch thick tiles. They measure 1-by-1-meter in size and offer 10.76 square feet of coverage per square, while weighing only 8 pounds, which makes a DIY installation with the jigsaw puzzle edges an easy process.
These tiles have a smooth leather finish that gives athletes the ability to use many kinds of shoes on the surface of the tiles, while receiving the grip to be able to do squats and other tough workouts. Each mat has a mixture of
EVA and PE (polyethylene) foams
.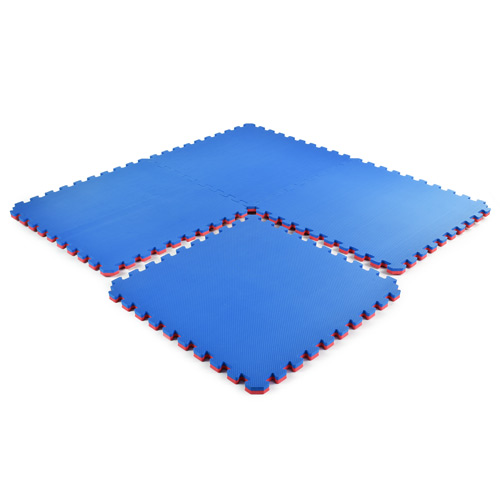 A similar option is the Home Sport and Play Mat, but it uses EVA foam alone. It measures 3/4 inches in thickness, and it is a little softer than the Karate mats product discussed earlier.
Beyond working well for a multitude of workouts, this is another high quality gymnasium flooring that will support yoga sessions, as participants can lay their yoga mats directly over these cushioned mats for maximum comfort.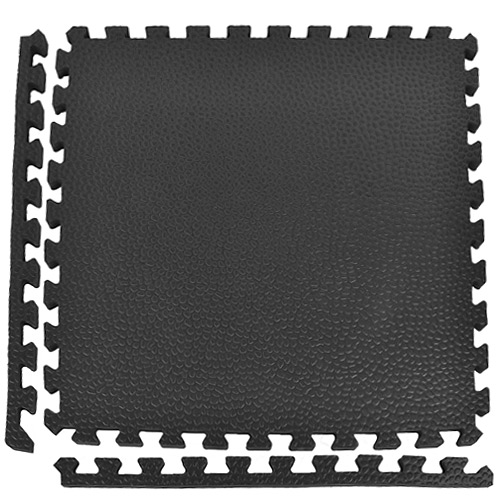 Another EVA foam option is the Gym Floor Workout Pebble Fitness Tile, which has a slight texture on the top layer of the tile, providing athletes with the strong grip on the floor that they need to make quick, controlled movements.
This type of tile has more density versus most other EVA foam options, which allows it to support the weight of exercise equipment successfully. For those performing a Darebee session that involves pull-ups on an exercise machine with leg raises that work the abs, this Pebble Fitness tile can handle the workload without showing wear and tear.
What Is a Highly Durable Type of Tile for Darebee Exercises?
For those who want more firmness and durability in a gymnasium tile than EVA foam provides, PVC plastic is a popular selection. PVC plastic provides some anti-fatigue properties, while delivering a high level of durability.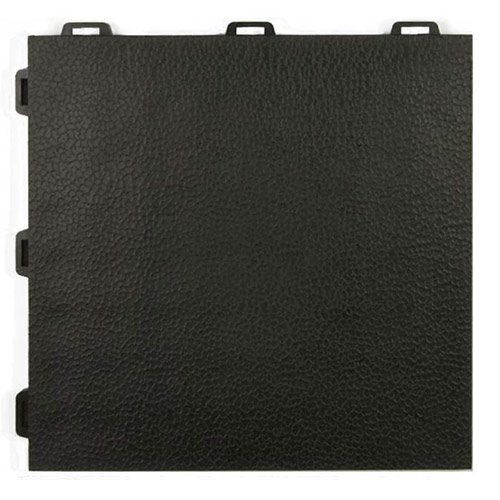 The StayLock Orange Peel Tile has a 5-year limited warranty, meaning it'll give installers a long-lasting design that provides a good value. Each 1-by-1-foot tile measures 9/16 inches in thickness, meaning it's easy to handle for a DIY installation over everything from concrete to carpeting, using the interlocking edges for a secure layout.
The texture resembles the surface of an orange peel and is minimal in height, so athletes have no concern about stumbling over it. Another PVC plastic option with a slight texture on the top surface is the
StayLock Bump Top Tile
. The surface of the tile uses slight bumps that resemble small bubbles to deliver the desired texture.
The Bump Top tile has the same 1-by-1-foot coverage size, material and 9/16 inches of thickness as the Orange Peel tile. It is available in four different color options of brown, light gray, royal blue, and tan as well as black. The Orange Peel tile is also available in black as well as multiple color options.
For more on this topic please review our
Exercise Mats
product page.