Foam Tiles In Basement Laundry Room Testimonial - Kelsey Bean
By Paige Cerulli Created: March, 2023
When Kelsey Bean and her husband purchased their first home last summer, they wanted to enhance their new home's basement. The entire basement floor was concrete. Not only was the floor cold, but it was hard underfoot and Bean explains that they didn't like the look of the floor.
"We put carpet in the majority of the basement, but there were some areas where carpet wasn't an option," says Bean.
One of those areas was the basement laundry room. Several plumbing pipes actually ran into the basement floor in the laundry room, so the couple needed a flooring product that could work with that layout restriction. "We still wanted to elevate the space and make the floor more comfortable," Bean explains.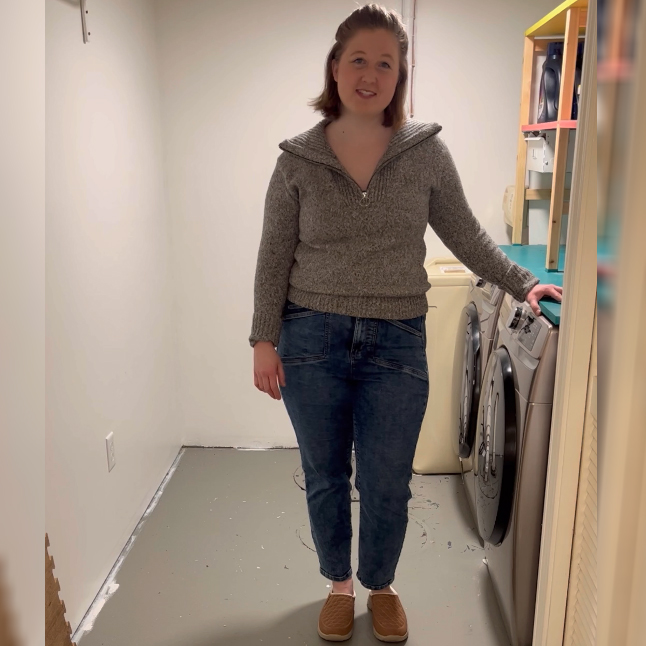 The Search for a Suitable Basement Flooring Solution
Bean found Greatmats online while looking for flooring ideas for the unfinished laundry room. She chose to purchase the
Foam Tiles Wood Grain
from Greatmats. Bean explains that the fact that the product had good reviews, was affordable, and looked user-friendly influenced her decision to buy the flooring.
"I was really happy with the choice," she says. She purchased the tile with a wood grain finish in Driftwood Light Brown. Bean notes that the tile is comfortable underfoot and warms up the floor, making it a great choice for the laundry room.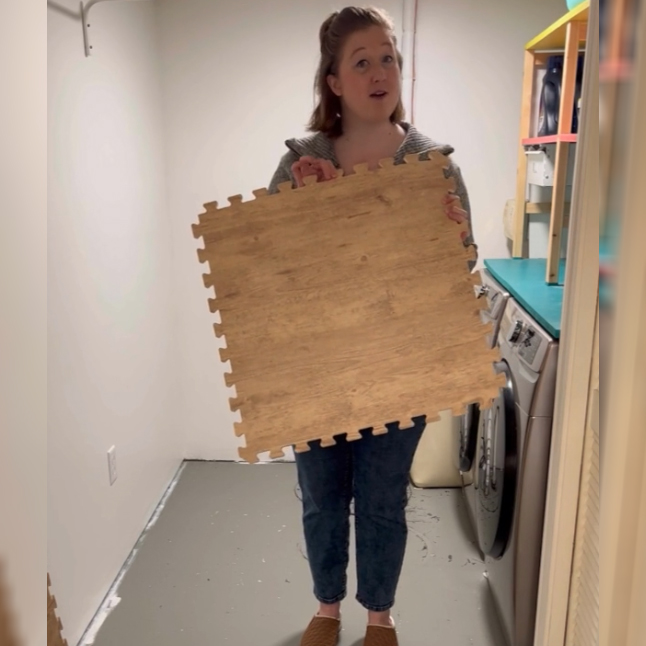 Easy DIY Installation with Foam Tiles
The process of installing the flooring was easy, too. Bean was able to cut the tile around the area where the plumbing entered the floor with a box cutter. She also cut the tile to fit around an area where the trim of the doorframe created an uneven edge. Bean was able to easily cut the different shapes that she needed to work around in the room, resulting in a seamless installation.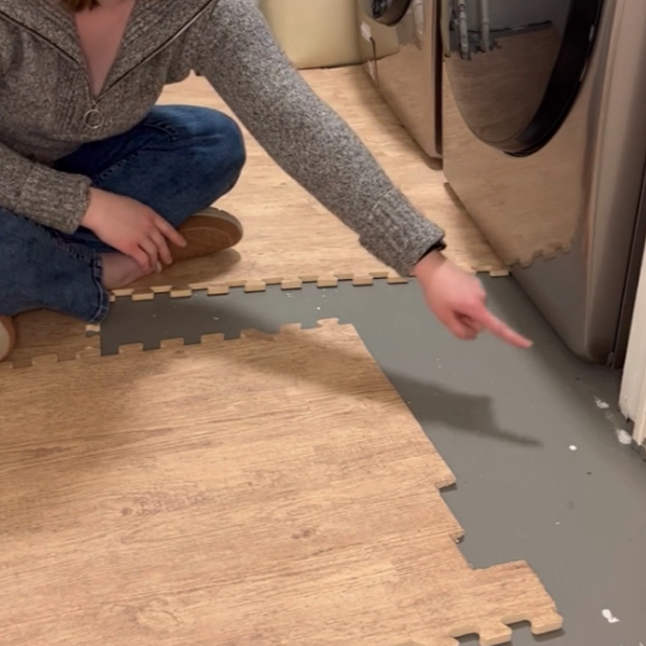 As a result, her basement laundry room floor looks finished and is soft to walk and stand on. The tiles were a practical solution that made it easy to work around the complications of the room's layout. "I am very grateful for my decision," Bean says.
A few weeks ago, when her laundry room flooded, Bean was grateful for her choice in flooring once again. While a flood would have destroyed some other types of flooring, Bean and her husband were able to remove the foam tiles, wash them off, dry them, and then reinstall them. "We would highly recommend the Greatmats foam tiles for your room," she says.
Why Foam Tiles Are Ideal for a Basement Laundry Room Makeover
Bean and her husband encountered some of the common challenges of remodeling a basement. Not only did they need a DIY-friendly flooring product, but they also needed a product that was within their budget and that could withstand a basement installation. The foam tiles they chose offered the qualities that the couple wanted, in terms of color and design, cost, comfort, and warmth. Those tiles were also the best choice for the basement installation, since they were easy to remove, clean, dry, and reinstall after the basement flooded.
Foam tiles are a simple and user-friendly way to improve the look and performance of a basement room. These tiles are suitable for basement laundry rooms, but they're also stylish enough to be a great fit for basement living rooms and bedrooms. Their insulative properties help to buffer you from the cold subfloor, and tiles also help to absorb sound, making the space more enjoyable.
5 Other Basement Laundry Room Ideas for Flooring
The tiles that Bean and her husband chose are highly popular, but be sure to consider these other options for your basement laundry room.
1.
Max Tile Raised Floor Tiles
are waterproof tiles designed for both permanent and repeated installations. They are suitable for commercial and home use, and are available in 10 realistic wood grain designs. The tiles feature a snap-together tab and loop system, so they're easy to install on your own. A finished border system is also available for island installations.
2.
Foam Kids and Gym Mats Premium
tiles offer impact absorption and create a soft surface underfoot. Made of quality EVA foam, the tiles are waterproof and stain-resistant, ideal for a basement environment. They are free of lead and latex for your family's safety, and you can choose from 15 brilliant colors to match your remodeling and new decor scheme. The tiles interlock for an easy installation, and each tile includes two border pieces.
3.
Patio Outdoor Tiles
are ideal for laundry rooms where moisture may be an issue. These tiles feature a non-slip surface and plenty of perforations to let liquids drain right through the tiles. They are comfortable underfoot and made of a flexible PVC. You can install them directly over concrete.
4.
Rubber Tile Utility Black Mix
are economically priced, highly durable rubber tiles. They are double-sided and feature a non-slip surface. The tiles feature precision waterjet cut interlocks to ensure a tight connection that won't pull apart while in use. They're also easy to trim to fit your laundry room.
5.
Slate Floor Tile Colors
tiles offer a beautiful, upscale appearance. They pair excellent slip resistance with stain resistance, and they're suitable to withstand heavy floor traffic. The tiles can be loose laid and a hidden interlock system makes for an easy installation with professional-looking results.