When Would You Use Rubber Flooring In A Residential Setting?
By Kyle Schurman Created: June, 2021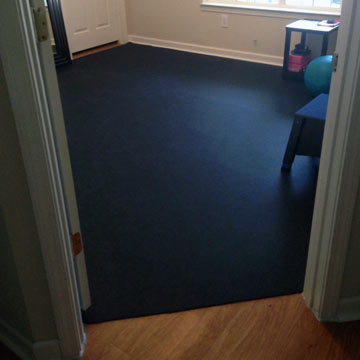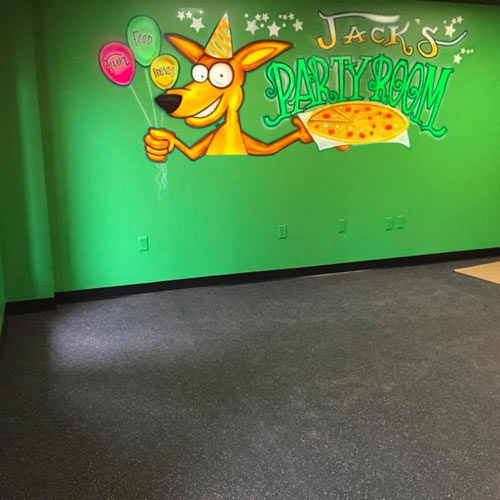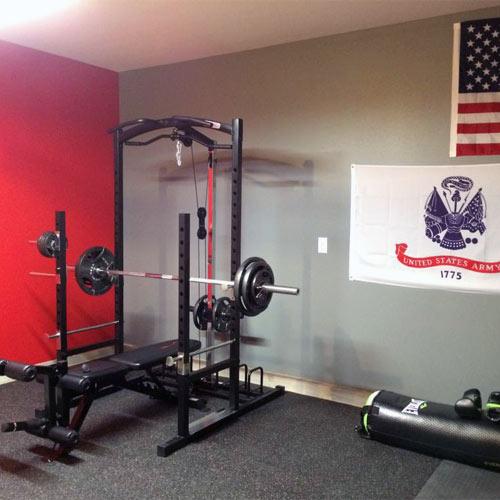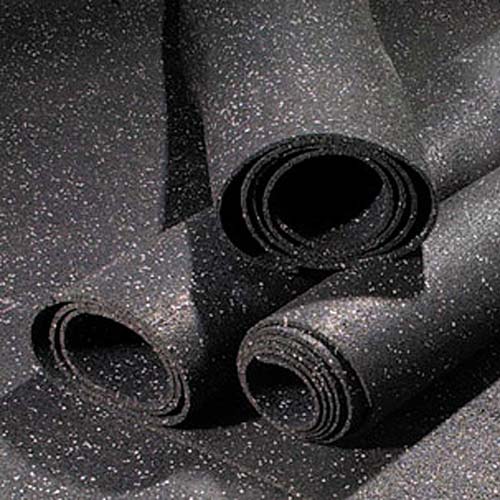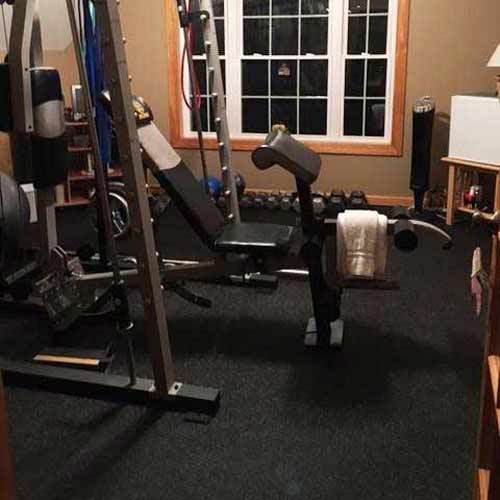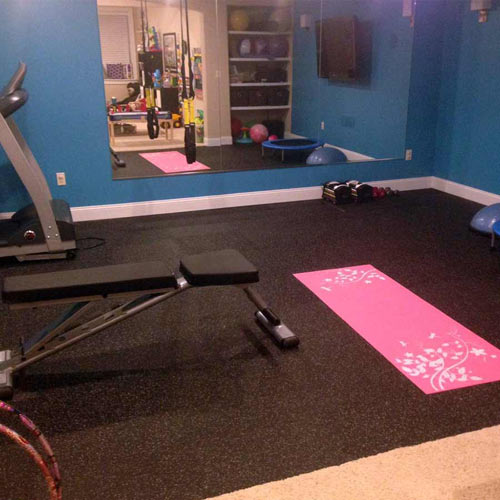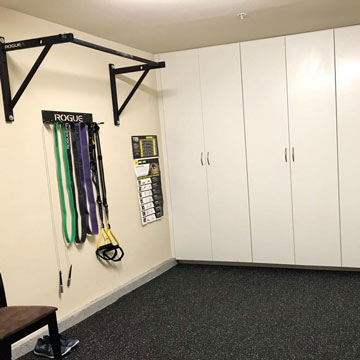 Some homeowners may be unsure whether to use rubber flooring for residential layouts. They may be leery of using a material that generally doesn't offer much in the way of color, other than basic black.
But rubber flooring for residential uses are more common and popular than they may appear at first glance. Some of the most popular uses for this type of flooring in homes include:
Home gym

Kids playroom

Basement

Man cave in a garage

Kitchen

Bathroom

Laundry room

Outdoor patio or deck

Outdoor play area
Rubber is an eco-friendly material, as it often consists of recycled tires, giving these materials a new life outside of a landfill or tire storage facility.
Although all-black rubber floors are the most common option, some rubber products will have a bit of color in them, creating a more interesting look that a residential designer can incorporate successfully.
Are There Any Rubber Flooring Residential Interlocking Tile Products?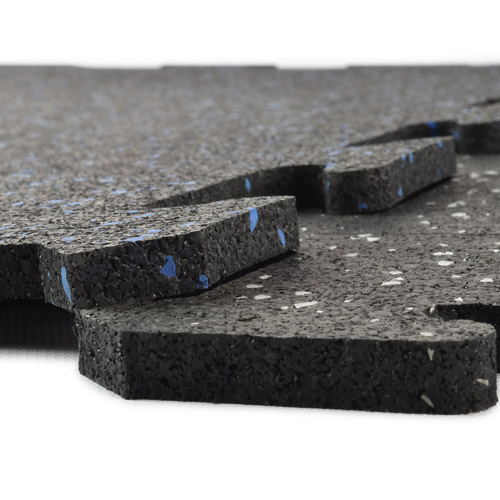 For those who like the simplicity of installing interlocking tiles in the home, the Interlocking Rubber Floor Tiles product provides this design format in rubber flooring. Installers do not have to use adhesive to ensure a tight fit with these tiles.
This product uses multiple color flecks against the black base color to create a look that's a little more interesting than the all-black color typically found in rubber floors.
These 2-by-2-foot tiles weigh 7.4 pounds apiece, which is a reasonable weight for rubber flooring residential products when compared to heavy rubber rolls or large mats.
This should simplify the installation process for those looking to perform a DIY job. When seeking to cover a small-to-medium-sized area at the house, these tiles represent a smart pick.
Can You Use Thick Rubber Mats at the House?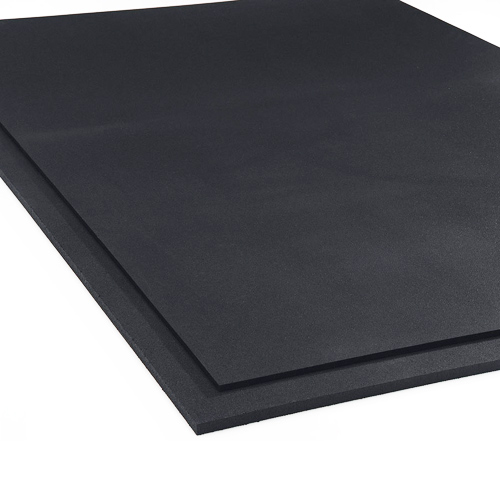 In areas at the home where weightlifting or other exercise sessions will be occurring, the 4x6 Foot Eco Rubber Gym Mat is an excellent choice. With 24 square feet of coverage per mat, its size is ideal for exercise sessions.
Measuring 3/4 inches in thickness, it will protect the subfloor from heavy athletic equipment. These mats are highly durable, providing long-lasting protection for nearly any workout situation at the house.
Each mat weighs 91 pounds, so it will not slide around when used under exercise gear. Its natural weight and slip resistant material is enough to keep it in place without the need to apply glue.
What Is the Most Economical Option for Installing Rubber Flooring at Home?
Rubber is a naturally economical type of flooring, giving installers a reasonable cost per square foot of coverage. For spaces where the homeowner is looking to cover a big space at a low price, using the rubber roll format is the perfect choice.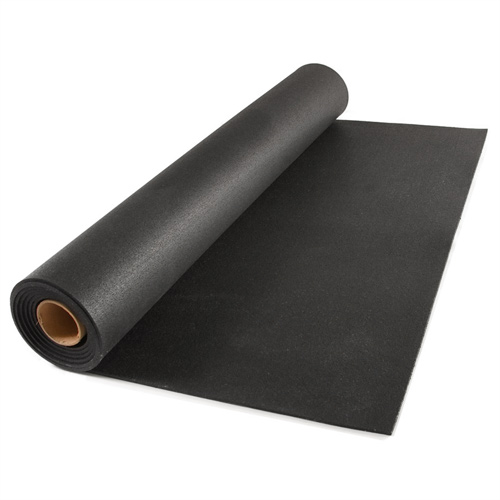 The 1/4-Inch Rubber Flooring Roll is a popular choice for use in homes, as it has a pre-cut size of 4 by 10 feet. This works well for use underneath a weight machine, exercise bike, or treadmill, protecting the subfloor in a home gymnasium.
Some people may use this rubber roll in a laundry room, placing it underneath a washer and dryer set to catch any leaks or to cut down on noise that the machines may generate. In a kitchen, the roll of rubber can protect the subfloor at a food preparation station, giving those standing in the kitchen a more fatigue relieving surface.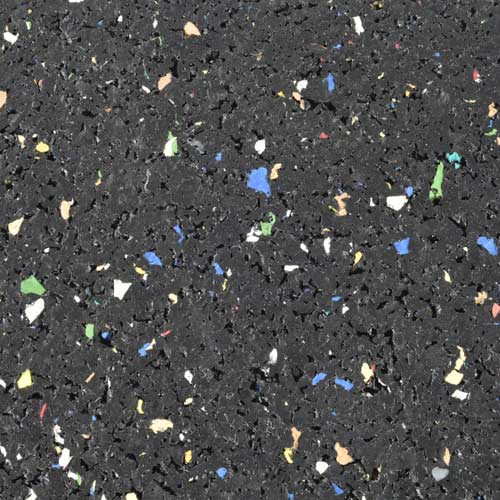 For those who want a little bit of color in the roll, the Regrind Confetti Rubber Flooring Roll has random color flecks against the black background color. Some installers prefer this look in a rubber roll for use at a residence, especially for use in a bathroom or laundry room.
Customers can trust the quality of these recycled rubber materials, as manufacturers create this roll in the United States.
This 1/4-inch thick roll is a highly economical option, but customers do have to order a minimum coverage size of 100 square feet (4 feet wide and at least 25 feet long).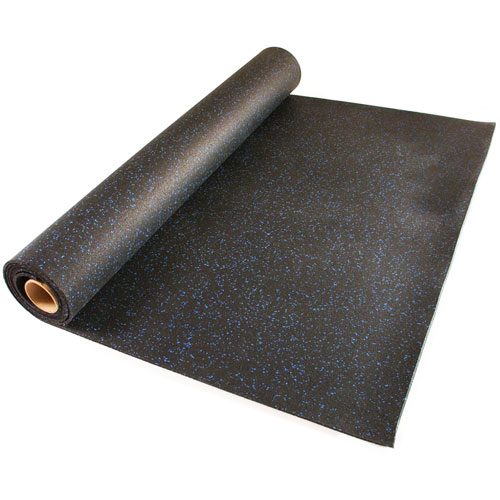 For a slightly thicker option in the rubber roll, consider the Geneva 3/8-Inch Rubber Flooring Roll. This roll has a color fleck option available against the black base color, which is desirable in a residential installation.
Customers must order at least 100 square feet in this roll (again with 4 feet of width and at least 25 feet of length). It carries a desirable price point per square foot of coverage, so it's great for creating a man cave or exercise area in a large basement or garage at the house. Its 3/8 inches of thickness will successfully protect the subfloor in an exercise area.
Do Any Rubber Flooring Residential Designs Offer a Look That Resembles Wood Flooring?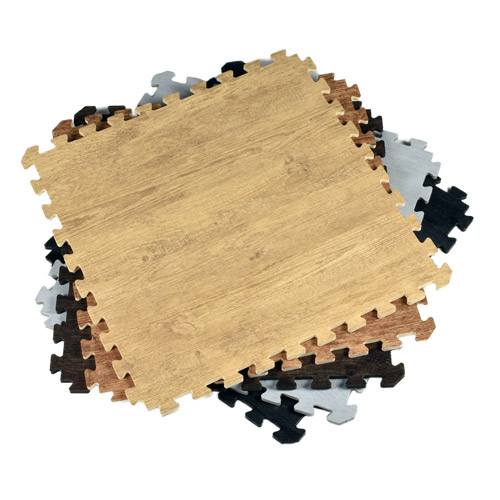 Unfortunately, rubber flooring residential designs do not offer a natural wood look without incorporating another materia over top. A recommended type of flooring that could fit this use case in a material that delivers a good level of durability is the Foam Tiles Wood Grain product.
This tile is waterproof like rubber, while providing a high level of cushioning that's expected in foam. It has a very reasonable cost per square foot of coverage like rubber too.
Thin rubber flooring is often used as an underlayment for portable athletic court tiles, commonly installed in a garage, pole shed or basement.
There is also the
Athletic Vinyl Padded Roll
which features a wood look vinyl top bonded to a rubber base layer.