What is the Best Thickness for Garage Flooring
By Kyle Schurman Created: February, 2020 - Modified: October, 2023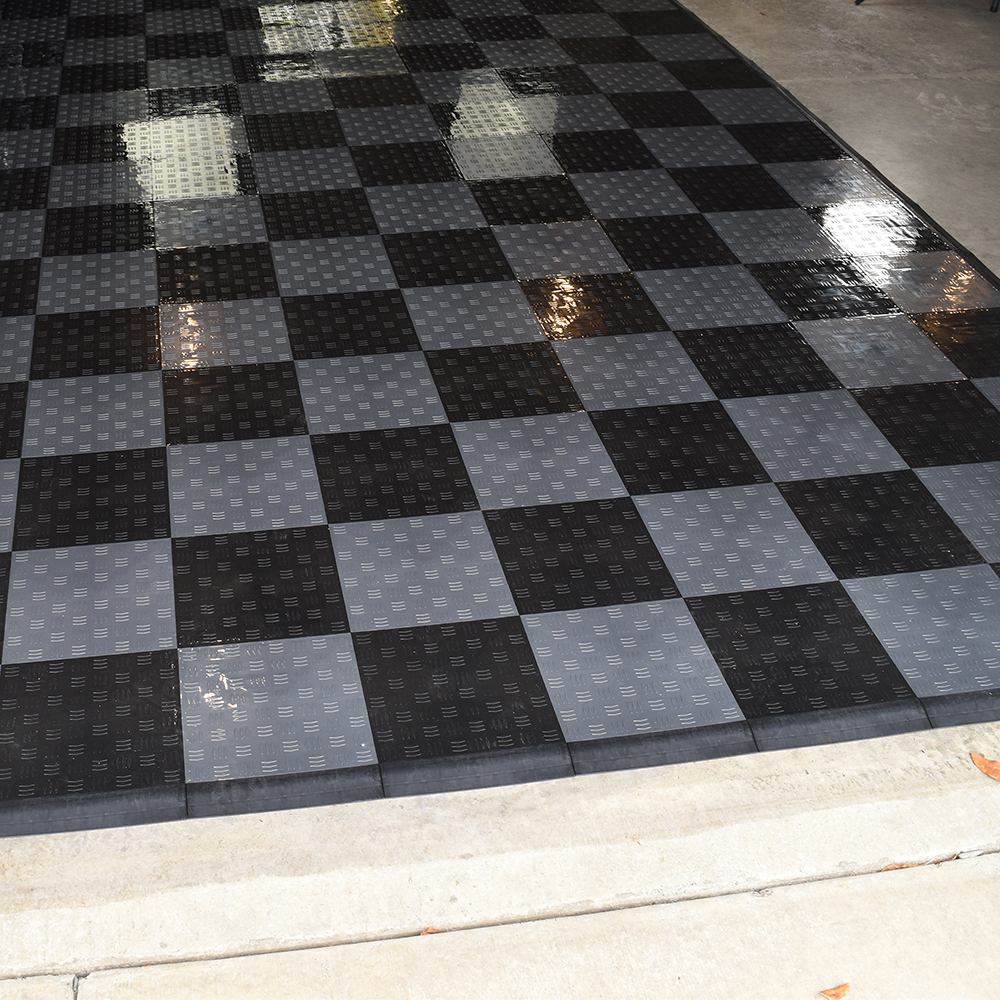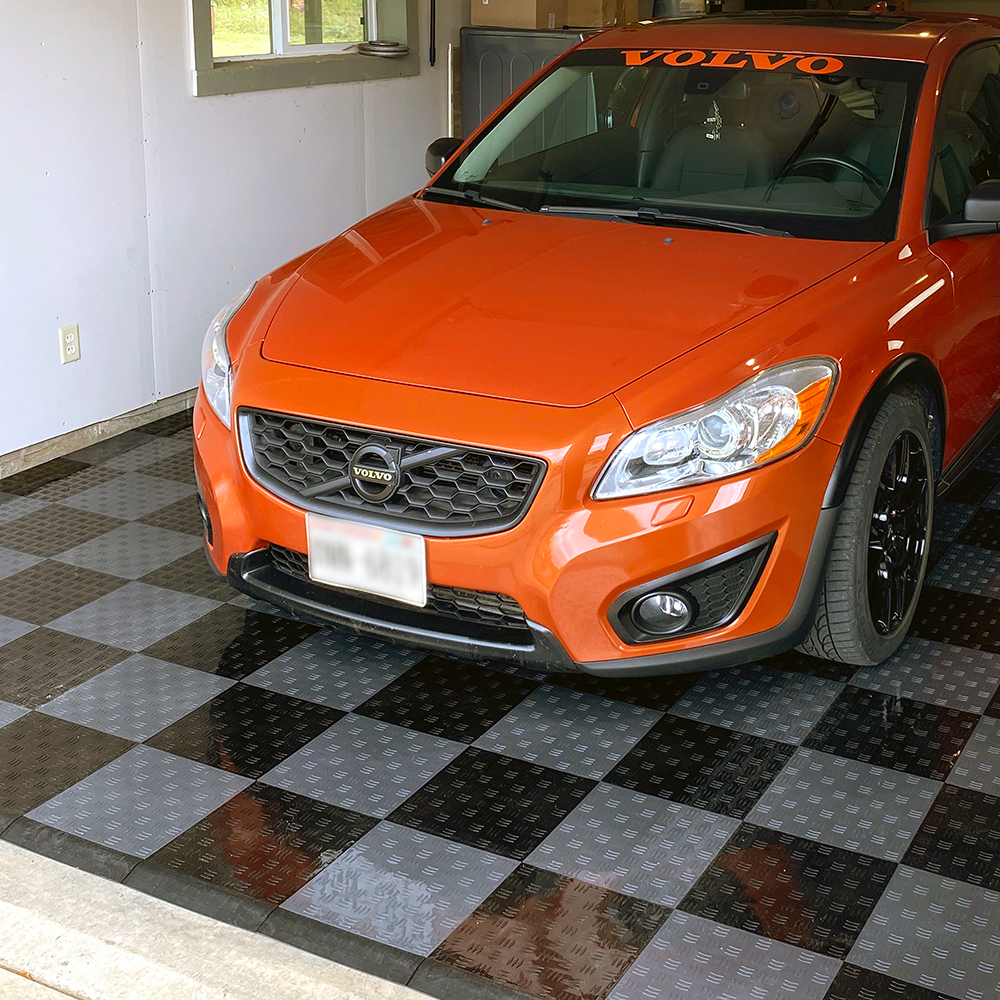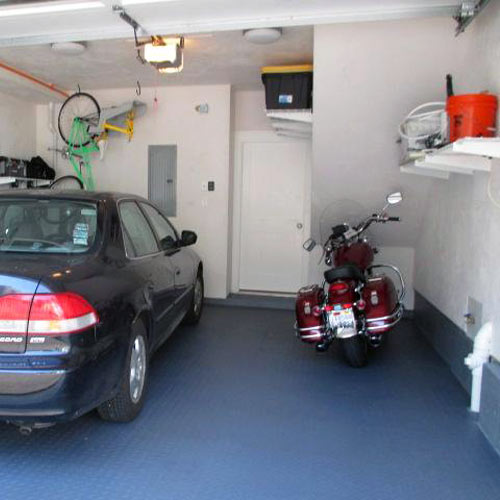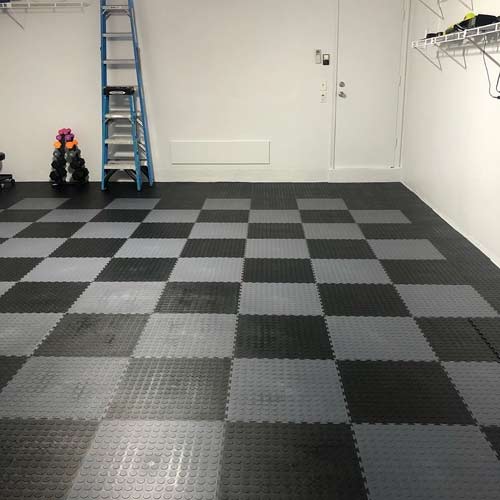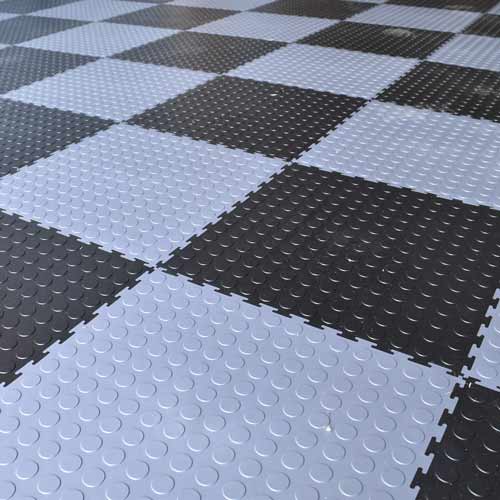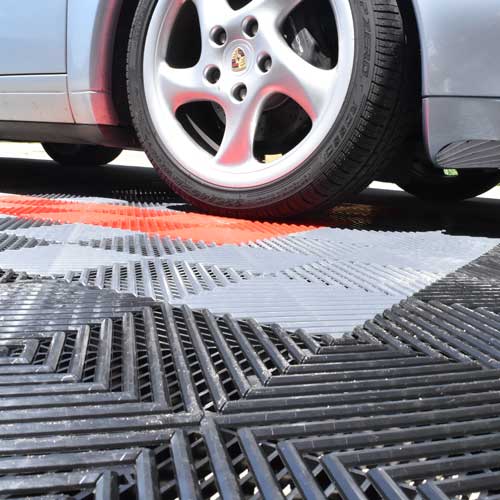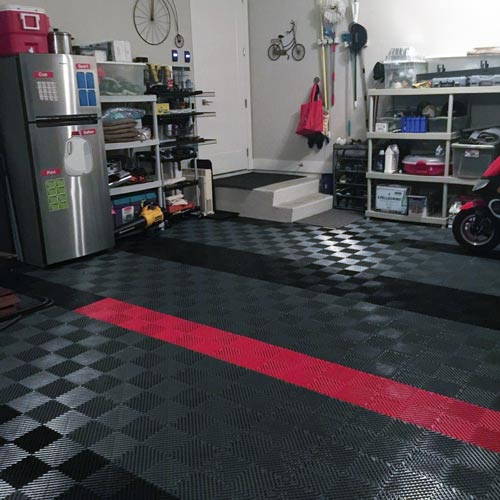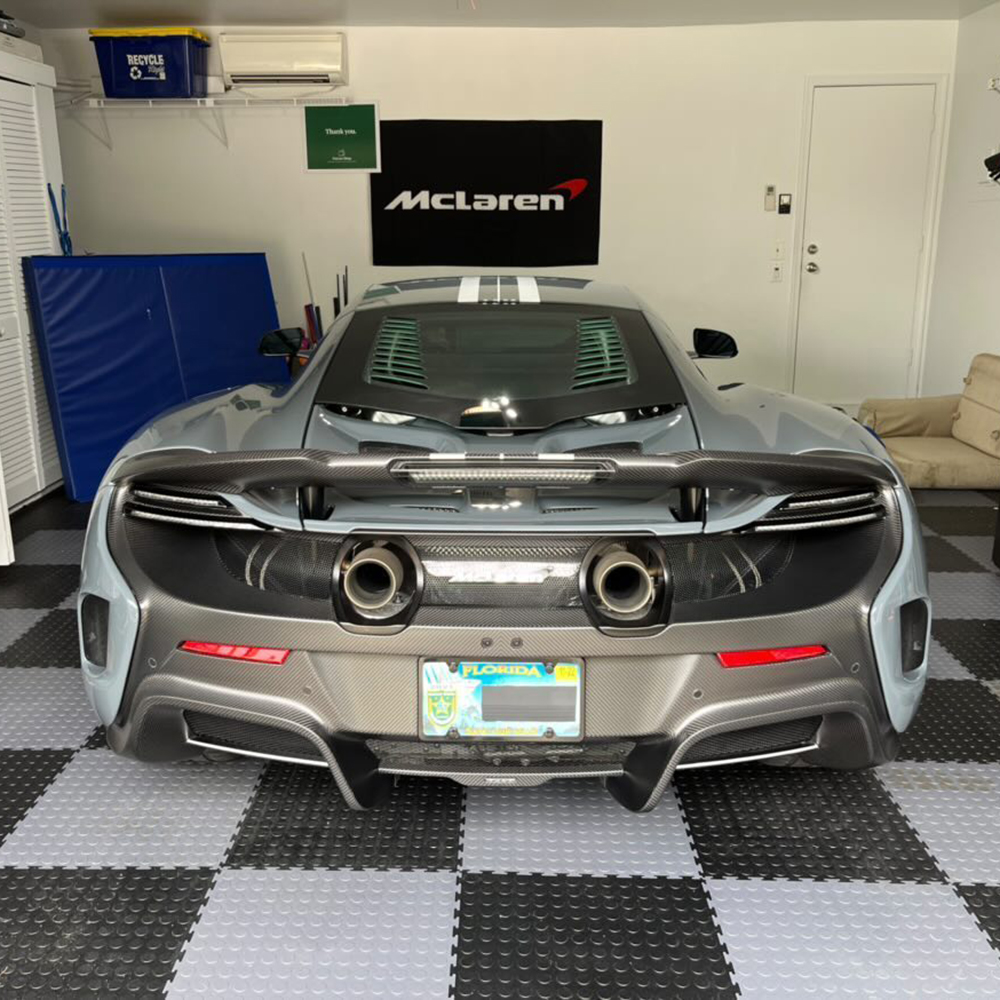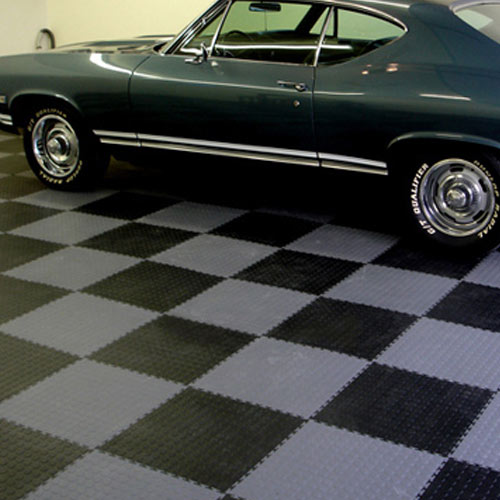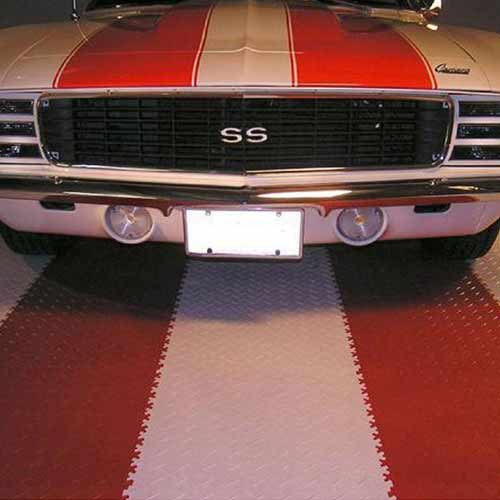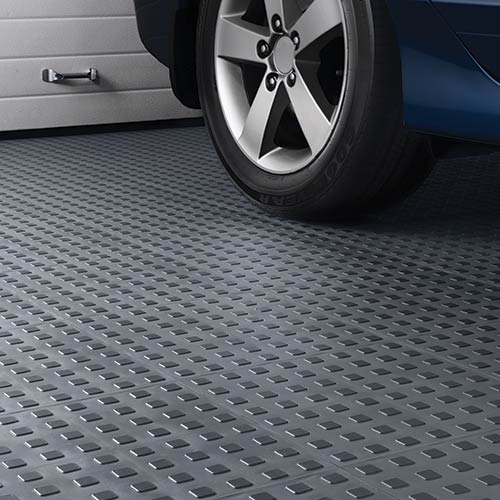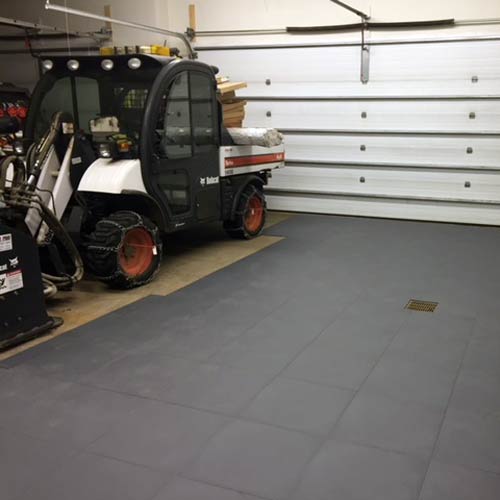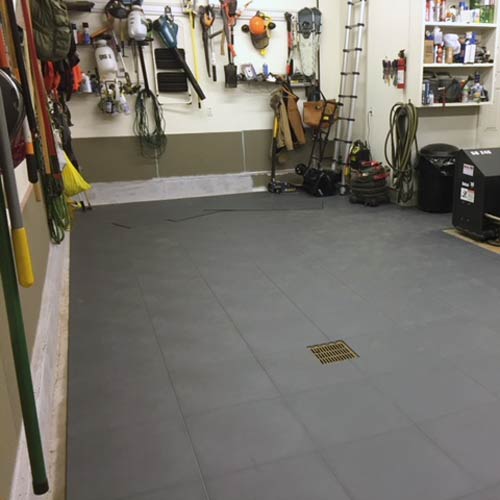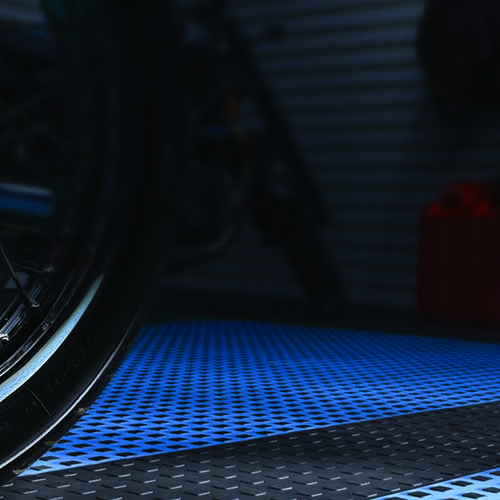 Garage flooring thickness recommendations will vary; generally, they range from 4.5 mm up to 5/8 inch based on the type of use case you have planned for the space. Whether you want to create a man cave in the garage, a workout space, a workshop, or a place to display your prized restored vehicle, you can find the perfect flooring thickness.
4.5 mm PVC Thickness (1/6 Inch) for Garage Floors
For a garage floor that's made for storing landscaping equipment, for working as a man cave, or for creating a workshop space, a 4.5 mm garage floor thickness should deliver the performance you need. When the floor doesn't need to accommodate turning vehicles, the 4.5 mm PVC flooring with a dry lay installation works well. If you're simply parking a car or truck on the flooring or using it in a workshop, it's perfect.
The
SupraTile Diamond Pattern Black / Grays Tile
and the
Coin Top Home Floor Tile
products are the perfect choice for this type of use case. The PVC plastic is resistant to corrosive liquids like oil and gas, and it's also easy to clean and maintain the material.
It consists of PVC plastic, meaning it has excellent durability. Each tile carries 2.77 square feet of coverage area and weighs 3.31 pounds, which simplifies the installation process.
These tiles have a coin-shaped texture on the surface to provide a sure footing, even when the garage floor is wet.
Con: The material will likely be too thin and flexible, however, for turning forklifts as the tire may grip the floor and cause them to buckle.
1/4 Inch PP Thickness for Vehicles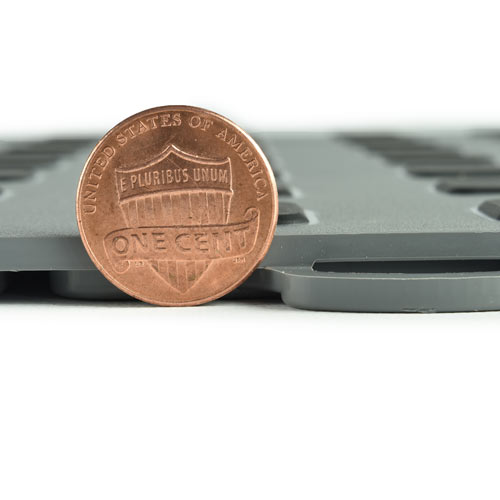 A 1/4-inch polypropylene plastic garage floor thickness will support the weight of averaged-sized vehicles. One of the best styles of flooring for this use case is the
TechFloor Premium Tile
.
This poly flooring has impressive toughness and durability, as it carries a limited lifetime warranty.
TechFloor tiles are available in many different colors, allowing you to create any kind of fun pattern in the garage flooring. The hidden interlocking system is easy to use too, which makes installation go fast.
1/4 Inch Rubber Thickness for Workouts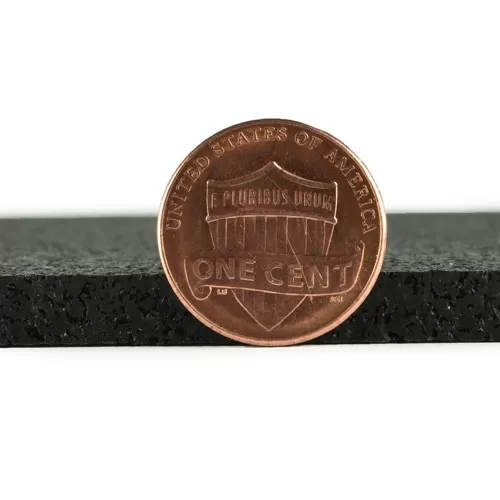 To create a workout space in your garage, instead of a place to park cars, rubber flooring is a smart choice. With a roll of rubber flooring, you'll often be able to get by a garage floor thickness measurement of 1/4 inch.
Requirements for gym flooring in a garage include the need to protect the subfloor from heavy exercise equipment or free weights. A 1/4 inch rubber floor is made handle for heavy exercise equipment.
The
Rubber Flooring Rolls
product covers 40 square feet per roll, giving you an excellent price per square foot. It's available in black with a few different color-fleck options.
Con: At this thickness, the rubber will not do a sufficient job of protecting a concrete subfloor from dropped weights. Rubber is also not to be used under vehicles as automotive fluids can cause rubber to break down.
8 mm Rubber Thickness (1/3 Inch)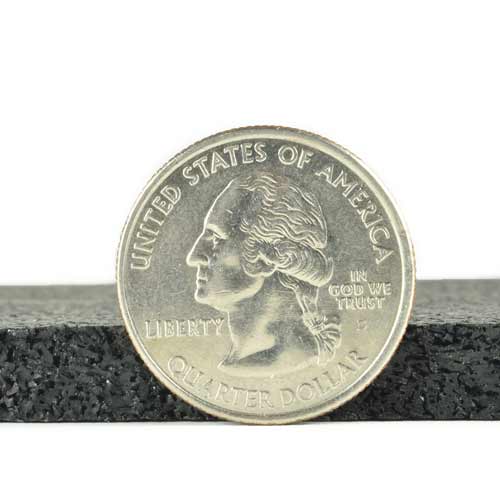 If you're looking to create a home gymnasium in a garage area, but don't want to work with a roll of rubber, the
Rubber Tile Utility
product is a nice option.
This tile has a thickness measurement of about 1/3 inch, which makes it a good choice when you want to protect the cement subfloor from light to midweight free weights or equipment like treadmills.
Each tile covers 8.25 square feet with interlocking puzzle-style edges, which means installation goes fast, even inside a huge garage. The individual tiles weigh 19 pounds.
Con: Again, rubber should not be used under vehicles, and to protect adequately against dropped heavy weights, you'll want at least a 3/4 inch rubber thickness.
5/8 Inch Polypropylene Thickness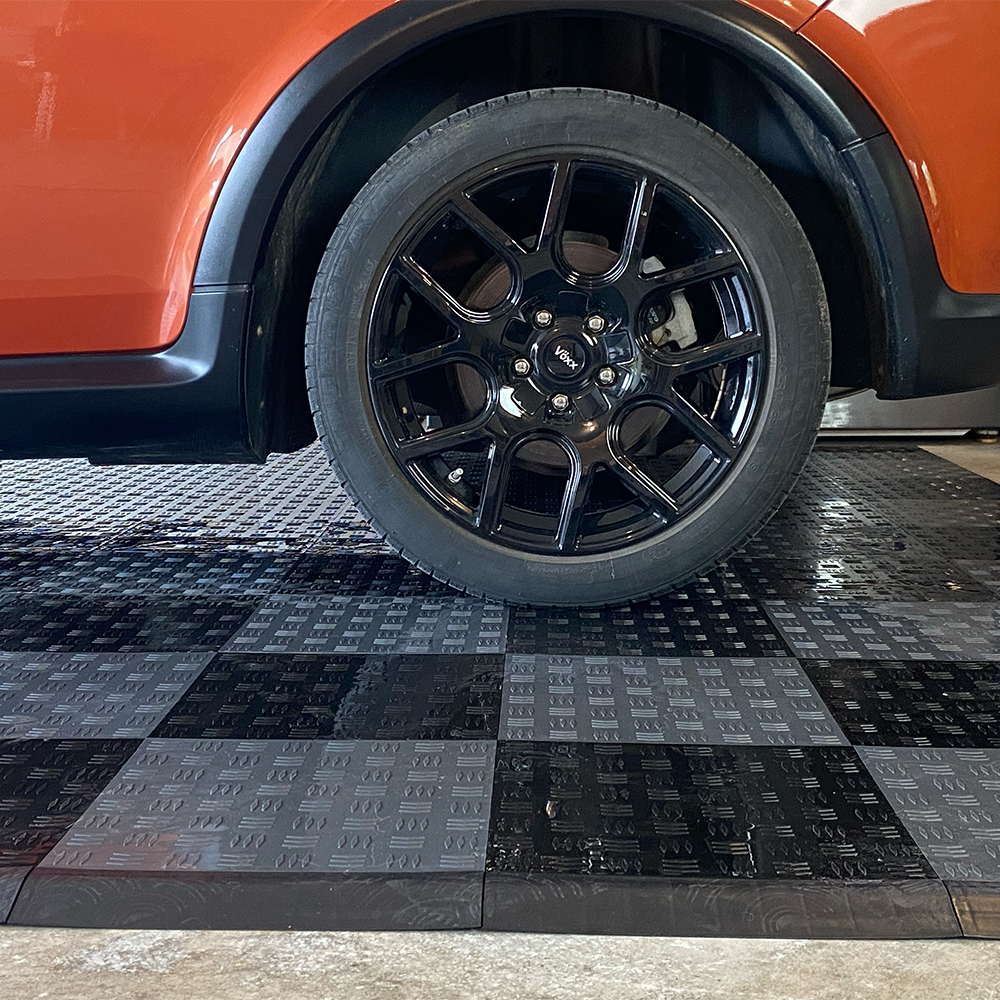 If you want to support the weight of a large vehicle up to 10,000 pounds, a 5/8 inch polypropylene garage floor thickness is the minimum level you'll want. (An average vehicle weighs 4,000 to 5,000 pounds.)
When supporting the weight of a parked car, a typical garage floor tile with this thickness measurement will protect the concrete underneath from any potential damage. Keep in mind this is not a solid material. It generally features a raised base with a specially engineer support structure.
The
Garage Floor Tile Diamond
product carries a 10,000-pound load rating, which is the perfect level of quality and durability for supporting a large classic car.
Each of these polypropylene plastic tiles measures 1-by-1 feet and weighs only 0.94 pounds, which creates a simple installation process.
These tiles appear in several different color choices, allowing you to create fun build designs, like a checkerboard pattern. This style is easier to assemble and disassemble.
For garage areas that frequently are wet, you may want a perforated style of tile, such as the
Perforated Garage Tile
. This poly plastic 5/8 inch garage floor thickness product can support up to 10,000 pounds of load weight, and it allows standing liquid to drain through to the subfloor.
Assembling a Great Garage Floor
Because garage floors must withstand large weights and rough conditions, it's important to have durable materials. Rubber, PVC plastic, and polypropylene all provide long-lasting performance over time. They also are easy to clean, which is important in a garage setting whether for automotive or gym use.
Count on Greatmats to deliver high-quality products, regardless of the garage floor thickness that you need. Many of our garage floors are made in the United States, which saves on shipping time.