What Is The Best Flooring For Jazzercise?
By Kyle Schurman Created: February, 2020 - Modified: February, 2020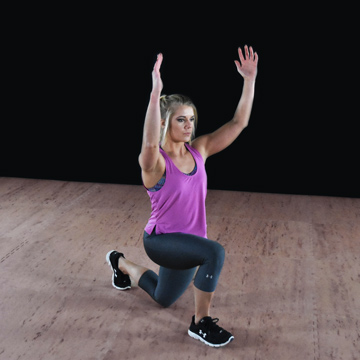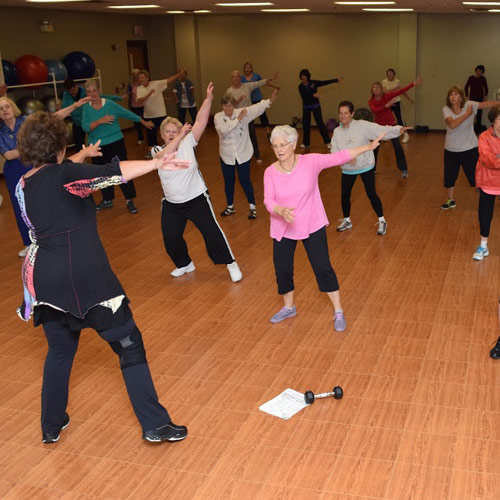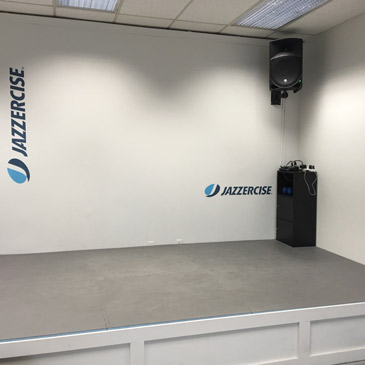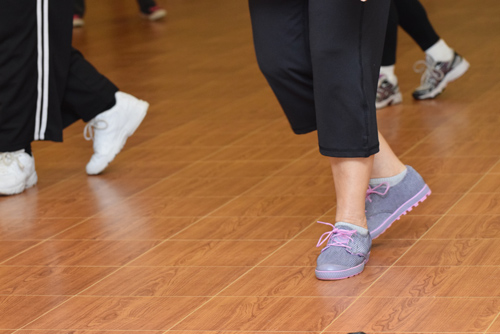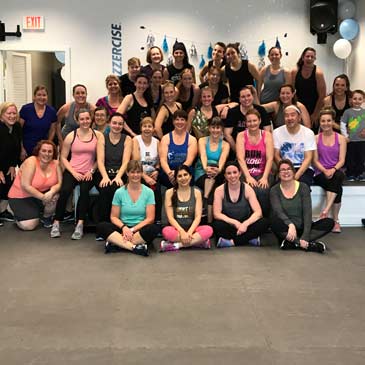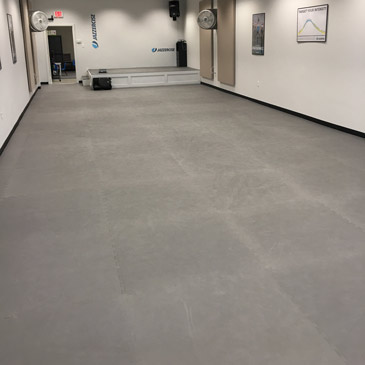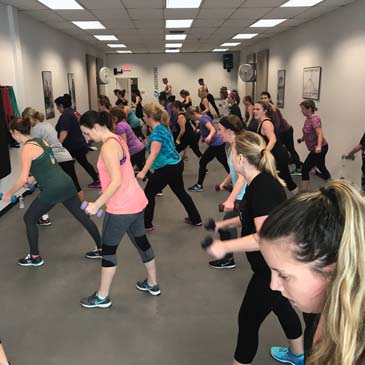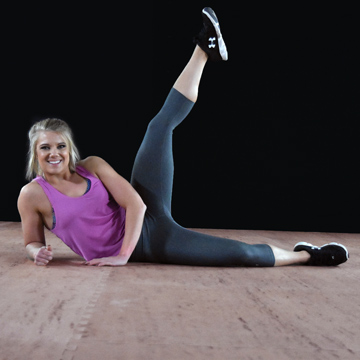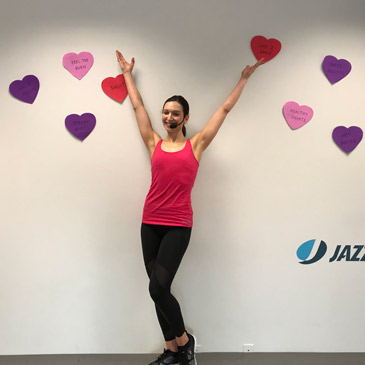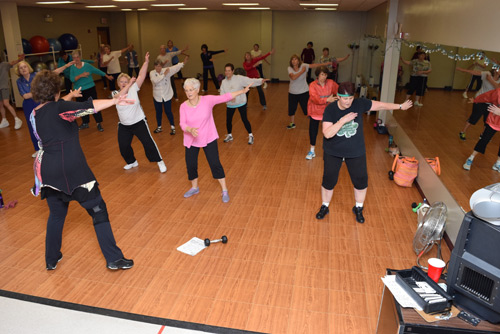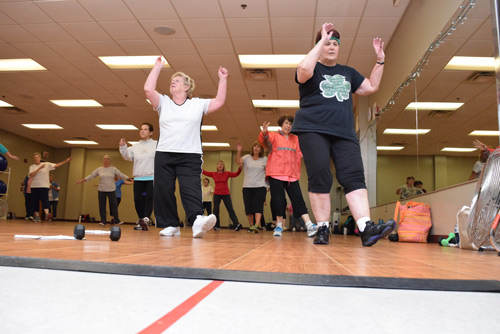 Jazzercise flooring is probably not the first thing Jazzercise students think about when they're ready to attend a new studio. Yet without the right type of floor in the studio location, students will find themselves with sore joints, leading to fatigue in muscles and shortened workout times.
For this type of fitness workout, finding the best aerobic dance and fitness flooring is a must for any instructor and studio owner. Having a high quality floor in place will encourage students to return to the studio for additional classes, leading to more success.
Jazzercise Workouts
With a Jazzercise class, students are involved in what can be described as a dance party workout, complete with music. Jazzercise blends dance with other types of fitness workouts, like yoga, kickboxing, and strength training.
This is a high intensity aerobic workout, giving students the ability to reach multiple fitness goals, including allowing them to lose weight, burn calories, or improve their cardio fitness levels.
Even though it can be a tough workout, it delivers a lot of benefits in a short amount of time. Athletes need a high quality type of dance exercise flooring to help them complete the workout successfully without suffering from ankle, knee, and hip problems.
Properties of a Good Jazzercise Floor
Here are some of the key features you should seek when shopping for Jazzercise flooring.
Anti-fatigue.
Because a Jazzercise class typically will last for almost an hour, students are on their feet for long periods. This type of floor needs anti-fatigue properties.
Anti-slip.
Athletes need a good level of traction from the surface of the flooring to perform the Jazzercise moves and steps without worrying about slipping.
Shock absorption.
With cushioning in the flooring, athletes can handle the repetitive movements without creating joint problems. This flooring cannot have too much cushioning, though, as it needs stability to allow for quick movements.
Shoes.
Greatmats floors recommended for Jazzercise will stand up to the types of athletic shoes that students wear during these classes.
Sound buffer.
Hard style floors may generate quite a bit of noise as students perform the moves. A floor with a slight cushion will absorb some of the noise.
Easy to clean.
These floors simplify removing sweat and other soils when cleaning between sessions, which is important in creating a desirable atmosphere that students will want to return to again and again.
Athletic Vinyl Padded Flooring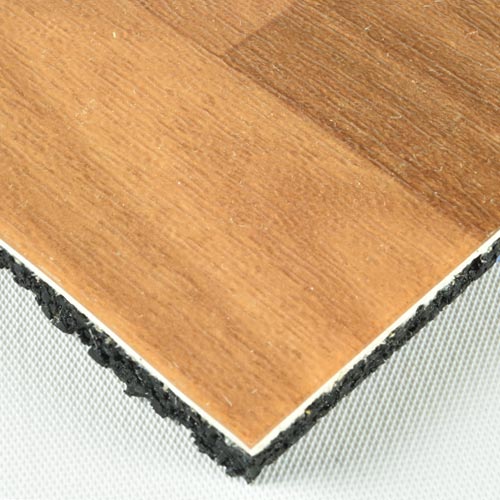 When you need a type of Jazzercise flooring that looks great and has a hidden padded layer, the Athletic Vinyl Padded Roll is a perfect choice, giving your studio the appearance of high-end flooring at a great value.
The top layer consists of 2 mm of vinyl that looks like wood paneling. This consists of high performance urethane, which resists wear, even when placed under constant foot traffic from Jazzercise students. It's also a low maintenance material that's easy to clean without requiring application of polish or wax.
The bottom layer is a 5 mm thick rubber base, which gives you the cushioning properties that are required for athletic workout flooring. The two layers are fusion bonded together, which gives you long lasting performance that's backed with a 10-year limited manufacturer warranty.
Modular Laminate Jazzercise Flooring Tiles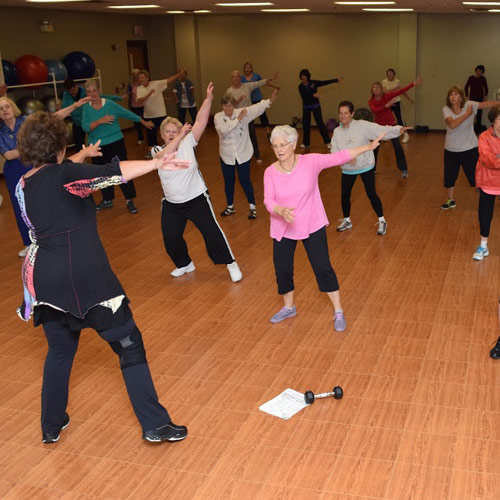 The
Max Tile Raised Floor Tile
product delivers an easy to install option for Jazzercise flooring. The interlocking edges connect tightly, meaning they will not pull apart under the stress of people working out on top of them.
As each interlocking tile only measures 12-by-12 inches, handling the individual tiles is an easy process. Should you need to pick up and store the tiles, disassembly is easy too.
These tiles consist of a vinyl top layer over a plastic base layer. The vinyl layer looks like wood, featuring a grain pattern that's available in multiple color choices.
The vinyl will stand up to regular foot traffic in athletic shoes without showing significant wear. This product carries a 5-year limited manufacturer warranty.
We do recommend placing a
rubber underlayment roll
underneath these tiles of between 3 mm and 6 mm in thickness. This will add the cushioning that Jazzercise students need for workouts.
If you already have a low-pile carpet in place, you can use that as your underlayment for a little bit of cushion beneath these aerobic flooring tiles.
Interlocking Jazzercise Floor Mats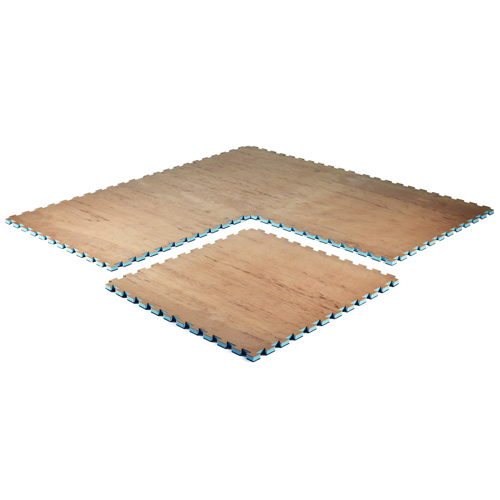 When you want the maximum padding available in Jazzercise flooring, the
Martial Arts Karate Mat Premium
product is a popular choice
among our customers
.
Each mat consists of a combination of high density PE foam and EVA foam, totaling 1 inch in thickness. PE foam is made to absorb energy, providing a high level of durability. The EVA foam gives these mats both durability and flexibility, which is important for athletes performing jumps and other moves that are tough on the joints in the lower body.
Installation of these 40-by-40-inch interlocking mats is an easy process, thanks to the puzzle style edges they have. Multiple color choices are available, so you can create just the right look for your city studio setting.
At Greatmats, we have all kinds of Jazzercise flooring available to meet the needs of studios. Count on Greatmats products to deliver long-lasting performance and a good value over time.