What Flooring Works Best With A Basement Sump Pump?
By Lisa Hobbie Created: December, 2021 - Modified: November, 2023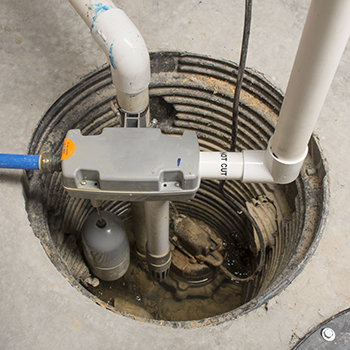 Any removable interlocking tile flooring product or surface with a raised base and waterproof benefits would be among the best choices for a basement with a sump pump.
A flooring system suitable for a finished basement sump pump space would likely have a low replacement cost, allow for air flow and drainage in the event of a flooded sink or toilet backup, and provide a DIY installation process. It will also be easy to cut or remove a single tile to allow for access to the sump pump.
Greatmats offers the best flooring solutions that would work around a basement sump pump, with the following 5 being some of the most popular options:
These five products would allow for air and water to flow and drain, and they would look great and perform really well around a basement sump pump. They each deliver some fabulous features and benefits, as well.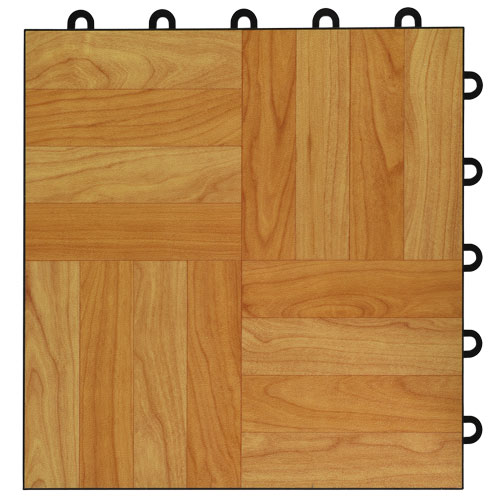 Max Tile Raised Floor Tile is one of the most popular and versatile removable modular products at Greatmats.
This flooring solution is truly perfect for any area with moisture - like a basement with a sump pump, bathroom, or kitchen. It features a raised base design that allows for air flow underneath - preventing the growth of mold and mildew.
This product has numerous wood design options from which to choose, and it is very easy to install by laying it on a flat, smooth surface like concrete and snapping the tiles together with your foot and allowing them to float.
This floor has a commercial grade vinyl surface that will never need to be resurfaced or refinished. In addition, there is an air pocket beneath it, providing a thermal buffer and airflow for damp areas.
Consider this product if you need or want to practice dance in a basement subject to flooding or seepage.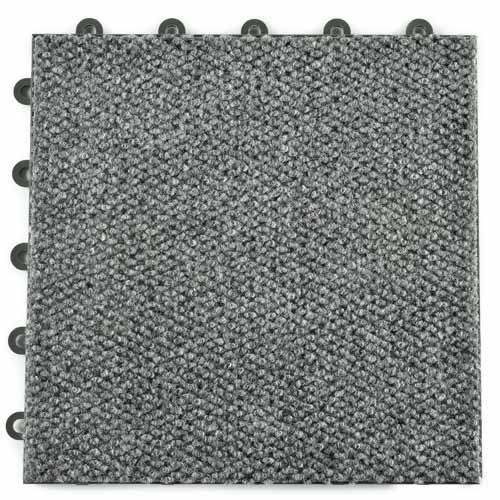 Carpet Tiles Modular Squares offer another option that is great for potentially damp areas like basement sump pump spaces. This cozy floating floor is made with recycled materials, and it features a berber like carpet top.
It is manufactured to withstand high roll loads with its top notch construction, and it is great for cold basement floors as they reduce transmission of cold temperatures from the subfloor through the carpet by way of the layer of air in between.
These modular carpet squares are easy to snap together, and they are equally as easy to remove if used in a temporary setting - or, to check for moisture. Because the floor is raised, if the subfloor gets wet, the carpet tiles will allow for airflow beneath and can be disassembled and re-installed as needed.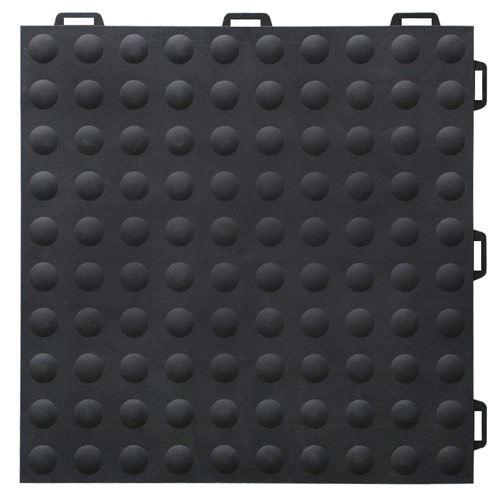 StayLock Tile Bump Top Black is a flooring product made of polyvinyl plastic while being durable like rubber with a cushioned, flexible feel similar to foam. It features a robust design that locks the tiles firmly together without separating over time. It offers superior support, while the bump top surface texture delivers ergonomic benefits and anti-fatigue properties.
This product is waterproof, and its lightweight design makes it a solution that is great for a permanent or temporary setting, and it works to prevent water from getting trapped beneath it, making it a suitable option for damp basement spaces near sump pumps. Ramped borders are sold separately.
This is an excellent solution for a basement gym or workshop.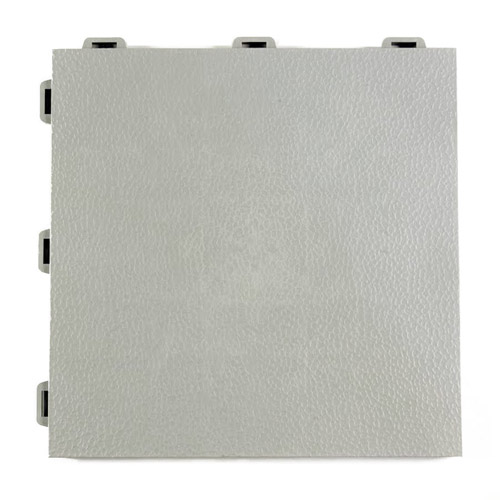 StayLock Tile Orange Peel Colors is a flexible PVC product that offers a snap together design for a quick, do-it-yourself install. The tiles are resistant to most acids and oils and are completely waterproof.
Available in different color options, a unique design or pattern can be created to add an artistic touch to your basement! This flooring will even hold up to the weight of heavy furniture and sharp tools and dropped objects while offering excellent anti-fatigue benefits.
This is an excellent basement exercise flooring system if water is frequently present.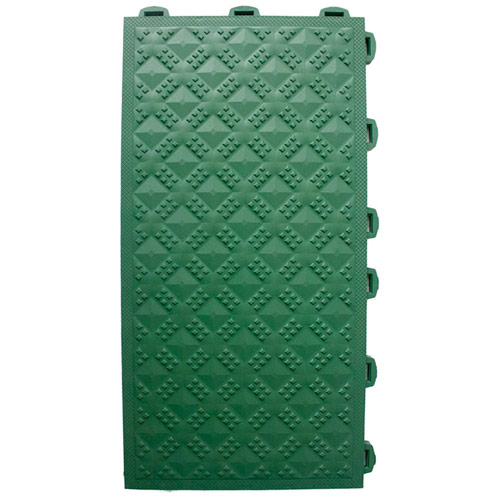 Ergo Matta CushionTred Solid is an option that offers fabulous traction and durability in high traffic settings. They deliver sound dampening and anti-fatigue qualities, are made from recycled materials, and come in many colors and designs.
This cushioned flooring product features a locking lug connection system, so once the tiles are placed, they will stay put. This is a great flooring option if your basement sump pump is in an area where kids will be on their feet or running around for play time.
Greatmats - For The Best Basement Flooring Options!
The products featured truly are among the best flooring solutions for basements with sump pumps. They all offer interlocking designs, anti-fatigue properties, versatility, removability and durability. They are also aesthetically pleasing, lightweight, and suitable for multiple applications.
Reach out to the team at Greatmats if you want to learn more about any of the featured products. They can help you decide which solution is the right one for you and even help you place your order.
Regardless of the specific product you select, you can be confident in the fact that you are getting one of the best on the market. Greatmats products are made using the best materials and quality craftsmanship, so you can be sure that your flooring will look great and perform well.