What Are The Best 3x3 Rubber Mats?
By Lisa Hobbie Created: March, 2021 - Modified: March, 2021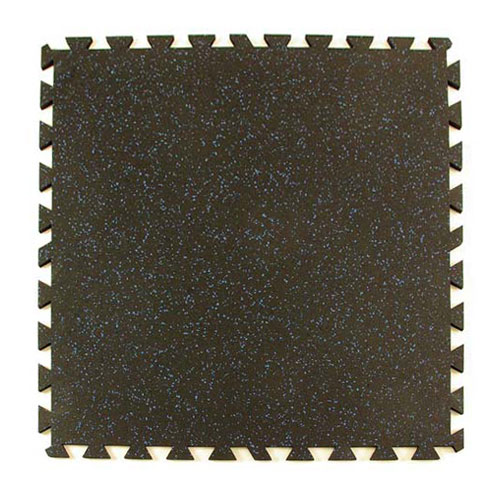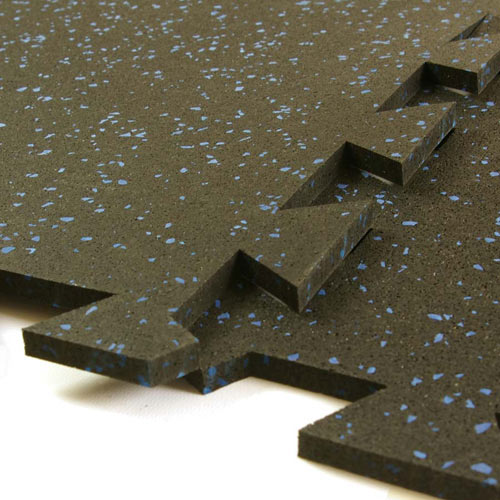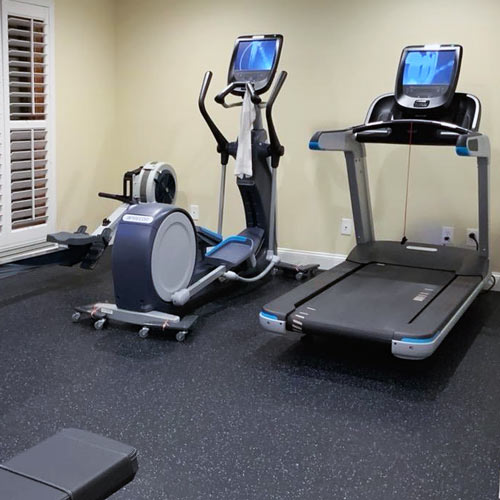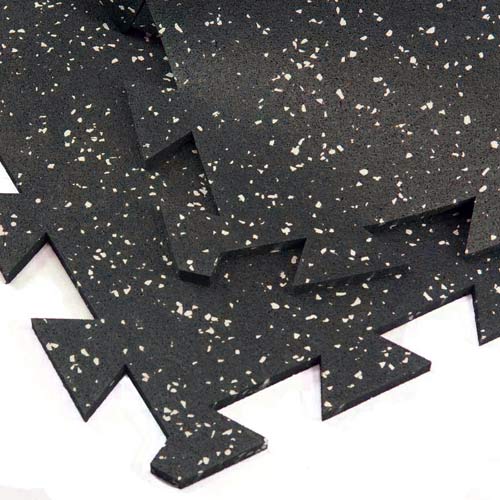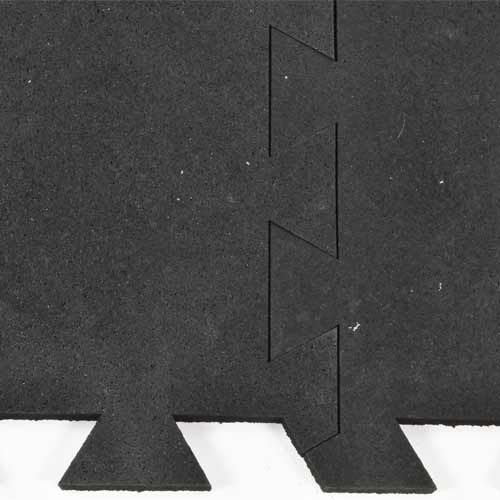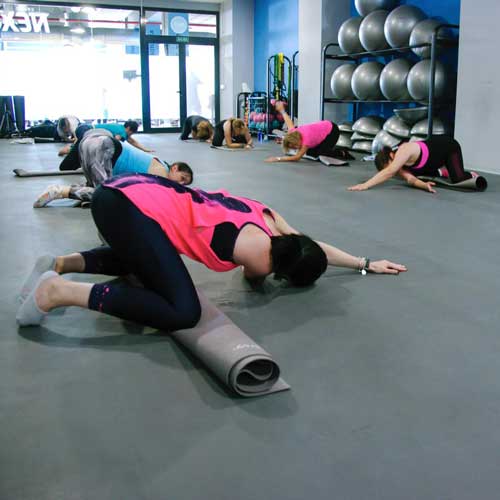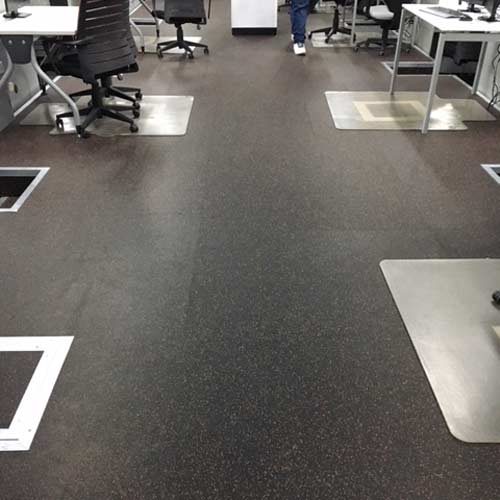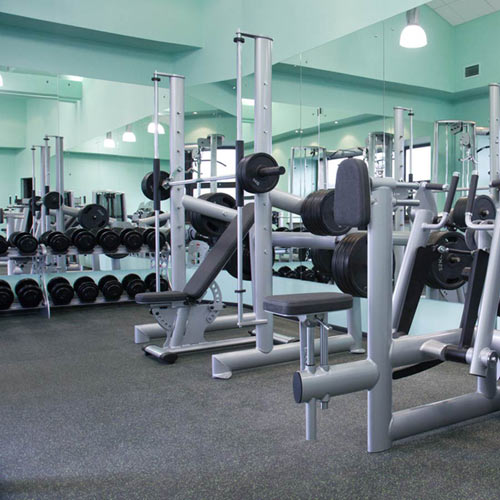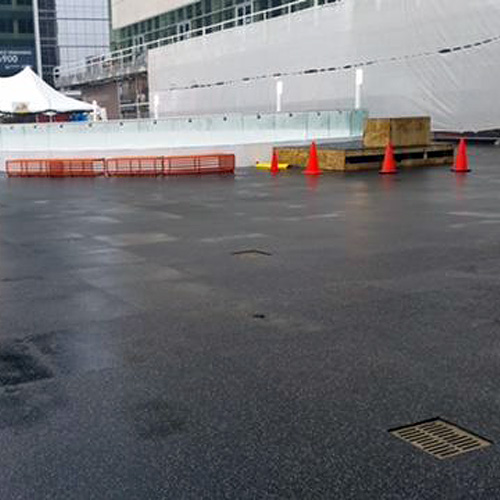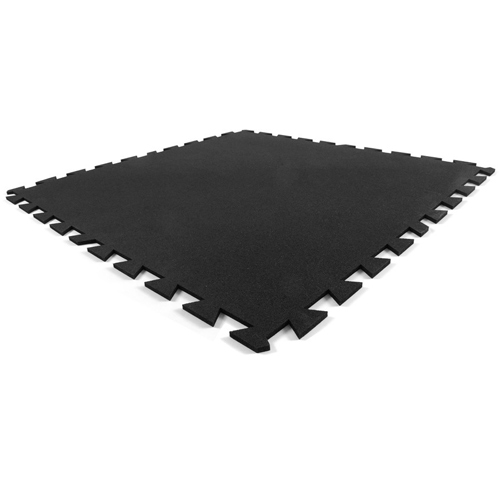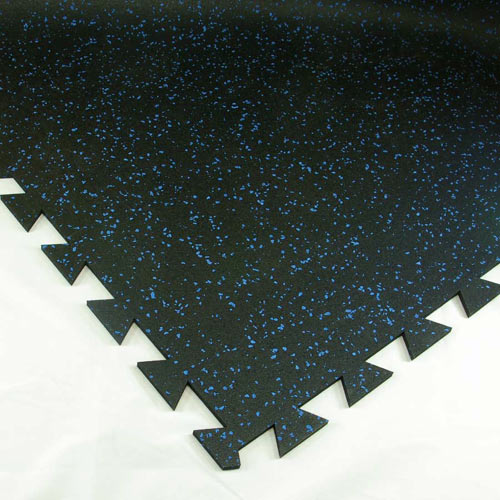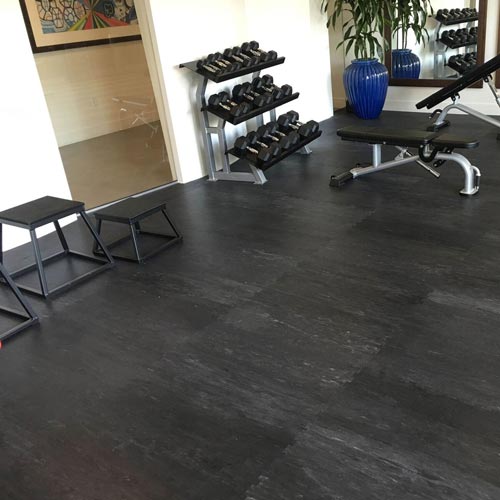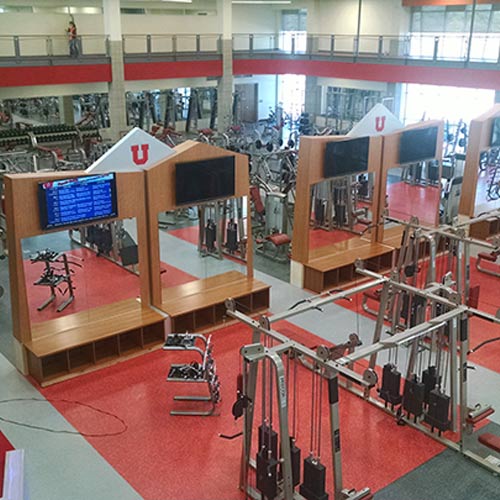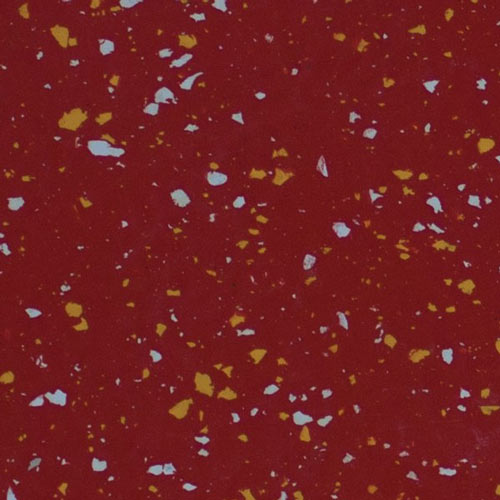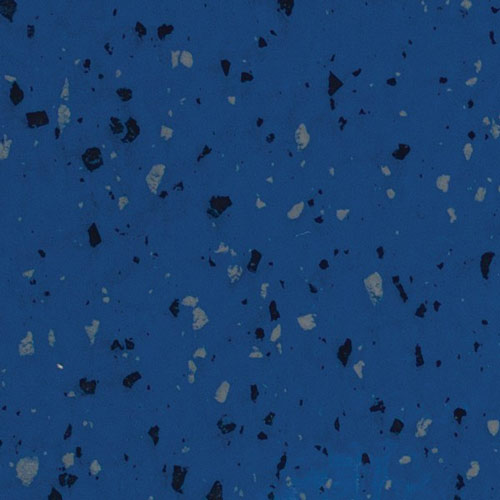 3x3 rubber mats are used for many applications. From anti-fatigue to exercise mats to entryway mats and horse stall mats. 3x3 foot rubber floor tiles are super popular, because they cover a large amount of space in no time, making it fast and easy to transform a space. Regardless of which particular type of 3x3 rubber floor tiles you're interested in, Greatmats has the best, low cost options for sale, anywhere.
For The Gym & Weight Room Settings:
Greatmats offers so many different types of
3x3 rubber mat
options that provide a sports pad on which to lift, squat, and work out. They can be used alone, or, by piecing a number of them together to create a suitable floor for your workout or
weight room
space.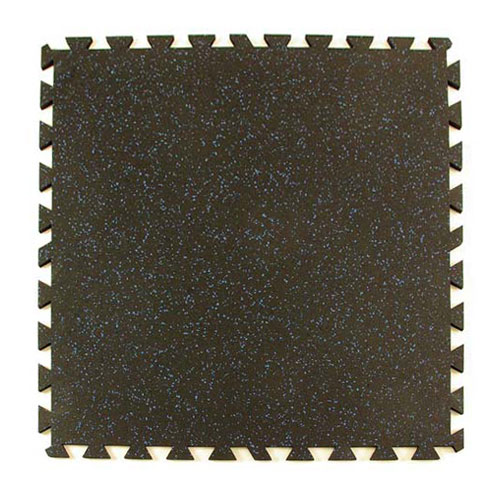 ​Geneva Rubber Tile with 10 percent color
is a quality flooring product that is a durable option for those seeking something other than a basic black rubber tile. These ⅜ inch thick tiles feature a 10 percent distribution of color flecks throughout the tile. It's a made-in-the-USA product that is easy to assemble and install without adhesive. It's a great solution for home or commercial gym floors. There are also
8 mm Thick Geneva Tiles with 10 percent color
that carry a Shore A 60 material hardness rating, making them perfect for weightlifting areas, keeping the subfloor safe from accidentally dropped weights.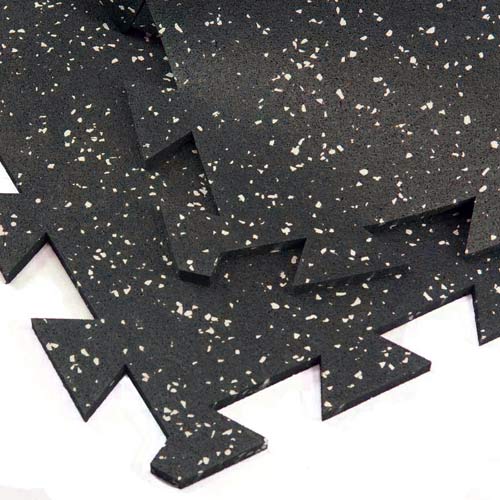 For an option with even more color, try the Geneva Rubber Tile with 20 percent color! These ¼ inch thick 3x3 rubber floor tiles offer an excellent level of performance and value, and they come with either tan color flecks or blue color flecks. The color will never wear away over time, and the product will look and perform well long beyond its 5-year warranty.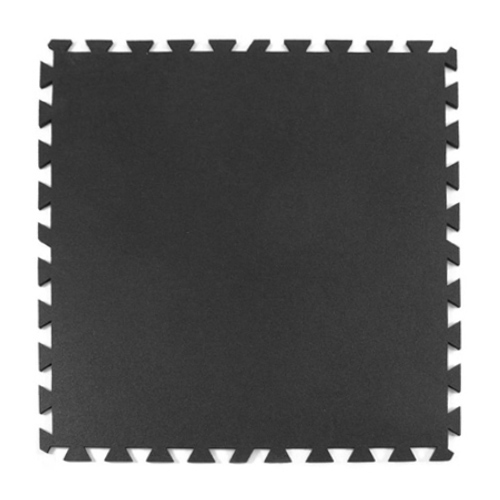 Geneva Rubber Tile is also available in a classic black look, which really appeals to certain gym owners. These 3x3 rubber floor tiles provide a high level of quality that ensures the mats will stay put once installed - preventing potential tripping hazards that occur from exposed seams of other mats. These ⅜ inch thick mats are made from block rubber, so they lie flat and will not curl like cheaply made mats do. The
Black Geneva Rubber Tile
Black Geneva Rubber Tile is also available in an 8 mm option. Geneva Rubber Tiles really are among the best that are for sale, anywhere. They are waterjet cut, providing for a tighter fit than those that are stamped or die cut. They are also environmentally friendly and priced right. The tiles are also very tough and durable.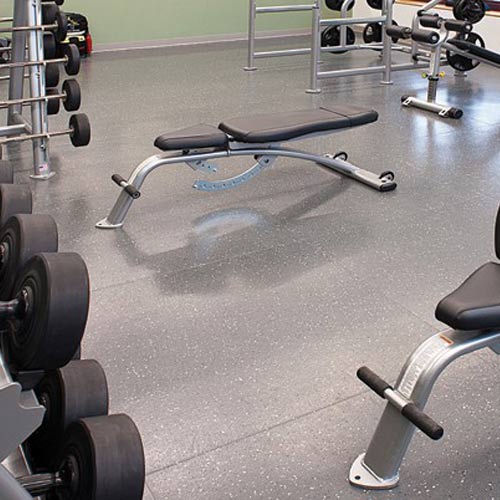 Spectation Gym Floor Straight Edge Rubber Tiles are great for a fitness or gym floor, as they offer great shock absorption and spike resistance. The mats also come in a variety of colors, so they are great for those looking for 3x3 rubber floor tiles that aren't just standard black. These are 9 mm thick and are non porous with a hammered finish on top and recycled black rubber underneath. They require a glue down application process.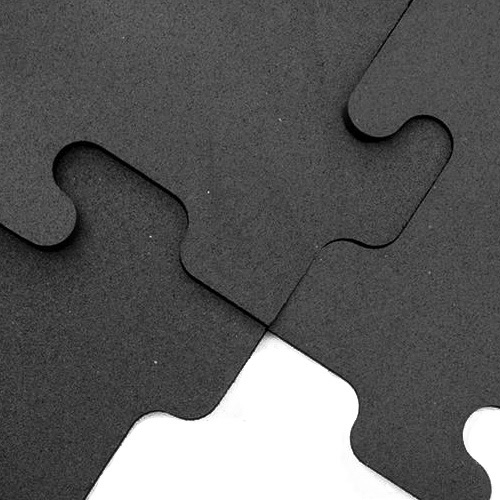 Mega Lock Rubber Tile is a low-odor, recycled-rubber 3x3 rubber mat that provides excellent traction and is slip resistant. The tiles are also sound and shock absorbing, and they are very easy to install with their adhesive-free interlocking design. Use Mega Lock tiles for for weight rooms, locker rooms, gyms, skating rinks, and any other application requiring spike protection. These 3x3 rubber floor tiles are made of the most durable rubber available and will last for years under the heaviest use.
For Other Applications: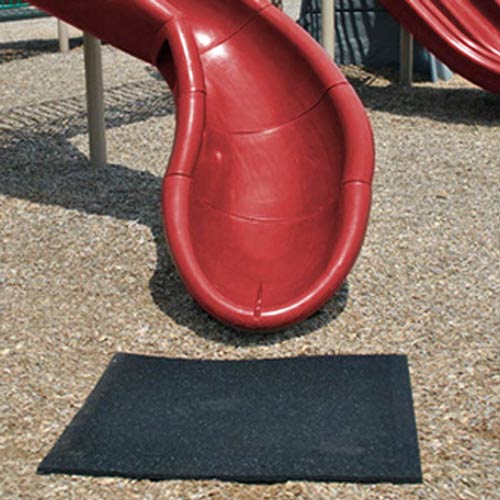 Playground Mats are perfect for a
swing
and slide landing pad. This 3x3 mat option offers a safe cushion at the end of a slide or under a swing. It also protects against movement of mulch or pea rock and prevents ruts in playground surfaces. The mat provides anti-fatigue benefits and protection against bumps and bruises that could otherwise occur. They are black in color and made in the USA of recycled rubber.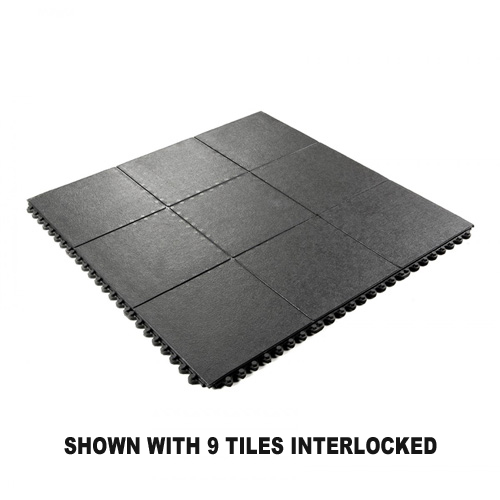 Wearwell 24/Seven 3x3 Rubber Floor Tiles are among the highest performing anti-fatigue mats available anywhere. This 3x3 rubber mat option is an interconnecting
anti-fatigue mat
that is used to cover large flooring areas or workstations where ergonomic benefits are needed. They are resistant to grease, boric acid, and ethylene glycol. They are thick and tough enough to endure 24/7 shift operations, offering cushioned support where needed.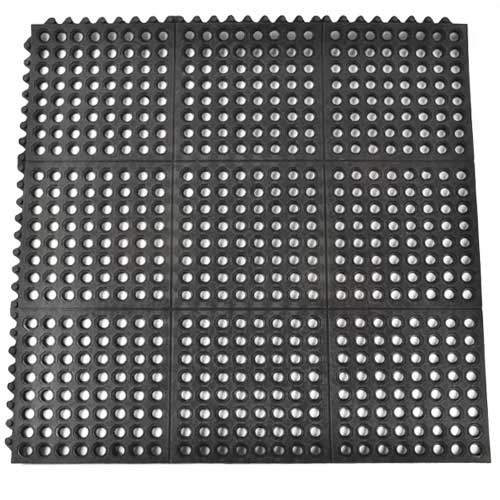 3x3 Ring Mats for Equine Use work really well in
wash bays
and other wet areas. They are extremely durable, anti fatigue, and have an anti slip surface texture. Ring mats are perforated with holes that allow water to flow through, and the ⅝ inch thickness allows for heavy weight. They are made from durable waterproof material that is suitable for any indoor or outdoor area.
How Thick Are 3x3 Rubber Floor Tiles?
There are many different thicknesses of 3x3 rubber mat products, and deciding which thickness is best for your space or project depends on what the mat will be used for.
Will you be having furniture and exercise equipment on the mats?
Are you using mats to protect a subfloor?
Perhaps, you will be using a 3x3 mat flooring system to work out on. There are different thicknesses for different applications and purposes.
PaviGym Performance 5.5mm Fitness Gym Floor Tile is a product designed by a company that specializes in creating floors for the health club industry. When it comes to designing the ideal thickness for 3x3 rubber floor tiles, they get it done. The 5.5 mm (.22 inch) thickness is suitable for use with exercise and weight machines. The floor is slip and wear resistant and will outperform its competition.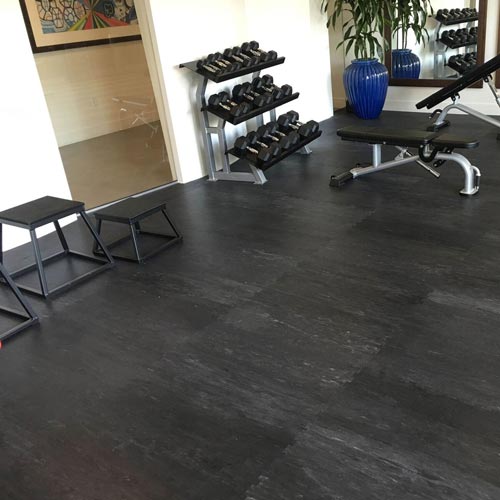 PaviGym Motion 3x3 rubber floor tiles are designed for group fitness studios. They are 9 mm (.35 inch) thick, which provides a sturdy yet comfortable floor to perform anything and everything from aerobics and
Zumba
to pump and more. It absorbs impact and prevents vibrations from being transferred away from the point of impact, resulting in less injuries. It also has optimized friction providing the perfect grip to reduce slips and painful blows.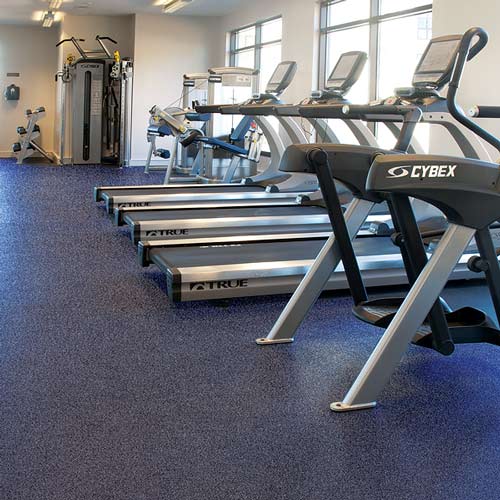 A slightly thicker, 10 mm (.39 inch) 3x3 rubber mat flooring system is the Domination Rubber Gym Square Tile product. Designed to absorb shock and resist stains, it's also sound reducing and spike and blade resistant. It's made from 50 percent recycled rubber and made to endure dropped weights and heavy equipment.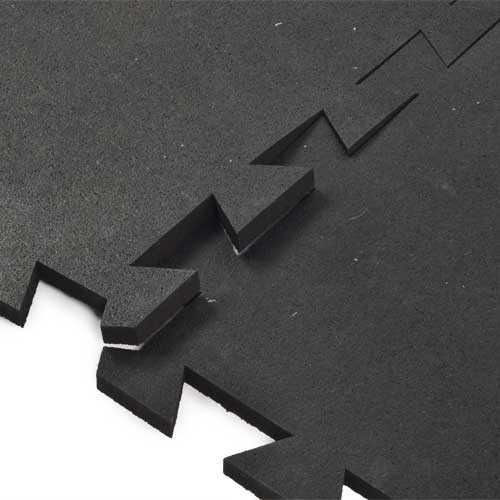 Geneva Rubber Tile, as highlighted in Part 1, is available in numerous thicknesses - including the ½ inch (12.7 mm) thick options. This particular black mat can be used in commercial gyms, weight rooms, or home gyms. It is one of the top products for those looking for a 3x3 rubber mat, as it interlocks tightly with other mats - ensuring the highest level of performance. It's a durable option to provide support for heavy exercise equipment in your home or commercial athletic facility without damaging the sub-floor.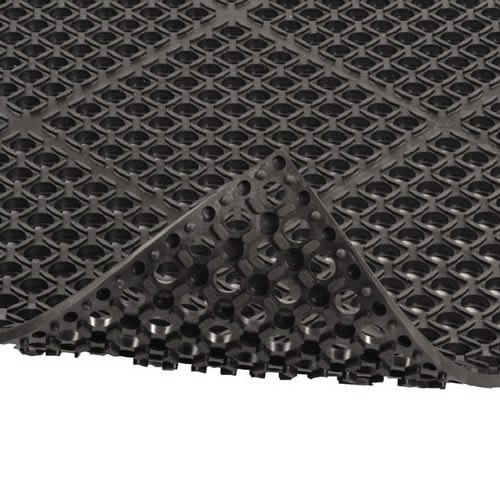 Cushion Tred Anti Fatigue Mats are ⅞ inch (22.23 mm) thick. This ergonomic safety mat can be used in wet, dry, or oily areas such as
restaurants
and food service facilities. They are made of a durable rubber compound that can endure almost anything, and a holed drainage system eliminates liquid and debris from the work area. Its flexible cushion design offers the highest level of comfort and anti-fatigue benefits for those forced to stand and work for extended periods of time.
Greatmats - for the best variety of 3x3 rubber mat and floor tile options!
Greatmats truly offers the best in terms of 3x3 rubber mat flooring solutions; the best price, the best quality, and the best service. From colored 3x3 rubber floor tiles to create a custom look, to a variety of simple rubber mat options that simply interlock for a DIY self project. . . Greatmats offers it all. This size of options are extremely popular for their ease of installation, low lifetime and replacement cost, durability, and versatility. Regardless of the options you choose - either one of those highlighted here or one of the others at Greatmats, you can be confident in your purchase and know that you're getting the best.