LonCoin II Featherweight Vinyl Rolls 6 x 60 Ft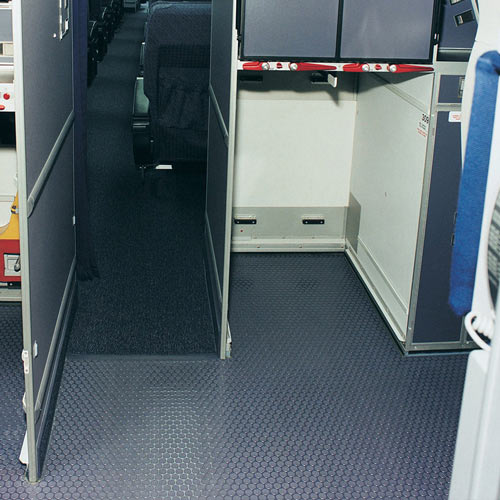 Featherweight vinyl flooring
Coin top surface
Specialty Vehicles
Ships Out: Estimate 4-6 Working Days

Black

Brown

Cerulean Blue

Dark Blue

Indigo

Gray

Navy Blue

Purple Blue

Sonic Gray
How Much Flooring Do I Need?
TOP FEATURES
Featherweight vinyl flooring
Coin top surface
Specialty Vehicles
Slip resistant
Anti-microbial
GreenAir®
Recycled content
Antimicrobial
Use Types
Corporate & Education, Fitness, Retail & Hospitality, Displays & Fixtures, Exhibits & Entertainment, Military, Specialty Vehicles
NOTE: This item is a custom order and is not returnable.
LonCoin II Featherweight Vinyl Flooring, sound absorption
LonCoin® II Featherwieght for use in military and specialty vehicle application LonCoin II Featherweight Vinyl Rolls 6 x 60 Ft.
LonCoin II Featherweight Vinyl Flooring Roll, 6x60 Feet

Only certain types of vinyl floors are appropriate for use in military and specialty vehicles. Our LonCoin II Featherweight Vinyl Flooring Roll meets all primary requirements for these type of vehicles.

Also will work in a specialty vehicle, or in a commercial location. Our LonCoin II roll is a useful style of vinyl flooring to deploy in any location where the weight of the floor is important to the success of the installation.

Our featherweight flooring is up to 30% lighter per square foot of coverage versus standard NTF flooring products. Even with a lightweight design, it has a high level of durability and stability that is sure to impress visitors to the space and that will provide a great value for customers over time.

For current installation documents from Lonseal, please visit the

Lonseal website here click here

.

For General Lonseal Installation Information

click here

.
Coin Mat Sheet Vinyl Roll
Beyond being lightweight and conserving weight vinyl flooring has a number of specialty features that make it ideal for use in many locations.
FAA Flooring Requirements
When using our vinyl flooring, customers can have confidence in the flooring durability.
It specifically meets FAR 25.853(a), which creates flammability standards for the flooring. This standard ensures the proper level of fire protection in the passenger or crew areas in specialty vehicles.
It meets multiple other flammability specifications, including FMVSS 302, which measures the flammability of interior materials in occupant compartments of vehicles.
It also meets FAR 25.793, which determines the slip resistance of flooring that could become wet through normal use. The coin mat embossed surface of this flooring delivers a texture that people need, allowing them to maintain their footing.
Noise Resistance
Each roll of our vinyl flooring consists of three different layers, which helps with creating noise resistance and sound absorption.
The flooring has a 0.8 mm wear layer that contains both a clear protective layer across the top and a color layer underneath. The transparent layer allows the color layer to maintain its like-new look, even in an area with high foot traffic, over many years.
The backing layer serves to deliver dimensional stability, measuring between 1.0 mm and 1.5 mm in thickness. The backing layer is thicker in areas where the coin top embossed pattern exists.
Chemical Resistance
The flooring is able to stand up to multiple kinds of spills. Our roll of flooring will have resistance to a number of substances, including:
Ammonia (5% concentration)

Bleach (5.25% concentration)

Citric acid (10% concentration)

Coffee

Hand sanitizer

Hydraulic fluid

Ketchup

Mustard

Red wine

Eco-Friendly Materials
Our roll of coin top vinyl contains some recycled content, which helps to keep old vinyl away from landfills.

This vinyl configuration meets GreenAir requirements for low VOCs, which enhances the indoor air quality in an enclosed spaces.

Additionally, this flooring will meet GreenMedic specifications, which measures the microbial resistance of the flooring.

This roll of flooring meets REACH standards set forth by the European Union, which enhances the ability to use it in a small, enclosed area.



Lightweight Vinyl Flooring Roll Specifications




Width: 6 feet

Length: 60 feet

Thickness: 2.3 mm (about 0.092 inches)

Wear layer: 0.8 mm (about 0.032 inches)

Coverage: 360 square feet

Weight per roll: 230 pounds

Weight per linear foot: 3.83 pounds

Colors: Brown, Black, Sonic Gray, Medium Gray, Cerulean Blue, Dark Blue, Navy Blue, Purple Blue, or Indigo

Texture: Embossed coin top surface




Maintenance and Care


When used in specialty vehicle, our vinyl flooring is an excellent choice because it only requires occasional cleaning. Depending on the type of use case, people may need to clean this flooring daily, weekly, or somewhere in between.

The majority of customers will want to sweep or vacuum this floor on a daily basis. Removing dry solids and dust from the floor will reduce the possibility of staining over time, meaning customers do not have to perform more thorough cleanings as often.

When you need to remove stains, customers may use a mop or an auto-scrubbing machine. Mix warm water with a neutral pH cleaner at a dilution ratio that the cleaner manufacturer recommends. If using an auto-scrubber, keep the machine's setting at a low speed of 300 rpm or less.

After washing the floor, allow it to air dry over a few hours or remove excess liquid with a wet/dry vacuum.

If you encounter sticky substances on the Lonseal flooring, you have the option of removing them with a putty knife. Do not use too much force with the putty knife, or you could scratch or damage the vinyl.

*Sonic Gray and Cerulean Blue have a pearlescent tone, shifting hues as the angle of view changes. Please request a sample swatch for color accuracy.



Shipping

Ship via freight delivery

This Product Ships Freight Only.
Please review our shipping disclaimer.

WARNING: This product can expose you to chemicals including Lead and/or Phthalates, which are known to the State of California to cause cancer and birth defects or other reproductive harm. For more information go to www.P65Warnings.ca.gov.
ACCESSORIES
Accessories for LONCOIN II FEATHERWEIGHT VINYL ROLLS 6 X 60 FT
ANSWERS
Product Questions:
Q: Does have a burn certificate
A: CFR 14 §25.853(a), Appendix F, Part I(a)(ii) — 12-Second Vertical Flammability The flooring is exposed to an open flame for 12 seconds. To pass, the material must self-extinguish within 15 seconds. Additionally, the burn length on the sample must not exceed 8 in. (20.3 cm), and no drippings from the sample may burn longer than 5 seconds after falling CFR 49 §571.302 — Flammability of Interior Materials The flooring is exposed to an open flame for 15 seconds. The burn rate is measured and must not exceed 4 in. (10.2 cm) per minute. Material that self-extinguishes before it has burned for 60 seconds and has a burn length less than 2 in. (5.1 cm) is considered to meet the burn rate requirement.
SPECIFICATIONS
| | |
| --- | --- |
| SKU# | LS-LoncoinII-FW |
| In Stock | Yes |
| Product Type | Roll |
| Material Type | Vinyl |
| Product Edging | Straight |
| Thickness | 2.3 mm |
| Width | 6.00 feet |
| Length | 60.00 feet |
| SF per Item | 360.00 |
| Weight | 230.00 lbs |
| Packaging | Shrink Wrapped on Pallets |
| Number of Pieces per Package Type | 9 |
| Non Absorbent | No |
| Special Adhesives | Yes |
| Interlock Loss | 0.00 feet |
| Interlocking Connections | No |
| Made In | Japan |
| Surface Finish | Coin |
| Surface Design | Solid color |
| Installation Method | Glue down, weld seams |
| UV Treated | No |
| Reversible | No |
| Border Strips Included | No |
| Leed Points | Yes |
| Manufacturer Warranty | Limited manufacturer warranty |
HOW TO'S
RELATED PRODUCTS
RELATED BLOGS