Cushioned Gym Flooring for Home - Interlocking Pebble Mats
By Paige Cerulli Created: July, 2017 - Modified: February, 2021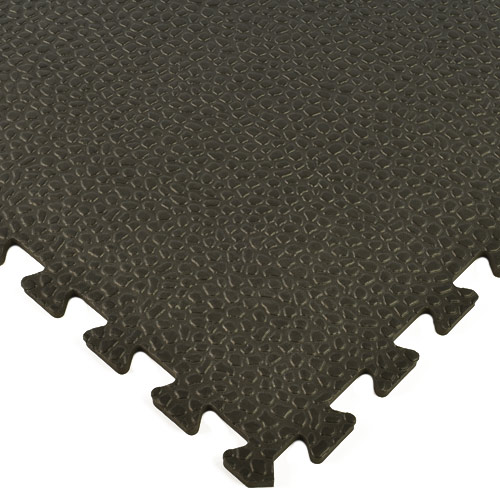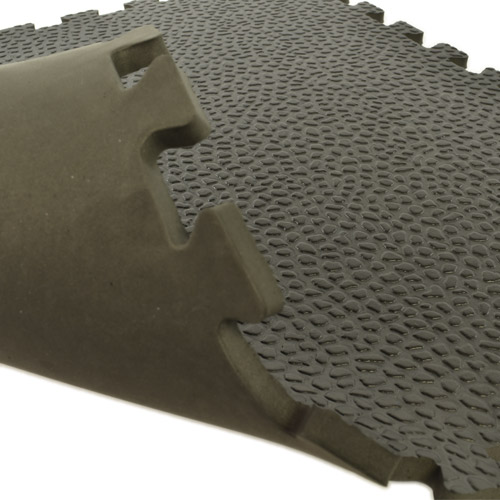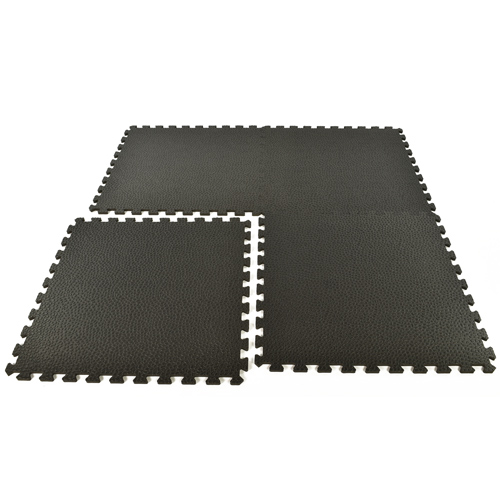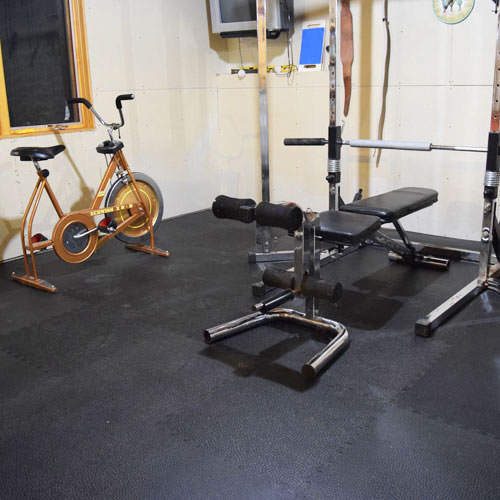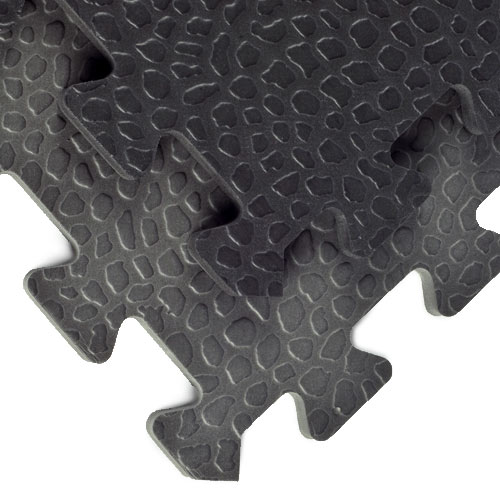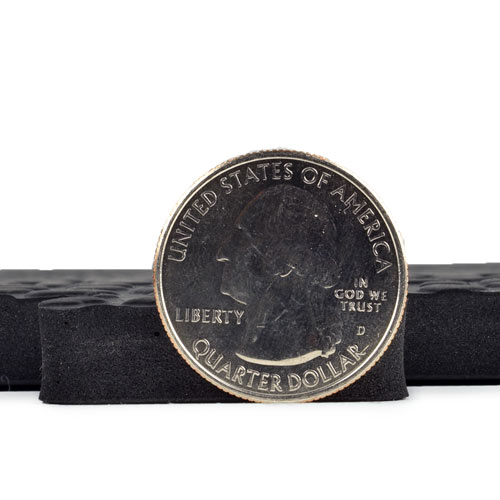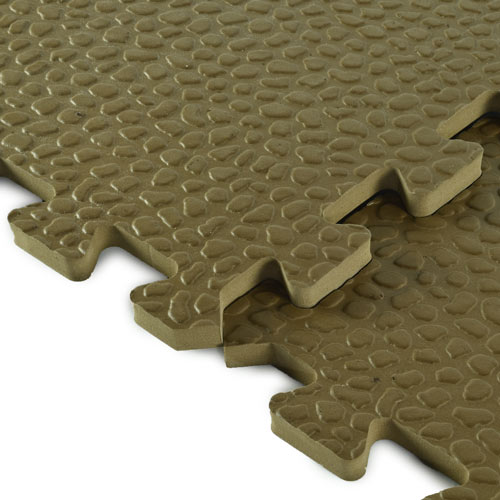 Having a home gym offers convenience, can help to ensure you always fit in your workout, and can also save you money over the cost of a gym membership. When designing your gym, one of the biggest decisions you'll face is in choosing the right type of flooring. If you're using weights or heavy gym equipment, you need flooring that's strong, durable, and tough. But that flooring isn't always conducive to
floor exercises
, like a more cushioned gym flooring would be.
Luckily, there's a product that is ideal for both situations.
Greatmats' Home Gym Flooring Tile Pebble 10 mm are highly versatile athletic flooring tiles made of some of the sturdiest foam available. Not only are they dense enough to give you the support and firmness you need while lifting weights, but they also offer enough cushion to keep you comfortable while doing floor exercises. The result is a highly durable gym flooring that works in multiple situations.
These tiles are made of high density
EVA foam material
, and they're lead and latex free. The surface top pebble texture is highly durable, so you can use the tiles in your home gym for years. That pebbled texture maximizes your traction, ideal for cardio and weightlifting where you need to quickly make strong moves. These tiles are backed by a 1-year limited manufacturer's warranty, a testament to their quality and durability.
When used for weightlifting, be aware some indenting will occur in the foam. As a general rule, you can expect the tiles to self heal the indents in approximately the same amount of time it took them to form, once the heavy object is removed.
While these tiles are strong and durable, they also have other important qualities that make them one of the ideal home gym flooring options. These tiles are
non-absorbent
, so they won't soak up a spilled water bottle or other moisture. They also won't absorb sweat, and their pebble surface creates a professional looking finish for a home gym that you'll be proud to show off to your friends.
Caring for this flooring is easy. You can sweep or vacuum the tiles regularly to help keep them clean. If they need a deeper cleaning, you can use a damp mop with a basic household floor cleaner. Follow up with a rinse mopping with clean water to remove any remaining dirt or cleaner.
Installing Tile Pebble Flooring for Home Gym Use
These tiles are designed to be easy to
install
. Each pebble mat measures 2x2 feet and weighs less than 2 pounds, so you can easily carry them into your home and move them around all on your own. At the same time, the larger dimensions mean you can quickly cover bigger areas, helping the installation to go quickly.
You can dry lay these tiles over any hard, flat surface, including concrete in your basement or garage. If you'll be doing aerobics or other intense activities on the tiles, then don't lay them over thick carpeting, which can cause them to slip.
Each tile includes two border strips that you can use to create straight, finished edges. These border strips mean that you can choose to either do a wall-to-wall installation or an island installation. The strips ensure that the edges of an island installation will be flat.
These tiles can expand with changes in heat and humidity, so it's best to let them acclimate to your room for at least 24 hours before you install them.
When performing a wall-to-wall installation, start in one corner and work your way out, attaching tiles by lining up their seams and pressing down. Because the tiles can expand and contract, leave a ¼ inch space between the tile edges and the walls.
If you need to cut the tiles to fit the space, you can easily do this with a sharp utility knife and a straight edge.
One of the major advantages that these tiles offer is their interlocking design. Since you don't need adhesive for their installation, you can disconnect and remove these tiles in the future as needed. You might choose to relocate your gym floor or pull up the tiles when you need to temporarily use the area for another purpose.
Since your floor is made up of tiles, rather than one larger, single piece of flooring, you'll be better able to deal with damage, too. If a tile is worn or damaged, you can replace that one tile instead of replacing your entire floor. This can save you both money and time.
Can I use this home gym flooring under weight equipment?
Yes, these pebble mats are dense enough to be used underneath heavy exercise and weight equipment. Again, expect some indenting anywhere heavy
equipment
is left in place for long periods of time.
Can I drop weights on cushioned gym flooring?
When using this home gym flooring, you can set down dumbbells, barbells, and kettlebells without damaging the flooring. Dropping those weights onto the flooring is not recommended. If you anticipate regularly
dropping heavy weights
, a thicker rubber mat would be needed. Greatmats' team can recommend the best type of gym flooring for your needs.
Are these comfortable for floor exercises?
Yes, these gym floor tiles offer enough cushion to keep you comfortable while doing floor exercises, even when the tiles are laid over a concrete floor. If you find that you need additional cushion, you can lay a yoga mat or other soft mat on top of this flooring.