ECleaner Low Foam All Purpose 1 Gal.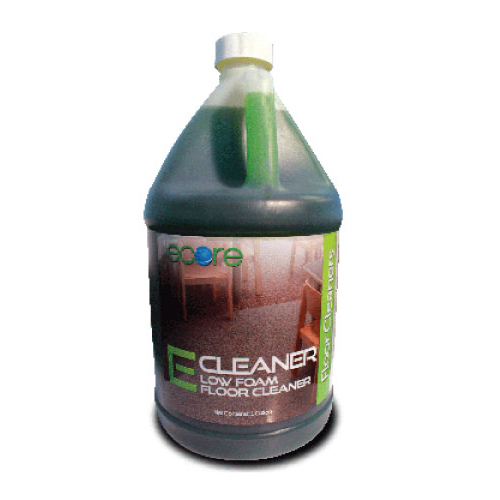 TOP FEATURES
Use Types
Rubber and Vinyl flooring.
E-Cleaner Low Foam All Purpose 1 Gal. is a highly concentrated vinyl and rubber floor cleaner. It is available in a one-gallon container and is effective for all routine cleaning jobs. It can be used for damp mopping, scrubbing, spray and wipe cleaning, or with a hand bucket and cloth. E-Cleaner is designed for use with all Gmats rubber and vinyl surfacing products.
For cleaning vinyl and rubber flooring using an eco-friendly type of cleaner, trust Ecore E Cleaner. Greatmats offers this low foam all-purpose cleaner from Ecore as a safe and effective cleaning solution.


This is a versatile type of cleaning product that delivers multiple benefits versus harsher cleaners. Customers have several options for applying this eco-friendly cleaner.

It is a versatile choice for those who encounter different types of soils on their flooring products in industrial, commercial, retail, school, fitness center, sports, athletic, and recreation facilities, as well as with residential flooring.
Size and Shape Options
Customers can buy the highly concentrated Ecore E Cleaner product from Greatmats in 1 gallon bottles that are easy to pour. Each gallon-sized bottle will clean about 2,000 square feet of rubber floor.
As a usage guide, use about 1 ounce of diluted cleaner per 15 feet of flooring space. For flooring with heavier-than-average soils, customers may need to use a greater concentration of the cleaning solution.
Each bottle weighs 8.42 pounds, and we ship the bottles via UPS Ground, FedEx Ground, or FedEx Freight.
Material Options
The Ecore E Cleaner product consists of a primarily clear liquid with a light green tint. It is extremely safe to use, both for the environment and around people and pets. Some of the advantages of using this cleaner include:
Almost a neutral pH rating of 6.5 to 7.0

Leaves no residue behind

Delivers a streak-free application

Delivers a film-free application after drying

Does not foam up when applied with an automatic scrubbing machine

Does not harm the finish on the existing vinyl floor

Easily removes soils from the surface

Will not cause damage to the rubber or vinyl flooring surface from harsh chemicals
The manufacturer recommends using a wet/dry vacuum to lift excess water and cleaning solution from the flooring. If no excessive liquid remains on the floor after cleaning, simply allow it to air dry with no rinsing required. If desired, however, customers can rinse the floor with a mop and clean water and allow it to air dry.
Do not make use of a heating source to try to dry the floor faster. Use a floor fan to speed up the drying process, if desired.
Safety Recommendations
The Ecore E Cleaner is safe to use in a wide range of locations. It does not have any toxic substances in it, making it safe to use around people or animals that will be using the floor.
If people suffer eye exposure with this cleaner, the manufacturer recommends a thorough eye rinsing with water for at least 15 minutes before visiting a doctor.
For skin exposure to the eco-friendly cleaner, wash the affected area with soap and warm water. After ingestion, do not induce vomiting. Instead, rinse out the mouth with water and then drink plenty of water to dilute the cleaner. For excessive inhalation exposure, go outdoors to breathe fresh air.
Other safety benefits of the Ecore E Cleaner include:
Non-toxic for humans and animals

Non-toxic in an aquatic environment

Free of phosphates

Free of fragrances

Free of hazardous ingredients

Contains no glycol ethers

Contains no alkalis

Non-corrosive
This cleaner contains only bio-based ingredients and is completely biodegradable.
Usage Options
The Ecore E Cleaner product is usable in almost any location where vinyl and rubber flooring materials are present. When facilities need to use a safe cleaner that is eco-friendly, this material is the best option for use at home or in a commercial facility.
This product is especially popular in places where people may be performing athletic workouts, such as a weightlifting facility with a rubber floor. If pets and kids will be laying on or playing on a vinyl floor at home, this material is safe to use, ensuring no exposure to harsh chemicals.
Cleaning and Maintenance Requirements
With this eco-friendly cleaning product, customers can apply it to the floor in a few different ways. Before using the floor cleaning liquid, use a broom or a vacuum to remove dry debris and dust from the surface of the flooring.
Damp Mopping
Dilute the cleaner in warm water to the desired level. Then apply the diluted solution to the floor with a mop. After applying the cleaner, allow it to air dry. There is no need to apply an excessive amount of liquid while mopping.
Auto Scrubber
For large spaces, it may be easier to use an automatic floor scrubbing machine to clean the flooring in a shorter amount of time versus mopping.
This cleaning solution will not foam up when placed in an auto scrubber, which gives it an advantage over other types of cleaners. Just be sure that the auto scrubber you are using is safe for the type of flooring that you have in place.
Hand Scrubbing
For spot cleaning the flooring to remove sticky substances or grime, customers can apply slightly diluted or undiluted cleaner to a rag beforehand scrubbing the spot. You can use a soft bristled brush instead of a rag, if desired.
Shipping
This Product Ships UPS Ground, FedEx Ground and/or Freight.
Please review our shipping disclaimer.
SPECIFICATIONS
| | |
| --- | --- |
| SKU# | TRD-000067 |
| In Stock | Yes |
| Width | 0.00 feet |
| Length | 0.00 feet |
| SF per Item | 0.00 |
| Weight | 8.42 lbs |
| Packaging | Cartons |
| Number of Pieces per Package Type | 1 |
| Non Absorbent | No |
| Interlock Loss | 0.00 feet |
| Interlocking Connections | No |
| UV Treated | No |
| Reversible | No |
| Border Strips Included | No |
HOW TO'S