What Textures Are Available In Rubber Flooring?
By Paige Cerulli Created: March, 2022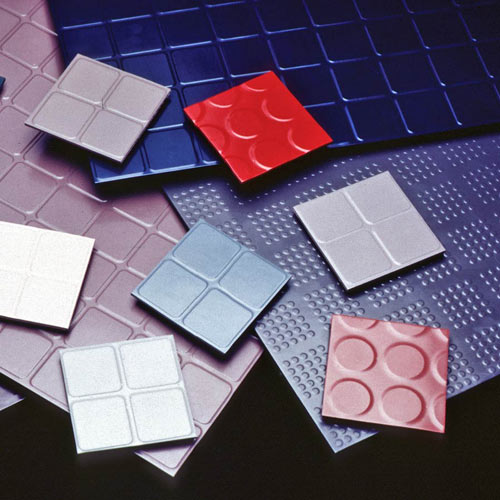 Rubber flooring is known for adding safety to areas and often having anti-slip properties, but the rubber flooring texture plays an important role in how that floor performs. If you're considering investing in rubber flooring for your home or business, it's important to put some thought into what type of texture is best for your needs.
Rubber Flooring Texture Options
Rubber flooring already has some natural slip resistance, but different textures can enhance that slip resistance. Textures create additional areas for the bottom of your shoes to grip, helping to prevent slips and falls.
As you shop, you'll find that you can choose from many of these textures in tiles, rolls, and mats here at Greatmats. The right option for you will depend on how you plan to use the floor, how much slip resistance you need, and whether the floor will often be wet.
Smooth
Smooth rubber products don't have any extra texture added to them. While smooth rubber might sound like it's very slippery, that isn't always the case - but it will be slicker than products that have added textures.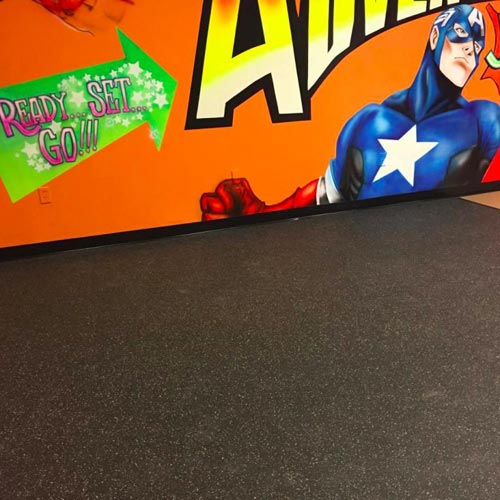 If you look at rubber up close, you'll find that most rubber rolls and mats do have some natural texture to them. The rubber won't be perfectly smooth, and there's some natural traction when you walk on the mats with sneakers or other rubber-soled shoes.
That can change when the product becomes wet. Walking or running on a smooth and wet rubber surface can feel very slick, and slips and falls can more easily occur.
Diamond Plate
A diamond plate pattern adds traction to a rubber floor and is a very popular option. Diamond patterns can be thick and raised, or they might be a light texture that's more of a scoring in a diamond pattern.
Diamond patterns consist of many small raised diamonds positioned to create small squares. The more raised the pattern is, the more grip it will provide.
Coin
Coin top textures feature round circles that are raised above the rest of the flooring. The circles can vary in sizing, but they're typically positioned in neat lines.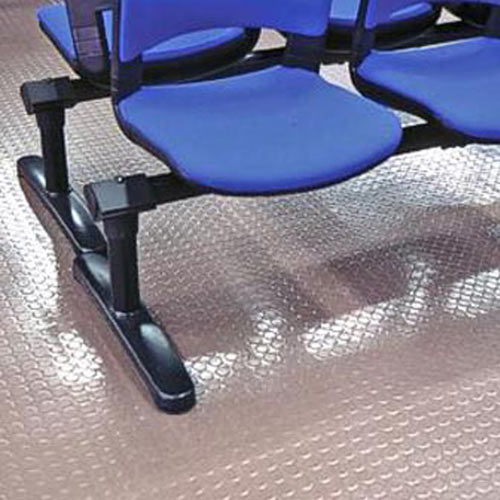 This coin top texture can be visually pleasing and looks very neat, especially when installed in larger rooms. This type of texture tends to be very durable, because of the size of the coins, and it can significantly improve traction.
Pebble
Pebble surface textures feature many small dots, much like pebbles. These pebbles are often placed close together, and they tend to have a lower profile than some other textures, like coin top flooring.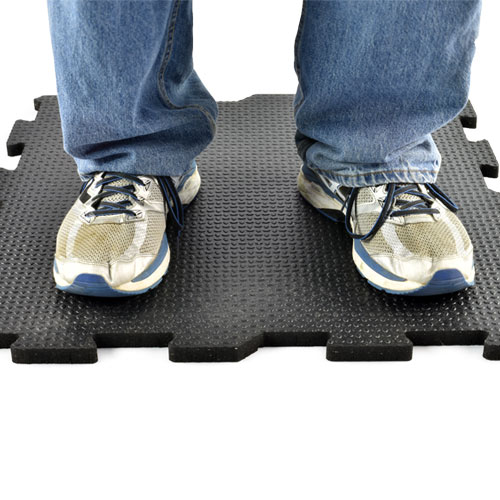 Pebble top surfaces can help to maximize grip, since the pebbles make multiple contact points with your shoes. These surfaces are popular choices for gyms, especially in cardio and weightlifting areas, where great traction is essential.
Square
Square textures feature small, raised squares that are neatly arranged in lines. This texture maximizes traction without being rough underfoot.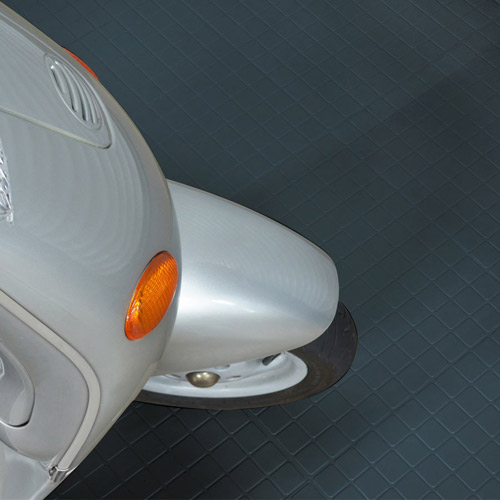 For example, a pebble top texture can make for a bumpy ride if you're pushing a cart or wheelchair over it. Square textures still give you extra grip, but they offer easier access for rolled carts.
Sculptured
The sculptured surface features lots of small dots that are slightly raised above the rest of the floor. The result is a surface that offers excellent traction and grip.
Textured Rubber Flooring at Greatmats
If you're installing flooring in an area where excellent traction matters, consider the many rubber options.
ShokLok 4x6 Ft ¾ Inch Interlocking Center Tile
The ShokLok 4/6 Ft ¾ Inch Tile is a great example of a diamond surface texture. This tile is ideal for use in home and professional gyms, and that surface texture contributes to athlete safety.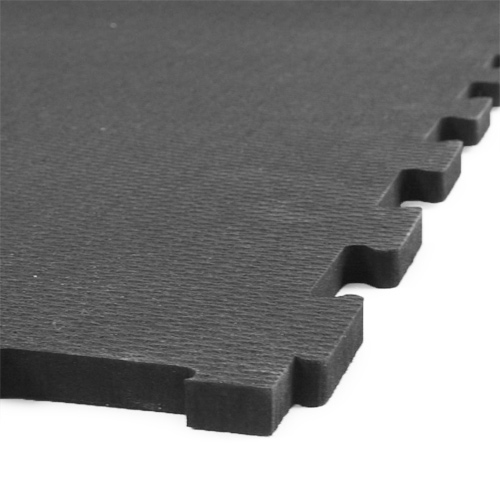 In addition to the diamond surface texture, the tile features a waffle texture on the underside for increased shock and vibration absorption properties.
This interlocking tile is water jet cut for a tight installation, and it won't promote bacteria growth, making it ideal for gym environments.
Rubber Flooring Rolls ¼ Inch Regrind Confetti
Our Rubber Flooring Rolls ¼ Inch Regrind Confetti feature a smooth, flat surface. Even with that surface, you'll see that there are some variations in the rubber that help to provide traction.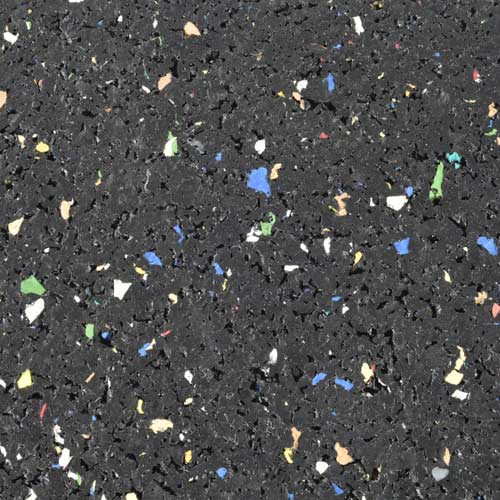 This roll is made from recycled rubber flecks, and the colors in the mix vary. The roll is made in the USA and is a green product.
That regrind rubber makes the roll economical, and it's a popular choice for use in gyms, especially in weight rooms.
Sundance Mats 2x2 Ft x ¾ Inch Interlocking
The Sundance Mats 2x2 Ft are economical rubber tiles that feature a durable pebble top texture for maximum traction. These tiles are designed to withstand significant weight, and they're suitable for use in horse stalls, weight rooms, commercial gyms, and more.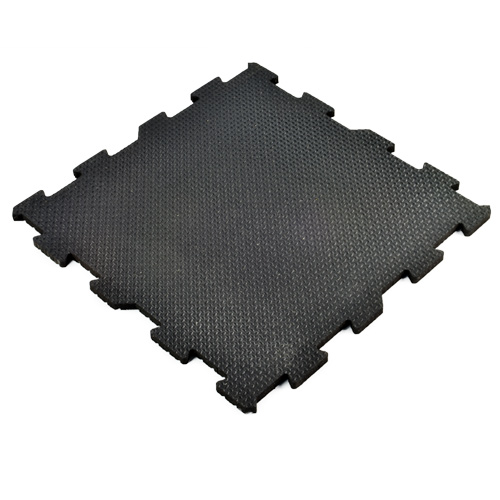 The tiles feature a convenient interlocking design and are highly durable.
Endura Solid Color Rubber Tile
The Endura Solid Color Rubber Tiles are highly durable tiles available in a wide color selection. Made in the USA, they're backed by a 10-year limited warranty and are suitable for institutional, commercial, and industrial facilities.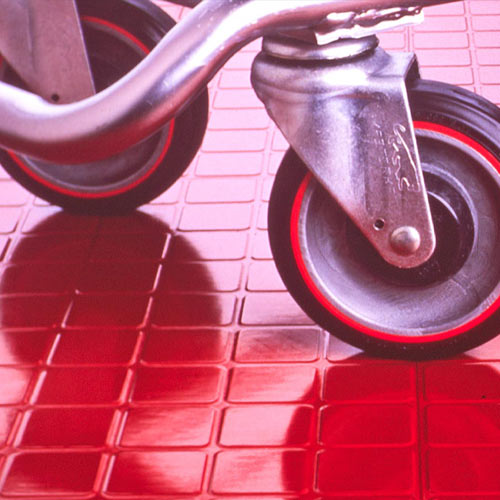 These tiles are available in three textures. You can choose from a round, square, or sculptured texture for the aesthetic and effect that you want.