Blue Sky Outdoor Interlocking Tile Colors 2.25 Inch x 2x2 Ft.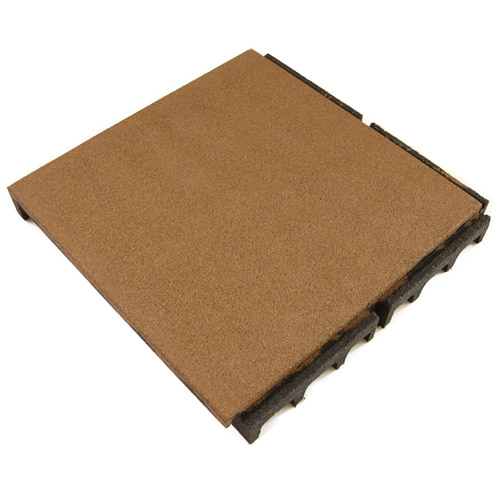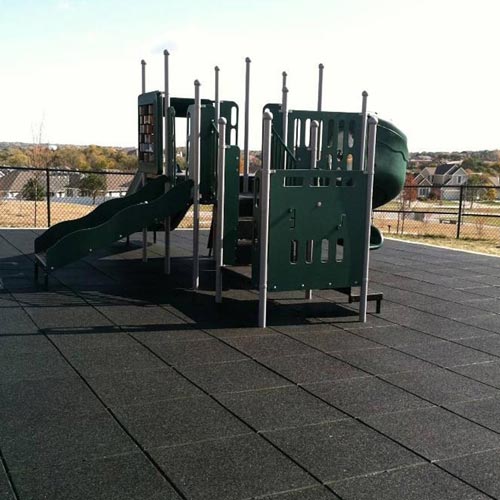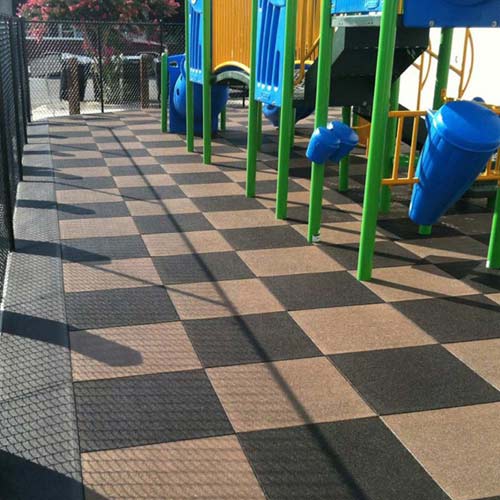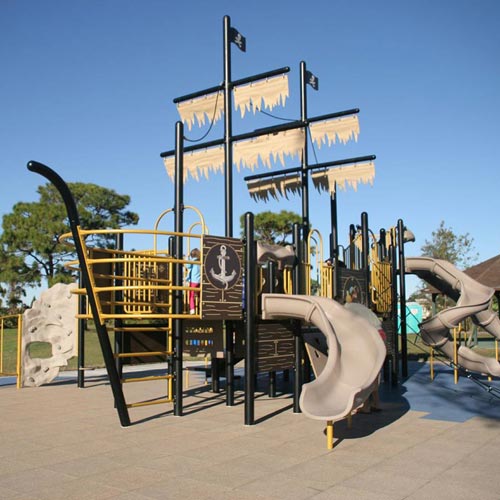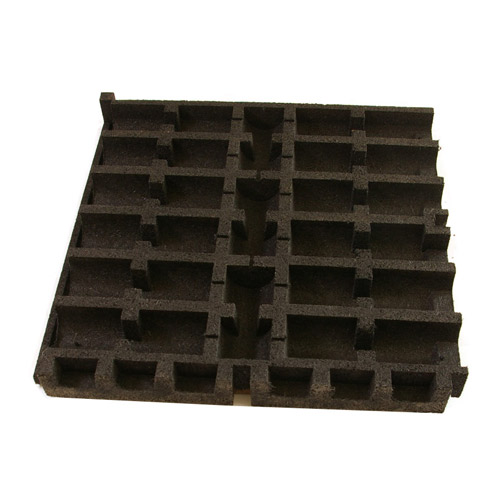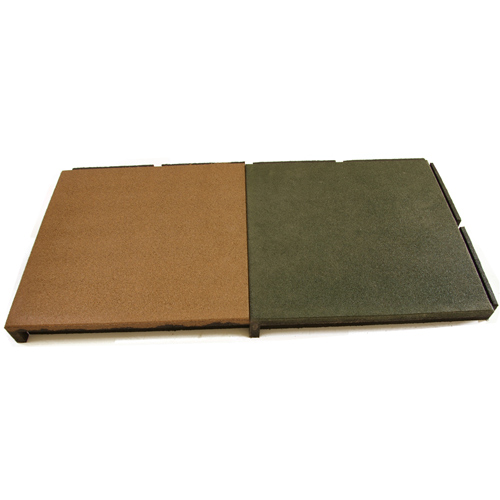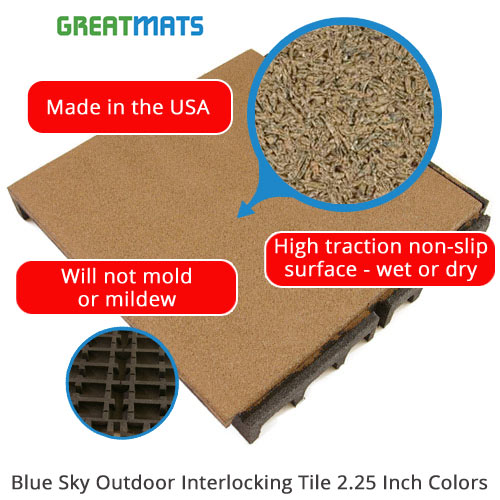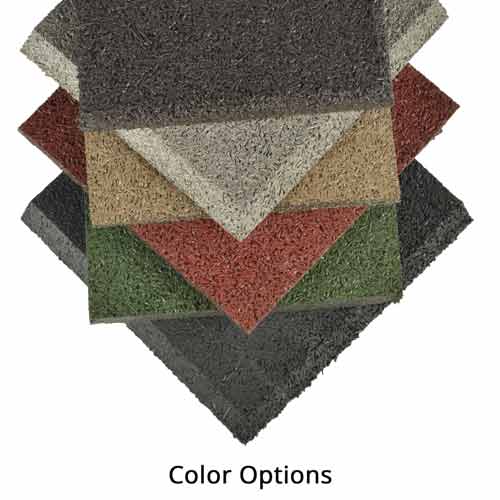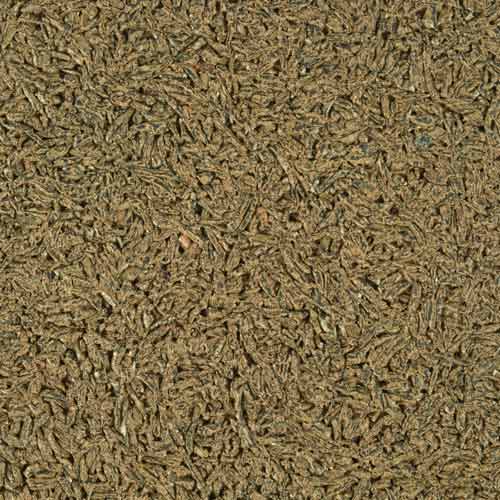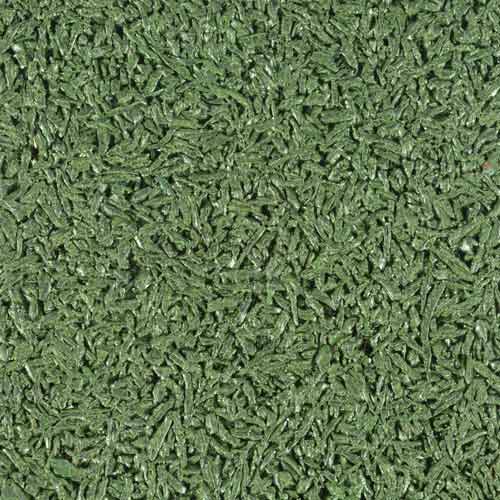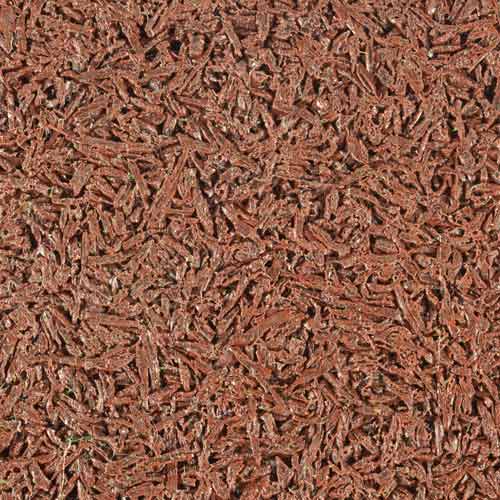 ADA compliant border edging ramps available
Impact Attenuation ASTM F1292 fall height rated
Full surface to surface locking interlocking system
$39.46
/tile
(You Save 19%)
(2 Reviews )
Ships Out: Estimate 14-18 Weeks

Black

Brown

Green

Gray

Red

Tan
How Much Flooring Do I Need?
VIDEOS
TOP FEATURES
ADA compliant border edging ramps available
Impact Attenuation ASTM F1292 fall height rated
Full surface to surface locking interlocking system
Will not mold or mildew
Approved by the CPSC
Made in the USA
High traction non-slip surface - wet or dry
Use Types
Playground Floor Tiles, Park Playground Surfaces, School Safety Surfaces on Playgrounds, Home Playground Flooring
NOTE: This item is a custom order and is not returnable.
Rubber Deck, Roof Deck and Paver Tiles
Blue Sky's American-made rubber playground and rubber roof deck pavers are specifically designed for outdoor flat roof deck and playground installations. These rubber roofing and playground pavers provide the perfect combination of beauty, functionality, and ease of installation for your rooftop deck or patio. Our rubber roof pavers can be installed over any firm, flat surface, even fragile waterproof membranes on the roof. Our roof deck tiles are designed to allow water to flow freely under the rubber pavers.
Benefits of Interlocking Tiles

Whether you're looking to cover an area that's small or large, the mats we offer are a perfect option. Blue Sky flat roof protection mats and playground tiles measure 2-by-2 feet and 2.25 inches in thickness. Each rubber roof mat covers 4 square feet and weighs 27 pounds.

Our tiles will last quite a bit longer with less maintenance required versus gravel or a wood mulch surface. Loose materials can become displaced easily, forcing you to reapply them on a regular basis. Some types of loose materials, such as wood mulch, could retain moisture, leading to the potential of developing mold or fungus. Meanwhile, dry wood mulch can lead to splinters, while gravel can lead to scrapes.
Or if the loose materials are installed on the surface of a playground, children may throw or - even worse - place the materials in their mouths. Interlocking tiles remain in place, ensuring children won't harm themselves or cause damage to the surface materials.
Our interlocking rubber roof deck pavers provide an easy installation option too. You can choose to either install these rubber roof pavers yourself or hire a professional to do the installation. If you will be installing the tiles yourself, be sure to follow the instructions included with the product for the best results. If desired, you can create patterns in the overall tile design too, using different colors of rubber deck pavers.
Safety Considerations
Blue Sky's interlocking rubber playground tiles provide a safe surface option that has been tested for fall height attenuation. It exceeds American Society for Testing and Materials (ASTM) and Consumer Product Safety Commission (CPSC) guidelines. Each 2.25-inch thickness tile carries a fall height rating of 4 feet. Should you need a different fall height rating, we offer other thicknesses of these roof tiles too, ranging from 1.75 inches to 3.75 inches. The thickest mat includes a 10-foot fall height rating.
Blue Sky's rubber roof deck pavers have been engineered with an innovative impact design to provide head injury criterion (HIC) ratings under the required guideline. This provides a significant safety margin to ensure that your surface will remain compliant through the life of the playground.
The rubber pavers undergo a strict quality control review by weight, temperature, thickness and dimension. Most importantly, each of Blue Sky's interlocking rubber playground tiles are individually tested for performance and for structural integrity through a sophisticated series of load compression tests. This ensures that the customer is receiving the highest quality and highest performing flat roof protection mats.
Blue Sky's rubber roof pavers' engineered impact arcs rely on proven techniques to create the necessary fall protection, while ensuring a durable top surface without compromising the resilient properties and exceptional safety characteristics of the tiles.
Additionally, these flat roof mats will never freeze or absorb water, meaning they can be used in a variety of environments and weather conditions.
Color Options
Blue Sky roof and playground tiles measure 2-by-2 feet and are offered in multiple colors, including black, brown, green, gray, red and tan standard colors. We also offer 50/50 high color and 100 percent high color options. The high color options carry a higher price point than the standard color flat roof protection mats.
You can let your creativity run wild by ordering multiple colors and creating patterns in the layout. Create a checkerboard design, or create an island of color inside the overall flooring.
For installation on decks with tables, chairs, or planters, consider a darker color. Staining from external objects may occur on the tiles.
Additionally, Blue Sky offers a full complement of Americans with Disabilities Act (ADA) compliant borders and corner edging for these rubber roof deck pavers.
Manufacturing Process
We offer recycled materials in the manufacturing of our rubber deck pavers. By using recycled tires in the creation of the rubber roof pavers, our products prevent a large number of tires from being discarded into the environment each year, giving these materials new life.
To maintain a safe environment with the rubber deck pavers, we use a sealed surface on the tiles, preventing any potentially harmful substances from coming into contact with the skin of people. The rubber mulch materials and sealed manufacturing processes we use for our roof mats have been deemed safe by the Environmental Protection Agency and the Consumer Product Safety Commission. Understand that manufacturing quality varies from manufacturer to manufacturer, but you can count on our high quality of work.
These flat roof protection mats include the highest quality materials provided by premier suppliers in the rubber and polyurethane industries. Our vendors certify that all materials used will meet or exceed stringent specifications. We catalog all raw materials that enter into our system for quality purposes. And we use a strict quality control methodology that ensures each tile conforms to manufacturing tolerances.
Our quality management system extends to the design, production, installation, and servicing of all of our products. We document all procedures, standards, and operating instructions in our Quality Assurance Manual.
Over the past two decades, continual advancements in our interlocking design technology have provided customers with solutions to the challenges associated with modular surfacing systems. Our design represents the pinnacle in locking design technology for rubber roof deck pavers, ensuring that when properly installed, the system will remain tight, secure and vandal-resistant through years of heavy use.
Stands Up to Weather
Our rubber pavers are manufactured in the Southeast region of the United States, making them an especially perfect type of rubber roof pavers to use in this humid and hot area of the country. Made from high quality rubber material, these rubber roof deck mats include a non-skid surface. They're also non-absorbent, while offering a 5-year limited warranty.
These rubber roof tiles will not mold or mildew, allowing them to work well in high humidity areas. They also resist fading.
The flat roof protection mats make use of a proprietary process, which creates a compression molding in the top course of the tiles. This creates a higher density in the rubber roof deck pavers when compared to competing products.
Installing and Maintaining the Tiles
Blue Sky's rubber roof pavers are not only aesthetically pleasing, but they offer an easy method for installation and maintenance in high traffic areas.
These flat roof mats require a full glue down installation. Additionally, keep the rubber roof deck pavers out of the sun before installation, as sunlight could cause an expansion, resulting in a poor installation result. Occasionally, these tiles may have slight variances in color, because of the recycled raw materials used in the production. Check the colors carefully before installing tiles side by side so you don't have discolored tiles adjacent to each other.
Should you choose to install the rubber roof pavers yourself, be sure to install them properly so you don't end up with buckles in the tiles down the road that could cause a tripping hazard. With proper installation of these interlocking flat roof protection mats that feature a U-channel design, you'll ensure that the tiles remain in place, guaranteeing the longevity of the mats.
We would recommend having some help available to install these tiles, as they weigh 27 pounds each. Although one person can handle this weight and move the tiles around, the installation process will go faster and easier with more than one person involved.
Proper maintenance will enhance the longevity and appearance of your roof deck tiles. Each spring these rubber roof deck pavers should be vacuumed and scrubbed. A bi-annual cleaning using a water hose, spray nozzle and diluted detergent is also recommended. Occasional deep cleaning may be beneficial.
By making use of our molded tiles, you're ensured that they'll last for many years. You could place loose-fill products on your roof or playground for a lower price, but these materials won't last as long.
Should an individual tile become damaged or discolored, you will be able to replace individual tiles by just popping one tile out and inserting a new one.
Customer Photo Contest
Show us how you use your flat roof protection mats by entering our Customer Photo Contest. A monthly winner is chosen to receive a gift card.
To enter, simply send us a photo of your installed product, along with a product review and your order number. Email your submission to our customer service team.
Winners are chosen each month via a Facebook vote on photos submitted the previous month. Like us on Facebook and vote. While on our Facebook page, be sure to check out our other promotions, contests and information on industry trends and news.
These outdoor rubber tile are manufactured using recycled rubber buffings or crumb rubber from reground automotive tires. Black or color from the rubber material will rub off to some extent under normal use. This is common contact wear with this type of rubber tile in this product family type. All pigmented colored rubber tiles for outdoor and indoor use will experience some color ambering under UV exposure and some circumstances of color coming off.
Maintenance
Exterior hose off with water
Shipping
Ships via freight delivery, shrink wrapped on pallets
This Product Ships Freight Only.
Please review our shipping disclaimer.
ACCESSORIES
Accessories for BLUE SKY OUTDOOR INTERLOCKING TILE COLORS 2.25 INCH X 2X2 FT.
ANSWERS
Product Questions:
Q: We have a rubber membrane on a flat roof and this product sounds terrific The weight of the 2.25 inch tile may be too heavy for the roof and wondering if you would have a thinner product? Linda Bengson
A: We have a 2 inch thick tile, which is about the thinnest we could recommend for outdoor installations. Consider the Sterling Tile in 2 inch thickness.
Q: Could these be used as driveway pavers?
A: Not sure about this one, we don't have experience with rubber tiles and autos, generally rubber is not recommended in automotive settings.
Q: Would these tiles be suitable as a base for an outdoor basketball court? Would you recommend placing them over concrete or compacted dirt?
A: Yes its possible, I dont have experience directly.
Q: I am hoping to place this product on top of an existing wood deck - can you tell me how this product performs over that type of surface? Will it cause any harm to the wood (especially with rain or snow conditions)? Thanks!
A: This outdoor rubber tile is a great solution for any outdoor surface, the tile is designed to be used outdoors for extended periods of time in all climates. As for staining the existing wood decking we don't have experience with this issue, so we can not advise. Its possible some leaching might occur.
Q: I have a flat rubber roof. do these roof tiles have to be glued down or will the interlock be enough to hold them in place
A: These tiles can be installed without glue, over 400 Sf please contact customer service for installation assistance and instructions.
Q: We are looking at these for an Early Childhood Play ground in our fall zones. What needs to be underneath? Can it be a dirt foundation, or must concrete be poured?
A: This product does need to be installed on a hard flat surface, either crushed stone, compacted and leveled, or concrete or similar.
Q: 1. How do you cut these tiles, box cutter/utility knife? Power tool saw (circular, jig, etc.)? 2. Can you cut what will be an edge at an angle, such as 45 degrees? Application is on a rubber membrane flat roof deck, I'd want to make a 45 deg transition where the edge of the tiles meet a gutter/trough, the gutter/trough will not be covered with tiles, but is covered in the rubber membrane.
A: This rubber outdoor tile can be cut with a sharp utility knife. Yes you can cut the tiles at a beveled angle.