Rolled Rubber Pacific 1/8 Inch Black Per SF
Shock and sound absorbent
Made in the USA
Easy to install and maintain
Handling Time Estimate: 5-7 Working Days

Black
Roll Calculator
Note: Material Width for this Product is 4' wide
Rolls are cut to 15 ft minimum
Option 1

Option 2

Custom Roll Length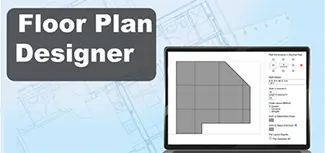 Shock and sound absorbent
Made in the USA
Easy to install and maintain
Mold and mildew resistant
Great for rubber gym flooring
Unique design makes for a seamless floor surface
Excellent traction even when wet
MAS Certified Green

Rubber Gym Flooring, Weight Rooms Floors, Retail Stores, Entrance Ways, Warehouse Flooring, Golf Courses, Indoor Ice Rinks, Industrial Floors, Tradeshow and Event Flooring
NOTE: This item is a custom order and is not returnable.
Rolled Rubber Pacific 1/8 Inch Black Per SF - Made from recycled materials
Rolled Rubber Pacific 1/8 Inch Black Per SF is heavy duty durable rubber flooring that has been used by many of the most prestigious fitness chains, colleges and companies. Made in the USA with high quality recycled rubber this floor will take the abuse of high traffic areas while maintaining original composure. Order rolls by the square foot.
Roll of Black Rubber Flooring, 1/8 Inch Thick

For an organization seeking a lightweight type of flooring that is easy to install and that can stand up to regular foot traffic, our roll of Survivor SportFloor Black Rubber Flooring is a useful option.

At only 0.125 inches in thickness, our smooth black rubber flooring is a great choice for the organization or homeowner that wants to do a self installation, rather than hiring a professional.

Customers can order this 4-foot wide roll in a custom length by the foot. This further simplifies the installation process, as customers can order a smaller roll that weighs less and is easier to move into place versus a standard 100-foot roll. This roll weighs only 0.7 pounds per linear foot.

Those doing the installation themselves often prefer this thin roll of black rubber versus thicker tiles or mats, as the thick tiles can be extremely heavy for one person to move around.
Multiple Usage Options for Black Rubber Floor
One of the best reasons to install rolled rubber flooring is to provide a high level of traction for people using the space and for visitors to the building.
For example, when people are looking to create a workout space in a home or commercial location, rubber flooring is a very popular choice. It has numerous benefits.
Durability
Rubber is a highly durable material. These 1/8 inch thick Pacific mat rolls each carry a 5-year limited manufacturer warranty. This is a longer warranty than customers may expect to find with a lightweight roll and showcases how durable the product is.
Cushioning
When used in a workout location, rubber helps to protect the lower body joints of the athletes. Rubber is not soft, but it has enough bounce back properties that it protects the ankles, knees, and hips of the athlete.
Additionally, athletes will have less fatigue in the legs after a workout over a rubber surface, making them feel fresher.
By having a bit of cushion in the rubber floor versus a cement or tile floor, athletes are able to work out more often without needing as many days off in between. Thicker rubber provides extra cushioning, but even thin 1/8-inch rubber offers benefits in this area.
Traction
Athletes need to be able to rely on the traction in the floor when they are doing their workouts. Having a sure footing allows the athlete to receive the desired level of resistance from the floor and to make the most of the workout plan. A slippery floor may lead to an injury for the athlete.
Some customers choose to install this rolled rubber at the entrance of a building. This provides a safe way for people to enter the building when they may have wet shoes from walking through rain or snow outdoors. The traction of the rubber is perfect for reducing the possibility of a slip and fall injury.
Noise Reduction
Rubber naturally delivers sound and noise absorption, which is ideal in areas where excessive noise may be present, such as a commercial gym or fitness center. The banging of hand weights and exercise machines can be excessive, but rubber floors put a damper on some of this noise.
Eco-Friendly Flooring Design
Another significant advantage of our rubber roll is that it consists of fully recycled materials. This is a safe Made in the USA product consisting of rubber tires and other rubber materials. By transforming these products into a new rubber flooring, it keeps them out of the landfill, which helps the environment.
It is a MAS certified green product, offering the potential for LEED points. It also meets the requirements as a low-emitting VOC material in floors.
Customers can trust the quality of the rubber materials we are using to create these rolls. They also can trust the manufacturing process in use, as it results in safe flooring that will work for multiple use cases.
SportFloor Rubber Roll Sheet Specifications
Width: 4 feet

Length: Custom cut by the foot

Thickness: 1/8 inches

Weight per linear foot: 0.7 pounds

Color: Black

Texture: Smooth
Maintenance and Care
To maintain this black rubber roll, customers only need to perform a few processes on a regular basis. Rubber has a natural level of durability not always found with other materials, and it can stand up to regular cleaning without showing unwanted wear and tear.
For basic care instructions, customers should simply sweep the rolled floor on a daily basis. Busier locations may need sweeping a few times per day. Removing dust and debris from the surface will prevent a higher level of soils in the future.
To clean the soils, customers can use a wet mop on the rubber with a neutral pH cleaning solution. It's also possible to use an auto scrubber over the top of the rubber when simple mopping doesn't do the job. Allow the roll to air dry after the cleaning process.
Product orders are by the square foot.
This can be used for slip-resistant production and distribution floors, but is not resistant to chemicals, oils, and acids.
Maintenance
Sweep or vacuum daily. Scrub with deck brush and neutral pH cleaner. Remove solution with a wet/dry vacuum.
Shipping
Shrink wrapped on pallets and shipped from California.
This Product Ships Freight Only.
Please review our shipping disclaimer.
| | |
| --- | --- |
| SKU# | RR.125-Blk |
| In Stock | Yes |
| Product Type | Roll |
| Material Type | Rubber |
| Product Edging | Straight |
| Thickness | 1/8 inch |
| Width | 4.00 feet |
| Length | 1.00 feet |
| SF per Item | 1.00 |
| Weight | 0.70 lbs |
| Packaging | Shrink Wrapped on Pallets |
| Number of Pieces per Package Type | 1000 |
| Non Absorbent | Partial |
| Interlock Loss | 0.00 feet |
| Material Hardness | Shore A 65 |
| Interlocking Connections | No |
| Made In | USA |
| Surface Finish | Smooth flat |
| Surface Design | Solid Black |
| Installation Method | Dry lay or glue down |
| UV Treated | No |
| Reversible | No |
| Border Strips Included | No |
| LEED Points | Yes |
| Manufacturer Warranty | 5 year limited |
Product Questions:
Q: Will water soak through this material?
A: Generally not in a passive state, if the material is power washed, then moisture can penetrate into the material.
Q: I was considering this for a basement concrete floor that occasionally has a water leak across it from heavy rain. What would the maintenance be for this rubber?
A: When it got wet the rubber tiles would have to be removed and cleaned then reinstalled. Consider a raised modular tile underlayment to elevate the floor. Staylock Orange Peel tile is a good option as an underlayment.
Q: Is this floor good for a golden retriever? will it have the rubber odor?
A: Not sure about the dog, these rubber rolls have a low rubber smell, all rubber has some smell.
Q: if I wanted to use this rubber between concrete and a peel and stick carpet would there be any issues with the mild glue that type of carpet square uses when I need to pull up and replace one. Or will the glue cause the rubber to alter it's properties in a overly negative way.
A: The rolled rubber is should not be used as a sub surface for peel and stick tiles. Rubber expands and contracts with temperature change. Peel and stick tiles should be installed directly over a hard, flat surface like concrete.
Q: How would you connect multiple pieces together, can you use carpet tape or the like?
A: Use a double sided carpet tape and stick it down to subfloor. You can't seam weld rubber.