Rolled Rubber Pacific 1/8 Inch 10% Color CrossTrain Per SF
Shock and sound absorbent
Made in the USA
Easy to install and maintain
Handling Time Estimate: 5-7 Working Days

Blue/White

Red/White

Green/White

Brick/White

Carnival

Beige/White

Blue/Chrome/Red

Blue/Gray

Blue/Green/Gold

Brick Red/Gold

Brick Red/Purple/Teal

Brick Red/Yellow

Brown/Beige

Gray/Chrome

Gray/Light Blue

Purple/Yellow
Roll Calculator
Note: Material Width for this Product is 4' wide
Rolls are cut to 15 ft minimum
Option 1

Option 2

Custom Roll Length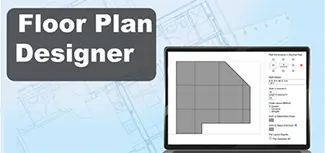 Shock and sound absorbent
Made in the USA
Easy to install and maintain
Mold and mildew resistant
Great for rubber gym flooring
Unique design makes for a seamless floor surface
Excellent traction, even when wet
MAS Certified Green

Rubber Gym Flooring, Weight Rooms Floors, Retail Stores, Entrance Ways, Warehouse Flooring, Golf Courses, Indoor Ice Rinks, Industrial Floors, Trade show and Event Flooring
NOTE: This item is a custom order and is not returnable.
This high quality flooring, Rolled Rubber Pacific 1/8 Inch 10% Color CrossTrain Per SF is the flooring of choice for many of the country's most prestigious fitness chains, along with a large number of Division I colleges and universities. Manufactured from recycled tires, this rolled rubber flooring is a durable, high quality flooring that takes the abuse of high traffic areas and keeps looking good for years. Order rolls by the square foot.
Color Fleck 1/8 Rubber Flooring Rolls, Custom Roll Length

A rolled rubber sheet provides significant levels of versatility for customers, allowing for use in a home gym, a fitness facility, a doggie daycare, or dozens of other locations where a long lasting floor is desirable. Our Color Fleck 1/8 Rubber Flooring Rolls are popular choices where versatility is a must.

At only 1/8 inch in thickness, our roll is far thinner than the majority of rubber flooring options, resulting in reduced weight for the floor. This simplifies the installation for a home owner or a gym owner who doesn't have a lot of experience with installing their own floors.


Multiple Color Accents in Rubber Flooring

This is a premium mat, as it delivers assorted colors against the black base color of the rubber. Some customers greatly prefer having the color flecks available, as they help to create a more pleasing looking floor. Homeowners appreciate this option, as do fitness center owners looking to drive membership rates.

More than a dozen unique color fleck options featuring two or three different colors are available in our 1/8 rubber flooring rolls. There's no pattern to the flecks, as they appear to be a random part of the roll.

Some of the color combinations are lighter colored, such as a blue and white or a light blue and gray combination. Darker colored options are available too, including a brown and beige or a brick red, purple, and teal combination.

When adding these color flecks to the 1/8 rubber flooring rolls, it doesn't affect the integrity of the overall floor. The color flecks have the same level of quality in the rubber material as the base black rubber. Adding color does not create weak spots or uneven spots in the overall flooring layout.
Multiple Use Cases for Rubber Floors
Customers appreciate the ability to use these 1/8 rubber flooring rolls in almost any application. The most common use cases include:
Weight rooms

Exercise centers

Home gyms

Retail stores

Warehouses

Basements

Dog daycares

Child daycares

Building entrances

Golf course pro shops

Locker rooms

Industrial locations
Versus a cement or hard tile floor, rubber floors naturally provide a bit of cushioning for those standing and walking on it. This cushioning limits the amount of lower body fatigue someone may feel after a day of working.
For athletics, the cushion of the rubber floor is even more noticeable. Athletes will receive a bit of protection for the ankle, knee, and hip joints while working out on rubber. This keeps the athlete fresher and able to work out the next day more often, rather than needing extra days of rest with joint pain.
In areas where noise generation is common, such as a weightlifting area, rubber will absorb noise and sound. This creates a more pleasing atmosphere for visitors in the space, who may dislike the echoing and clanging of large pieces of exercise equipment.
Our recycled rubber has an environmentally friendly component to it as well. It gives a new life to old rubber tires, keeping them out of the landfill. When recycling rubber, the new product is just as durable as a new rubber product.
This recycled material is safe for any use case, including around pets and children. Our floors can qualify for LEED points in certain situations, helping a business or building meet its environmental goals.
Commercial Quality Rolled Rubber Specifications
Width: 4 feet

Length: Custom cut by the foot

Thickness: 1/8 inches

Weight per linear foot: 0.7 pounds

Black base color with 10% concentration of color fleck combinations of: Blue/White, Red/White, Green/White, Brick Red/White, Carnival, Beige/White, Blue/Chrome/Red, Blue/Gray, Blue/Green/Gold, Brick Red/Gold, Brick Red/Purple/Teal, Brick Red/Yellow, Brown/Beige, Gray/Chrome, Gray/Light Blue, or Purple/Yellow

Texture: Smooth
Maintenance and Care
Having flecks of color in our 1/8 rubber flooring rolls does not affect the integrity of the floor. It does not affect the number of times the customer can clean it before it would start to fade or show wear, either. Rubber can handle heavy duty cleaning, as long as the customer follows the cleaning instructions.
For basic cleaning, the customer should use a broom, a vacuum cleaner, or a dry mop over the top of the surface to remove dust and dry debris. This can happen daily, weekly, or somewhere in between, depending on the amount of foot traffic the floor sees.
When the roll of rubber begins to show staining, customers can wet mop the area to clean it. Use warm water and a neutral pH cleaner to create the cleaning solution. Do not use harsh abrasives or bleaches on the rubber surface.
After mopping the floor, customers should allow the area to air dry naturally. If the floor has excess water or puddles after mopping, customers can use a wet/dry vac or a mop to remove this water.
This style of rubber floor carries a 5-year limited manufacturer warranty. With proper care, customers should receive an even greater lifespan.
Product orders are by the square foot.
This can be used for slip-resistant production and distribution floors, but is not resistant to chemicals, oils, and acids.
Effective August 2023, the color percentage for this item has changed from 20% to 10% color flecks.
Maintenance
Sweep or vacuum daily. Scrub with deck brush and neutral pH cleaner. Remove solution with a wet/dry vacuum.
Shipping
Shrink wrapped on pallets and shipped via freight delivery.
This Product Ships Freight Only.
Please review our shipping disclaimer.
| | |
| --- | --- |
| SKU# | RR.125-20C |
| In Stock | Yes |
| Product Type | Roll |
| Material Type | Rubber |
| Product Edging | Straight |
| Thickness | 1/8 inch |
| Width | 4.00 feet |
| Length | 1.00 feet |
| SF per Item | 1.00 |
| Weight | 0.70 lbs |
| Packaging | Shrink Wrapped on Pallets |
| Number of Pieces per Package Type | 1000 |
| Non Absorbent | Partial |
| Special Adhesives | Yes |
| Interlock Loss | 0.00 feet |
| Material Hardness | Shore A 65 |
| Interlocking Connections | No |
| Made In | USA |
| Surface Finish | Smooth flat |
| Surface Design | Colored fleck |
| Installation Method | Dry lay or glue down |
| UV Treated | No |
| Reversible | No |
| Border Strips Included | No |
| LEED Points | Yes |
| Manufacturer Warranty | 5 year limited |
Product Questions:
Q: Is this product water resistant?
A: Yes, but not totally waterproof, so do not power wash, and if water spills on the material it will not soak up or sink in. Clean with damp mop.
Q: can this come in exact dimensions? 18'x20'
A: The rolls are 4 ft wide and cut to length per customer request.
Q: Is there a brown or tan fleck may?
A: We have brown tan in this interlocking rubber tile product. https://www.greatmats.com/rubber-floor-tiles/interlocking-rubber-flooring-tile-tanbrown.php
RELATED PRODUCTS